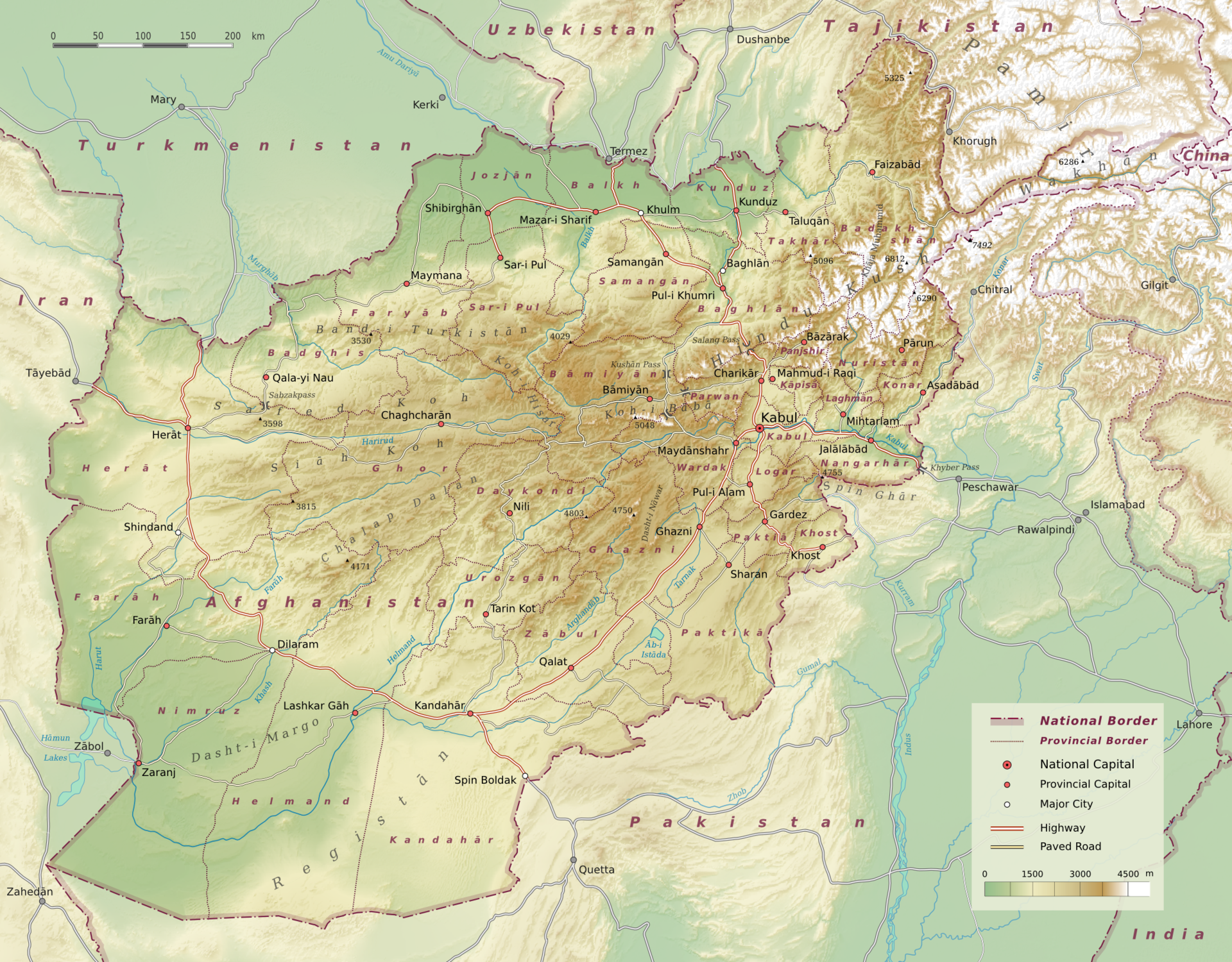 Afghanistan (User:Sommerkom)

The US is closer to pulling its troops out of Afghanistan:
Troop withdrawal: US will maintain its diplomatic presence in Afghanistan

June 9, 2021

The US is only withdrawing its troops from Afghanistan, not withdrawing from the country, and it is determined to maintain a strong diplomatic presence there to extend economic and humanitarian support, Secretary of State Tony Blinken has said.

On the directions of President Joe Biden, the US is in the process of withdrawing all its troops from Afghanistan by September. It has already withdrawn about half of its troops from the war-torn country. https://www.business-standard.com/article/international/troop-withdrawal-us-will-maintain-its-diplomatic-presence-in-afghanistan-121060900082_1.html
The day after US President Joe Biden announced that he will be pulling US troops out of Afghanistan the BBC reported that the Taliban have claimed that as victory:
Afghanistan: 'We have won the war, America has lost', say Taliban

15 April 2021

The Taliban believe victory is theirs. Sitting over a cup of green tea, Haji Hekmat proclaims, "we have won the war and America has lost". The decision by US President Joe Biden to delay the withdrawal of remaining US forces to September, meaning they will remain in the country past the 1 May deadline agreed last year, has sparked a sharp reaction from the Taliban's political leadership. Nonetheless, momentum seems to be with the militants.

"We are ready for anything," says Haji Hekmat. "We are totally prepared for peace, and we are fully prepared for jihad." Sitting next to him, a military commander adds: "Jihad is an act of worship. Worship is something that, however much of it you do, you don't get tired."

For the past year, there has been an apparent contradiction in the Taliban's "jihad". They stopped attacks on international forces following the signing of an agreement with the US, but continued to fight with the Afghan government. Haji Hekmat, though, insists there is no contradiction. "We want an Islamic government ruled by the Sharia. We will continue our jihad until they accept our demands."

On whether or not the Taliban would be willing to share power with other Afghan political factions, Haji Hekmat defers to the group's political leadership in Qatar. "Whatever they decide we will accept," he repeatedly says.

The Taliban don't see themselves as a mere rebel group, but as a government-in-waiting. They refer to themselves as the "Islamic Emirate of Afghanistan," the name they used when in power from 1996 until being overthrown in the aftermath of the 9/11 attacks. https://www.bbc.com/news/world-asia-56747158
The above is not a surprise.
Back on March 9, 2013 (see Taliban suicide bombing in Afghanistan: Considered to be a warning?), I wrote:
Unless the USA keeps enough troops in Afghanistan (which it is not intending to do), the situation there will change to something that the USA has claimed that it does not want. The Taliban, other Islamic groups, and tribal leaders will pretty much insure that.
Furthermore, see the following:
June 9, 2021

The Pentagon is touting that it's already successfully withdrawn more than half of American forces from Afghanistan, which means it's on a withdraw pace significantly ahead of Biden's Sept. 11 exit deadline. …

According to The Wall Street Journal this week, US intelligence says the Taliban is carefully prepping for the moment the US mission in the country is officially over:

The Taliban are encircling Afghan police and army positions and encroaching on government-held territory, positioning themselves for large-scale offensives against major population centers while waiting for the last American troops to depart Afghanistan.

The insurgents are pushing their advantage on the battlefield ahead of a full U.S. exit, even as they continue peace talks with the Afghan government in Doha, Qatar. https://www.zerohedge.com/geopolitical/pentagon-says-afghan-exit-over-half-complete-mulls-leaving-security-footprint
Now, China has been watching all of this and has its own plans:
Wrapping up a video dialogue on the peace and reconciliation process in Afghanistan with his counterparts in Afghanistan and Pakistan on Thursday, Chinese Foreign Minister Wang Yi said that while the withdrawal of US troops might bring uncertainties regarding security, it gave Afghan people an opportunity to "truly control their own destiny" and was good for the country's long-term stability, according to China's official readout.

"The three sides agreed to deepen the cooperation in BRI, supporting the substantial expansion of it to Afghanistan, and enhance the level of interconnection between the three countries," Wang said. 06/04/21 https://www.scmp.com/news/china/diplomacy/article/3136112/china-seeks-expand-belt-and-road-afghanistan-name-security-us

BEIJING (AP) — China is urging closer security and economic cooperation with Afghanistan in an apparent effort to bolster its influence in the region as the U.S. and its allies prepare to withdraw their forces from the country.

The official Xinhua News Agency reported that foreign ministers from China, Afghanistan and Pakistan met via video conference on Thursday …

China has sought to invest in Afghan resources, particularly copper, but constant fighting between the government, the Taliban and other groups has largely held back such projects. China has also sought to boost already close ties with Pakistan through its Belt and Road initiative, but the country's economic weakness and security problems have blunted the success of that drive. 06/04/21 https://apnews.com/article/afghanistan-china-business-ece4d88d97f845a4c0e1d0e1be7bbb31
Afghanistan reportedly has massive amounts of untapped mineral resources. Notice the following:
Rich in copper, lithium, talc, marble, gold, uranium and others, Afghanistan's vast mineral wealth is estimated to exceed one trillion dollars. But according to data, every year the government loses around $300m in revenue from mining.

Poor security, the lack of proper legal framework and organisational capacity, as well as corruption, have prevented the development of the sector.

Deficient infrastructure makes transport and export difficult, while high royalties and taxes imposed by the Afghan government have discouraged potential investors. https://www.aljazeera.com/features/2019/5/28/why-is-afghanistan-unable-to-extract-its-vast-mineral-wealth
China has been known to try to acquire raw material resources around the world and Afghanistan is a logical place for it to also do so–but yes there are risks.
Afghanistan was part of the old Silk Road to China and China's Belt and Road Initiative is also known as its Silk Road Project.
Trying to have Afghanistan as part of that is historically, as well as currently, logical.
Afghanistan needs infrastructure–and China hopes to provide some of that. Which, of course, would benefit China.
China has been embarking on a multi-trillion dollar project to build roads and ports to connect more of Asia, Africa, the Middle East, and Europe to it. This has been called the 'Belt and Road Initiative,' Silk Road Project, Silk Road 2.0, and the One Belt, One Road Initiative. While this is expected to benefit Chinese trade (as well as provide infrastructure for the gathering at Armageddon), could this also benefit the rise of Babylon the Great foretold in the Book of Revelation and scriptures in the Old Testament? What about the proposed Polar Silk Road? Will the benefits to Europe last or will the end time 'daughter of Babylon' possibly face invasion from nations involved with the Silk Road project? Dr. Thiel addresses these issues with scriptures from the Bible.
Here is a link to our video: China's Silk Road and Babylon the Great.
Despite problems, there will be increased connectivity between Europe, Asia, Africa, and Latin America.
And, it is logical that this will include Afghanistan. The BRI project looks to be one that will help troops be able to travel from Asia to Armageddon (watch also  Is China paving roads to Armageddon?).
Even though this is a massive project, relatively few in the USA are even aware of the BRI project.
A project that looks to economically benefit those in Asia, Africa, and Europe, but not so much the USA or its Britsh-descended allies (see also Australian split with China's New Silk Road (Belt and Road Initiative) and USA and Australia have concerns over China's 'Belt and Road Initiative,' but the new 'Silk Road' has prophetic ramifications).
The withdrawing of US troops will have undesired consequences for the USA.
Some items of possibly related interest may include:
Asia in Prophecy What is Ahead for Asia? Who are the "Kings of the East"? What will happen to nearly all the Chinese, Russians, Indians, and others of Asia? China in prophecy, where? Who has the 200,000,000 man army related to Armageddon? Here is a link to a related sermon: Asia in Prophecy. Two YouTube video are Is China THE Threat to the United States of America? and China: A King of the East.
The Eurasian Union, the Kings of the East, and Bible Prophecy Is there a Eurasian union that will be formed? Are any leaders working on that in the 21st century? Does the Bible teach that there will be a Eurasian union? What about the Eurasian Economic Union (EAEU)? A related video would be Is The Eurasian Union Rising?
China, Its Biblical Past and Future, Part 1: Genesis and Chinese Characters Where did the Chinese people come from? Japeth, Javan, Magog? Is there evidence that the Chinese peoples must have known about various accounts in the Book of Genesis up until their dispersion after the Tower of Babel? What do Chinese writings and characters help show? What about the Garden of Eden, Noah's Flood, and the Tower of Babel? Here is a link to a version of this article in Spanish: ¿Prueban los caracteres chinos la exactitud de la Biblia? A related sermon is also available: China's biblical past and prophetic actions.
China, Its Biblical Past and Future, Part 2: The Sabbath and Some of God's Witness in China When did Christianity first come to China? What about the Apostle Thomas? Did Confucius say anything to get the Chinese to possibly consider Christianity? Is there early evidence that they observed the seventh day sabbath? What about the Ten Commandments? What type of Church of God witness has there been to China? What has been happening with China that ties it together with prophecies in Revelation? What about the 200 million man army and Armageddon? What about the Belt and Road Initiative and end time Babylon the Great? A related sermon is also available: China's biblical past and prophetic actions. Watch also China's Silk Road and Babylon the Great.
Anglo – America in Prophecy & the Lost Tribes of Israel Are the Americans, Canadians, English, Scottish, Welsh, Australians, Anglo-Saxon (non-Dutch) Southern Africans, and New Zealanders descendants of Joseph? Where are the lost ten-tribes of Israel? Who are the lost tribes of Israel? What will happen to Jerusalem and the Jews in Israel? Will God punish the U.S.A., Canada, United Kingdom, and other Anglo-Saxon nations? Why might God allow them to be punished first? Here is a link to the Spanish version of this article: Anglo-América & las Tribus Perdidas de Israel. Information is also in the YouTube sermons titled Where are the Ten Lost Tribes? Why does it matter? and British are the Covenant People. A short YouTube of prophetic interest may be: Are Chinese threats against Australia for real?
Will the Anglo-Saxon-Celtic Nations be Divided and Have People Taken as Slaves? Will the lands of the United States, United Kingdom, Canada, Australia, and New Zealand be divided? What about Jerusalem? What does Bible prophecy teach? Are there non-biblical prophecies that support this idea? Who will divide those lands? Who will end up with the lands and the people? Here is a link to a video titled Will the USA and other Anglo-nations be Divided and Their People Made Slaves? Here is a related item in the Spanish language ¿Serán divididas las naciones anglosajonas?
British are the Covenant People What do 'British' and 'Britain' mean in Hebrew? Are the descendants of the Anglo-Saxons people of the covenant? Does the British royal family connect to the throne of David? What does the Bible teach? What does history show us? Is there any DNA evidence related to British-Israelism? When did Christianity make it to the British Isles? Could Jeremiah have made it to the British Isles? What type of Christians made it to the British Isles? Did the last King of England believe in British Israelism?
Canada in Prophecy: What Does Bible Prophecy, Catholic Prophecy, and other Predictions Suggest About the Future of Canada? There are prophecies that suggest involvement with Canada. And many are not positive about its future. A sermon of related interest is also available: Canada in Prophecy.
Australia and New Zealand in Prophecy Do biblical prophecies help explain the wealth blessings for Australia and New Zealand? Might cursings from disobedience come in the 21st century? Here is a link to a related sermon: Australia and New Zealand: Origins and Prophecy.
Biden-Harris: Prophecies and Destruction Can the USA survive two full presidential terms? In what ways are Joe Biden and Kamala Harris apocalyptic? This book has hundreds of prophecies and scriptures to provide details.  A Kindle version is also available and you do not need an actual Kindle device to read it. Why? Amazon will allow you to download it to almost any device: Please click HERE to download one of Amazon s Free Reader Apps. After you go to your free Kindle reader app (or if you already have one or a Kindle),  you can go to: Biden-Harris: Prophecies and Destruction (Kindle) to get the book in seconds.