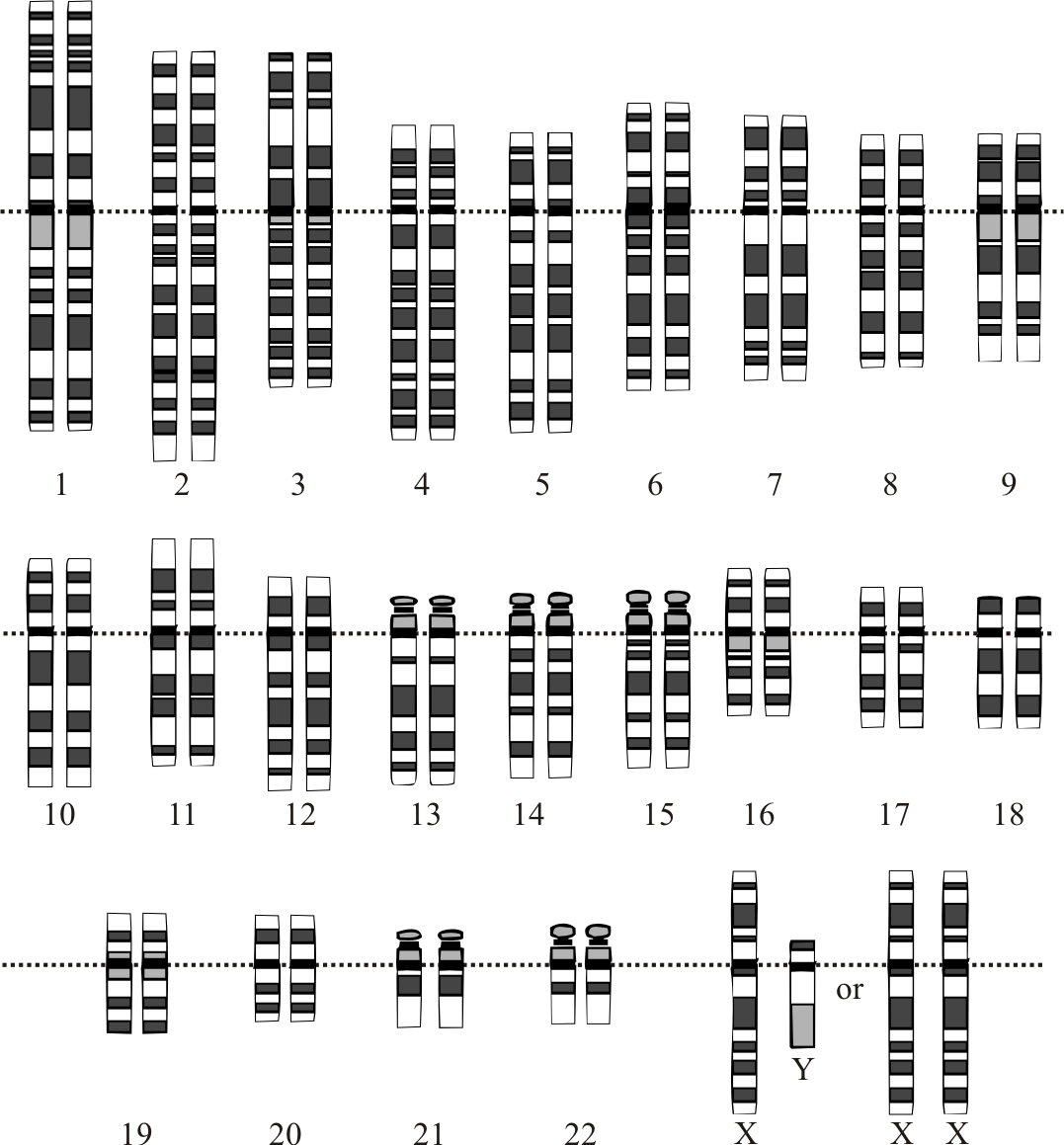 Human gene karotype (NIH)

For years, the LGBTQ crowd has tried to claim that they were 'born that way' and had no choice. Well, a recent study has concluded that no, human genetics does not make one homosexual. Harvard Magazine reported:
There is no one gene for being gay … That's the conclusion of a paper by an international team of researchers, co-led by Benjamin Neale of the Broad Institute of Harvard and MIT, published today in the journal Science. The team combed the genomes of more than 470,000 people in the United States and the United Kingdom to see how genetic variants at millions of different places in the genome correlate with whether participants had ever had sex with someone of the same sex. The study, by far the largest such investigation of sexuality to date, was made possible by combining genetic and behavioral data from more than 400,000 people from the UK's BioBank study, and from 70,000 customers of the genetic testing company 23andMe, who opted in to having their data used for research. … the team estimated that the genetic variants they studied could predict, at best, somewhere between 8 percent and 25 percent of the reported variation in the entire cohort's sexual behavior. …

"It's effectively impossible to predict an individual's sexual behavior from their genome," said Neale, the director of genetics in the Stanley Center for Psychiatric Research at the Broad and an associate professor in medicine at Harvard Medical School (HMS), during a Tuesday teleconference introducing the paper's findings.  …

In 1993, Michael Hamer, Ph.D. '77, then a researcher at the National Institutes of Health, published results showing a correlation between male homosexual behavior and a cluster of genes, called Xq28, at the tip of the X chromosome. Exactly which gene in this cluster may be involved has proven elusive—the current study found no significant association between the X chromosome and same-sex sexual behavior—but the idea that a "gay gene" might lie somewhere in Xq28—or elsewhere—was captivating. Genetics was gaining increasing authority and public attention (the human genome project launched in 1990), Bronski points out, "So 'I was born this way' then became a genetic argument, that there is…something physical…that made you have these attractions." 08/29/19 https://harvardmagazine.com/2019/08/there-s-still-no-gay-gene
Now, in my opinion, in order to be more 'politically correct,' the researchers indicated that there was some genetic influence, but it was not more than 8-25%–and that is an overstatement. There is no proof that genes make one LGBTQ.
Here is another report:
A genetic analysis of almost half a million people has concluded there is no single "gay gene".

29 August 2019

Five specific genetic variants were found to be particularly associated with same-sex behaviour, including one linked to the biological pathway for smell, and others to those for sex hormones.

But together they only accounted for under 1% of same-sex behaviour. …

David Curtis, honorary professor at the UCL Genetics Institute, University College London, said: "This study clearly shows that there is no such thing as a 'gay gene'.

"There is no genetic variant in the population which has any substantial effect on sexual orientation. https://www.bbc.com/news/health-49484490
Under 1 percent! And even then, that also is not proof, but conjecture.
This 'born this way' argument helped the LGBTQ crowd get sympathy and win over various courts, academics, and government officials.
Now that the LGBTQ crowd has essentially won legal acceptance in many places around the world, it will no longer feel it needs to push this 'born this way, no choice but to be gay' argument.
It kind of reminds me of the false abortion arguments decades ago. The abortionists used to argue that no one knew when human life began, so aborting a fetus was not the taking of a human life. But biologists know that life begins at conception. But after getting enough abortion laws passed the abortionists fully realize that abortion ends a human life, but they focus more on what they claim are women's reproductive rights. They realize that few believe that late term abortions, which they advocate, is not the killing of a human.
Similarly, the LGBTQ crowd will push other reasons, like 'human rights' to push their agenda and rely less on their false genetic arguments.
Instead, they will also promote more sexual immorality and experimentation. They will change their message from no choice, to something to the effect of why not try it?
Well, the reason why not is because sexual immorality is unhealthy (1 Corinthians 6:18) and biblically immoral (see also Romans 1:18-32).
LGBTQ behavior is sinful:
18 Flee sexual immorality. Every sin that a man does is outside the body, but he who commits sexual immorality sins against his own body. (1 Corinthians 6:18)

Since the LGBTQ crowd does not like being accused on sin, they have long pretended that genetics was the cause and that they have no choice.
That may be why Democratic Presidential hopeful, the homosexual Pete Buttigieg said: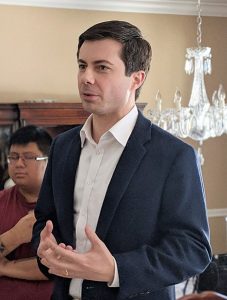 Pete Buttigieg (via marcn)
"I can tell you, that if me being gay was a choice, it was a choice that was made far, far above my pay grade," he said."And that's the thing I wish the Mike Pences of the world could understand, that if you have a problem with who I am, your problem is not with me. Your quarrel, sir, is with my creator."  04/09/19 https://www.cbsnews.com/news/pete-buttigieg-bringing-religion-into-the-2020-democratic-race/
Thus, he falsely claimed God made him homosexual and essentially he had no choice. But that is not true.
So with many making such false claims, it will take time for more of the LGBTQ crowd to move away from their false genetic argument.
But their arguments are still false.
We in the Church of God have long taken the position that homosexuals were NOT born that way.
Notice an article from the July-August 1984 Plain Truth magazine put out by the old Worldwide Church of God: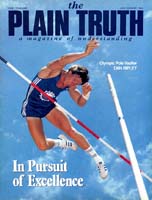 Is It True Some Are "BORN THAT WAY"?

There is a reason why many homosexuals assume they were "born that way"; why they assume their sexual attractions and emotions are as natural to them as the color of their eyes.

Genetics and hormones play a part in developing human sexuality, but not in the way many think. And individual responses to cultural, parental and personal experiences play a very big part in molding human sexual feelings. But, in addition, there is critical knowledge beyond biology and cultural studies that is missing in modern education about human sexual and emotional development. …

How Sexual Sin Enters

Humans are born with sexual emotional capacity. If wrong and damaging emotional and sexual feelings take root in human minds, it is because humans allow and do not resist them. Perhaps they don't realize they should. Perhaps they choose not to resist when they could. Perhaps certain temperamental or emotional weaknesses may make some more vulnerable to certain sexual temptations than others. Some wrong experiences leave deep impressions.

Other misleading emotions, feelings and desires, repeated enough, become deeply learned and conditioned in the human mind.

"Habits are at first cobwebs, then cables," goes an old Spanish proverb. Satan well understands this deep conditioning in human minds and emotions. He works to thwart God's purpose through them.

Though many deny it, all humans have been deceived (Rev. 12:9). All become, in one way or another, the slaves of various deceptive sins, pleasures and feelings (John 8:34; Heb. 3:13). They can't shake or escape them all on their own power.

It takes strong spiritual power from God, as well as high human motivation and effort, to break the damaging cables of wrong thinking and feeling and then learn the right thinking and emotions revealed in the law of God.

A person's most important sex organ is his or her brain!


If a person is properly guided in youth by proper role models, example and teaching, he or she will come to respect and desire to adopt' the correct sexual identity. Each will develop respect and love of the opposite sex and develop a right heterosexual desire. Each will also prepare to serve and love, in a right way, other human beings of all ages.


But sex education and emotional feelings are not primarily learned by formal instruction. Sex education and emotional feelings about sex automatically start from infancy with the way parents and other influential persons treat others of their own and the opposite sex, and how they treat children. Additional verbal or formal instruction merely reinforces learning.


Wrong sexual feelings develop not only out of a wrong culture but also out of ignorance. Many parents have failed to teach their children age-appropriate knowledge about sex. …


Misguided Choosing

Humans seek excitement — something to fill the void, emptiness or loneliness of their lives. What they need is a sense of worth to themselves and others. Whenever wrong sexual or emotional seeds are allowed and cultivated in an attempt to fulfill these needs, they will grow — in youth or even after one is married.

Scripture warns us, "Be not deceived; God is not mocked: for whatsoever a man soweth, that shall he also reap" (Gal. 6:7).


To some, extramarital involvement or homosexual thoughts or acts (a person may not even realize what they are) seem a way to find affection, gain attention, recognition, security or money. Maybe they seem a way of proving sexual prowess or masculinity. Maybe they seem the only option available, given one's lack of confidence or misled desires, feelings or fears about the opposite sex.


One wrong thought, uncontrolled or accepted, leads to still more. Maybe a person doesn't know he should resist temptation. Maybe he doesn't care. Minds that feed on wrong emotional or erotic thoughts in various fantasies (especially masturbation fantasies or in conjunction with specific kinds of pornography) will eventually have them ingrained as desires and emotions.


Too many cop out and totally blame others for their problems and emotions in life.


One's society or culture may be partly to blame. Parents mayor may not have set a right example in their relationships and teaching. Satan may have tempted. But individuals also repeatedly allow themselves to respond to wrong ways of living and thinking. …

The Real World of Sexuality

Many unfortunate human sexual and emotional feelings exist — some too obscene to describe (Eph. 5:12). All these warn us of the great varieties of sexual/emotional conditioning that can happen to improperly controlled minds and lives.

The majority of males in most cultures are heterosexually oriented. But even heterosexuals allow their minds and sexual feelings to be diverted by wrong desires. Some heterosexuals develop a degree of homosexual interest (a degree of bisexuality). Heterosexual males with effeminate (female) mannerisms also exist.


Feminine heterosexual females again are the majority. But there are also masculine-mannered females. The latter, however may still be heterosexual and maternal in interests.


There are many masculine-appearing (even super-masculine) male homosexuals and, at the other extreme, effeminate (or "swish" type) male homosexuals. There are all degrees in between. The effeminate type are usually only a small proportion of male homosexuals but, because they are more noticeable, are often erroneously stereotyped to represent the whole.


Female homosexuals (lesbians) are often typically feminine in outward appearance and manner. Others are very mannish ("butch" or "dyke"). There are all degrees between these appearances and mannerisms. In modern cultures, not all homosexuals are readily discernible from heterosexuals by outward appearances.


There are as many variances in appearances, shape, personality, temperament, preferences in attractions and professions among homosexuals as among heterosexuals. The vast majority of homosexuals of both sexes clearly identify themselves with their gender, but prefer their own sex sexually.

Other Unfortunate Conditioning

Transvestites are persons who cross-dress on various occasions. Research indicates most of these persons are males with heterosexual inclinations, although some have homosexual interests.


The majority of transvestite males identify themselves as males but have learned to get an erotic or emotional kick out of wearing items of clothing of the opposite sex, or in passing as a member of the opposite sex. Some can function sexually only after doing so.


This distorted emotional condition can often be traced back to early repeated cross-dressing by parents, siblings or by the person himself at some time. Such dressing began to produce exciting emotional or sexual responses that were repeated and cultivated.


God commanded the law of Deuteronomy 22:5 to prevent such distorted emotions: "The woman shall not wear that which pertaineth unto a man, neither shall a man put on a woman's garment: for all that do so are abomination unto the Lord thy God."


The law of Deuteronomy 22:5 also is intended to discourage another human distortion: transsexuality.


Transsexuals (they may be male or female) feel they have the mind and emotions of the opposite sex and are trapped in the wrong physical body. Often such feelings have been traced back to very early childhood upbringing that deprecated or ignored the child's true sex or caused them to experience or value only the feelings and emotions of the opposite sex.


Effeminate mannerisms in males may be due to rearing in a totally, or nearly exclusive female environment. Maybe a male wasn't allowed or encouraged to identify with a male and male outlook and thinking. The person picked up certain female ways of acting or feeling about things.


Effeminate mannerisms may also be a way of portraying non aggressiveness or reveal that the male does not want to be treated or threatened as an ordinary male may be. Many of these males still have heterosexual interests.


Effeminacy is harmful because it damages a male's proper leadership and thinking in a family unit.


The learning and conditioning of human sexual interests and emotional feelings are strong. So strong, in fact, that a person assigned the wrong sex at birth for some sex organ abnormality and then raised as a person of that assigned sex, readily develops the expected heterosexual interests for that sex even though his or her true genetics and hormone true genetics and hormone sex. These rare occurrences are sometimes not discovered until puberty changes force the true sex to appear.


The book Sexuality and Homosexuality — A New View by Arno Karlen, W.W. Norton & Company, Inc., New York, contains other backgrounds and causes of damaging sexuality.

Sexuality Not Private

Human sexuality is more than one's gender or a sexual act. It is not just a private matter as so many want others to believe. Human sexuality is a total way of thinking, acting and feeling.


One's sexuality affects the way one responds to his or her own and the opposite sex, to marriage, to the family experience and to every aspect of life.


That's why sex has so much impact on human lives and culture. It's the reason why the Creator commands men and women to develop it rightly.
While the LGBTQ supporting crowd may decide it has to accept some genetic reality, it does not want people to believe the following:
9

Do you not know that the unrighteous will not inherit the kingdom of God? Do not be deceived. Neither fornicators, nor idolaters, nor adulterers, nor homosexuals, nor sodomites,

10

nor thieves, nor covetous, nor drunkards, nor revilers, nor extortioners will inherit the kingdom of God.

11

And such were some of you. But you were washed, but you were sanctified, but you were justified in the name of the Lord Jesus and by the Spirit of our God.

(1 Corinthians 6:9-11)
Another lie pushed by the LGBTQ crowd is that since they were born that way, they cannot change. They have successfully gotten laws passed in various locations to prevent people from helping LGBTQ people change.
That goes against the Bible as it teaches Christians can change from such behaviours:
11 And such were some of you: but ye are washed, but ye are sanctified, but ye are justified in the name of the Lord Jesus, and by the Spirit of our God. (1 Corinthians 6:11, KJV)

5 Put to death, therefore, whatever belongs to your earthly nature: sexual immorality, impurity, lust, evil desires and greed, which is idolatry. 6 Because of these, the wrath of God is coming. 7 You used to walk in these ways, in the life you once lived. 8 But now you must also rid yourselves of all such things as these: anger, rage, malice, slander, and filthy language from your lips. 9 Do not lie to each other, since you have taken off your old self with its practices 10 and have put on the new self, which is being renewed in knowledge in the image of its Creator. (Colossians 3:5-10, NIV)
The Apostle Paul wrote:
13 I can do all things through Christ who strengthens me.  (Philippians 4:13)
That includes all LGBTQ related sins. The idea that homosexuals cannot change goes against science as Peter Sprigg reported:

Peter Sprigg (from FRC)
April 5, 2019

In Evidence Shows Sexual Orientation Can Change: Debunking the Myth of "Immutability," I report on academic studies over the last two decades based on four large data sets drawn from surveys about sexuality. These studies are both "population-based" (representative of the population as a whole) and "longitudinal" (meaning they survey the same individuals at intervals years apart, allowing us to measure change over time).

The truth is, "sexual orientation" is a multi-faceted concept, involving a combination of attractions, behaviors, and personal identity. These four studies all demonstrate that significant change in each of the elements of sexual orientation is possible.  https://www.christianpost.com/voice/lgbt-equality-laws-lose-their-foundation-evidence-shows-sexual-orientation-can-change.html
As far as genetics go, it is not just homosexuality that is not genetic.
Transvestism and other forms of trans-sexuality is not as well.
Notice also the following:
4 May 2017

Researchers have revealed a breakthrough is how the sexes really differ from each other.

A groundbreaking genetic study pinponted 6500 genes that differ between men and women.

Experts say it could have a profound effect in the way we identify and treat everything from disease to fertility. http://www.dailymail.co.uk/sciencetech/article-4475252/There-6-500-genetic-differences-men-women.html#ixzz4l2KCqvLW

May 7, 2017

A biological male can take hormones, surgically alter his body and identify as "female," but the procedures still won't make him a woman, according to new evidence found by Israeli researchers.

That's because there are at least 6,500 genes that contain sex-specific instructions for males and females.

For the study by Israel's Weizmann Institute of Science, professor Shmuel Pietrokovski and Dr. Moran Gershoni, both researchers from the institute's Molecular Genetics Department, "looked closely at around 20,000 protein-coding genes, sorting them by sex and searching for differences in expression in each tissue. They eventually identified around 6,500 genes with activity that was biased toward one sex or the other in at least one tissue, adding to the already major biological differences between men and women." …

The new findings are further evidence that biological males cannot simply "transition" into females and vice versa, argues Mat Staver, founder and chairman of Liberty Counsel.

"This recent study from Israel's Weizmann Institute of Science further proves that you cannot fool Mother Nature," Staver said. "The saying, 'I think, therefore, I am' is best left to philosophy and not science. Gender confusion is mental, not physical or biological. God made male and female, and no amount of protestation will change the natural created order."

Staver called the idea that a person can choose his or her gender "fiction."

"These Israeli scientists identified over 6,500 genes with activity that was biased toward one sex or the other in at least one tissue," he said. "That clearly validates the genetic differences between men and women." http://www.wnd.com/2017/05/study-more-proof-a-man-can-never-become-a-woman/
Another difference between males and females has to do with the brain.
Proof that girls and boys are born to be different: Controversial study finds that brain differences between the sexes begin in the womb

25 March 2019

In a scientific first, researchers claim to have found that differences between men's and women's brains start in the womb.

The conclusion is likely to be controversial, with some experts claiming social influences are more important.

But scientists who did brain scans of 118 foetuses in the second half of pregnancy to analyse the links between gender and the connectivity of a developing brain believe the differences are biological. …

According to the US study, published in the journal Developmental Cognitive Neuroscience, female brains growing in the uterus produced 'long-range' networks.
Professor Thomason said this was less true of boys, who were 'more susceptible to environmental influences'. https://www.dailymail.co.uk/health/article-6845991/Controversial-study-finds-brain-differences-sexes-begin-womb.html
While I do not think that this is necessarily "a scientific first" (as others noted brain development differences between male and female brains in utero), it is at least additional proof that boys and girls are biologically different in a way that is not clearly visually seen.
Since this study involved the unborn, it also helps negate the false narrative that 'gender' is not biological, but the result of societal environmental factors.
"Cross-dressing" is condemned as an abomination in the Bible:
5 A woman shall not wear anything that pertains to a man, nor shall a man put on a woman's garment, for all who do so are an abomination to the Lord your God. (Deuteronomy 22:5)
The Bible clearly condemns cross-dressing. It certainly is a voluntary behavior that people can change if they really want to.
Of course, many 'moderns' want to act like there is no difference between males and females and the LGBTQ crowd needs to have the rights to do what is morally wrong.
The Bible is clear that men and women are different. God warned that there would be those "who suppress the truth in unrighteousness" (Romans 1:18). But the truth is still the truth.
Gay people are NOT born that way!
Some items of possibly related interest may include:

Cross-dressing and other assaults against your children. What should you do? Is there an agenda to turn your children and/or grandchildren away from biblical morality and towards practices promoted by homosexuals? What does the Bible teach about cross-dressing? What should parents do? If there is an agenda, what has been going on? There are also three YouTube videos related to this, titled Transgender 'Woe to those who call evil good' and Cross dressing and Other Assaults Against Your Children and USA pushing gender confusion.
The Bible Condemns Homosexuality "Same-sex marriage" for "gays" and lesbians is becoming more acceptable to many. What does the Bible teach about homosexuality? Can homosexuals change? A related video sermon is titled: What Does the Bible Really Teach about Homosexuality?
Pornography: A scourge on society Is pornography harmless fun? Does the Bible teach anything about it? What are the views of some involved with it? A related sermons is titled: Pornography, False Comfort, and False Religion. Here a shorter YouTube video Pornography: Harmless Fun or a Scourge on Society?
Preparing for the 'Short Work' and The Famine of the Word What is the 'short work' of Romans 9:28? Who is preparing for it? Here is a link to a related video sermon titled: The Short Work.
Internet Censorship and Prophecy Are concerns about internet censorship limited to nations such as Russia, China, Iran, and North Korea. But what about the USA, Canada, and Germany? What about the European Union? What about internet media companies such as Facebook, Google, YouTube, or email services like MailChimp? Has the attempt to control information been made by various ones over the centuries? Was the New Testament affected by it? What about the church throughout the centuries? Has the Bible already been partially censored? Which Bible prophecies point to coming Internet censorship? What about the Book of Amos? What about the coming 666 Beast and final Antichrist? Is there anything that can be done about this? Should Philadelphian Christians be working on anything now? Will preaching the Gospel of the Kingdom of God vs. a highly media-supported alternative lead to a 'famine of the word'? More internet censorship is coming as various statements in the Bible support.
The Spanish Inquisition and Early Protestant Persecutions Was the Church of Rome really responsible for this? What happened? Here is a link to a related video sermon: The Past and Future Inquisition.
Persecutions by Church and State This article documents some that have occurred against those associated with the COGs and some prophesied to occur. Will those with the cross be the persecutors or the persecuted–this article has the shocking answer. There is also a YouTube video sermon you can watch: The Coming Persecution of the Church. Here is information in the Spanish language: Persecuciones de la Iglesia y el Estado.
Orwell's 1984 by 2024? In 1949, the late George Orwell wrote a disturbing book about a totalitarian government called "nineteen-eighty four." Despite laws that are supposed to protect freedom of speech and religion, we are seeing governments taking steps consistent with those that George Orwell warned against. We are also seeing this in the media, academia, and in private companies like Google, Facebook, and Twitter. With the advent of technology, totalitarianism beyond what Orwell wrote is possible. Does the Bible teach the coming a totalitarian state similar to George Orwell's? What about the Antichrist and 666? Will things get worse? What is the solution? Dr. Thiel answers these questions and more in this video.
Canadian censoring of the Bible In 2017, Lauri Skori of the Battle River School board told a religious school in Alberta, Canada that it could not teach/read certain portions of the Bible. In 2002, a court in Canada ruled against one who referred to certain scriptures that some homosexuals objected to. In 2017, there was "An Act to Amend the Canadian Human Rights Act and Criminal Code" related to those who wish to be considered transgendered. Government officials in Canada and elsewhere have been ruling against the Bible. Is any of this prophesied? Will this get worse? What was the prophet Amos inspired to write? This is a video.
Internet Control, Famine of the Word, and 666 Is the internet going to be used to suppress the teaching of the word of God?
Abortion, the Bible, and a Woman's Right to Choose Do you know what the Bible teaches on this? Has the Roman Catholic Church allowed abortions? What about the real Church of God? Some may also, or instead, wish to view the YouTube video Abortion, the Bible, and US Debt.
Christian Repentance Do you know what repentance is? Is it really necessary for salvation? A related sermon is also available titled: Real Christian Repentance.
Should the Church Still Try to Place its Top Priority on Proclaiming the Gospel or Did Herbert W. Armstrong Change that Priority for the Work? Some say the Church should mainly feed the flock now as that is what Herbert W. Armstrong reportedly said. Is that what he said? Is that what the Bible says? What did Paul and Herbert W. Armstrong expect from lower level leaders? A related sermon is available titled Priority of the Philadelphia Work.
Persecutions by Church and State This article documents some that have occurred against those associated with the COGs and some prophesied to occur. Will those with the cross be the persecutors or the persecuted–this article has the shocking answer. There is also a YouTube video sermon you can watch: The Coming Persecution of the Church. Here is information in the Spanish language: Persecuciones de la Iglesia y el Estado.
The Gospel of the Kingdom of God This free online pdf booklet has answers many questions people have about the Gospel of the Kingdom of God and explains why it is the solution to the issues the world is facing. Here are links to three related sermons: The World's False Gospel, The Gospel of the Kingdom: From the New and Old Testaments, and The Kingdom of God is the Solution.
Is God Calling You? This booklet discusses topics including calling, election, and selection. If God is calling you, how will you respond? Here is a link to a related sermon: Could God be Calling You?
USA in Prophecy: The Strongest Fortresses Can you point to scriptures, like Daniel 11:39, that point to the USA in the 21st century? This article does. A related sermon is titled: Do these 7 prophesies point to the end of the USA?
Who is the King of the West? Why is there no Final End-Time King of the West in Bible Prophecy? Is the United States the King of the West? Here is a version in the Spanish language: ¿Quién es el Rey del Occidente? ¿Por qué no hay un Rey del Occidente en la profecía del tiempo del fin? A related sermon is also available: The Bible, the USA, and the King of the West.
Anglo – America in Prophecy & the Lost Tribes of Israel Are the Americans, Canadians, English, Scottish, Welsh, Australians, Anglo-Saxon (non-Dutch) Southern Africans, and New Zealanders descendants of Joseph? Where are the lost ten-tribes of Israel? Who are the lost tribes of Israel? What will happen to Jerusalem and the Jews in Israel? Will God punish the U.S.A., Canada, United Kingdom, and other Anglo-Saxon nations? Why might God allow them to be punished first? Here is a link to the Spanish version of this article: Anglo-América & las Tribus Perdidas de Israel. Information is also in the YouTube sermons titled Where are the Ten Lost Tribes? Why does it matter? and British are the Covenant People. A short YouTube of prophetic interest may be: Are Chinese threats against Australia for real?
Will the Anglo-Saxon-Celtic Nations be Divided and Have People Taken as Slaves? Will the lands of the United States, United Kingdom, Canada, Australia, and New Zealand be divided? What about Jerusalem? What does Bible prophecy teach? Are there non-biblical prophecies that support this idea? Who will divide those lands? Who will end up with the lands and the people? Here is a link to a video titled Will the USA and other Anglo-nations be Divided and Their People Made Slaves? Here is a related item in the Spanish language ¿Serán divididas las naciones anglosajonas?
British are the Covenant People What do 'British' and 'Britain' mean in Hebrew? Are the descendants of the Anglo-Saxons people of the covenant? Does the British royal family connect to the throne of David? What does the Bible teach? What does history show us? Is there any DNA evidence related to British-Israelism? When did Christianity make it to the British Isles? Could Jeremiah have made it to the British Isles? What type of Christians made it to the British Isles? Did the last King of England believe in British Israelism?
Canada in Prophecy: What Does Bible Prophecy, Catholic Prophecy, and other Predictions Suggest About the Future of Canada? There are prophecies that suggest involvement with Canada. And many are not positive about its future. A sermon of related interest is also available: Canada in Prophecy.
Australia and New Zealand in Prophecy Do biblical prophecies help explain the wealth blessings for Australia and New Zealand? Might cursings from disobedience come in the 21st century? Here is a link to a related sermon: Australia and New Zealand: Origins and Prophecy.
When Will the Great Tribulation Begin? 2019, 2020, or 2021? Can the Great Tribulation begin today? What happens before the Great Tribulation in the "beginning of sorrows"? What happens in the Great Tribulation and the Day of the Lord? Is this the time of the Gentiles? When is the earliest that the Great Tribulation can begin? What is the Day of the Lord? Who are the 144,000? Here is a version of the article in the Spanish language: ¿Puede comenzar la Gran Tribulación en 2018 o 2019? ¿Es el Tiempo de los Gentiles? You can also see the English language sermon videos: The Great Tribulation from the Mount of Olives and Can the Great Tribulation begin before 2020? A shorter and newer video is: Might the Great Tribulation start in 2019?