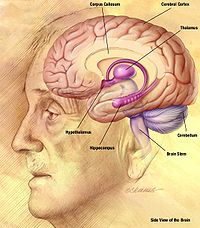 Men and women are not the same.
In addition to obvious anatomical differences, science has figured out that men and women have differently wired brains:
It turns out that men's brains may literally be wired differently than those of women. Researchers say the differences could explain why the sexes seem more suited to certain types of tasks than their counterparts. For example, women seem to be hardwired for multitasking.

Using imaging techniques, researchers at the University of Pennsylvania found men tended to display neural activity in one hemisphere of the brain for certain activities, while in women the activity bounces across hemispheres.

"These maps show us a stark difference – and complementarity – in the architecture of the human brain that helps provide a potential neural basis as to why men excel at certain tasks, and women at others," said Ragini Verma, PhD, an associate professor in the department of Radiology at the Perelman School of Medicine at the University of Pennsylvania.

The study shows that, on average, men are more likely better at learning and performing a single task at hand, like cycling or navigating directions, whereas women have superior memory and social cognition skills, making them more equipped for multitasking and creating solutions that work for a group.

Past studies have shown sex differences in the brain, but the neural wiring connecting regions across the whole brain that have been tied to such cognitive skills has never been fully shown in a large population, the researchers said.

The study imaged brain activity of 949 people, 521 females and 428 males, using DTI imaging. DTI is water-based imaging technique that can trace and highlight the fiber pathways connecting the different regions of the brain, laying the foundation for a structural connectome or network of the whole brain.

Researchers found that in the cerebrum, the largest part of the brain, females displayed greater connectivity between the left and right hemispheres. Males, on the other hand, displayed greater connectivity within each hemisphere.

By contrast, the opposite prevailed in the cerebellum, the part of the brain that plays a major role in motor control, where males displayed greater inter-hemispheric connectivity and females displayed greater intra-hemispheric connectivity.

These connections likely give men an efficient system for coordinated action, where the cerebellum and cortex participate in bridging between perceptual experiences in the back of the brain, and action, in the front of the brain, according to the authors. The female connections likely facilitate integration of the analytic and sequential processing modes of the left hemisphere with the spatial, intuitive information processing modes of the right side.

The findings meshed with other University of Pennsylvania studies in which females outperformed males on attention, word and face memory, and social cognition tests. Males performed better on spatial processing and sensorimotor speed. Those differences were most pronounced in the 12 to 14 age range.

"It's quite striking how complementary the brains of women and men really are," said Dr. Ruben Gur. "Detailed connectome maps of the brain will not only help us better understand the differences between how men and women think, but it will also give us more insight into the roots of neuropsychiatric disorders, which are often sex related." http://www.voanews.com/content/mens-and-womens-brains-are-wired-differently/1802730.html
While we in the COGs have long taught this type of thing, it is nice when scientists catch up more on this (though some scientists have reported this type of thing in the past, this study helped confirm that belief).
Notice also the following:
4 May 2017

Researchers have revealed a breakthrough is how the sexes really differ from each other.

A groundbreaking genetic study pinponted 6500 genes that differ between men and women.

Experts say it could have a profound effect in the way we identify and treat everything from disease to fertility. http://www.dailymail.co.uk/sciencetech/article-4475252/There-6-500-genetic-differences-men-women.html#ixzz4l2KCqvLW

May 7, 2017

A biological male can take hormones, surgically alter his body and identify as "female," but the procedures still won't make him a woman, according to new evidence found by Israeli researchers.

That's because there are at least 6,500 genes that contain sex-specific instructions for males and females.

For the study by Israel's Weizmann Institute of Science, professor Shmuel Pietrokovski and Dr. Moran Gershoni, both researchers from the institute's Molecular Genetics Department, "looked closely at around 20,000 protein-coding genes, sorting them by sex and searching for differences in expression in each tissue. They eventually identified around 6,500 genes with activity that was biased toward one sex or the other in at least one tissue, adding to the already major biological differences between men and women." …

The new findings are further evidence that biological males cannot simply "transition" into females and vice versa, argues Mat Staver, founder and chairman of Liberty Counsel.

"This recent study from Israel's Weizmann Institute of Science further proves that you cannot fool Mother Nature," Staver said. "The saying, 'I think, therefore, I am' is best left to philosophy and not science. Gender confusion is mental, not physical or biological. God made male and female, and no amount of protestation will change the natural created order."

Staver called the idea that a person can choose his or her gender "fiction."

"These Israeli scientists identified over 6,500 genes with activity that was biased toward one sex or the other in at least one tissue," he said. "That clearly validates the genetic differences between men and women." http://www.wnd.com/2017/05/study-more-proof-a-man-can-never-become-a-woman/
Of course, many 'moderns' want to act like there is no difference, but the Bible is clear that men and women are different. God warned that there would be those "who suppress the truth in unrighteousness" (Romans 1:18). But the truth is still the truth.
Furthermore, Jesus taught:
4 "Have you not read that He who made them at the beginning 'made them male and female,' 5 and said, 'For this reason a man shall leave his father and mother and be joined to his wife, and the two shall become one flesh'? 6 So then, they are no longer two but one flesh. Therefore what God has joined together, let not man separate." (Matthew 19:4-6)
The Apostle Paul taught:
1 Do not rebuke an older man, but exhort him as a father, younger men as brothers, 2 older women as mothers, younger women as sisters, with all purity.

3 Honor widows who are really widows. 4 But if any widow has children or grandchildren, let them first learn to show piety at home and to repay their parents; for this is good and acceptable before God. 5 Now she who is really a widow, and left alone, trusts in God and continues in supplications and prayers night and day. 6 But she who lives in pleasure is dead while she lives. 7 And these things command, that they may be blameless. 8 But if anyone does not provide for his own, and especially for those of his household, he has denied the faith and is worse than an unbeliever.

9 Do not let a widow under sixty years old be taken into the number, and not unless she has been the wife of one man, 10 well reported for good works: if she has brought up children, if she has lodged strangers, if she has washed the saints' feet, if she has relieved the afflicted, if she has diligently followed every good work.

11 But refuse the younger widows; for when they have begun to grow wanton against Christ, they desire to marry, 12 having condemnation because they have cast off their first faith. 13 And besides they learn to be idle, wandering about from house to house, and not only idle but also gossips and busybodies, saying things which they ought not. 14 Therefore I desire that the younger widows marry, bear children, manage the house, give no opportunity to the adversary to speak reproachfully. 15 For some have already turned aside after Satan. 16 If any believing man or woman has widows, let them relieve them, and do not let the church be burdened, that it may relieve those who are really widows.

17 Let the elders who rule well be counted worthy of double honor, especially those who labor in the word and doctrine. 18 For the Scripture says, "You shall not muzzle an ox while it treads out the grain," and, "The laborer is worthy of his wages." 19 Do not receive an accusation against an elder except from two or three witnesses. 20 Those who are sinning rebuke in the presence of all, that the rest also may fear. (1 Timothy 5:1-20)

22 Wives, submit to your own husbands, as to the Lord. 23 For the husband is head of the wife, as also Christ is head of the church; and He is the Savior of the body. 24 Therefore, just as the church is subject to Christ, so let the wives be to their own husbands in everything.

25 Husbands, love your wives, just as Christ also loved the church and gave Himself for her, 26 that He might sanctify and cleanse her with the washing of water by the word, 27 that He might present her to Himself a glorious church, not having spot or wrinkle or any such thing, but that she should be holy and without blemish. 28 So husbands ought to love their own wives as their own bodies; he who loves his wife loves himself. 29 For no one ever hated his own flesh, but nourishes and cherishes it, just as the Lord does the church. 30 For we are members of His body, of His flesh and of His bones. 31 "For this reason a man shall leave his father and mother and be joined to his wife, and the two shall become one flesh." 32 This is a great mystery, but I speak concerning Christ and the church. 33 Nevertheless let each one of you in particular so love his own wife as himself, and let the wife see that she respects her husband. (Ephesians 5:22-33)
Differences in anatomy/genetics, including the brain, are part of why the Apostle Paul wrote what he did. Some, however, especially in modern society, seem confused about the differences or God's intentions.
Some items of related interest may include:
Women and the New Testament Church What roles did women play in the ministry of Jesus and the apostles? Did Jesus and the Apostle Paul violate Jewish traditions regarding their dealings with women? Do women have any biblical limitations on their role in the Church? Were there female prophets? Do women have any special responsibilities in terms of how they dress? What does the New Testament really teach about women? Here is a related sermon titled: New Testament Women.
Husbands Love Your Wives An article written by the late Selmer Hegvold.
God Created Marriage Some falsely claim that God did not create marriage and that fornication is fine. What does the Bible really teach? Here is a version in Mandarin Chinese 神创造婚姻.
Here's the Plain Truth About OLD TESTAMENT POLYGAMY by Herbert Armstrong. Here is a related article in the Spanish language: ¿Es la poligamia una senda de Dios?
Love, Marriage, and Sex It is important to get them in the right order.
Five Rules for Effective Parenting Do you know that there are five simple rules that can make you a more effective parent? Here is a link to a version in Mandarin Chinese 五条简单有效的子女养育规则. There is also a 12 1/2 minute English language YouTube video on this, also titled Five Rules for Effective Parenting.
What Psychologists do not Know About Child Rearing This is an article by Herbert Armstrong that was used as the introduction to the pdf booklet The Plain Truth About Child Rearing.
The Plain Truth About Child Rearing This is a pdf booklet that the old WCG put out.
The Bible Condemns Homosexuality "Same-sex marriage" for "gays" and lesbians is becoming more acceptable to many. What does the Bible teach about homosexuality and the LGBTQ agenda?  Can homosexuals change? A related video sermon is titled: What Does the Bible Really Teach about Homosexuality?
Pornography: A scourge on society Is pornography harmless fun? Does the Bible teach anything about it? What are the views of some involved with it? A related sermons is titled: Pornography, False Comfort, and False Religion. Here a shorter YouTube video Pornography: Harmless Fun or a Scourge on Society?
Cross-dressing and other assaults against your children. What should you do? Is there an agenda to turn your children and/or grandchildren away from biblical morality and towards practices promoted by homosexuals? What does the Bible teach about cross-dressing? What should parents do? If there is an agenda, what has been going on? There is also a YouTube video on this, titled Cross dressing and Other Assaults Against Your Children.