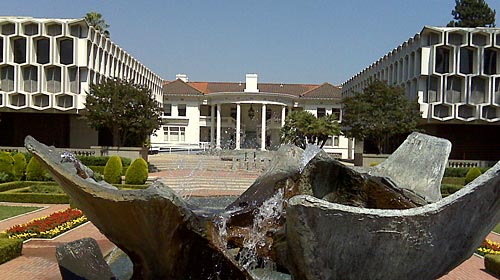 Although it is no longer owned by any COG, those who were once affiliated with the old WCG were familiar with the old Ambassador campus. My wife and I were married in one of the buildings shown above.  And apparently these buildings are now being demolished.

The former Ambassador College campus is getting more buildings demolished.  Craig White sent me the following in an email he took from Facebook:
> For all my friends who remember and appreciate the Ambassador College Campus in Pasadena, I've just learned that City Ventures has begun the demolition of the Loma D. Armstrong Academic Center, including the Fine Arts and Science Halls. The Hall of Administration will follow later on this year. Sadness…<
The physical assets of the old WCG helped the church reach world leaders with the message of the Gospel of the Kingdom. It seems that some of them have become a burden to those who have tried to develop the property since.
City Ventures acquired the property over three years ago (Ambassador College Campus Again Changing Ownership).  In 2011.  they laid out plans to develop 'high end' homes (High End Homes to Be Built on Old Ambassador College Grounds).
Although my wife and I will miss many of the old buildings, the Gospel message will be proclaimed to the world as it is not dependent upon physical assets.
Some articles of related interest may include:
The Temple and the Work This article discusses the two temples of the Old Testament and gives insight as to their possible relevance to the situation which has impacted the Church during this past decade or so.
The Gospel of the Kingdom of God was the Emphasis of Jesus and the Early Church Did you know that? Do you even know what the gospel of the kingdom is all about? True religion should be based upon the true gospel.
Should the Church Still Try to Place its Top Priority on Proclaiming the Gospel or Did Herbert W. Armstrong Change that Priority for the Work? Some say the Church should mainly feed the flock now as that is what Herbert W. Armstrong reportedly said. Is that what he said? Is that what the Bible says? What did Paul and Herbert W. Armstrong expect from lower level leaders?
The Final Phase of the Work What is the final phase of the work? Who will lead it? Do you have the courage to support it? Here is a related YouTube video titled The Final Phase of the Work. The written article has been translated into Spanish La Fase Final de la Obra.