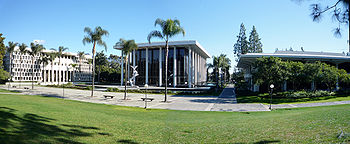 Ambassador Auditorium (in center)
The property at the old Ambassador College again made the news:
City Ventures Has Amassed 3,500 Lots for Homebuilding


Santa Ana-based City Ventures LLC doesn't have the history of some homebuilders here. But it certainly has the land…

An upscale project in Pasadena at the former site of Ambassador College is set to start selling later this year.

The project is expected to be the company's priciest, with homes starting at around $1.5 million. http://www.ocbj.com/news/2011/feb/20/city-ventures-has-amassed-3500-lots-homebuilding/
As I reported in January of 2010 (see Ambassador College Campus Again Changing Ownership), City Ventures bought a lot of the property of the old Ambassador College.
The physical assets of the old Worldwide Church of God helped the church reach world leaders with the message of the Gospel of the Kingdom.  It seems to have become a burden to those who have tried to develop the property since, but perhaps not now (though in the current California economy this project may be problematic).
Of course, the Gospel message will be proclaimed to the world (Matthew 24:14) and it is not dependent upon physical assets.
Several articles of possibly related interest may include:
Who Was Herbert W. Armstrong? How is He Viewed Today? Includes quotes from the 1973 edition of The Autobiography of Herbert W. Armstrong and explains how he is and should be viewed today.
Should the Church Still Try to Place its Top Priority on Proclaiming the Gospel or Did Herbert W. Armstrong Change that Priority for the Work? Some say the Church should mainly feed the flock now as that is what Herbert W. Armstrong reportedly said. Is that what he said? Is that what the Bible says? What did Paul and Herbert W. Armstrong expect from evangelists?
The Gospel of the Kingdom of God was the Emphasis of Jesus and the Early Church Did you know that? Do you even know what the gospel of the kingdom is all about? True religion should be based upon the true gospel.
The Temple and the Work This article discusses the two temples of the Old Testament and gives insight as to their possible relevance to the situation which has impacted the Church during this past decade or so.