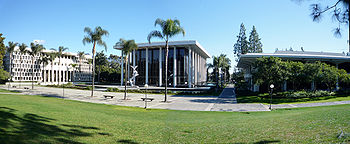 Ambassador Auditorium (in center)
Ambassador Auditorium made the news:
Pasadena Symphony to move to Ambassador Auditorium

Southern California Public Radio – March 20, 2010PASADENA – The Pasadena Symphony Orchestra is trading down, and for the first time in 82 years will not play its season in the venerable Pasadena Civic Auditorium, it was reported today.

The PSO will move across downtown Pasadena to the Ambassador Auditorium, an acoustically-stellar hall built in 1974 that can accommodate about 60 percent fewer people, the Pasadena Star-News reported today…Located on a hill across a freeway from Old Town Pasadena, the Ambassador Auditorium was built as the centerpiece of a religious college… Ambassador College, is defunct and its campus has been sold off. 

http://www.scpr.org/news/2010/03/20/pasadena-symphony-move-ambassador-auditorium/
Herbert W. Armstrong had Ambassador Auditorium built in the 1970s mainly as a means to reach people (and especially world leaders) who were often secularly oriented.  It wasy (and still is) well known for its acoustic quality.
After Herbert W. Armstrong died, those who took it over did not share his views on theology or public proclamation of Christ's gospel of the kingdom.  And ultimately they sold the property to fund their own priorities.
But the priority of proclaiming the true gospel remains today.
Several articles of possibly related interest may include:
Who Was Herbert W. Armstrong? How is He Viewed Today? Includes quotes from the 1973 edition of The Autobiography of Herbert W. Armstrong and explains how he is and should be viewed today.
Should the Church Still Try to Place its Top Priority on Proclaiming the Gospel or Did Herbert W. Armstrong Change that Priority for the Work? Some say the Church should mainly feed the flock now as that is what Herbert W. Armstrong reportedly said. Is that what he said? Is that what the Bible says? What did Paul and Herbert W. Armstrong expect from evangelists?
The Gospel of the Kingdom of God was the Emphasis of Jesus and the Early Church Did you know that? Do you even know what the gospel of the kingdom is all about? True religion should be based upon the true gospel.
The Temple and the Work This article discusses the two temples of the Old Testament and gives insight as to their possible relevance to the situation which has impacted the Church during this past decade or so.