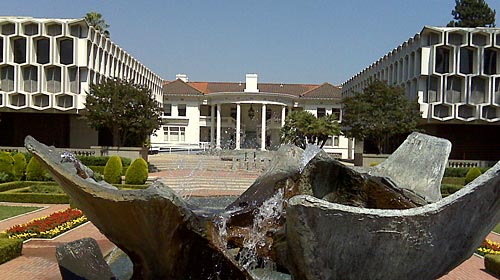 Although it is no longer owned by any COG, those who were once affiliated with the old WCG were familiar with the old Ambassador campus. My wife and I were married in one of the buildings shown above.
An item related to the old WCG Ambassador Auditorium made the news:
Honoring the history makers
Pasadena Star-News – June 24, 2008      excerpt…
The recently restored egret fountain, on the grounds of Pasadena's Ambassador Auditorium, was the centerpiece for "Raise the Roof under the Tuscan Stars," a benefit for San Gabriel Valley Habitat for Humanity on June 14. Pasadena Mayor Bill Bogaard and Pastor Che Ahn of Harvest Rock Church, the new owner of the auditorium, were on hand for the unveiling of the landmark, created by British sculptor David Wynne in the late 1960s on the former Ambassador College campus.
Market City Caffe provided the Italian-style supper served to nearly 400 guests at tables surrounding the fountain. Former Glendale Mayor Larry Zarian emceed – Glendale Galleria was a signature sponsor of the event – and Jim Ciccolo presided over the live auction. Benefit committee chairman, Cynthia Heydt, of San Marino, reports that the event raised more than $80,000.  source: http://www.pasadenastarnews.com/ci_9688262
The physical assets of the old WCG helped the church reach world leaders with the message of the Gospel of the Kingdom.
An article of related interest may be The Gospel of the Kingdom of God was the Emphasis of Jesus and the Early Church.