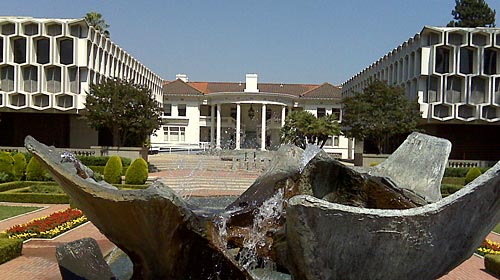 Although it is no longer owned by any COG, those who were once affiliated with the old WCG were familiar with the old Ambassador campus. My wife and I were married in one of the buildings shown above.
The old Ambassador campus made the news this week. Notice what the Los Angeles Times reported:
Ambassador campus development in Pasadena foreclosed
Los Angeles Times …
An ambitious development project that included hundreds of condominiums, apartments and a senior housing complex on the former Ambassador College campus has been foreclosed, Pasadena officials said Tuesday.
The foreclosure encompassed most of the project's 20 acres, one of the prime parcels of land in the city. The project had the support of historical preservationists and was viewed as a key component in the development of a long dormant section of Old Town Pasadena.

Ambassador West, as the project was called, was part of a larger plan to add hundreds of housing units and thousands of square feet of commercial space on and around the former campus.

Pasadena Mayor Bill Bogaard said those other projects, including the "urban village" Westgate, will not be affected by the foreclosure and downplayed its immediate effect…
The future of the landmark Ambassador site has been debated by residents for years.

The property, with lush gardens with fountains and manicured lawns, is dotted with well-kept period-revival mansions that were once part of "Millionaires' Row" along Orange Grove Boulevard. It was owned for decades by the Worldwide Church of God…
Neither the owners of the land, whose identities haven't been disclosed, nor project officials could be reached for comment…
The company's 5.7 acres of the Ambassador West territory was not part of the foreclosure. Krueger said it has not determined what to do with the property.

The project had been opposed by Harvest Rock Church, a nondenominational Christian congregation on the campus that was concerned that the plan was too big and would overshadow the Ambassador College's celebrated architecture and landscaping, which includes a reflecting pool.

On Tuesday, news of the foreclosure was welcomed.

"We're just glad it's over," said Doug Huse, general manager for the church. "We're tired of it. This is a new beginning."
http://www.latimes.com/news/printedition/california/la-me-pasadena11-2008jun11,0,5335030.story
The above foreclosure is not really a surprise as there have been problems with the old Ambassador property for some time (see Ambassador Developer Receivership and More Ambassador Development Woes).
While the old WCG has been "transformed from truth to paganism", the old campus has been transformed from an religious institution recapturing true values to being split between a worldly church combined with failed developers. FWIW, I would tend to describe Harvest Rock as a "pentecostal" church as opposed to "nondenominational".