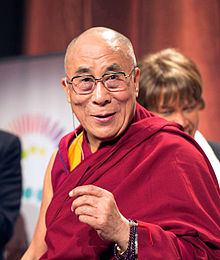 Tenzin Gyatso  also known as the Dalai Lama (photo by Christopher)

China has a new public concern about the Dalai Lama:
April 15, 2015
BEIJING— China accused the Dalai Lama on Wednesday of inciting a wave of self-immolations among Tibetans that are widely seen as desperate protests against Chinese rule in the Himalayan region.

Similar accusations have been denied in the past, and the exiled Tibetan spiritual leader has called the deaths sad and ineffective in changing Chinese policy.

A report issued Wednesday by the Cabinet's State Council Information Office said Chinese police investigations showed such incidents are being "manipulated and instigated" by the Dalai Lama and his supporters.

The report said a strategy to encourage Tibetans to burn themselves to death emerged after the self-declared Tibetan government-in-exile based in India recommitted itself to non-violence in 2011.

It cited statements from exile groups that it said encouraged such acts as worthy Buddhist sacrifices and commemorated the victims as martyrs. It also said a monastic arm of the exile government coordinated with monasteries inside China to "remotely plan self-immolations."

"To commit an act of self-violence in a public place is inherently violent behavior whose aim is to create an atmosphere of terror and transmit psychological horror," the report said.

It gave no figures for the number of self-immolations. Independent groups say 113 men and 24 women have set themselves on fire since March 2011 and most have died of their burns.  http://www.voanews.com/content/china-accuses-dalai-lama-of-inciting-tibet-self-immolation/2719723.html
I do not know if the Dalai Lama has directly or indirectly encouraged this form of suicide protest.  If he has, that is wrong.  All forms of suicide are wrong (see also Robin Williams and the suicide 'epidemic').
All, including the Dalai Lama, should pray for peace and the establishment of the Kingdom of God.  While I have empathy for some of the concerns of the Tibetans, suicide is not a proper form of political protest.
China itself was also in the news for a project it wants to do:
April 15, 2015

BEIJING—

China is trying to connect more than 20 countries along the ancient Silk Road under a grandiose program christened "One Belt, One Road." But the more than $140 billion program is facing challenges in many places over wars, territorial disputes and domestic unrest.

The plan involves expanding China's economic influence by establishing two big foreign trade routes. One stretches overland from China through Central Asia and on to Europe, traversing many countries that are desperate for more trade options to grow their economies. The other route is a maritime trade link connecting Chinese ports with coastal trading hubs in Africa and the Middle East.

For many countries along the route, China's ambitions could bring a welcome economic boost.

"China's efforts to implement this initiative will likely have an important effect on the region's economic architecture-patterns of regional trade, investment, infrastructure development-and in turn have strategic implications for China, the United States, and other major powers," said an article published by the Washington-based Center for Strategic and International Studies.

Chinese Non-Interference Challenged By Ambitious Development Plan

But such an ambitious and far-reaching project also is vulnerable to becoming entangled in foreign disputes that Beijing has traditionally worked to avoid.

Those include the Ukraine crisis, island disputes involving six countries along the South China Sea, China's border dispute with India, anti-China sentiment in Sri Lanka, instability in Myanmar's border areas with China, terrorism in Pakistan and unrest in the western Chinese region of Xinjiang.

"If the territorial dispute cannot be solved, it is bad for the One Belt One Road program. If two neighbors are in conflict, there is no progress," said Yao Peisheng, who earlier served as Chinese Ambassador to the Kyrgyz Republic, Latvia, Kazakhstan, and Ukraine besides the foreign ministry's Department of European-Central Asian Affairs in Beijing. …

Some Countries Skeptical of Greater Chinese Political Influence

Countries that are extremely reluctant to join include Vietnam and the Philippines, according to Li Mingjiang, associate professor and coordinator of China programs at Singapore's Institute of Defense Studies. Vietnam experienced anti-China riots last year after a Chinese oil rig parked in waters claimed by Vietnam. The Philippines has sought international arbitration in contesting Beijing's claims to remote reefs that Manila claims as its own.

"There is also a feeling among ASEAN (Association of Southeast Asian Nations) countries that China's influence will rise much higher through the Silk Road program. Singapore, Malaysia and Indonesia are concerned about this issue," he said.

There are worries China would be able to overshadow the influence of ASEAN as member countries become connected by roads and sea routes financed and constructed by Chinese companies. Although it is a member of ASEAN+1, China has twice tried and failed to keep the sea dispute outside the agenda of ASEAN meetings in recent years. The Silk Road program could change that.

The territorial disputes in the South China Sea remain hotly contested, but Maritime Silk Road maps released by Chinese media have shown the route running through disputed areas. That could harden attitudes of regional countries such as Vietnam and the Philippines against the initiative.

Some Russian media also have been highlighting the dangers of the Belt and Road program conflicting with Moscow's Eurasia initiative and helping China overtake Russia for influence among Central Asian countries.

The program may also face resistance in Sri Lanka, which recently went through an election that featured heated discussion about alleged corruption in Chinese backed projects. The new government in Colombo has suspended work on one such project for building a port city.

For now, analysts say Chinese president Xi Jinping appears to be using the One Belt One Road program as a litmus test to determine different countries' level of cooperation.

Beijing also is expected to use its new Asia Infrastructure Investment Bank (AIIB) to build the transportation links and infrastructure improvements aimed at boosting the new trade routes. That initiative has gained the support of some 57 countries, including Britain, France and Germany to become members of the China-backed AIIB. …

Central Asian countries are excited about the prospects of Chinese funding because their economics have been hit due to sliding oil prices and lowered remittances from local people working in Russia.

China has allocated $40 billion to a newly created Silk Road Fund, while the Asian Infrastructure Investment Bank is being created with an equity capital of $100 billion. But the actual fund made available for the program might be three or four times this amount, analysts said. Additional resources will include issuance of special bonds and low-cost financing by the Beijing based China Development Bank.

Even countries who have doubts are slowly being drawn towards the program for this reason. And despite U.S. criticism of the development bank and skepticism over the Silk Road Project, many countries are finding the promise of cheap loans and new infrastructure to be a power draw.
Because the USA is highly in debt, and many countries have needs, China's program, especially when the AIIB is considered, has potential to greatly increase China's influence (see also China, Gold, and the AIIB and China and 21 other Asian nations take another step to break USA dollar dominance and Europe is pivoting towards China and away from the USA and Former Treasury Secretary: USA Lost its Global Economic Leadership Last Month).
The Bible shows that China will have influence, but it will not rule over the world as some there hope.  But it likely will be very influential throughout the next decade or so.
Some items of possibly related interest may include:
China, Its Biblical Past and Future, Part 1: Genesis and Chinese Characters Where did the Chinese people come from? This article provides information showing that the Chinese peoples must have known about various accounts in the Book of Genesis up until their dispersion after the Tower of Babel. Here is a link to a version of this article in Spanish: ¿Prueban los caracteres chinos la exactitud de la Biblia?
China, Its Biblical Past and Future, Part 2: The Sabbath and Some of God's Witness in China When did Christianity first come to China? And is there early evidence that they observed the seventh day sabbath?
Asia in Prophecy What is Ahead for Asia? Who are the "Kings of the East"? What will happen to nearly all the Chinese, Russians, Indians, and others of Asia? China in prophecy, where? Who has the 200,000,000 man army related to Armageddon? A YouTube video of interest may be Is China THE Threat to the United States of America?
Persecutions by Church and State This article documents some that have occurred against those associated with the COGs and some prophesied to occur. Will those with the cross be the persecutors or the persecuted–this article has the shocking answer. There is also a YouTube video sermon you can watch: The Coming Persecution of the Church. Here is information in the Spanish language: Persecuciones de la Iglesia y el Estado.
Does God Have a 6,000 Year Plan? What Year Does the 6,000 Years End? Was a 6000 year time allowed for humans to rule followed by a literal thousand year reign of Christ on Earth taught by the early Christians? Does God have 7,000 year plan? What year may the six thousand years of human rule end? When will Jesus return? 2021 or 20xx? There is also a video titled The 6000 Year Plan: Is the end of humanity's reign almost up?
When Will the Great Tribulation Begin? 2015, 2016, or 2017? Can the Great Tribulation begin today? What happens before the Great Tribulation in the "beginning of sorrows"? What happens in the Great Tribulation and the Day of the Lord? Is this the time of the Gentiles? When is the earliest that the Great Tribulation can begin? What is the Day of the Lord? Who are the 144,000? Here is a version of the article in the Spanish language: ¿Puede comenzar la Gran Tribulación en 2014 o 2015? ¿Es el Tiempo de los Gentiles? You can also see the English language sermon video: The Great Tribulation from the Mount of Olives.
Project Prophecy: Economic Collapse Starting in 2015? Jim Rickards once worked for the CIA and also was once part of a a USA government program called called 'Project Prophecy.' He has a video were he claims that starting in 2015, the USA may have economic collapse resulting in a 25-Year Great Depression. He mainly cites debt figures and claims advises alternatives to the USA dollar which he says will collapse? What did Rand Paul state? Can the USA dollar collapse?
Market Collapse then New World Order in 2015? A long-time financial adviser named Harvey Organ claims that claims that because of insufficient gold in the central banks of USA and UK, that Shanghai would bring about exposing this and that this would lead to a massive, overnight, rise in the price of gold and silver, diminished value of their currencies. He states a market collapse will occur before the end of 2014, that the petroyuan will replace the petrodollar, and that a Chinese led New World Order will be in place for 2015. Is this possible? Where does the leader of the 'New World Order' come from? What does the Bible teach?
Anglo – America in Prophecy & the Lost Tribes of Israel Are the Americans, Canadians, English, Scottish, Welsh, Australians, Anglo-Saxon (non-Dutch) Southern Africans, and New Zealanders descendants of Joseph? Where are the lost ten-tribes of Israel? Who are the lost tribes of Israel? What will happen to Jerusalem and the Jews in Israel? Will God punish the U.S.A., Canada, United Kingdom, and other Anglo-Saxon nations? Why might God allow them to be punished first? Here is a link to the Spanish version of this article: Anglo-América & las Tribus Perdidas de Israel. Information is also in the YouTube sermons titled Where are the Ten Lost Tribes? Why does it matter? and British are the Covenant People. A short YouTube of prophetic interest may be Barack Obama and the State of the Apocalypse.
The Gospel of the Kingdom of God was the Emphasis of Jesus and the Early Church Did you know that? Do you even know what the gospel of the kingdom is all about? True religion should be based upon the true gospel.
Did The Early Church Teach Millenarianism? Was the millennium (sometimes called chiliasm) taught by early Christians? Who condemned it? Will Jesus literally reign for 1000 years on the earth? Is this time near? A related sermon is titled The Millennium.
Barack Obama, Prophecy, and the Destruction of the United States-Second Edition for Second Obama Term This is a 160 page book for people truly interested in prophecies related to Barack Obama and the United States, including learning about many that have already been fulfilled (which the book documents in detail) and those that will be fulfilled in the future. It also has a chapter about a Republican choice. This book is available to order at www.barackobamaprophecy.com. The physical book can also be purchased at Amazon from the following link: Barack Obama, Prophecy, and the Destruction of the United States: Is Barack Obama Fulfilling Biblical, Islamic Catholic, Kenyan, and other America-Related Prophecies? What About Republican Leaders? Second Edition for Second Obama Term.
Barack Obama, Prophecy, and the Destruction of the United States-Second Term-Amazon Kindle edition. This electronic version is available for only US$2.99. And you do not need an actual Kindle device to read it. Why? Amazon will allow you to download it to almost any device: Please click HERE to download one of Amazon s Free Reader Apps. After you go to for your free Kindle reader and then go to Barack Obama, Prophecy, and the Destruction of the United States-Second Term-Amazon Kindle edition.