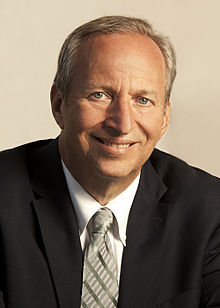 Lawrence Summers

A reader sent me a link to the following:
Time US leadership woke up to new economic era

April 5, 2015

This past month may be remembered as the moment the United States lost its role as the underwriter of the global economic system. True, there have been any number of periods of frustration for the US before, and times when American behaviour was hardly multilateralist, such as the 1971 Nixon shock, ending the convertibility of the dollar into gold. But I can think of no event since Bretton Woods comparable to the combination of China's effort to establish a major new institution and the failure of the US to persuade dozens of its traditional allies, starting with Britain, to stay out of it.

This failure of strategy and tactics was a long time coming, and it should lead to a comprehensive review of the US approach to global economics. With China's economic size rivalling America's and emerging markets accounting for at least half of world output, the global economic architecture needs substantial adjustment. Political pressures from all sides in the US have rendered it increasingly dysfunctional.  …

Here are three precepts that US leaders should keep in mind.

First, American leadership must have a bipartisan foundation at home, be free from gross hypocrisy and be restrained in the pursuit of self-interest. As long as one of our major parties is opposed to essentially all trade agreements, and the other is resistant to funding international organisations, the US will not be in a position to shape the global economic system.

Other countries are legitimately frustrated when US officials ask them to adjust their policies — then insist that American state regulators, independent agencies and far-reaching judicial actions are beyond their control. This is especially true when many foreign businesses assert that US actions raise real rule of law problems.

The legitimacy of US leadership depends on our resisting the temptation to abuse it in pursuit of parochial interest, even when that interest appears compelling. We cannot expect to maintain the dollar's primary role in the international system if we are too aggressive about limiting its use in pursuit of particular security objectives.

Second, in global as well as domestic politics, the middle class counts the most. It sometimes seems that the prevailing global agenda combines elite concerns about matters such as intellectual property, investment protection and regulatory harmonisation with moral concerns about global poverty and posterity, while offering little to those in the middle. Approaches that do not serve the working class in industrial countries (and rising urban populations in developing ones) are unlikely to work out well in the long run.

Third, we may be headed into a world where capital is abundant and deflationary pressures are substantial.  http://larrysummers.com/2015/04/05/time-us-leadership-woke-up-to-new-economic-era/
Larry Summers is correct in pointing out that hypocritical actions by the USA are contributing to distrust of the USA.  While he did not mention it directly, the time will come when the US dollar is totally worthless and will stop being a world reserve currency.
What was the action last month by China he was alluding to?
China established the Asian Infrastructure Investment Bank (AIIB), and various 'unexpected' nations have supported it.  Notice:
April 6, 2015

The Chinese government can scarcely believe its own luck. Heaping Asian insult upon Capitol Hill injury, last week Benjamin Netanyahu committed Israel to join Beijing's new Asian Infrastructure Investment Bank.

While there is no love lost between the Israeli prime minister and US President Barack Obama, who was embarrassed by Mr Netanyahu's congressional address on March 3, Beijing could not have expected to attract such a longstanding American ally to the AIIB when it first conceived of the institution at least two years ago.

What began as a seemingly quixotic defection to the AIIB by the UK — the first US partner to turn a deaf ear to American protestations about the bank — has turned into an unalloyed strategic triumph for Beijing.

More than 50 countries, including traditional US military allies such as Australia and South Korea, have signed up. …

China's strategic volte face has benefited from an almost comic series of mis-steps by its great geopolitical rival. US congressional reluctance to sign off on reforms giving China and other developing nations a greater role at the World Bank and International Monetary Fund has been compounded by the Obama administration's inability to, as they like to say on Capitol Hill, "count the votes" on the AIIB.

It is one thing to oppose an institution behind-the-scenes and fail quietly; it is quite another to do so brazenly. Worse for Mr Obama, his standing in the Asia-Pacific region will deteriorate even further if he cannot secure congressional "fast-track" authority to seal the deal on the Trans-Pacific Partnership trade talks, which pointedly exclude China.

Should TPP fail, then the economic component of the US president's "pivot" towards Asia will — to Beijing's surprise and delight — have completely unravelled.

Chinese President Xi Jinping cannot, however, celebrate just yet. While 2015 may have started out as an annus mirabilis for Beijing, an evolving diplomatic mess in Sri Lanka is a reminder of how quickly geostrategic momentum can change.  http://www.ft.com/cms/s/0/1c73b174-d9df-11e4-9b1c-00144feab7de.html#axzz3WYkGVlj3
While I do NOT believe that the AIIB is the all to end all, it is really because of sin which has led to massive increases of USA debt and a greater display of hypocrisy by the USA.
The Bible has an end time prophecy that those who read it may want to run:
2 Then the Lord answered me and said:

"Write the vision
And make it plain on tablets,
That he may run who reads it.
3 For the vision is yet for an appointed time;
But at the end it will speak, and it will not lie. (Habakkuk 2:2-3)
What is this end time prophecy about that should cause people to run? It is a prophecy about debt accumulation:
6 "Will not all these take up a proverb against him,
And a taunting riddle against him, and say,
'Woe to him who increases
What is not his — how long?
And to him who loads himself with many pledges'?
7 Will not your creditors rise up suddenly?
Will they not awaken who oppress you?
And you will become their booty.
8 Because you have plundered many nations,
All the remnant of the people shall plunder you (Habakkuk 2:6-8)
The USA is the most indebted nation of all time. And on a per capita basis, the UK is one of the most indebted nations on earth.
China and other nations are trying to take steps. Not all of them will work.
But make no mistake about it, the USA is losing its economic dominance.  The 'new world order' that will replace the USA is NOT something that will treat the USA and its Anglo-Saxon descended allies well.
That being said, China has its own problems and will NOT end up on top the way its leaders hope it will.
Some items of possibly related interest may include:
China, Its Biblical Past and Future, Part 1: Genesis and Chinese Characters Where did the Chinese people come from? This article provides information showing that the Chinese peoples must have known about various accounts in the Book of Genesis up until their dispersion after the Tower of Babel. Here is a link to a version of this article in Spanish: ¿Prueban los caracteres chinos la exactitud de la Biblia?
China, Its Biblical Past and Future, Part 2: The Sabbath and Some of God's Witness in China When did Christianity first come to China? And is there early evidence that they observed the seventh day sabbath?
Asia in Prophecy What is Ahead for Asia? Who are the "Kings of the East"? What will happen to nearly all the Chinese, Russians, Indians, and others of Asia? China in prophecy, where? Who has the 200,000,000 man army related to Armageddon? A YouTube video of interest may be Is China THE Threat to the United States of America?
When Will the Great Tribulation Begin? 2015, 2016, or 2017? Can the Great Tribulation begin today? What happens before the Great Tribulation in the "beginning of sorrows"? What happens in the Great Tribulation and the Day of the Lord? Is this the time of the Gentiles? When is the earliest that the Great Tribulation can begin? What is the Day of the Lord? Who are the 144,000? Here is a version of the article in the Spanish language: ¿Puede comenzar la Gran Tribulación en 2014 o 2015? ¿Es el Tiempo de los Gentiles? You can also see the English language sermon video: The Great Tribulation from the Mount of Olives.
The 'Peace Deal' of Daniel 9:27 This prophecy could give up to 3 1/2 years advance notice of the coming Great Tribulation. Will most ignore or misunderstand its fulfillment? Here is a link to a related sermon video Daniel 9:27 and the Start of the Great Tribulation.
United Nations: Humankind's Last Hope or New World Order? Is the UN the last hope for humanity? Or might its goals end up with sinister results? A related video would be United Nations and Vatican Are Planning the New World Order.
Will the Interfaith Movement Lead to Peace or Sudden Destruction? Is the interfaith movement going to lead to lasting peace or is it warned against? A video of related interest could be Do You Know That Babylon is Forming?
How Will Middle East Peace be Brought About? Can humans bring peace to the Middle East? Here is a link to a related video: Middle East Peace? When?
Must the Ten Kings of Revelation 17:12 Rule over Ten Currently Existing Nations? Some claim that these passages refer to a gathering of 10 currently existing nations together, while one group teaches that this is referring to 11 nations getting together. Is that what Revelation 17:12-13 refers to? The ramifications of misunderstanding this are enormous. A related sermon is titled Ten Kings of Revelation and the Great Tribulation.
Can those in the USA/UK see the Handwriting on the Wall? Is everything fine in the USA/UK or is it like the days of Noah? Can we learn from the handwriting that appeared on a wall thousands of years ago? Here is a link to a related YouTube video Can you see the 'Handwriting on the Wall'?
Is the Future King of the South Rising Up? Some no longer believe there needs to be a future King of the South. Might Egypt, Islam, Iran, Arabs, or Ethiopia be involved? Might this King be called the Mahdi or Caliph? What does the Bible say? A YouTube video of related interest may be: The Future King of the South is Rising.
There is a Place of Safety for the Philadelphians. Why it May Be Petra This article discusses a biblical 'place of safety' and includes quotes from the Bible and Herbert W. Armstrong on this subject–thus, there is a biblically supported alternative to the rapture theory. There is also a video on the subject: Might Petra be the Place of Safety? Here is something related in the Spanish language: Hay un lugar de seguridad para los Filadelfinos. ¿Puede ser Petra?
The Snowden Leaks are Leading to the Destruction of the USA Can what happened with the leaks of what the NSA has done help the USA to be taken over? What does the Bible teach that seems to be related to this? Here is a related YouTube video titled Are the Snowden NSA leaks leading to the destruction of the USA?
Project Prophecy: Economic Collapse Starting in 2015? Jim Rickards once worked for the CIA and also was once part of a a USA government program called called 'Project Prophecy.' He has a video were he claims that starting in 2015, the USA may have economic collapse resulting in a 25-Year Great Depression. He mainly cites debt figures and claims advises alternatives to the USA dollar which he says will collapse? What did Rand Paul state? Can the USA dollar collapse?
Market Collapse then New World Order in 2015? A long-time financial adviser named Harvey Organ claims that claims that because of insufficient gold in the central banks of USA and UK, that Shanghai would bring about exposing this and that this would lead to a massive, overnight, rise in the price of gold and silver, diminished value of their currencies. He states a market collapse will occur before the end of 2014, that the petroyuan will replace the petrodollar, and that a Chinese led New World Order will be in place for 2015. Is this possible? Where does the leader of the 'New World Order' come from? What does the Bible teach?
The Plain Truth About Gold in Prophecy. How Should a Christian View Gold? What do economists and the Bible teach about gold? Gold and silver may drop in value. Inflation/deflation? What do Christians need to know about gold?
Anglo – America in Prophecy & the Lost Tribes of Israel Are the Americans, Canadians, English, Scottish, Welsh, Australians, Anglo-Saxon (non-Dutch) Southern Africans, and New Zealanders descendants of Joseph? Where are the lost ten-tribes of Israel? Who are the lost tribes of Israel? What will happen to Jerusalem and the Jews in Israel? Will God punish the U.S.A., Canada, United Kingdom, and other Anglo-Saxon nations? Why might God allow them to be punished first? Here is a link to the Spanish version of this article: Anglo-América & las Tribus Perdidas de Israel. Information is also in the YouTube sermons titled Where are the Ten Lost Tribes? Why does it matter? and British are the Covenant People. A short YouTube of prophetic interest may be Barack Obama and the State of the Apocalypse.
The Gospel of the Kingdom of God was the Emphasis of Jesus and the Early Church Did you know that? Do you even know what the gospel of the kingdom is all about? True religion should be based upon the true gospel.
Did The Early Church Teach Millenarianism? Was the millennium (sometimes called chiliasm) taught by early Christians? Who condemned it? Will Jesus literally reign for 1000 years on the earth? Is this time near? A related sermon is titled The Millennium.
Barack Obama, Prophecy, and the Destruction of the United States-Second Edition for Second Obama Term This is a 160 page book for people truly interested in prophecies related to Barack Obama and the United States, including learning about many that have already been fulfilled (which the book documents in detail) and those that will be fulfilled in the future. It also has a chapter about a Republican choice. This book is available to order at www.barackobamaprophecy.com. The physical book can also be purchased at Amazon from the following link: Barack Obama, Prophecy, and the Destruction of the United States: Is Barack Obama Fulfilling Biblical, Islamic Catholic, Kenyan, and other America-Related Prophecies? What About Republican Leaders? Second Edition for Second Obama Term.
Barack Obama, Prophecy, and the Destruction of the United States-Second Term-Amazon Kindle edition. This electronic version is available for only US$2.99. And you do not need an actual Kindle device to read it. Why? Amazon will allow you to download it to almost any device: Please click HERE to download one of Amazon s Free Reader Apps. After you go to for your free Kindle reader and then go to Barack Obama, Prophecy, and the Destruction of the United States-Second Term-Amazon Kindle edition.