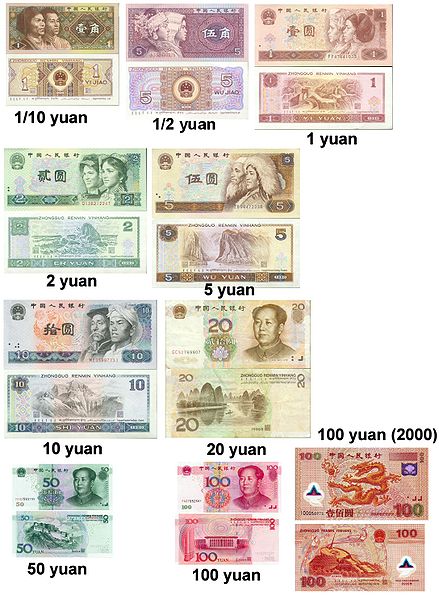 Chinese Renminbi Yuan
Many in Asia have agreed to form a development bank:
China Launches New Asia Development Bank

October 24, 2014

BEIJING—China and 21 other countries have agreed to start an international development bank to fund infrastructure projects throughout all of Asia.  However, the proposal has drawn criticism from the United States, and three invited countries skipped Friday's bank launch.China and the other countries have launched what is called the Asian Infrastructure Investment Bank.  The member nations include Myanmar, Vietnam, Laos, Cambodia, Vietnam and the Philippines. Among South Asian nations, India, Pakistan, Bangladesh and Nepal are signed up.

In Beijing, China's Foreign Ministry spokesperson, Hua Chunying, said finance ministers of the membership are looking forward to how the AIIB can improve their countries.

President Xi Jinping met with members of the 21 other countries and said they all expressed a desire to pursue common development.  Xi said the AIIB would promote regional development and be inclusive and open.

However, three countries skipped the bank's launch.  Indonesia – Southeast Asia's biggest economy – was a no show.  So were Australia and South Korea, although South Korea said there would be no reason to not join the bank if certain conditions were met.

The proposal for the development bank has met with strong criticism from the U.S. State Department.

Spokeswoman Jen Psaki has said Secretary of State John Kerry has made clear directly to the Chinese that Washington welcomes the idea of an infrastructure bank for Asia, but strongly urges that it meet international standards of governance and transparency.  She said the U.S. has concerns about the ambiguous nature of the AIIB proposal as it currently stands.

Washington has also expressed worries the bank will undercut the World Bank and Asian Development Bank.

On Friday, China's Foreign Ministry responded to that criticism, saying that the bank is intended to satisfy the infrastructure needs in the region.

Spokesperson Hua said China is doing this to promote solidarity, and that the bank will be supplementary and complementary to other banks.

On transparency, Hua said China and the 21 other members will cooperate to make the AIIB's financing structure open and inclusive.

China proposed the formation of the bank one year ago, and it is expected to begin operations next year.  The bank is also fueling concerns that it will allow China to have undue influence in Asia; China will be the largest shareholder with a 50 percent stake, and it will contribute up to $50 billion in capital.   http://www.voanews.com/content/china-launches-new-asia-development-bank/2494903.html
This is another step that China is taking to increase its regional and international influence.  Last Summer, it agreed to an arrangement with Russia, India, Brazil, and South Africa to have a development bank which basically is an alternative to the IMF/World Bank (see BRICS take another step to reduce USA dollar dominance).
Several years ago former President of France, Nicolas Sarkozy, went to China to work to replace the USA dollar with something that included the Chinese yuan and the EU's euro (see France and China Working Hard to Replace Dollar).
China and some of its allies want to topple the dominance of the USA dollar.  Some have claimed that it will succeed by the end of this year (watch Market Collapse then New World Order in 2015?  and/or see a somewhat related written item New World Order and Market Collapse by December 2014?).
The USA has taken steps to devalue its own currency by increasing its debt and through programs like 'quantitative easing' –biblically the USA is adding 'dross' to its currency, which is not good (Isaiah 1:22,25; Proverbs 25:4a). At some point in time in the future, this will result in disaster for the USA according to biblical prophecy.
The USA has been playing a dangerous game with its own currency.
That being said, while China and others in Asia will help contribute to the fall of the USA dollar, the Bible shows that it will be a European power that will dominate the world economically for several years until the return of Jesus Christ.
Today's bank report is just a step taken to get to the objective of eliminating the USA dollar's dominance.  And have no doubt about it, the USA dollar will one day fall and be worth probably no more than the cotton-paper it is often printed on.
Some items of possibly related interest may include:
China, Its Biblical Past and Future, Part 1: Genesis and Chinese Characters Where did the Chinese people come from? This article provides information showing that the Chinese peoples must have known about various accounts in the Book of Genesis up until their dispersion after the Tower of Babel.
China, Its Biblical Past and Future, Part 2: The Sabbath and Some of God's Witness in China When did Christianity first come to China? And is there early evidence that they observed the seventh day sabbath?
Asia in Prophecy What is Ahead for Asia? Who are the "Kings of the East"? What will happen to nearly all the Chinese, Russians, Indians, and others of Asia? China in prophecy, where? Who has the 200,000,000 man army related to Armageddon?
Is China THE Threat to the United States of America? China is the world's most populace nation. China has the world's largest standing military. China is a major economic power and it holds a lot of U.S. debt. China also has problems with corruption, pollution, and its hukou registration system. Will China face civil unrest? Is China prophesied to be wealthy in the end times? Will China takeover the U.S.A. or will it be another power? What does Bible prophecy reveal? This is a video.
Europa, the Beast, and Revelation Where did Europe get its name? What might Europe have to do with the Book of Revelation? What about "the Beast"? Is an emerging European power "the daughter of Babylon"? What is ahead for Europe? Here is a link to a video titled: Can You Prove that the Beast to Come is European?
Who is the King of the North? Is there one? Do biblical and Roman Catholic prophecies for the Great Monarch point to the same leader? Should he be followed? Who will be the King of the North discussed in Daniel 11? Is a nuclear attack prophesied to happen to the English-speaking peoples of the United States, Great Britain, Canada, Australia, and New Zealand? When do the 1335 days, 1290 days, and 1260 days (the time, times, and half a time) of Daniel 12 begin? When does the Bible show that economic collapse will affect the United States?
Anglo – America in Prophecy & the Lost Tribes of Israel Are the Americans, Canadians, English, Scottish, Welsh, Australians, Anglo-Saxon (non-Dutch) Southern Africans, and New Zealanders descendants of Joseph? Where are the lost ten-tribes of Israel? Who are the lost tribes of Israel? What will happen to Jerusalem and the Jews in Israel? Will God punish the U.S.A., Canada, United Kingdom, and other Anglo-Saxon nations? Why might God allow them to be punished first? Here is a link to the Spanish version of this article: Anglo-América & las Tribus Perdidas de Israel. Information is also in the YouTube sermons titled Where are the Ten Lost Tribes? Why does it matter? and British are the Covenant People. A short YouTube of prophetic interest may be Barack Obama and the State of the Apocalypse.
Will the Anglo-Saxon Nations be Divided and Have People Taken as Slaves? Will the lands of the United States, United Kingdom, Canada, Australia, and New Zealand be divided? What about Jerusalem? What does Bible prophecy teach? Are there non-biblical prophecies that support this idea? Who will divide those lands? Who will end up with the lands and the people? Here is a link to a video titled Will the USA and other Anglo-nations be Divided and Their People Made Slaves? Here is a related item in the Spanish language ¿Serán divididas las naciones anglosajonas?
Barack Obama, Prophecy, and the Destruction of the United States-Second Edition for Second Obama Term This is a 160 page book for people truly interested in prophecies related to Barack Obama and the United States, including learning about many that have already been fulfilled (which the book documents in detail) and those that will be fulfilled in the future. It also has a chapter about a Republican choice. This book is available to order at www.barackobamaprophecy.com. The physical book can also be purchased at Amazon from the following link: Barack Obama, Prophecy, and the Destruction of the United States: Is Barack Obama Fulfilling Biblical, Islamic Catholic, Kenyan, and other America-Related Prophecies? What About Republican Leaders? Second Edition for Second Obama Term.
Barack Obama, Prophecy, and the Destruction of the United States-Second Term-Amazon Kindle edition. This electronic version is available for only US$2.99. And you do not need an actual Kindle device to read it. Why? Amazon will allow you to download it to almost any device: Please click HERE to download one of Amazon s Free Reader Apps. After you go to for your free Kindle reader and then go to Barack Obama, Prophecy, and the Destruction of the United States-Second Term-Amazon Kindle edition.