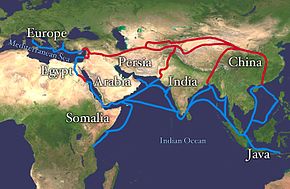 Old 'silk road' routes

A reader sent me a link to the following:
May 11, 2017

When leaders of 28 nations gather in Beijing next week for a summit to map out China's ambitious new Silk Road project, one question is likely to be on attendees' minds – what exactly is the Belt and Road Initiative? …

Despite aggressive promotion of the May 14-15 summit in China, including media carrying positive comments from Western leaders, some diplomats are suspicious about China's aims.

"There's a lot of scepticism about China's plans. Yes it is the kind of infrastructure that sounds attractive for parts of Europe, but we all know this is about China gaining influence," said a senior European Union diplomat.

One diplomatic source familiar with discussions on the forum's communique said: "The forum is downright glorification of Xi Jinping and One Belt, One Road", using the straight Chinese translation of the project's title.

However, with Donald Trump in the White House pursuing an "America First" agenda, more countries may be pushing for inclusion in China's grand scheme.

"Countries have actually been pressuring China to get an invite rather than the other way around," said a senior Asian diplomat, referring to the summit. …

"This is the China solution for global economic revival," Xinhua said last month of the new Silk Road, in a commentary blazed across the front page of the official People's Daily.

There are risks involved, however.

In Sri Lanka, there have been public protests against projects linked to the Belt and Road, and in Pakistan, where Islamist militants pose a security threat, the government has set up a new army division to protect the $57 billion China-Pakistan Economic Corridor, a key part of the new Silk Road.

The corridor also runs through disputed Kashmir, meaning India has rebuffed China's attempts to get it onto the Belt and Road.

"We have some serious reservations about it because of sovereignty issues," Indian Finance Minister Arun Jaitley said in Japan last week. http://www.reuters.com/article/us-china-silkroad-summit-idUSKBN18631D
Over 60 countries seem to be involved in it. India is apparently considering making a major decision about it:
May 11, 2017

Will Prime Minister Narendra Modi surprise everyone and participate in China's 'Belt and Road Forum for International Cooperation' which begins on May 14?

That would be the kind of bold initiative he took in inviting leaders of our neighbouring countries to his swearing-in in 2014, but with far greater significance.

It would also be an appropriate response to China's recent four-point initiative and test its intent. China has suggested starting negotiations on a 'China India Treaty of Good Neighbours and Friendly Cooperation', restarting negotiations on the China-India Free Trade Agreement, striving for an early harvest on the border issue and actively exploring the feasibility of aligning China's 'One Belt One Road Initiative' (OBOR) and India's 'Act East Policy'. To repeat Nehru's outright rejection in 1960 of Zhou Enlai's proposal to settle the border dispute would be a historic mistake.
China wants all roads, digital and physical, to lead to it:
The Belt and Road Initiative, which comprises the Silk Road Economic Belt and the 21st Century Maritime Silk Road, was proposed by China in 2013, with the aim of building a trade and infrastructure network connecting Asia with Europe and Africa along the ancient Silk Road routes. May 17, 2016 http://news.xinhuanet.com/english/2016-05/17/c_135366188.htm/52303832.cms?utm_source=contentofinterest&utm_medium=text&utm_campaign=cppst

BEIJING: China has proposed an international scientific cooperation programme for Earth observation to provide digital backing to Beijing's mega Silk Road Project. The "digital Silk Road" proposal was put forward here yesterday at an international symposium on Earth observation for the Belt and Road, the official designation for Silk Road said. May 17, 2016 http://economictimes.indiatimes.com/articleshow/52303832.cms?utm_source=contentofinterest&utm_medium=text&utm_campaign=cppst
Notice more about it:
One Belt One Road will be 12 times America's Marshall Plan after adjusting for inflation
According to a business report, China's One belt One Road initiative will create six transnational China-centric economic corridors:

a new Eurasian land bridge of freight trains connecting the port of Lianyungang in Jiangsu province to Rotterdam
a Mongolia-Russia corridor
a Central Asia-West Asia corridor
an Indochina peninsula corridor
a Pakistan corridor
a Bangladesh-China-India-Myanmar corridor

"One Belt, One Road" is also invoked for China's infrastructural investments in other parts of Southeast Asia, North Africa, as well as various countries in Central and Western Europe. While "One Belt, One Road" investments follow predetermined routes, other associated investments are being tagged on as a code word for China's outbound global strategy.

The rationale is global connectivity, which defines the 21st century. It is part and parcel of what the World Economic Forum calls the Fourth Industrial Revolution. China is a central hub for the world's production, supply, logistics and value chain. "One Belt, One Road" will deepen China's infrastructural, economic, institutional and cultural connectivity with key parts of the globe. Not only will this enhance China's global rapport and influence, it will also help counter exposure to geopolitical risks inherent in America's "Asia rebalancing", and China's own energy security challenge and other imponderables in the South China Sea.

"One Belt, One Road" doesn't translate into offloading surplus capacity in commodities such as steel and coal; it involves exporting excess capital to invest in productive infrastructure across the globe.

Projected investments are estimated to benefit 4.4 billion people in 65 countries. The total size, according to some estimates, could be more than 12 times America's Marshall Plan to aid post-second-world-war Western Europe, in comparable money-of-the-day terms. May 16, 2015 http://nextbigfuture.com/2016/05/one-belt-one-road-will-be-12-times.html
China wants to build roads to the Middle East and elsewhere. China basically wants to pave the roads that will help lead to Armageddon.
The 'Silk Road' project of China looks to increase China's influence in Asia (see China, the Dalai Lama, and the Silk Road project). China plans on having roads to Europe and Africa. Notice something about Europe:
May 11, 2017

Beijing´s grand vision includes the "Silk Road Economic Belt," which extends from China to central Asia through Europe, linking northern Xi´an city with Dushanbe in Tajikistan, Moscow, Rotterdam in the Netherlands, and Venice in Italy. https://www.thenews.com.pk/latest/203829-The-trains-and-sea-ports-of-Chinas-new-Silk-Road
The 'road' is to go to Europe from Russia and China. As far as Europe goes, the Bible shows that the final European King of the North will be disturbed by news from the north (Russia) and the east (including China):
40 … the king of the North …43 He shall have power over the treasures of gold and silver, … 44 But news from the east and the north shall trouble him; therefore he shall go out with great fury to destroy and annihilate many. 45 And he shall plant the tents of his palace between the seas and the glorious holy mountain; yet he shall come to his end, and no one will help him. (Daniel 11:40,43-45)
The Bible shows that a confederation will affect the end-time European 'daughter of Babylon':
41 "Behold, a people shall come from the north,
And a great nation and many kings
Shall be raised up from the ends of the earth.
42 They shall hold the bow and the lance;
They are cruel and shall not show mercy.
Their voice shall roar like the sea;
They shall ride on horses,
Set in array, like a man for the battle,
Against you, O daughter of Babylon.

43 "The king of Babylon has heard the report about them,
And his hands grow feeble;
Anguish has taken hold of him,
Pangs as of a woman in childbirth. (Jeremiah 50:41-43)
The Bible also tells of a time when the 'kings of the sunrise/east' will travel on land. They will end up in Armageddon:
12 Then the sixth angel poured out his bowl on the great river Euphrates, and its water was dried up, so that the way of the kings from the east might be prepared. 13 And I saw three unclean spirits like frogs coming out of the mouth of the dragon, out of the mouth of the beast, and out of the mouth of the false prophet. 14 For they are spirits of demons, performing signs, which go out to the kings of the earth and of the whole world, to gather them to the battle of that great day of God Almighty.

15 "Behold, I am coming as a thief. Blessed is he who watches, and keeps his garments, lest he walk naked and they see his shame."

16 And they gathered them together to the place called in Hebrew, Armageddon. (Revelation 16:12-16)
The 'kings of the east' are to come across the Euphrates river, which will at least partially dry up according to prophecy. The new "Silk Road" is expected to head near the river Euphrates. And while I have not seen anything that shows that the Silk Road is specifically planned to go all the way to Tel Megiddo (Armageddon), there are a couple of highways in the area of Armageddon already that I have personally seen. So, it would seem that the proposed Silk Road project will help build a major road from the far east through central Asia and into the Middle East that can be used to at least get close to Armageddon, and then there are other roads that connect to it.
The Bible is clear that troops will one day gather in Armageddon. China wants to pave roads to get near there.
It may well be that the Silk Road project will help clear the way for Chinese and other troops to attack Europe as well as gather in Armageddon.
World events continue to align with biblical prophecy.
Some items of possibly related interest may include:
Armageddon Who is involved and when will this gathering happen? Here is also a video from Dr. Thiel, from Tel Megiddo in Israel: Armageddon.
Jordan in Bible Prophecy What does the Bible show will happen to the inhabitants of Jordan? Will they escape and then be punished? A related video is titled Jordan, Petra, and Armageddon.
China, Its Biblical Past and Future, Part 1: Genesis and Chinese Characters Where did the Chinese people come from? This article provides information showing that the Chinese peoples must have known about various accounts in the Book of Genesis up until their dispersion after the Tower of Babel. Here is a link to a version of this article in Spanish: ¿Prueban los caracteres chinos la exactitud de la Biblia?
China, Its Biblical Past and Future, Part 2: The Sabbath and Some of God's Witness in China When did Christianity first come to China? And is there early evidence that they observed the seventh day sabbath?
Asia in Prophecy What is Ahead for Asia? Who are the "Kings of the East"? What will happen to nearly all the Chinese, Russians, Indians, and others of Asia? China in prophecy, where? Who has the 200,000,000 man army related to Armageddon? A YouTube video of interest may be Is China THE Threat to the United States of America?
The Eurasian Union, the Kings of the East, and Bible Prophecy Is there a Eurasian union that will be formed? Is one being formed right now? Are any leaders working on that in the 21st century? Does the Bible teach that there will be a Eurasian union? If some type of Eurasian union is formed, who might it benefit and who will it destroy? A related video would be Is The Eurasian Union Rising?
Russia and Ukraine: Their Origins and Prophesied Future Russia in prophecy. Where do the Russians come from? What about those in the Ukraine? What is prophesied for Russia and its allies? What will they do to the Europeans that supported the Beast in the end? There is also a video sermon available: Russia in the Bible and in Prophecy and a video sermonette available: Ukraine in Prophecy?
Is Russia the King of the North? Some claim it is. But what does the Bible teach? Here is a link to a video, also titled Is Russia the King of the North?
Who is the King of the North? Is there one? Do biblical and Roman Catholic prophecies for the Great Monarch point to the same leader? Should he be followed? Who will be the King of the North discussed in Daniel 11? Is a nuclear attack prophesied to happen to the English-speaking peoples of the United States, Great Britain, Canada, Australia, and New Zealand? When do the 1335 days, 1290 days, and 1260 days (the time, times, and half a time) of Daniel 12 begin? When does the Bible show that economic collapse will affect the United States? In the Spanish language check out ¿Quién es el Rey del Norte? Here is a link to a video titled: The Future King of the North.
India, Its Biblical Past and Future: Any Witness? The Bible discusses the origins of those of Indian heritage.  This article quotes the Bible and also discusses some of the witness to India throughout history and what is happening in the 21st century (including those in Bangladesh, Pakistan, and Sri Lanka).
India and the Beast of Revelation 13 Do biblical, Catholic, and even Hindu prophecies suggest that many in India will follow, for a while, the Beast and False Prophet/Antichrist? Here is link to a related YouTube video Will People in India Worship the Beast of Revelation 13?
Does God Have a 6,000 Year Plan? What Year Does the 6,000 Years End? Was a 6000 year time allowed for humans to rule followed by a literal thousand year reign of Christ on Earth taught by the early Christians? Does God have 7,000 year plan? What year may the six thousand years of human rule end? When will Jesus return? 2026 or 20xx? There is also a video titled The 6000 Year Plan: Is the end of humanity's reign almost up?
When Will the Great Tribulation Begin? 2017, 2018, or 2019? Can the Great Tribulation begin today? What happens before the Great Tribulation in the "beginning of sorrows"? What happens in the Great Tribulation and the Day of the Lord? Is this the time of the Gentiles? When is the earliest that the Great Tribulation can begin? What is the Day of the Lord? Who are the 144,000? Here is a version of the article in the Spanish language: ¿Puede comenzar la Gran Tribulación en 2016 o 2017? ¿Es el Tiempo de los Gentiles? You can also see the English language sermon videos: The Great Tribulation from the Mount of Olives and Can the Great Tribulation begin before 2020? A shorter video is: Will the Great Tribulation Start in 2017?