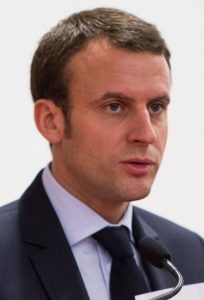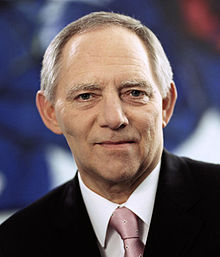 Emmanuel Macron and Wolfgang Schäuble

A reader tipped me off to the following:
May 11, 2017

German Finance Minister Wolfgang Schaeuble wants to increase in integration of euro zone countries by creating a parliament for the currency bloc.

Schaeuble said in an interview published on Thursday in Italy's La Repubblica that he discussed the idea, which would go hand in hand with his favored plan to create a continental bailout fund, with French President-elect Emanuel Macron.

"We could strengthen the mechanisms," he told the newspaper. "We could create a euro zone parliament made up of members of the European Parliament, which could have consultative powers over the European Stability Mechanism."

German parties are squabbling over how to respond to Macron's proposals for closer European integration, which include a shared budget and finance minister for the bloc. http://www.reuters.com/article/us-eurozone-future-schaeuble-idUSKBN1871FG

May 11, 2017

ROME: German Finance Minister Wolfgang Schaeuble said Thursday that, like France's president-elect Emmanuel Macron, he is in favor of creating a parliament for the 19-country eurozone.

"I discussed it with President Macron," Schaeuble told the Italian daily La Repubblica in an interview.

"A eurozone parliament could be set up, made up of European parliamentarians, which would have consultative powers" for moving forward the European Stability Mechanism (ESM), Schaeuble said.

The Luxembourg-based ESM, operational since October 2012, is a bailout fund for eurozone countries.

"Macron and I are in complete agreement on this matter—there are two ways of reinforcing the eurozone: changing the treaties or taking the more pragmatic approach by doing it on an intergovernmental level," the German minister said.

"Treaty modifications must be unanimous and be ratified by national parliaments or by referendums in some countries," Schaeuble continued.

"Given that that is not currently realistic, we should try to move forward with existing instruments," such as developing the ESM treaty, he suggested.

Schaeuble said that the only available solution at the moment would be to set up a "European Monetary Fund" based on the ESM's statutes. http://www.manilatimes.net/schaeuble-macron-favor-eurozone-parliament/326656/
So, the French and the Germans want to work together to get closer integration of Europe's finances.
This is consistent with the view that we in the Continuing Church of God have that France will, for a time, be supportive of the final Beast power (my former association had began to distant itself from that belief–see, for example: Emmanuel Macron wins: What's ahead for France?).
European 'integration' is difficult. The Bible noted that there would be problems:
41 Whereas you saw the feet and toes, partly of potter's clay and partly of iron, the kingdom shall be divided; yet the strength of the iron shall be in it, just as you saw the iron mixed with ceramic clay. 42 And as the toes of the feet were partly of iron and partly of clay, so the kingdom shall be partly strong and partly fragile. 43 As you saw iron mixed with ceramic clay, they will mingle with the seed of men; but they will not adhere to one another, just as iron does not mix with clay. (Daniel 2:41-43)
So, a fragile coalition will exist in Europe.
But the Bible also shows that Europe will reorganize:
12 The ten horns which you saw are ten kings who have received no kingdom as yet, but they receive authority for one hour as kings with the beast. 13 These are of one mind, and they will give their power and authority to the beast. (Revelation 17:12-13)
What causes this reorganization?
It is possible that the following may apply as this seemingly explains partially how this reorganization happens:
23 And after the league is made with him he shall act deceitfully, for he shall come up and become strong with a small number of people. 24 He shall enter peaceably, even into the richest places of the province; and he shall do what his fathers have not done, nor his forefathers: he shall disperse among them the plunder, spoil, and riches; and he shall devise his plans against the strongholds, but only for a time. (Daniel 11:23-24)
Daniel 11:23 could happen before Revelation 17:12-13 or be directly related to it.
What might trigger all of this?
Several things, like personal ambition of the Beast, trade matters, technology, loathing of the USA (e.g. the Snowden leaks, Donald Trump, GMOs, etc.), Brexit concerns, immigrant issues, security concerns, influence from the Vatican, demons (Revelation 16:13-14), ability for financial controls (cf. Revelation 13:16-18), Satanic "signs and lying wonders" (2 Thessalonians 2:9), etc. I suspect that there will be multiple factors in causing the Europeans to rise up.
In 1965, the late Pastor General of the old Radio/Worldwide Church of God Herbert W. Armstrong wrote:
…European countries urgently want political union, the very UNITED STATES OF EUROPE I have been assuring PLAIN TRUTH readers for 31 years is definitely coming. It will unite them into a giant third World Power…

There is a definite German "Kultur! There is a French culture that is in many respects quite different. Then there is a still different Italian culture, a Spanish culture, a Scandinavian culture, a Swiss culture–and all are different! European nations speak different languages, have different aspirations, different customs, different traditions. Europe is often called a "crazy-quilt" of nations.

HOW, THEN, CAN THEY AGREE TOGETHER AND UNITE? For years The PLAIN TRUTH has said these nations are going to have to realize their inability to unite themselves politically-to choose a common political-military Leader that all can trust. They are going to finally face the fact they must look to a Supreme Authority they can all trust! That Supreme Authority cannot be a politician, or a general (De Gaulle is both). The only possible answer is a Religious Leader! (Armstrong HW. Personal. Plain Truth, November 1965, pp.1-2)
So, he felt that while they needed a political-military leader, some type of religious leader was needed to unify Europeans.
But there was more. In a sermon on July 7, 1984, he added:
And I can see now, the event that is going to trigger the formation of the reunification in Europe; the resurrection of the medieval Holy Roman Empire that we've been looking forward to that is prophesied to come…

But I believe that some event is going to happen suddenly just like out a blue sky that is going to shock the whole world and is going to cause the nations in Europe to realize they must unite! … Well now I think I can see what may be the very event that is going to trigger…that is the economic situation in the world…

The whole banking structure in the United States is a network all jointed together. But not only that, one nation has to deal with other nations and imports and exports. And so they have to have a means of transforming money from one nation to another. And so the banking structure is international and interwoven…

Now when the financial structure breaks down, all civilization is going to break down…
Despite grumblings from some modern observers, Europe is actually more and more uniting because of economic and other reasons.
The Bible tells of a time when a European power will also dominate the world economically (Revelation 18)–and Germany will be a major factor in this.
A 'new world order' is in the process of being made, but it is not here yet. As the Bible predicted, there will be problems in Europe (Daniel 2:41-43), but after some reorganizations it will arise (Revelation 17:12-13).
Some items of possibly related interest may include:
Europa, the Beast, and Revelation Where did Europe get its name? What might Europe have to do with the Book of Revelation? What about "the Beast"? Is an emerging European power "the daughter of Babylon"? What is ahead for Europe? Here is a link to a video titled: Can You Prove that the Beast to Come is European?
European Technology and the Beast of Revelation Will the coming European Beast power would use and develop technology that will result in the taking over of the USA and its Anglo-Saxon allies? Is this possible? What does the Bible teach? Here is a related YouTube video: Military Technology and the Beast of Revelation.
Must the Ten Kings of Revelation 17:12 Rule over Ten Currently Existing Nations? Some claim that these passages refer to a gathering of 10 currently existing nations together, while one group teaches that this is referring to 11 nations getting together. Is that what Revelation 17:12-13 refers to? The ramifications of misunderstanding this are enormous.
World War III: Steps in Progress Are there surprising actions going on now that are leading to WWIII? Might a nuclear attack be expected? Does the Bible promise protection to all or only some Christians? How can you be part of those that will be protected? A related video would be Is World War III About to Begin? Can You Escape?
WTO/TTIP and the Babylonian Beast Will international trade agreements like WTO/TTIP/CETA lead to the fulfillment of end time prophecies concerning the Babylonian Beast power that the Book of Revelation warns against? What does the Bible teach? A related video would be WTO Trade Deal and the Rise of the European Beast Power.
Is Russia the King of the North? Some claim it is. But what does the Bible teach? Here is a link to a video, also titled Is Russia the King of the North?
Who is the King of the North? Is there one? Do biblical and Roman Catholic prophecies for the Great Monarch point to the same leader? Should he be followed? Who will be the King of the North discussed in Daniel 11? Is a nuclear attack prophesied to happen to the English-speaking peoples of the United States, Great Britain, Canada, Australia, and New Zealand? When do the 1335 days, 1290 days, and 1260 days (the time, times, and half a time) of Daniel 12 begin? When does the Bible show that economic collapse will affect the United States? In the Spanish language check out ¿Quién es el Rey del Norte? Here is a link to a video titled: The Future King of the North.
GMOs and Bible Prophecy What are GMOs? Since they were not in the food supply until 1994, how could they possibly relate to Bible prophecy? Do GMOs put the USA and others at risk? Here is a related YouTube video GMO Risks and the Bible.
The 'Lost Tribe' of Reuben: France in Prophecy? What is the origin of this in France? What is prophesied to happen to them? A two-part sermon related to history and prophecy is available online: The 'Lost Tribe' of Reuben and France and Prophecy.
The Snowden Leaks are Leading to the Destruction of the USA Can what happened with the leaks of what the NSA has done help the USA to be taken over? What does the Bible teach that seems to be related to this? Here is a related YouTube video titled Are the Snowden NSA leaks leading to the destruction of the USA?
Germany's Assyrian Roots Throughout History Are the Germanic peoples descended from Asshur of the Bible? Have there been real Christians in Germanic history? What about the "Holy Roman Empire"? There is also a You-Tube video sermon on this titled Germany's Biblical Origins.
Germany in Biblical and Catholic Prophecy Does Assyria in the Bible equate to an end time power inhabiting the area of the old Roman Empire? What does prophecy say Germany will do and what does it say will happen to most of the German people? Here is a link to a video Is the USA Pushing Germany to Start WWIII?
Anglo – America in Prophecy & the Lost Tribes of Israel Are the Americans, Canadians, English, Scottish, Welsh, Australians, Anglo-Saxon (non-Dutch) Southern Africans, and New Zealanders descendants of Joseph? Where are the lost ten-tribes of Israel? Who are the lost tribes of Israel? What will happen to Jerusalem and the Jews in Israel? Will God punish the U.S.A., Canada, United Kingdom, and other Anglo-Saxon nations? Why might God allow them to be punished first? Here is a link to the Spanish version of this article: Anglo-América & las Tribus Perdidas de Israel. Information is also in the YouTube sermons titled Where are the Ten Lost Tribes? Why does it matter? and British are the Covenant People. A short YouTube of prophetic interest may be Barack Obama and the State of the Apocalypse.
Brexit and the fate of Northern Ireland, Gibraltar, the UK, and the USA On April 29, 2017, 27 of the nations of the European Union agreed to certain guidelines for the negotiations with the United Kingdom of Great Britain and Northern Ireland which gave its notice to leave on March 29, 2017. These guidelines are contrary to what the UK wants. Does the EU intend the UK to pay a price for leaving the EU? What does Spain want? What does the Republic of Ireland want? Will Northern Ireland and Gibraltar eventually fall under European control? Will the UK and USA be conquered? What does the Bible teach? Dr. Thiel answer these questions and more in this video.
Trade Wars: Are COG warnings coming to pass? Trade issues, tariffs, and talk of trade wars are in the news. Can trade wars lead to World War III like they did to World War II? Are the events going on with the USA, UK, Asia, and Europe consistent with warnings published by the true Church of God (COG) over the past several years and decades? Do Germany and China hope to take advantage of trade frictions involving the Trump Administration and the Trans-Pacific Partnership agreement? What about Mexico and South America? Does the Bible teach that Europe will become a major trading power? Will the final European Babylonian trading power be destroyed? In this video, Dr. Thiel addresses these issues and more.
Post Brexit Prophecy On June 23, 2016, the voters of the United Kingdom of Great Britain and Northern Ireland (UK) chose to leave the European Union. Now with this BRitish EXIT (Brexit) vote, what is prophesied to happen to the UK? Will the UK do well or be taken over and made slaves? Dr. Thiel explains from biblical prophecies what is ahead for the UK, Europe, and even the USA, Canada, Australia, and New Zealand. This is a video.
Forbes' Brexit Monster is the Beast of Revelation Various ones have been properly convinced that there is a plan for a European superstate. Forbes' writer Tom Worstall wrote that the Brexit vote was about the United Kingdom "not joining the monster of the European Union to come." The Bible tells of a Beast monster that will arise in the end times in Europe. Dr. Thiel cites news reports, as well as the Old and New Testaments, to show that the monster many fear will arise in Europe, despite the vote by the British to exit the European Union. This is a video.
Collapse of the Euro and Dollar? War in 2020? Larry Edelson of Money and Markets described aspects of current economic difficulties and explained why he felt matters would get a lot worse. He said war, like World War III, could break out as early as 2020. What did he call the 'granddaddy of all cycles"? Will matters go as he said? What does the Bible teach? Dr. Thiel provides biblical insights that secular sources often miss. This is a video.
Donald Trump in Prophecy Prophecy, Donald Trump? Are there prophecies that Donald Trump may fulfill?  Are there any prophecies that he has already helped fulfill?  Could a Donald Trump presidency be apocalyptic?  A related video is titled: Donald: 'Trump of God' or Apocalyptic?
Trump Presidency Magic 8 Ball or Bible Prophecy? BBC reported that one might as well use a 'Magic Eight-Ball' to try to predict what will happen in the remaining time of Donald Trump's presidency. What is a 'Magic Eight-Ball'? Dr. Thiel not only explains that, but also briefly goes over 10 biblically-based warnings he wrote would happen if Donald Trump were elected that have already began to come to pass. He also goes over something he wrote back in 2008 that the Trump presidency is also helping lead to fulfillment. Should you trust Bible prophecy or not? Dr. Thiel says that Bible prophecy can be trusted, despite the view of skeptics and others that either overlook or despise the Bible. This is a video.
Donald Trump and America's Apocalypse This 188 page book is for people truly interested in prophecies related to Donald Trump and the United States, including learning about several that have already been fulfilled and those that will be fulfilled in the future. The physical book can be purchased at Amazon for $12.99 from the following link: Donald Trump and America's Apocalypse.
Donald Trump and America's Apocalypse-Kindle Edition This electronic version of the 188 page print edition is available for only US$3.99. And you do not need an actual Kindle device to read it. Why? Amazon will allow you to download it to almost any device: Please click HERE to download one of Amazon s Free Reader Apps. After you go to for your free Kindle reader and then go to Donald Trump and America's Apocalypse-Kindle Edition.