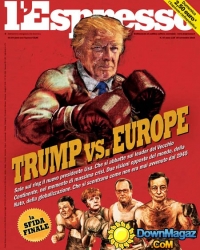 Germany's Deutsche Welle posted the following:
Donald Trump, withdrawer-in-chief, strikes again, turns G7 into G6

10 June 2018

Just when it seemed that the G7 leaders had eked out a joint communique and avoided an open rift, Donald Trump, in a stunning Twitter turnaround, retracted his endorsement. It's probably better that way.

Sometimes it is good to rip off the band-aid. …

Trump is a master withdrawer. He pulled the US out of the Paris climate accord, the Iran nuclear deal, the Trans Pacific Partnership and UNESCO, to name just a few. …

President Trump's appearance here in Quebec made clear one more time how he feels about America's closest allies and the post-war international order that Washington was instrumental in building: He could not care less. More than that, he is actively trying to disrupt and undermine it. …

Trump's words and his shenanigans — are nothing new. It was simply another typical performance by the bully who occupies the White House …

'So-called allies'

That this president truly does not grasp the importance of the trans-Atlantic relationship and the traditional order was highlighted by reports that his team balked at including the boilerplate phrase "rules-based international order" in the joint G7 communique and that Trump repeatedly calls America's partner's "so-called allies".  http://www.dw.com/en/donald-trump-withdrawer-in-chief-strikes-again-turns-g7-into-g6/a-44144479

10 June 2018

The French president's office has said there is no place for anger and insults in international cooperation. The Elysee Palace issued its statement after US President Donald Trump torpedoed a G7 summit agreement.

French President Emmanuel Macron's office on Sunday stressed the need for calm heads after the G7 summit ended in a fiasco in the Canadian town of Charlevoix.

The Elysee Palace was responding to questions about the outcome of the summit, after US President Donald Trump refused to give his backing to a joint declaration, despite hours earlier signing the communique.  …

"International cooperation cannot be dictated by fits of anger and throwaway remarks," the Elysee Palace said.

"Let's be serious and worthy of our people. We make commitments and keep them," the presidency said, adding that "France and Europe maintain their support for this statement."

The office of German Chancellor Angela Merkel also said it stood by the communique.

Foreign Minister Heiko Maas said on Sunday the US president's tweets had destroyed trust and Europe should answer by staying even closer together: "It's actually not a real surprise, we have seen this with the climate agreement or the Iran deal," Maas said about Trump's decision.

"In a matter of seconds, you can destroy trust with 280 twitter characters," Maas remarked, while it would take much longer to rebuild it. http://www.dw.com/en/france-condemns-fits-of-anger-after-donald-trumps-g7-turnaround/a-44146617
Europe does not like to hear statements such as "so-called allies." This makes the Europeans consider that the USA is only a "so-called ally."
Donald Trump, furthermore, fits a longstanding European narrative that Americans are uncouth, vain, and reckless. With Donald Trump, this is going to a level causing massive concern in Europe. Donald Trump's handling of the G7 matters is basically confirming the worst fears of many in Europe.
Consider also something from the German press last month:
'The U.S. President Is Destroying the American World Order'

In an interview with DER SPIEGEL, former German Foreign Minister Joschka Fischer talks about the danger of war against Iran, the deterioration of trans-Atlantic relations under U.S. President Donald Trump and the serious need for Germany to invest massively in the European Union's future.

22 May 2018

DER SPIEGEL: To what extent has Trump damaged the trans-Atlantic relationship?

Fischer: We are experiencing a new era. The trans-Atlantic relationship can no longer be taken for granted. But it would be foolish of us to give it up of our own accord.

DER SPIEGEL: German Chancellor Angela Merkel said that we can no longer truly rely on the U.S.

Fischer: It's even worse than that. The American president is deliberately destroying the American world order. I was used to NATO being attacked by the left wing of the Green Party, but not by the American president! From an economic policy point of view, Trump is challenging Germany's business model, which has been geared toward exports from the very beginning. Many are saying that we shouldn't put up with that. I find this reaction understandable, but also kind of cute. What can we do? Given the current balance of power, sometimes all you can do is gnash your teeth..

DER SPIEGEL: You recently wrote a book in German with the dark title "The Descent of the West." Is the West finished?

Fischer: There is every indication that this will happen. The West was the trans-Atlantic area, and its founding fathers were Britain and the United States. The West cannot survive without them, and certainly not with a weak, divided Europe. This is why Europeans must become stronger, much stronger. …

DER SPIEGEL: Proponents of trans-Atlantic ties have fallen into disrepute in certain circles. Some Germans want closer relations with Russia.

Fischer: That is palpable. http://www.spiegel.de/international/germany/former-german-foreign-minister-american-president-is-destroying-american-order-a-1208549.html?utm_source=dlvr.it&utm_medium=facebook#ref=rss
Europe WILL GO a separate way from the USA. Right now, the Europeans are convincing themselves that Donald Trump is forcing them to do so.
Let me also add that Joschka Fischer's idea that Europe will work with Russia is more than palpable. Interestingly, back in 1962, notice something that the old Radio Church of God published:
Modern Europe is counseling and making treaties and alliances and agreements to conquer this earth! … Germany, those living in Germany, even the German government, may not yet know that they are going to join in a treaty with the Russians to destroy the United States and bring it to its knees-it is not in his "heart" to think so, but on the other hand it IS in his "heart" to destroy-the very characteristic of the Assyrian, the modern German, is a harsh, cruel, iron, dedication to militarism and destruction! … MAN'S ONLY HOPE LIES IN TURNING TO HIS CREATOR GOD! "At what instant I shall speak concerning a nation, and concerning a kingdom. to pluck up, and to pull down, and to destroy it; If that nation, against whom I have pronounced, TURN FROM THEIR EVIL, I will repent of the evil that I thought to do unto them… Behold, I frame evil against YOU, and devise a device against YOU: return ye now EVERY ONE from his evil way and make your ways and your doings good!" (Jer. 18:7, 8, 11). The case of America and Great Britain is hopeless! The case of America and Great Britain is hopeless! (Hill DJ, God's Destiny for Germany. Plain Truth, March 1962, pp. 28-29)

The German people are now asking themselves: "Can we rely on the Americans and British?" … These questions lead to rhe logical conclusion that maybe the only people the Germans can rely on themselves. They are now thinking: "Perhaps we can strike a better bargain with the Russians ourselves." …

Once a German-dominated Europe is fully established, Germany will be ready to negotiate and bargain with Russia- and behind the backs of the Western Allies if necessary. …

When will a Russo-German deal be made? Here is a quotation from a circular letter issued in September, 1950 by the Nazi Geo-political Center in Madrid: "However long we may continue to milk the Americans of millions of dollars, there must come the inevitable moment when we shall have to make it crystal clear to them that we are not willing to join the fight against Russia for American interests … (Germany Plots with the Kremlin by T H. Terens, p. 15). …

Most Americans and Britons are not aware of what Germany and Europe are planning against them. This is partly due to the cunning of German. politics. …

World events are moving swiftly toward the climax when Great Britain and the United. States will be attacked, conquered and DESTROYED! (Boraker R. Are the Germans Secretly Dealing with Moscow? Plain Truth, May 1962)
I, too, have long expected that Russia will make a deal with the Europeans. Some have been hinted at this century (see Vladimir Putin: 'Russia does not want to split EU and Greece begs Germany's Merkel not to throw them 'overboard,' while it makes deals with Russia; see also Vladimir Putin allegedly helped stop a Grexit).
So, yes, expect that Germany and other parts of Europe will work with Russia.
It was precisely because of how Donald Trump approached Europe and how he was viewed by Europe that I told people he could be elected as the President of the USA. This is mainly because of biblical prophecies pointing to the end of the Anglo-American world order and the rise of the Gentile European order.

While most writers are not looking at biblical prophecies, more and more are seeing issues between the USA and Europe. Donald Trump has been pushing at Europe, and the Europeans are taking steps (e.g. With PESCO, EU entering a 'New Era': An era that will NOT end well for the USA, Canada, or the UK) and will take more of them.
Those who think that the USA will continue to lead the world indefinitely are deceiving themselves.
The USA is pushing Europe to rise up against it.
Many will find this hard to believe, but what Europe is prophesied to do is to take over the USA:
39 Thus he shall act against the strongest fortresses with a foreign god, which he shall acknowledge, and advance its glory; and he shall cause them to rule over many, and divide the land for gain (Daniel 11:39).
The "he" is the European King of the North Beast power. He will destroy "the strongest fortress," which in the 21st century, is the USA.
The Bible says this will happen at the time of the end (cf. Daniel 11;40).
The Bible teaches that the Europeans will not think that they want to do it, but will anyway (Isaiah 10:5-12). Some Europeans are actually starting to figure this out now (e.g., see 'PESCO is not about peace, it is about preparing for EU wars').
Donald Trump's actions will be a factor in the rise of the European King of the North Beast power.
Here is information on one of our videos:
The reaction of many leaders in Europe to US President Donald Trump's trade statements and his withdrawal from the Iranian nuclear arms deal has led some to state this is a "revolt" from Europe. Some say 'America First.' should lead to 'Europe First.' It has been reported that Europe needs to be "clever" as it develops its military and economy to be less dependent upon the USA. EU Council President Donald Tusk tweeted that with friends like the USA, who needs enemies. EU Commission President Jean-Claude Juncker said , "We have to replace the United States." Will some of the unintended consequences of Donald Trump's actions lead to World War Three and the end of the USA? Does the Bible teach this? Does the Bible teach that friendly allies will become enemies? Will an ally that defeats the USA say it happened because of being clever? Are things the same or are we seeing real changes that align with properly understood biblical prophecies? Dr. Thiel addresses these issues and more.
Here is a link to our video: Will Europe's Revolt Against Donald Trump Lead to WWIII?
Donald Trump is one of the reasons that Europe will turn against the USA. Europeans are outraged by many of his actions and statements, and the G7 fiasco is probably considered confirmation by many EU leaders that the EU must have plans to be independent of the USA.
More and more in Europe are seeing this, even if most Americans do not (or do not care). Consider the following prophecy:
9 Rise up, you women who are at ease, Hear my voice; You complacent daughters, Give ear to my speech. 10 In a year and some days You will be troubled, you complacent women; For the vintage will fail, The gathering will not come. 11 Tremble, you women who are at ease; Be troubled, you complacent ones; Strip yourselves, make yourselves bare, And gird sackcloth on your waists. 12 People shall mourn upon their breasts For the pleasant fields, for the fruitful vine. 13 On the land of my people will come up thorns and briers, Yes, on all the happy homes in the joyous city; 14 Because the palaces will be forsaken, The bustling city will be deserted. The forts and towers will become lairs forever, A joy of wild donkeys, a pasture of flocks — (Isaiah 32:9-14)
The end of the USA is coming. Do not be complacent. Do not be lukewarm about it (cf. Revelation 3:14-19).
Some items of possibly related interest may include:
Trade Wars: Are COG warnings coming to pass? Trade issues, tariffs, and talk of trade wars are in the news. Can trade wars lead to World War III like they did to World War II? Are the events going on with the USA, UK, Asia, and Europe consistent with warnings published by the true Church of God (COG) over the past several years and decades? Do Germany and China hope to take advantage of trade frictions involving the Trump Administration and the Trans-Pacific Partnership agreement? What about Mexico and South America? Does the Bible teach that Europe will become a major trading power? Will the final European Babylonian trading power be destroyed? Dr. Thiel addresses these issues and more in this video.
18 items to prophetically watch in 2018 Much is happening. Dr. Thiel points to 18 in this article. Here is a link to a related sermon: 18 items to prophetically watch in 2018.
Europa, the Beast, and Revelation Where did Europe get its name? What might Europe have to do with the Book of Revelation? What about "the Beast"? Is an emerging European power "the daughter of Babylon"? What is ahead for Europe? Here is a link to a video titled: Can You Prove that the Beast to Come is European?
European Technology and the Beast of Revelation Will the coming European Beast power would use and develop technology that will result in the taking over of the USA and its Anglo-Saxon allies? Is this possible? What does the Bible teach? Here is a related YouTube video: Military Technology and the Beast of Revelation.
The Large Hadron Collider has Military Potential Some say this European project is only peaceful. So why is it working on capturing antimatter? Here is a link to a related video: Could the Large Hadron Collider lead to destruction?
Must the Ten Kings of Revelation 17:12 Rule over Ten Currently Existing Nations? Some claim that these passages refer to a gathering of 10 currently existing nations together, while one group teaches that this is referring to 11 nations getting together. Is that what Revelation 17:12-13 refers to? The ramifications of misunderstanding this are enormous. A related sermon is titled Ten Kings of Revelation and the Great Tribulation.
Who is the King of the North? Is there one? Do biblical and Roman Catholic prophecies for the Great Monarch point to the same leader? Should he be followed? Who will be the King of the North discussed in Daniel 11? Is a nuclear attack prophesied to happen to the English-speaking peoples of the United States, Great Britain, Canada, Australia, and New Zealand? When do the 1335 days, 1290 days, and 1260 days (the time, times, and half a time) of Daniel 12 begin? When does the Bible show that economic collapse will affect the United States? In the Spanish language check out ¿Quién es el Rey del Norte? Here is a link to a video titled: The Future King of the North.
The Great Monarch: Biblical and Catholic Prophecies Is the 'Great Monarch' of Catholic prophecies endorsed or condemned by the Bible? A sermon of related interest is also available: Great Monarch: Messiah or False Christ?
Might German Baron Karl-Theodor zu Guttenberg become the King of the North? Is the former German Defense Minister (who is also the former German Minister for Economics and Technology) one to watch? What do Catholic, Byzantine, and biblical prophecies suggest? A video of related interest would be: Karl-Theodor zu Guttenberg and Europe's Future.
Germany's Assyrian Roots Throughout History Are the Germanic peoples descended from Asshur of the Bible? Have there been real Christians in Germanic history? What about the "Holy Roman Empire"? There is also a You-Tube video sermon on this titled Germany's Biblical Origins.
Germany in Biblical and Catholic Prophecy Does Assyria in the Bible equate to an end time power inhabiting the area of the old Roman Empire? What does prophecy say Germany will do and what does it say will happen to most of the German people? Here is a version of the article in the Spanish language: Alemania en la profecía bíblic. Here are links to two English language sermon videos Germany in Bible Prophecy and The Rise of the Germanic Beast Power of Prophecy.
The Times of the Gentiles Has there been more than one time of the Gentiles? Are we in it now or in the time of Anglo-America? What will the final time of the Gentiles be like? A related sermon is available and is titled: The Times of the Gentiles.
Russia and Ukraine: Their Origins and Prophesied Future Russia in prophecy. Where do the Russians come from? What about those in the Ukraine? What is prophesied for Russia and its allies? What will they do to the Europeans that supported the Beast in the end? There is also a video sermon available: Russia in the Bible and in Prophecy and a video sermonette available: Ukraine in Prophecy?
Is Russia the King of the North? Some claim it is. But what does the Bible teach? Here is a link to a video, also titled Is Russia the King of the North?
Ezekiel 38: For Russia & Iran in Our Day? Is Ezekiel 38 about to be fulfilled? A related video is available titled Ezekiel 38: For Russia, Ukraine, & Iran Now? Another could be Russia, Iran, Syria, & the Bible (Code).
Anglo – America in Prophecy & the Lost Tribes of Israel Are the Americans, Canadians, English, Scottish, Welsh, Australians, Anglo-Saxon (non-Dutch) Southern Africans, and New Zealanders descendants of Joseph? Where are the lost ten-tribes of Israel? Who are the lost tribes of Israel? What will happen to Jerusalem and the Jews in Israel? Will God punish the U.S.A., Canada, United Kingdom, and other Anglo-Saxon nations? Why might God allow them to be punished first? Here is a link to the Spanish version of this article: Anglo-América & las Tribus Perdidas de Israel. Information is also in the YouTube sermons titled Where are the Ten Lost Tribes? Why does it matter? and British are the Covenant People.
Will the Anglo-Saxon Nations be Divided and Have People Taken as Slaves? Will the lands of the United States, United Kingdom, Canada, Australia, and New Zealand be divided? What about Jerusalem? What does Bible prophecy teach? Are there non-biblical prophecies that support this idea? Who will divide those lands? Who will end up with the lands and the people? Here is a link to a video titled Will the USA and other Anglo-nations be Divided and Their People Made Slaves? Here is a related item in the Spanish language ¿Serán divididas las naciones anglosajonas?
World War III: Steps in Progress Are there surprising actions going on now that are leading to WWIII? Might a nuclear attack be expected? Does the Bible promise protection to all or only some Christians? How can you be part of those that will be protected? A related video would be Is World War III About to Begin? Can You Escape?
When Will the Great Tribulation Begin? 2018, 2019, or 2020? Can the Great Tribulation begin today? What happens before the Great Tribulation in the "beginning of sorrows"? What happens in the Great Tribulation and the Day of the Lord? Is this the time of the Gentiles? When is the earliest that the Great Tribulation can begin? What is the Day of the Lord? Who are the 144,000? Here is a version of the article in the Spanish language: ¿Puede comenzar la Gran Tribulación en 2018 o 2019? ¿Es el Tiempo de los Gentiles? You can also see the English language sermon videos: The Great Tribulation from the Mount of Olives and Can the Great Tribulation begin before 2020? A shorter video is: Can the Great Tribulation begin in 2018?
The Gospel of the Kingdom of God This free online pdf booklet has answers many questions people have about the Gospel of the Kingdom of God and explains why it is the solution to the issues the world is facing. Here are links to three related sermons: The World's False Gospel, The Gospel of the Kingdom: From the New and Old Testaments, and The Kingdom of God is the Solution.
Donald Trump in Prophecy Prophecy, Donald Trump? Are there prophecies that Donald Trump may fulfill? Are there any prophecies that he has already helped fulfill? Could a Donald Trump presidency be apocalyptic? A related video is titled: Donald: 'Trump of God' or Apocalyptic?
Trump Presidency Magic 8 Ball or Bible Prophecy? BBC reported that one might as well use a 'Magic Eight-Ball' to try to predict what will happen in the remaining time of Donald Trump's presidency. What is a 'Magic Eight-Ball'? Dr. Thiel not only explains that, but also briefly goes over 10 biblically-based warnings he wrote would happen if Donald Trump were elected that have already began to come to pass. He also goes over something he wrote back in 2008 that the Trump presidency is also helping lead to fulfillment. Should you trust Bible prophecy or not? Dr. Thiel says that Bible prophecy can be trusted, despite the view of skeptics and others that either overlook or despise the Bible. This is a video.
Donald Trump and America's Apocalypse This 188 page book is for people truly interested in prophecies related to Donald Trump and the United States, including learning about several that have already been fulfilled and those that will be fulfilled in the future. The physical book can be purchased at Amazon for $12.99 from the following link: Donald Trump and America's Apocalypse.
Donald Trump and America's Apocalypse-Kindle Edition This electronic version of the 188 page print edition is available for only US$3.99. And you do not need an actual Kindle device to read it. Why? Amazon will allow you to download it to almost any device: Please click HERE to download one of Amazon s Free Reader Apps. After you go to for your free Kindle reader and then go to Donald Trump and America's Apocalypse-Kindle Edition.