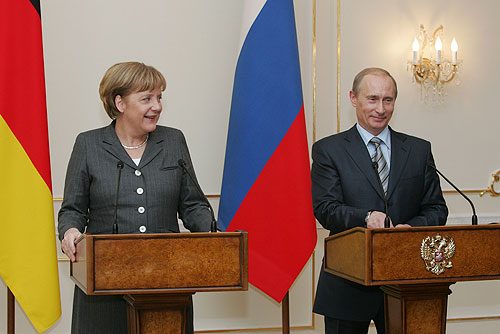 Angela Merkel and Vladimir Putin

Germany and Russia have been talking:
October 24, 2017

By George Friedman of Mauldin Economics

A delegation of executives from major German corporations recently met with Russian President Vladimir Putin.

Such delegations are not unusual. Sometimes it is routine, sometimes a courtesy. But occasionally, it has significance. In the case of Russia-Germany relations, such meetings are always potentially significant.

Germany's Unsteady Relations

Two relationships are critical to Germany.

One is with the European Union, the other is with the United States. Neither relationship is stable right now. …

As the de facto leader of the EU, Germany has to appear confident while considering the implications of failure.

The German relationship with the United States is unsettled—and not just because of President Donald Trump's personality. …

The most obvious alternative for Germany has always been Russia, either through alliance or conquest.

Germany needs Russian raw materials. It also needs the Russian market to be far more robust than it is so that it can buy more German goods.

But Russia is incapable of rapid economic development without outside help, and with the collapse of oil prices, it needs rapid development to stabilize its economy. Germany needs Russia's economy to succeed, and what it has to offer Russia is capital, technology, and management.

In exchange, Russia can offer raw materials and a workforce.

An alignment with Russia could settle Eastern Europe in Germany's orbit. …

There are few other options than Russia, and Russia is historically a most dangerous option for Germany. http://www.zerohedge.com/news/2017-10-23/germany%E2%80%99s-delegation-russia-signals-merkel-looking-new-allies
In January 2015, German Chancellor Angela Merkel said that the European Union would be open to talks towards the launch of free trade negotiations with Russia's new Eurasian Economic Union.
The Eurasian Union is essentially Vladimir Putin's plan to somewhat reconstitute the old Soviet Union–though he also hopes to involve China and India.
With the emergence of Donald Trump, making one or more deals with Russia is something that the Germans would like to do.
As regular readers of this page are aware, I have been writing for years that there will end up being cooperation between the Europeans and the Russians. In my view, Bible prophecy makes this clear. Notice, for example, that the Bible identifies the ancient ancestors of the Russians as traders in the future:
Javan, Tubal, and Meshech were your traders. They bartered human lives and vessels of bronze for your merchandise. Those from the house of Togarmah traded for your wares with horses, steeds, and mules (Ezekiel 27:13-14).
Today, Russia is a major trader of commodities such as oil and gold. It also exports copper, which is the major component of bronze.
Note that the Bible says that all trading nations will have become wealthy trading with Babylon (the restored European Empire–not Asia) that really prospers in the beginning of the great tribulation:
3 For all the nations have drunk of the wine of the wrath of her fornication, the kings of the earth have committed fornication with her, and the merchants of the earth have become rich through the abundance of her luxury (Revelation 18:3).
Thus, Russia is prophesied to attain wealth from the coming restored European Empire, but it will not then be the most powerful block of nations in the world.
Remember that the Europeans and Russians are openly discussing ideas to cut the United States out.
Germany's Adolf Hitler and the then Soviet Union's Joseph Stalin made a deal together which helped pave the way for World War II. The time will come when the Europeans and states in North Africa and the Middle East make a deal paving the way for World War III (WWIII) such as is described in Psalm 83. It is also likely that the Russians and others in Asia will also make some type of deal with the Europeans related to WWIII.
Of course, right now the situation between Russia and the European Union does not look great because of Ukraine. Yet, what many do not realize is how badly both Germany and Russia want to topple the hegemony of the United States.
Back in 1962, notice something that the old Radio Church of God published:
Germany, those living in Germany, even the German government, may not yet know that they are going to join in a treaty with the Russians to destroy the United States and bring it to its knees-it is not in his "heart" to think so, but on the other hand it IS in his "heart" to destroy-the very characteristic of the Assyrian, the modern German, is a harsh, cruel, iron, dedication to militarism and destruction! (Hill DJ, God's Destiny for Germany. Plain Truth, March 1962, pp. 28-29)
Despite Ukraine (and probably somehow involving it), there will be cooperation between the Russians and the Europeans. Both want to reduce USA economic and military influence. Both are working on it.
The end of the United States is coming according to biblical prophecy (e.g. Daniel 11:39; see also USA in Prophecy: The Strongest Fortresses).
What about the comment by George Friedman, "Russia is historically a most dangerous option for Germany"?
Well, the Bible teaches that the cooperation between the Europeans and Russians end and will not turn out well for Europe:
50:41 "Behold, a people shall come from the north,
And a great nation and many kings
Shall be raised up from the ends of the earth.
42 They shall hold the bow and the lance;
They are cruel and shall not show mercy.
Their voice shall roar like the sea;
They shall ride on horses,
Set in array, like a man for the battle,
Against you, O daughter of Babylon.

43 "The king of Babylon has heard the report about them,
And his hands grow feeble;
Anguish has taken hold of him,
Pangs as of a woman in childbirth…"(Jeremiah 50:41-43).
Thus, the European empire (called the "daughter of Babylon" above) is to be destroyed by a northern (apparently Russian led) force. And probably one that cooperates with nations in the East, maybe Iran, and possibly the Ukraine. Ukraine will likely have some European cooperation, but because of prophecies related to groups like the Medes (cf. Isaiah 13:1, 17-19; see also Russia and Ukraine: Origins and Prophesied Future), it is more likely that it will be allied with Russia and not the Europeans in the end.
Since German and other European leaders do not tend to really believe biblical prophecies, they will make deals with places like Russia, and hope things will not turn as bad as they one day will.
Some items of possibly related interest may include:
Russia and Ukraine: Origins and Prophesied Future Where do the Russians come from? What about those in the Ukraine? What is prophesied for Russia and its allies? What will they do to the Europeans that supported the Beast in the end? You can also watch the short video Ukraine in Prophecy?
Russia in the Bible and in Prophecy Is Russia mentioned in the Bible? It it is where is it? Is there any evidence of a people moving to the land that the Russians now occupy? What do Catholic and other prophecies say about Russia? What does the Bible teach? How are Protestants often in error on this? Is there more in biblical prophecy for Russia than war? Does God have a plan to save Russia and her allies? Does Russia have a history involving Sabbath keepers? Does scripture tie Russia in with Armageddon? Will Russia help defeat the end time Babylonian power? What did the Apostle John, and the prophets Isaiah, Jeremiah, and Daniel, write about Russia? This is a sermon-length video.
Ezekiel 38: For Russia & Iran in Our Day? Is Ezekiel 38 about to be fufilled? A related video is available titled Ezekiel 38: For Russia, Ukraine, & Iran Now?
The Eurasian Union, the Kings of the East, and Bible Prophecy Is there a Eurasian union that will be formed? Is one being formed right now? Are any leaders working on that in the 21st century? Does the Bible teach that there will be a Eurasian union? If some type of Eurasian union is formed, who might it benefit and who will it destroy? A related video would be Is The Eurasian Union Rising?
Europa, the Beast, and Revelation Where did Europe get its name? What might Europe have to do with the Book of Revelation? What about "the Beast"? Is an emerging European power "the daughter of Babylon"? What is ahead for Europe? Here is a link to a video titled: Can You Prove that the Beast to Come is European?
European Technology and the Beast of Revelation Will the coming European Beast power would use and develop technology that will result in the taking over of the USA and its Anglo-Saxon allies? Is this possible? What does the Bible teach? Here is a related YouTube video: Military Technology and the Beast of Revelation.
Must the Ten Kings of Revelation 17:12 Rule over Ten Currently Existing Nations? Some claim that these passages refer to a gathering of 10 currently existing nations together, while one group teaches that this is referring to 11 nations getting together. Is that what Revelation 17:12-13 refers to? The ramifications of misunderstanding this are enormous.
World War III: Steps in Progress Are there surprising actions going on now that are leading to WWIII? Might a nuclear attack be expected? Does the Bible promise protection to all or only some Christians? How can you be part of those that will be protected? A related video would be Is World War III About to Begin? Can You Escape?
WTO/TTIP and the Babylonian Beast Will international trade agreements like WTO/TTIP/CETA lead to the fulfillment of end time prophecies concerning the Babylonian Beast power that the Book of Revelation warns against? What does the Bible teach? A related video would be WTO Trade Deal and the Rise of the European Beast Power.
Is Russia the King of the North? Some claim it is. But what does the Bible teach? Here is a link to a video, also titled Is Russia the King of the North?
Who is the King of the North? Is there one? Do biblical and Roman Catholic prophecies for the Great Monarch point to the same leader? Should he be followed? Who will be the King of the North discussed in Daniel 11? Is a nuclear attack prophesied to happen to the English-speaking peoples of the United States, Great Britain, Canada, Australia, and New Zealand? When do the 1335 days, 1290 days, and 1260 days (the time, times, and half a time) of Daniel 12 begin? When does the Bible show that economic collapse will affect the United States? In the Spanish language check out ¿Quién es el Rey del Norte? Here is a link to a video titled: The Future King of the North.
Germany's Assyrian Roots Throughout History Are the Germanic peoples descended from Asshur of the Bible? Have there been real Christians in Germanic history? What about the "Holy Roman Empire"? There is also a You-Tube video sermon on this titled Germany's Biblical Origins.
Germany in Biblical and Catholic Prophecy Does Assyria in the Bible equate to an end time power inhabiting the area of the old Roman Empire? What does prophecy say Germany will do and what does it say will happen to most of the German people? Here is a link to a video Is the USA Pushing Germany to Start WWIII?
Anglo – America in Prophecy & the Lost Tribes of Israel Are the Americans, Canadians, English, Scottish, Welsh, Australians, Anglo-Saxon (non-Dutch) Southern Africans, and New Zealanders descendants of Joseph? Where are the lost ten-tribes of Israel? Who are the lost tribes of Israel? What will happen to Jerusalem and the Jews in Israel? Will God punish the U.S.A., Canada, United Kingdom, and other Anglo-Saxon nations? Why might God allow them to be punished first? Here is a link to the Spanish version of this article: Anglo-América & las Tribus Perdidas de Israel. Information is also in the YouTube sermons titled Where are the Ten Lost Tribes? Why does it matter? and British are the Covenant People.
USA in Prophecy: The Strongest Fortresses Can you point to scriptures, like Daniel 11:39, that point to the USA in the 21st century? This article does. A related sermon is titled: Do these 7 prophesies point to the end of the USA?
Who is the King of the West? Why is there no Final End-Time King of the West in Bible Prophecy? Is the United States the King of the West? Here is a version in the Spanish language: ¿Quién es el Rey del Occidente? ¿Por qué no hay un Rey del Occidente en la profecía del tiempo del fin?
Donald Trump in Prophecy Prophecy, Donald Trump? Are there prophecies that Donald Trump may fulfill?  Are there any prophecies that he has already helped fulfill?  Could a Donald Trump presidency be apocalyptic?  A related video is titled: Donald: 'Trump of God' or Apocalyptic?
Trump Presidency Magic 8 Ball or Bible Prophecy? BBC reported that one might as well use a 'Magic Eight-Ball' to try to predict what will happen in the remaining time of Donald Trump's presidency. What is a 'Magic Eight-Ball'? Dr. Thiel not only explains that, but also briefly goes over 10 biblically-based warnings he wrote would happen if Donald Trump were elected that have already began to come to pass. He also goes over something he wrote back in 2008 that the Trump presidency is also helping lead to fulfillment. Should you trust Bible prophecy or not? Dr. Thiel says that Bible prophecy can be trusted, despite the view of skeptics and others that either overlook or despise the Bible. This is a video.
Donald Trump and America's Apocalypse This 188 page book is for people truly interested in prophecies related to Donald Trump and the United States, including learning about several that have already been fulfilled and those that will be fulfilled in the future. The physical book can be purchased at Amazon for $12.99 from the following link: Donald Trump and America's Apocalypse.
Donald Trump and America's Apocalypse-Kindle Edition This electronic version of the 188 page print edition is available for only US$3.99. And you do not need an actual Kindle device to read it. Why? Amazon will allow you to download it to almost any device: Please click HERE to download one of Amazon s Free Reader Apps. After you go to for your free Kindle reader and then go to Donald Trump and America's Apocalypse-Kindle Edition.