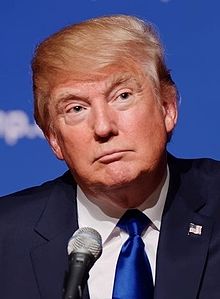 Donald Trump

Various ones have claimed that Hillary Clinton is so bad that Christians need to vote for Donald Trump. A reader sent me a link to one such view written by Wayne Grudem in an article titled Why Voting for Donald Trump Is a Morally Good Choice:
Some of my Christian friends tell me they can't in good conscience vote for Donald Trump because, when faced with a choice between "the lesser of two evils," the morally right thing is to choose neither one. They recommend voting for a third-party or write-in candidate.

As a professor who has taught Christian ethics for 39 years, I think their analysis is incorrect. Now that Trump has won the GOP nomination, I think voting for Trump is a morally good choice.

American citizens need patience with each other in this difficult political season. …

I did not support Trump in the primary season. I even spoke against him at a pastors' conference in February. But now I plan to vote for him. I do not think it is right to call him an "evil candidate." I think rather he is a good candidate with flaws. …

He is egotistical, bombastic, and brash. He often lacks nuance in his statements. Sometimes he blurts out mistaken ideas (such as bombing the families of terrorists) that he later must abandon. He insults people. He can be vindictive when people attack him. He has been slow to disown and rebuke the wrongful words and actions of some angry fringe supporters. He has been married three times and claims to have been unfaithful in his marriages. …

Seek the good of the nation

Should Christians even try to influence elections at all? Yes, definitely. The apostle Peter says Christians are "exiles" on this earth (1 Peter 1:1). Therefore I take seriously the prophet Jeremiah's exhortation to the Jewish people living in exile in Babylon:

"Seek the welfare of the city where I have sent you into exile, and pray to the LORD on its behalf, for in its welfare you will find your welfare" (Jeremiah 29:7).

By way of modern application, I think Christians today have a similar obligation to vote in such a way that will "seek the welfare" of the United States. …

Some may feel it is easier just to stay away from this messy Trump-Clinton election, and perhaps not even vote. But the teachings of Scripture do not allow us to escape moral responsibility by saying that we decided to do nothing. The prophet Obadiah rebuked the people of the Edom for standing by and doing nothing to help when the Babylonians conquered Jerusalem: "On the day that you stood aloof, on the day that . . . foreigners entered his gates and cast lots for Jerusalem, you were like one of them." (Obadiah 1:11). http://townhall.com/columnists/waynegrudem/2016/07/28/why-voting-for-donald-trump-is-a-morally-good-choice-n2199564
First, let's actually examine the two scriptures Wayne Grudem quoted.
Jeremiah 29:7 is not a command to vote. Jeremiah 29:7 it says to seek the welfare of the nation and pray.  It does not say to get involved in worldly politics, but the command is to pray to the LORD on its behalf. That verse most definitely does not say to seek the welfare by doing something like voting.
Trying to tie this in with voting is, in my view, totally and culturally indefensible.  No one, except someone hoping to find justification to vote, would try to read that in there. Reading the context also does not in any way suggest voting.
Also, the more literal translations of this say to "seek the peace" of the city (e.g. YLT, JPS) as opposed to its "welfare." But either way this verse does not tell Christians that they should vote.
And what about Obadiah?
That was also not a discussion about voting. Praying, such as is mentioned in Jeremiah 29:7 is certainly not "standing aloof."
Praying, not voting, is the morally good choice for Christians.
In addition to the command to pray in Jeremiah 29:7, there is a command in the New Testament to pray for leaders.
Notice what the Apostle Paul wrote:
1 Therefore I exhort first of all that supplications, prayers, intercessions, and giving of thanks be made for all men, 2 for kings and all who are in authority, that we may lead a quiet and peaceable life in all godliness and reverence. 3 For this is good and acceptable in the sight of God our Savior (1 Timothy 2:1-3).
Notice that we are to pray for worldly leaders and those that have authority over us so that we may lead a quiet and peaceful life. Nothing like this is said for voting that many falsely claim is their "Christian" duty–prayer for leaders is.
We are also to pray for our spiritual leaders. Notice what Jesus taught:
2 The harvest truly is great, but the laborers are few; therefore pray the Lord of the harvest to send out laborers into His harvest (Luke 10:2).
Notice what Paul taught:
25 Brethren, pray for us (1 Thessalonians 5:25).

1 Finally, brethren, pray for us, that the word of the Lord may run swiftly and be glorified, just as it is with you, 2 and that we may be delivered from unreasonable and wicked men; for not all have faith (2 Thessalonians 3:1-2).
We also are to pray:
14 The will of the Lord be done (Acts 21:14).
Similarly,  Jesus taught:
7 And when you pray, do not use vain repetitions as the heathen do. For they think that they will be heard for their many words. 8 Therefore do not be like them. For your Father knows the things you have need of before you ask Him. 9 In this manner, therefore, pray:

Our Father in heaven, Hallowed be Your name. 10 Your kingdom come. Your will be done
On earth as it is in heaven (Matthew 6:7-10).
And that, I believe, should be the type of prayer that Christians have about elections.  Followers of the true God are also told to:
5 Trust in the LORD with all your heart,
And lean not on your own understanding;
6 In all your ways acknowledge Him,
And He shall direct your paths.

7 Do not be wise in your own eyes;
Fear the LORD and depart from evil (Proverbs 3:5-7).
People often do not have the faith in God and prayer, so instead feel that they must do something else, like vote.
Yet, voting for one promoting evil (abortion in the case Hillary Clinton and "country first," in violation of the first commandment, in the case of Donald Trump) is not a Christian thing to do.
Many people, however, apparently are not satisfied with the biblical admonitions to trust God to choose political leaders.  This is not new (1 Samuel 8:6-7).
And while I can certainly understand that people often feel that they should do more, people often forget that God inspired Jeremiah to write:
23 O LORD, I know the way of man is not in himself; It is not in man who walks to direct his own steps (Jeremiah 10:23).
Also notice what Hosea was inspired to write:
6 Observe mercy and justice, And wait on your God continually (Hosea 12:6).
Some of those that vote seem to forget what God said:
8 "For My thoughts are not your thoughts, Nor are your ways My ways," says the LORD. 9 For as the heavens are higher than the earth, So are My ways higher than your ways, And My thoughts than your thoughts…"(Isaiah 55:8-9).

'This decision is by the decree of the watchers, And the sentence by the word of the holy ones, In order that the living may know That the Most High rules in the kingdom of men, Gives it to whomever He will, And sets over it the lowest of men.' (Daniel 4:17).
It may be of interest to point out that Jesus suggested that people would take matters in their own hands thinking that they are doing God a service (John 16:2). And while this referred to killing, the principle is still that one should not violate what God instructs and justify it by thinking that is what God wants one to do.
As far as Donald Trump vs. Hillary Clinton goes, it can be argued which one is more evil, but the reality is that they both are. They BOTH promote the LGBT agenda that will end in death (Romans 1:18-32).
Though Donald Trump professes Christianity, he has publicly stated that he has not repented nor asked God for forgiveness. Yet, I heard Jerry Falwell, Jr. try to explain over the radio why he felt Donald Trump was a Christian. Whatever religion Donald Trump holds, it most certainly is not the Christianity of the Bible. Nor is Hillary Clinton a true Bible believing Christian.
As far as Wayne Grudem goes, he admitted some of Donald Trumps flaws. And both Donald Trump and Hillary Clinton at least partially fulfill the following end time warning:
1 But know this, that in the last days perilous times will come: 2 For men will be lovers of themselves, lovers of money, boasters, proud, blasphemers, disobedient to parents, unthankful, unholy, 3 unloving, unforgiving, slanderers, without self-control, brutal, despisers of good, 4 traitors, headstrong, haughty, lovers of pleasure rather than lovers of God, 5 having a form of godliness but denying its power. And from such people turn away! (2 Timothy 3:1-5).
Note that God's word does not encourage voting as the solution.
Notice a secular view related to the 2012 USA presidential election as it has some ideas to ponder related to the 2016 campaign as well:
When confronted with the false dilemma of the democratic political process, many individuals settle for the "less of two evils" as a kind of compromise. But one suspects (or hopes) they do so with a certain degree of moral discomfort. Ask a disciple of the Elephant Party, for example, if he agrees with the murderous drone attacks this moment underway in Pakistan and you will likely offend a delicate delusion of "Democrats for Peace." Similarly, press any Donkey Party advocate on the issue of economic freedom and watch them squirm under close scrutiny of their own candidate's position vis-à -vis the IRS, the Federal Reserve, the indigestible, 75,000- page tax code, etc., etc., etc….

Contrary to the popular snipe that "only those who vote have the right to complain," common sense leads us to quite the opposite conclusion. It is only those who have not aggressed against others who have the right to complain when they are aggressed against. Those who, to invert a phrase, "feed the mouth that bites them," may stand firmly, but do so on shaky ground.

A vote for either evil is nonetheless a vote for evil. (Daily Reckoning, October 19, 2012)
It is interesting to see a secular source coming to similar conclusions regarding the 'democratic system' and the US presidential election. I documented some other evils that both major USA presidential candidates espoused in the 2012 campaign (see Romney and Obama on 'Social Issues'). As well as some in the 2016 campaign (see, for example, Hillary Clinton in Prophecy and Donald Trump in Prophecy).
A vote for evil is still evil.
Of course, many professing Christians believe that they need to vote even though that concept is not endorsed in the Bible.  But notice two concepts that are:
20 Woe to those who call evil good, and good evil (Isaiah 5:20).

2 You shall not follow a crowd to do evil (Exodus 23:2)
The "lesser of two evils" is still not good.
Neither the current US President nor leading candidates (Donald Trump and Hillary Clinton) have called for real national repentance and, even if any did, it is not likely that they would call for repentance for Americans to go to the faith of the original Church of God of the New Testament.
Notice that the Bible does have standards for leaders:
19 Listen now to my voice; I will give you counsel, and God will be with you: Stand before God for the people, so that you may bring the difficulties to God. 20 And you shall teach them the statutes and the laws, and show them the way in which they must walk and the work they must do. 21 Moreover you shall select from all the people able men, such as fear God, men of truth, hating covetousness; and place such over them to be rulers of thousands, rulers of hundreds, rulers of fifties, and rulers of tens. (Exodus 18:19-21)

2 "The Spirit of the Lord spoke by me,
And His word was on my tongue.
3 The God of Israel said,
The Rock of Israel spoke to me:
'He who rules over men must be just,
Ruling in the fear of God. (2 Samuel 23:2-3)
Neither Hillary Clinton nor Donald Trump endorse His laws and statutes. Both are covetousness. Hence they are not people that Christians should endorse.
Since Wayne Grudem endorsed Donald Trump, notice something that Donald Trump said in his Nevada victory speech the night of February 23, 2016 that proves he is covetous:
It's hard for me to turn down money because that's what I've done in my whole life, I grab and grab and grab. You know I get greedy I want money, money.

I'll tell you what we're going to do, right? We get greedy right? Now we're going to get greedy for the United States we're going to grab and grab and grab. We're going to bring in so much money and so much everything. We're going to make America great again, folks, I'm telling you folks we're going to make America great again. …

You're going to be proud of your president, and you're going to be even prouder of your country, OK? http://qz.com/623640/i-love-the-poorly-educated-read-donald-trumps-full-nevada-victory-speech/
Consider that Donald Trump clearly stated he is a greedy lover of money and that he is clearly also trying to appeal to the pride, greed, and love of money of American voters. Pride goes before destruction, and destruction is coming to the USA (Daniel 11:39; Habakkuk 2:2-8; see also Anglo – America in Prophecy & the Lost Tribes of Israel).
We are to pray that God's will is to be done. We should also pray for leaders.
But we should not kid ourselves that it is moral to vote for immoral candidates.
Nor should we kid ourselves that Christians have some type of a biblical obligation to vote.
Whether Hillary Clinton, Donald Trump, or someone else becomes the next President of the United States, without national repentance the USA is doomed.
Since that is not likely, the only real solution for the USA is the Kingdom of God.
Some items of possibly related interest may include:
Donald Trump in Prophecy Prophecy, Donald Trump? Are there prophecies that Donald Trump may fulfill? Are there any prophecies that he has already helped fulfill? Could a Donald Trump presidency be apocalyptic? A related video is titled Could Donald Trump be Apocalyptic?
Does God Have a 6,000 Year Plan? What Year Does the 6,000 Years End? Was a 6000 year time allowed for humans to rule followed by a literal thousand year reign of Christ on Earth taught by the early Christians? Does God have 7,000 year plan? What year may the six thousand years of human rule end? When will Jesus return? 2024 or 20xx? There is also a video titled The 6000 Year Plan: Is the end of humanity's reign almost up? Here is a link to the article in Spanish: ¿Tiene Dios un plan de 6,000 años?
When Will the Great Tribulation Begin? 2016, 2017, or 2018? Can the Great Tribulation begin today? What happens before the Great Tribulation in the "beginning of sorrows"? What happens in the Great Tribulation and the Day of the Lord? Is this the time of the Gentiles? When is the earliest that the Great Tribulation can begin? What is the Day of the Lord? Who are the 144,000? Here is a version of the article in the Spanish language: ¿Puede comenzar la Gran Tribulación en 2016 o 2017? ¿Es el Tiempo de los Gentiles? You can also see the English language sermon videos: The Great Tribulation from the Mount of Olives and Can the Great Tribulation begin before 2020? A shorter video is: Can the Great Tribulation Start in 2016?
Just What Do You Mean — Repentance? Do you know what repentance is? Have you truly repented? Repented of what? Herbert W. Armstrong wrote this as a booklet on this important subject.
The Gospel of the Kingdom of God This free online pdf booklet has answers many questions people have about the Gospel of the Kingdom of God and explains why it is the solution to the issues the world is facing.
The Gospel of the Kingdom of God was the Emphasis of Jesus and the Early Church Did you know that? Do you even know what the gospel of the kingdom is all about? You can also see a YouTube video sermons Why Teach the Kingdom of God? and The Gospel of the Kingdom.
Europa, the Beast, and Revelation Where did Europe get its name? What might Europe have to do with the Book of Revelation? What about "the Beast"? Is an emerging European power "the daughter of Babylon"? What is ahead for Europe? Here is a link to a video titled: Can You Prove that the Beast to Come is European?
European Technology and the Beast of Revelation Will the coming European Beast power would use and develop technology that will result in the taking over of the USA and its Anglo-Saxon allies? Is this possible? What does the Bible teach? Here is a related YouTube video: Military Technology and the Beast of Revelation.
Must the Ten Kings of Revelation 17:12 Rule over Ten Currently Existing Nations? Some claim that these passages refer to a gathering of 10 currently existing nations together, while one group teaches that this is referring to 11 nations getting together. Is that what Revelation 17:12-13 refers to? The ramifications of misunderstanding this are enormous. A related sermon is titled Ten Kings of Revelation and the Great Tribulation.
Cross-dressing and other assaults against your children. What should you do? Is there an agenda to turn your children and/or grandchildren away from biblical morality and towards practices promoted by homosexuals? What does the Bible teach about cross-dressing? What should parents do? If there is an agenda, what has been going on? There are also three YouTube videos related to this, titled Transgender 'Woe to those who call evil good' and Cross dressing and Other Assaults Against Your Children and USA pushing gender confusion.
The Bible Condemns Homosexuality "Same-sex marriage" for "gays" and lesbians is becoming more acceptable to many. What does the Bible teach about homosexuality? Can homosexuals change? A related video sermon is titled: What Does the Bible Really Teach about Homosexuality?
Pornography: A scourge on society Is pornography harmless fun? Does the Bible teach anything about it? What are the views of some involved with it? A related sermons is titled: Pornography, False Comfort, and False Religion. Here a shorter YouTube video Pornography: Harmless Fun or a Scourge on Society?
Hillary Clinton in Prophecy Prophecy, Hillary Clinton? Are there prophecies that Hillary Clinton may fulfill? Are there any prophecies that she has already helped fulfill? Could Hillary Clinton be apocalyptic? Could Hillary Clinton be the final Antichrist? A video of related interest is titled Hillary Clinton and Bible Prophecy.
Anglo – America in Prophecy & the Lost Tribes of Israel Are the Americans, Canadians, English, Scottish, Welsh, Australians, Anglo-Saxon (non-Dutch) Southern Africans, and New Zealanders descendants of Joseph? Where are the lost ten-tribes of Israel? Who are the lost tribes of Israel? What will happen to Jerusalem and the Jews in Israel? Will God punish the U.S.A., Canada, United Kingdom, and other Anglo-Saxon nations? Why might God allow them to be punished first? Here is a link to the Spanish version of this article: Anglo-América & las Tribus Perdidas de Israel. Information is also in the YouTube sermons titled Where are the Ten Lost Tribes? Why does it matter? and British are the Covenant People. A short YouTube of prophetic interest may be Barack Obama and the State of the Apocalypse.
Will the Anglo-Saxon Nations be Divided and Have People Taken as Slaves? Will the lands of the United States, United Kingdom, Canada, Australia, and New Zealand be divided? What about Jerusalem? What does Bible prophecy teach? Are there non-biblical prophecies that support this idea? Who will divide those lands? Who will end up with the lands and the people? Here is a link to a video titled Will the USA and other Anglo-nations be Divided and Their People Made Slaves? Here is a related item in the Spanish language ¿Serán divididas las naciones anglosajonas?
Hillary Clinton, Prophecy, and the Destruction of the United States This is a 200 page book for people truly interested in prophecies related to Hillary Clinton and the United States, including learning about many that have already been fulfilled and those that will be fulfilled in the future. It also discusses Republicans. The physical book can be purchased at Amazon from the following link: Hillary Clinton, Prophecy, and the Destruction of the United States, 2nd edition: Is Hillary Clinton Fulfilling Biblical, Islamic Catholic, Hopi, and other America-Related Prophecies? What About Donald Trump? $11.99.
Hillary Clinton, Prophecy, and the Destruction of the United States-Amazon 2nd Kindle edition This electronic version of the 200 page print edition is available for only US$3.99. And you do not need an actual Kindle device to read it. Why? Amazon will allow you to download it to almost any device: Please click HERE to download one of Amazon s Free Reader Apps. After you go to for your free Kindle reader and then go to Hillary Clinton, Prophecy, and the Destruction of the United States-Amazon 2nd Kindle edition.