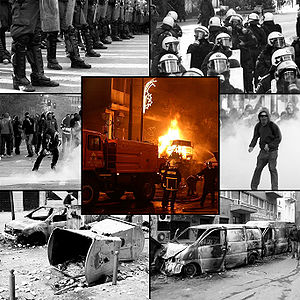 Greek riot photos

The crisis in Greece is not over. Notice what a German leader wants to do about it:
February 20, 2017

Bavaria's 50-year-old finance minister Markus Soeder … according to an interview with Bild, the CSU politician said that:

…new billions should only flow when Athens implemented all the reforms.

Even then, however, aid should only be given against a pledge "in the form of cash, gold or real estate".

Soeder added, "We need a plan B."

One wonders if this was Germany's end-game all along? http://www.zerohedge.com/news/2017-02-20/german-minister-calls-plan-b-greece-should-pledge-gold-real-estate-new-loans
Various ones in Greece have believed some version of this.
But, although Greece has some gold, it is not enough to cover the debt of Greece.  Yet, it does have land and islands that many in Germany would have interest in.
A while back, an opinion piece in BBC claimed Greece and the Euro will fail:
August 16, 2015

Game theory can't explain the Greek crisis – the entire euro project is now in the hands of fate, writes philosopher John Gray.

After much drama, a third bailout has been announced for Greece and approved by the Greek parliament. The details have yet to be settled, but whatever deal finally emerges Greece's government will be compelled to impose more spending cuts and tax rises at a time when unemployment is already higher than it was in America during the Great Depression. The result will be to lock Greece into permanent poverty, while the burden of debt will never be paid off. …

Unworkable and unreformable, the euro can only produce recurrent and worsening crises. But this can go on for only so long. The euro will break down through a process of political contagion, as resurgent nationalism and radical parties of opposition become stronger throughout Europe. The driving force of the currency's disintegration will be a mood of popular anger. http://www.bbc.com/news/magazine-33863913
Unless there is a new major economic development in Greece, the Greeks will not be able to pay back the debt. I have been saying that for years, and Greece still has debt troubles.
What about the Euro? Here are some comments from my book Donald Trump and America's Apocalypse:
The Europeans do not have to have a perfect currency, only one that is perceived to be in better shape than the USA dollar.

Having the European power acquiring more gold to back the Euro or possibly another future European currency (that might potentially replace the Euro or even a basket of currencies) may greatly increase European credibility, prosperity, and influence around the globe, even if the backing is only implied. (p. 171)
Irrespective of what may or may not happen to the Euro, what about Europe?
The Bible tells of a rise of a European power composed of strong and weak parts that do not get along particularly well:
41 Whereas you saw the feet and toes, partly of potter's clay and partly of iron, the kingdom shall be divided; yet the strength of the iron shall be in it, just as you saw the iron mixed with ceramic clay. 42 And as the toes of the feet were partly of iron and partly of clay, so the kingdom shall be partly strong and partly fragile. 43 As you saw iron mixed with ceramic clay, they will mingle with the seed of men; but they will not adhere to one another, just as iron does not mix with clay. (Daniel 2:41-43)
The rising European Union certain is a mixture like that and some nations do not adhere well with other ones within it.
What about Greece?
For reasons of history and geography, Greece is wanted by the European Union. Greece is a nation that would be expected to be part of the final European Beast power, hence, although there will likely be problems with Greece, it would seem to have to align with Europe.
Notice the following from Daniel 7:
2 Daniel spoke, saying, "I saw in my vision by night, and behold, the four winds of heaven were stirring up the Great Sea. 3 And four great beasts came up from the sea, each different from the other. 4 The first was like a lion, and had eagle's wings. I watched till its wings were plucked off; and it was lifted up from the earth and made to stand on two feet like a man, and a man's heart was given to it.

5 "And suddenly another beast, a second, like a bear. It was raised up on one side, and had three ribs in its mouth between its teeth. And they said thus to it: 'Arise, devour much flesh!'

6 "After this I looked, and there was another, like a leopard, which had on its back four wings of a bird. The beast also had four heads, and dominion was given to it.

7 "After this I saw in the night visions, and behold, a fourth beast, dreadful and terrible, exceedingly strong. It had huge iron teeth; it was devouring, breaking in pieces, and trampling the residue with its feet. It was different from all the beasts that were before it, and it had ten horns. 8 I was considering the horns, and there was another horn, a little one, coming up among them, before whom three of the first horns were plucked out by the roots. And there, in this horn, were eyes like the eyes of a man, and a mouth speaking pompous words. (Daniel 7:2-8)
The "Great Sea" that bordered the ancient lands of Israel (Numbers 34:6-7; Joshua 1:4; 9:1; 23:4; Ezekiel 47:13-16) is the Mediterranean Sea–and that is the sea that Daniel was referring to. That is why this is a reference to a European power.
As far as Greece goes, the third beast in Daniel 7 was the Greco-Macedonian one, with the four heads. It split into four kingdoms after the death of Alexander the Great. Greece is to be part of the final Beast power.
The Bible is clear that the final European Beast power will be a mixture of of weak and strong parties that do not adhere particularly well together per Daniel 2:41-43. The end result will be that the Beast power will arise, reorganize (Revelation 17:12-13) and surprise many (Revelation 13:1-4). Including the USA and UK who will not fare well (cf. Daniel 11:39).
Europe will arise and Greece will be part of it, irrespective of what the BBC says about it or the Euro or German demands.
Some items of possibly related interest may include:
Europa, the Beast, and Revelation Where did Europe get its name? What might Europe have to do with the Book of Revelation? What about "the Beast"? Is an emerging European power "the daughter of Babylon"? What is ahead for Europe? Here is a link to a video titled: Can You Prove that the Beast to Come is European?
European Technology and the Beast of Revelation Will the coming European Beast power would use and develop technology that will result in the taking over of the USA and its Anglo-Saxon allies? Is this possible? What does the Bible teach? Here is a related YouTube video: Military Technology and the Beast of Revelation.
Must the Ten Kings of Revelation 17:12 Rule over Ten Currently Existing Nations? Some claim that these passages refer to a gathering of 10 currently existing nations together, while one group teaches that this is referring to 11 nations getting together. Is that what Revelation 17:12-13 refers to? The ramifications of misunderstanding this are enormous.
World War III: Steps in Progress Are there surprising actions going on now that are leading to WWIII? Might a nuclear attack be expected? Does the Bible promise protection to all or only some Christians? How can you be part of those that will be protected? A related video would be Is World War III About to Begin? Can You Escape?
WTO/TTIP and the Babylonian Beast Will international trade agreements like WTO/TTIP/CETA lead to the fulfillment of end time prophecies concerning the Babylonian Beast power that the Book of Revelation warns against? What does the Bible teach? A related video would be WTO Trade Deal and the Rise of the European Beast Power.
Some Doctrines of Antichrist Are there any doctrines taught outside the Churches of God which can be considered as doctrines of antichrist? This article suggests at least three. It also provides information on 666 and the identity of "the false prophet." Plus it shows that several Catholic writers seem to warn about an ecumenical antipope that will support heresy. You can also watch a video titled What Does the Bible teach about the Antichrist?
Two Horned Beast of Revelation and 666 Who is 666? This article explains how the COG views this, and compares this to Ellen White. Here is a link to a prophetic video Six Financial Steps Leading to 666?
The Mark of Antichrist What is the mark of Antichrist? What have various ones claimed? Here is a link to a related sermon What is the 'Mark of Antichrist'?
Mark of the Beast What is the mark of the Beast? Who is the Beast? What have various ones claimed the mark is? What is the 'Mark of the Beast'?
Is Russia the King of the North? Some claim it is. But what does the Bible teach? Here is a link to a video, also titled Is Russia the King of the North?
Who is the King of the North? Is there one? Do biblical and Roman Catholic prophecies for the Great Monarch point to the same leader? Should he be followed? Who will be the King of the North discussed in Daniel 11? Is a nuclear attack prophesied to happen to the English-speaking peoples of the United States, Great Britain, Canada, Australia, and New Zealand? When do the 1335 days, 1290 days, and 1260 days (the time, times, and half a time) of Daniel 12 begin? When does the Bible show that economic collapse will affect the United States? In the Spanish language check out ¿Quién es el Rey del Norte? Here is a link to a video titled: The Future King of the North.
Germany's Assyrian Roots Throughout History Are the Germanic peoples descended from Asshur of the Bible? Have there been real Christians in Germanic history? What about the "Holy Roman Empire"? There is also a You-Tube video sermon on this titled Germany's Biblical Origins.
Germany in Biblical and Catholic Prophecy Does Assyria in the Bible equate to an end time power inhabiting the area of the old Roman Empire? What does prophecy say Germany will do and what does it say will happen to most of the German people? Here is a link to a related sermon titled Germany in Bible Prophecy. Here is a link to a video Is the USA Pushing Germany to Start WWIII?
Mexico, Central America, South America, Brazil, and the Caribbean in Prophecy [Español: México, América central, Suramérica, Brasil y el Caribe en la profecía] [Português: México, América Central, Ámérica do Sul, e Brasil na profecia] What will happen to those of Latin America? Will they have prosperity? Will they cooperate with Europe? Will they suffer in the future? What role might the various Caribbean nations/territories play?
Donald Trump in Prophecy Prophecy, Donald Trump? Are there prophecies that Donald Trump may fulfill?  Are there any prophecies that he has already helped fulfill?  Could a Donald Trump presidency be apocalyptic?  A related video is titled: Donald: 'Trump of God' or Apocalyptic?
Donald Trump and America's Apocalypse This 188 page book is for people truly interested in prophecies related to Donald Trump and the United States, including learning about several that have already been fulfilled and those that will be fulfilled in the future. The physical book can be purchased at Amazon for $12.99 from the following link: Donald Trump and America's Apocalypse.
Donald Trump and America's Apocalypse-Kindle Edition This electronic version of the 188 page print edition is available for only US$3.99. And you do not need an actual Kindle device to read it. Why? Amazon will allow you to download it to almost any device: Please click HERE to download one of Amazon s Free Reader Apps. After you go to for your free Kindle reader and then go to Donald Trump and America's Apocalypse-Kindle Edition.
Anglo – America in Prophecy & the Lost Tribes of Israel Are the Americans, Canadians, English, Scottish, Welsh, Australians, Anglo-Saxon (non-Dutch) Southern Africans, and New Zealanders descendants of Joseph? Where are the lost ten-tribes of Israel? Who are the lost tribes of Israel? What will happen to Jerusalem and the Jews in Israel? Will God punish the U.S.A., Canada, United Kingdom, and other Anglo-Saxon nations? Why might God allow them to be punished first? Here is a link to the Spanish version of this article: Anglo-América & las Tribus Perdidas de Israel. Information is also in the YouTube sermons titled Where are the Ten Lost Tribes? Why does it matter? and British are the Covenant People. A short YouTube of prophetic interest may be Barack Obama and the State of the Apocalypse.
Will the Anglo-Saxon Nations be Divided and Have People Taken as Slaves? Will the lands of the United States, United Kingdom, Canada, Australia, and New Zealand be divided? What about Jerusalem? What does Bible prophecy teach? Are there non-biblical prophecies that support this idea? Who will divide those lands? Who will end up with the lands and the people? Here is a link to a video titled Will the USA and other Anglo-nations be Divided and Their People Made Slaves? Here is a related item in the Spanish language ¿Serán divididas las naciones anglosajonas?