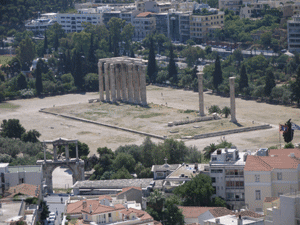 A Temple of Zeus in Athens, Greece
The following news item was of interest:
'Left at the Mercy of God'
Spiegel – August 27, 2007  [excerpts]
Greece on Monday continues battling devastating blazes that have turned vast swaths of the country to smoldering ash…there is hardly a corner of the country that has been spared.
"The destruction is of Biblical proportions,"firefighter Nicholas Orphanos, battling blazes in the Peloponnese, told reporters according to Reuters. "There are villages we want to go to and we cannot because the roads are blocked. In 30 years, I have never seen such destruction."
People in a number of villages have continued calling into Greek television stations asking desperately for help. "We have been left at the mercy of God," one woman from the Peloponnese village of Nemouta told Greek TV. "We have no water or electricity. We have been fighting the fires with tractors and branches."
Many farmers have lost their livelihoods with homes and livestock going up in flames. "We are destroyed," a resident of Artemida, a village near Zacharo, told state television. "Our dogs, our rabbits, our poultry have all been burned. Nothing is left. How can I survive now?"
On Sunday, a major blaze raced toward Ancient Olympia, the site where the Olympic games got their start some 2,800 years ago and one of the country's leading tourist sites. Firefighters were only just able to save the museum and the archaeological site which includes the ruined temples of Zeus and his wife Hera.                                                                                       http://www.spiegel.de/international/europe/0,1518,502177,00.html
With the recent turmoil involving the Euro dropping and a variety of fires (plus the riots in Paris and Denmark some time ago), I believe that Europe will continue to have periods of turmoil until it gains dominance in world affairs.
Many feel that the Euro itself will reverse its recent losses:
Euro may resume its climb against the dollar
International Herald Tribune Bloomberg News – August 28, 2007…Goldman Sachs and Merrill Lynch increased their year-end forecasts for the euro by as much as 6 percent last week as concerns about the rout in subprime mortgages abated. Citigroup says the euro may rise to $1.42 by the end of the year from $1.3667 on Friday.While the euro tumbled as much as 3.5 percent since rising to $1.3852 on July 24, currency strategists now say faster economic growth in the region will prompt a recovery.
As mentioned once before, it is interesting to me that the Greek 2 Euro coin shows a woman (Europa) riding a beast (allegedly Zeus, but biblically something a little different).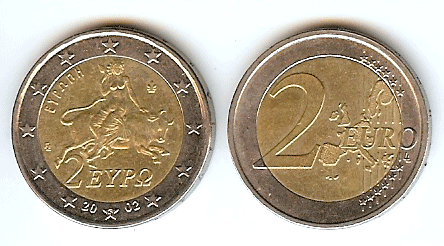 An article of possibly related interest may be Europa, the Beast, and Revelation