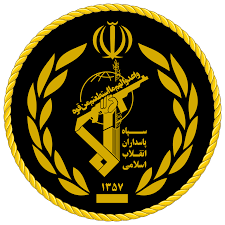 Official Seal of Islamic Revolutionary Guard Corps (IRGC) or Sepah

Iran and Israel have been escalating tensions in the Middle East:
February 11, 2018

Israel's Minister of Intelligence Israel Katz said on Sunday that by striking key Iranian sites in Syria, Israel sent a clear message to Iran that it would not tolerate an Iranian military foothold on its doorstep and would act decisively to counter any further provocations.

The wave of airstrikes came after Israel intercepted an Iranian drone that had infiltrated its airspace, and an Israeli F-16 was downed upon its return from Syria on Saturday. It was Israel's most serious engagement in neighboring Syria since fighting there began in 2011 — and the most devastating air assault on the country in decades.

The military said it destroyed the drone's Iranian launching site, along with four additional Iranian positions and eight Syrian sites, including the Syrian military's main command and control bunker.

The Syrian Observatory for Human Rights, which monitors the war in Syria through a network of activists on the ground, said Sunday that at least six Syrian troops and allied militiamen were killed in the airstrikes. The six included Syrian troops as well as Syrian and non-Syrian allied troops, the Britain-based Observatory said.

"They, and we, know what we hit and it will take them some time for them to digest, understand and ask how Israel knew how to hit those sites," Katz told Israel's Army Radio. "These were concealed sites and we have intelligence agencies and the ability to know everything that is going on there and yesterday we proved that." …

Israel fears Iran could use Syrian territory to stage attacks or create a land corridor from Iran to Lebanon that could allow it to transfer weapons more easily to the Lebanese Hezbollah — an Iranian-backed Shiite militant group sworn to Israel's destruction. https://www.cnbc.com/2018/02/11/israeli-minister-says-airstrikes-sent-clear-message-to-iran.html
"The claim about the flight of an Iranian drone and Iran's involvement in the downing of a Zionist fighter jet is so ridiculous that it does not merit a comment," said Iranian Foreign Ministry spokesman Bahram Qassemi, while claiming that Iranian officials are only advising the Syrians "at the request of the… legitimate and lawful government."

Moreover, any "aggressive actions" by Israel would trigger a serious response by Iran, creating "hell for the Zionists" according to Brigadier General Hossein Salami, deputy head of Iran's elite Revolutionary Guards. His statement below:

The Zionist regime in the Muslim world was shaped by the will of the United States and Britain, and they built a cemetery from the Islamic world. You have heard the story of the domination of the world of arrogance after World War II, the tragic story of Muslim slaughter in the wars that Britain has launched and know the role of the United States and Britain in the formation of the Zionist regime, or aware of the defeats of the Arab armies of the Zionist regime by American support.

The United States was banning us and wanted to be paralyzed, but we advanced, and today, from this point on, today we can destroy all American bases in the region and create hell for Zionists.

Today, the Islamic Republic of Iran is more powerful than ever. We trust in God; this was a confession two years ago when we seized the American Marines and the American inability to confront us. –Gen. Hossein Salami via Tasnim News (translated) …

"Our policy is clear," said Netanyahu. "Israel will defend itself against any aggression and any attempt to violate its sovereignty," adding "Iran undertook such attempt today. It violated our sovereignty, and infiltrated its drone into Israeli airspace from Syria." https://www.zerohedge.com/news/2018-02-10/irans-revolutionary-guard-vows-hell-zionists-putin-warns-netanyahu
The situation between Israel and Iran remains tense.
Israel is concerned the Hezbollah, Syria, and Iran want it to cease to exist, and they are all allies.
Despite Israeli military strength, it will have problems.
At risk of a recent repeat for regular readers, it again should be pointed out that the Bible shows that God will allow the nation of Israel to be hit, by what looks like an Iranian-Syrian confederation (hence this could also involve Hezbollah):
1 The burden against the Valley of Vision.

What ails you now, that you have all gone up to the housetops, 2 You who are full of noise, A tumultuous city, a joyous city? Your slain men are not slain with the sword, Nor dead in battle. 3 All your rulers have fled together; They are captured by the archers. All who are found in you are bound together; They have fled from afar. 4 Therefore I said, "Look away from me, I will weep bitterly; Do not labor to comfort me Because of the plundering of the daughter of my people."

5 For it is a day of trouble and treading down and perplexity By the Lord God of hosts In the Valley of Vision — Breaking down the walls And of crying to the mountain. 6 Elam bore the quiver With chariots of men and horsemen, And Kir uncovered the shield. 7 It shall come to pass that your choicest valleys Shall be full of chariots,And the horsemen shall set themselves in array at the gate.

8 He removed the protection of Judah. You looked in that day to the armor of the House of the Forest; 9 You also saw the damage to the city of David, That it was great; And you gathered together the waters of the lower pool. 10 You numbered the houses of Jerusalem, And the houses you broke down To fortify the wall. 11 You also made a reservoir between the two walls For the water of the old pool. But you did not look to its Maker, Nor did you have respect for Him who fashioned it long ago.

12 And in that day the Lord God of hosts Called for weeping and for mourning,For baldness and for girding with sackcloth. 13 But instead, joy and gladness, Slaying oxen and killing sheep, Eating meat and drinking wine: "Let us eat and drink, for tomorrow we die!"

14 Then it was revealed in my hearing by the Lord of hosts,"Surely for this iniquity there will be no atonement for you, Even to your death," says the Lord God of hosts. (Isaiah 22:1-14 NKJV)
Elam seems to be a reference to at least some in Iran. Kir is of interest as it has several possibilities. One is that the Bible tells that after Tiglath-Pileser king of Assyria took over Damascus, he moved Syrians to Kir. While this does not mean that Kir must (or must only) be a reference to Syria, the fact that Syria is an ally of Iran is interesting. Some believe Kir is an area in the south of Iran, while others suggest closer to the Black Sea. The Bible tells of a time when Kir will be destroyed (Isaiah 15:1b) and also says that Syria's capital Damascus will be destroyed (Isaiah 17:1).
In Isaiah 22: 8, "Judah" is a reference to those in the land commonly called Israel–God will allow Israel to be attacked! In Isaiah 22:9, consider that "the damage to the city of David" is a reference to at least part of Jerusalem–and notice that the damage will be great.
The message that Israel is sending to Iran is to back-off or else!
But Israel needs to realize that Iran's view is that it is willing to engage with Israel militarily.
Instead of pushing Iran back, Israel's latest actions and statements will likely further the resolve of Iran to plan to destroy Israel.
We in the Continuing Church of God do not believe that Iran will be the final King of the South of Bible prophecy (cf. Daniel 11:40-43).  Because of that, I have tended to believe that Iran may somehow get "neutralized" before this final king rises up.
Here is something from my book Donald Trump and America's Apocalypse:
Iran and Prophecy

Donald Trump has stated that he wants to eliminate or at least change the "nuclear deal" with Iran (Wilkinson T. Trump's plans to scuttle or amend the Iran nuclear deal remain a work in progress. Los Angeles Times, November 14, 2016).

He also might be more willing than the Obama Administration to trigger enforcement provisions if he feels Iran has violated portions of the agreement.

Iran would not like to see either of those actions and continues to show some of its nuclear ambitions: after Donald Trump's election, Iran declared it would pursue development of nuclear powered ships (Norman L. Europe Hopeful Trump Will Stick With Iran Nuclear Deal. Wall Street Journal, December 13, 2016).

Because  Bible  prophecy indicates  that it  will  be  primarily Arabic nations that support the final King of the South (Daniel 11:40-43; Ezekiel 30:1-8), though with some (probably temporary per Daniel 11:25-26) support from Turkey (and possibly Pakistan), it is not biblically possible that Iran can truly be the leader of the Islamic world as it seems to want to be. Also, because it is basically due east of Jerusalem, Iran should not be considered to be a candidate to be the final 'King of the South' of biblical prophecy.

Despite its posturing and relative military strength, Iran will be somehow effectively neutralized (cf. Ezekiel 32:24). This could perhaps be from an attack involving Israel and/or internal civil unrest — this could also include electromagnetic (EMP) or similar weapons used against Iran (Jeremiah 49:34-39).

It is of prophetic interest to note that the small nation of Israel is prophesied to one day be attacked by some that seem to have connection to Iran (Isaiah 22:1-14).

Iran may decide to strike out against Israel, and possibly Jerusalem (cf. Isaiah 22:7-8) if a Trump Administration and/or Israel takes actions it does not like.

Iran has weapons that can cause damage. Furthermore, the U.S.A. itself (as well as is the State of Israel) is vulnerable to EMP type attacks and/or items such as biological weapons, chemical weapons, terrorism, nuclear weapons, dirty bombs, etc. because of a conflict involving Iran, Syria, and/or others.

But should this occur, this would NOT be the final destruction of the U.S.A. Prophetically, Iran would not end up faring well (cf. Ezekiel 32:24-25). (Thiel B. Donald Trump and America's Apocalypse. Nazarene Books, 2017)
The following shows that Iran is subject to being damaged:
24 "There is Elam and all her multitude,
All around her grave,
All of them slain, fallen by the sword,
Who have gone down uncircumcised to the lower parts of the earth,
Who caused their terror in the land of the living;
Now they bear their shame with those who go down to the Pit. (Ezekiel 32:24)
But that does not mean that Iran will not strike militarily before this. Iran is capable of much more than words. Iran can also cause damage to the USA. Plus, Iran is also particularly upset with the Trump Administration.
One day Israel will lose lands it now controls.
Israel and the Trump Administration will not be able to prevent that.
Both Israel and Iran are prophesied to suffer military devastation.
Some items of possibly related interest may include:
Gaza and the Palestinians in Bible Prophecy What does the Bible teach about Gaza and the fate of the Palestinians? Here is a link to a related video: Gaza and Palestine in Prophecy.
The 'Peace Deal' of Daniel 9:27 This prophecy could give up to 3 1/2 years advance notice of the coming Great Tribulation. Will most ignore or misunderstand its fulfillment? Here is a link to a related sermon video Daniel 9:27 and the Start of the Great Tribulation.
How Will Middle East Peace be Brought About? Can humans bring peace to the Middle East? Here is a link to a related video: Middle East Peace? When?
Is the Future King of the South Rising Up? Some no longer believe there needs to be a future King of the South. Might Egypt, Islam, Iran, Arabs, or Ethiopia be involved? Might this King be called the Mahdi or Caliph? What does the Bible say? A YouTube video of related interest may be: The Future King of the South is Rising.
The Arab and Islamic World In the Bible, History, and Prophecy The Bible discusses the origins of the Arab world and discusses the Middle East in prophecy. What is ahead for the Middle East and those who follow Islam? What about the Imam Mahdi? What lies ahead for Turkey, Iran, and the other non-Arabic Muslims? An item of possibly related interest in the Spanish language would be: Líderes iraníes condenan la hipocresía de Occidente y declaran que ahora es tiempo para prepararse para el Armagedón, la guerra, y el Imán Mahdi.
Damascus and Syria in Prophecy Will Bashar Assad hold power as he has it? Does the Bible show that Damascus, the capital of Syria, will be destroyed? What will happen to Syria? Will the Syrians support the final King of the South that the Bible tells will rise up? Which scriptures discuss the rise and fall of an Arabic confederation? Does Islamic prophecy predict the destruction of Syria. This is a YouTube video.
Iran in Prophecy Is Iran in Bible prophecy? If so, what does the Bible teach? What names, other than Persia, may be used to describe Iran? There is also a YouTube video titled Iran in Prophecy. Here is a related video Iran In Prophecy.
Why is a Jewish Temple in Jerusalem Not Required? Although people like Timothy LaHaye teach a third Jewish temple is required, who is 'the temple of God" in the New Testament? Does the Bible require a rebuilt Jewish Temple? Here is a related item in the Spanish language ¿Por qué no se requiere un templo judío en Jerusalén? Here is a link to a sermon titled The Temple, Prophecy, and the Work.
Evangelical support for Donald Trump's Jerusalem policy BBC asked, "Why do US evangelicals support Trump's Jerusalem policy?" BBC provided quotes from some believing it has to do with the 'last days' while others saying that is not the reason. Hal Lindsey's book, 'The Late Great Planet Earth' is one of the sources pointed to. In this video, Dr. Thiel addresses scriptures related to Jerusalem as well as prophetic ones. He goes over the common 'fig tree' interpretation, belief about a 'Third Temple,' and statements about animal sacrifices. He explains biblical statements on those subjects as well as the views of certain modern Jewish organizations. This is a video.
Jerusalem, Donald Trump, and Prophecy On December 6, 2017, US President Donald Trump fulfilled a campaign promise related to the recognition of Jerusalem as Israel's capital. This brought anger, protests, and rockets from some Palestinians. It also brought condemnation from European allies–it has been claimed to be disruptive and even catastrophic. The Palestinian President (Mahmoud Abbas) said that this pronouncement eliminated the USA as being a fair mediator for a peace deal. Others have claimed that Donald Trump is an end time Cyrus and his pronouncement will lead to a Third Temple in Jerusalem. Is there ever going to be a peace deal? If so, will Europeans be part of it? Is Donald Trump a 'Cyrus.' Do the Jews require a Third Temple for sacrifices? Dr. Thiel answer those questions and more in this video.
The Red Heifer, Jewish Beliefs, and the End of the World The Temple Institute is watching a 'red heifer.' Why might this be important in the sequence of end time events? Here is a related link in the Spanish language Novilla roja descubierta en EE.UU. e Instituto del Templo está interesado en ella. Here is a related video in English The Red Heifer and the End of the World.
Church of God on Jerusalem's Western Hill Could this building, often referred to as the Cenacle, which is located on a Mount Zion, possibly have been the oldest actual Christian church building?
Does the 'Cenacle' deal have prophetic ramifications? After a 20 year negotiation, the Church of Rome has negotiated the right to have Catholic mass in the building known as the Cenacle. It is in the area where the Church of God on Jerusalem's Western Hill once stood. This is believed to be the location of the earliest Christian church building. How does the Bible define the 'temple of God' in the New Testament? Could this be the area where the 'man of sin' will sit in the "temple of God' that Bible prophecy discusses in 2 Thessalonians 2:3-4? This is a YouTube video.
When Will the Great Tribulation Begin? 2018, 2019, or 2020? Can the Great Tribulation begin today? What happens before the Great Tribulation in the "beginning of sorrows"? What happens in the Great Tribulation and the Day of the Lord? Is this the time of the Gentiles? When is the earliest that the Great Tribulation can begin? What is the Day of the Lord? Who are the 144,000? Here is a version of the article in the Spanish language: ¿Puede comenzar la Gran Tribulación en 2018 o 2019? ¿Es el Tiempo de los Gentiles? You can also see the English language sermon videos: The Great Tribulation from the Mount of Olives and Can the Great Tribulation begin before 2020? A shorter video is: Can the Great Tribulation begin in 2018?
The Times of the Gentiles Has there been more than one time of the Gentiles? Are we in it now or in the time of Anglo-America? What will the final time of the Gentiles be like? A related sermon is available and is titled: The Times of the Gentiles.
USA in Prophecy: The Strongest Fortresses Can you point to scriptures, like Daniel 11:39, that point to the USA in the 21st century? This article does. A related sermon is titled: Do these 7 prophesies point to the end of the USA?
Who is the King of the West? Why is there no Final End-Time King of the West in Bible Prophecy? Is the United States the King of the West? Here is a version in the Spanish language: ¿Quién es el Rey del Occidente? ¿Por qué no hay un Rey del Occidente en la profecía del tiempo del fin?
Does the Church of God need to be headquartered in Jerusalem? Some say so. But what does the Bible teach? A related short video is also available: Does the Bible endorse Jerusalem as the Church of God headquarters now?
Location of the Early Church: Another Look at Ephesus, Smyrna, and Rome What actually happened to the primitive Church? And did the Bible tell about this in advance?
Jerusalem: Past, Present, and Future What does the Bible say about Jerusalem and its future? Is Jerusalem going to be divided and eliminated? Is Jesus returning to the area of Jerusalem? There is also a related YouTube video you can watch titled Jerusalem To be divided and eliminated.
Donald Trump in Prophecy Prophecy, Donald Trump? Are there prophecies that Donald Trump may fulfill? Are there any prophecies that he has already helped fulfill? Is a Donald Trump presidency proving to be apocalyptic? Two related videos are available: Donald: 'Trump of God' or Apocalyptic? and Donald Trump's Prophetic Presidency.
Trump Presidency Magic 8 Ball or Bible Prophecy? BBC reported that one might as well use a 'Magic Eight-Ball' to try to predict what will happen in the remaining time of Donald Trump's presidency. What is a 'Magic Eight-Ball'? Dr. Thiel not only explains that, but also briefly goes over 10 biblically-based warnings he wrote would happen if Donald Trump were elected that have already began to come to pass. He also goes over something he wrote back in 2008 that the Trump presidency is also helping lead to fulfillment. Should you trust Bible prophecy or not? Dr. Thiel says that Bible prophecy can be trusted, despite the view of skeptics and others that either overlook or despise the Bible. This is a video.