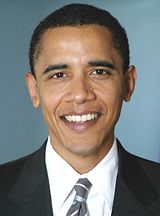 Barack Obama
Once again, some are challenging Barack Obama's citizenship:
Alan Keyes, AIP leaders sue in CA court to obtain Obama citizenship proof
Stop Secretary of State from certifying Electors
The Sacramento Union – Nov 15, 2008
Presidential candidate Alan Keyes, vice-presidential candidate Wiley S. Drake, and the Chairman of the American Independent Party, Markham Robinson, have filed suit in California Superior Court in Sacramento seeking to bar Secretary of State Debra Bowen from certifying to Governor Arnold Schwarzenegger the names of Electors, and from transmitting to each presidential Elector a Certificate of Election, until documentary proof is produced and verified showing that Senator Obama is a "natural born" citizen of the United States, and does not hold citizenship of Indonesia, Kenya or Great Britain.
In addition, they have asked that the court issue a peremptory writ barring Senator Obama's California Electors from signing the Certificate of Vote until such documentary proof is produced and verified. http://www.sacunion.com/pages/sacramento/articles/10881/
Also notice:
"More than half a dozen other legal challenges have been filed in federal and state courts demanding Obama's decertification from ballots or seeking to halt elector meetings, claiming he has failed to prove his U.S. citizenship status."
"Among the states where cases are being tracked are Ohio, Connecticut, Washington, New Jersey, Pennsylvania, Georgia and Hawaii, and there were reports of other cases being developed in Utah, Wyoming, Florida, New York, North Carolina, Texas, California and Virginia."
Full text at: http://worldnetdaily.com/index.php?fa=PAGE.view&pageId=80931
Here is what Barack Obama's "Fight the Smears" website states:
Smears claiming Barack Obama doesn't have a birth certificate aren't actually about that piece of paper — they're about manipulating people into thinking Barack is not an American citizen.
The truth is, Barack Obama was born in the state of Hawaii in 1961, a native citizen of the United States of America.
Click here to see the Official Birth Certificate of Barack Obama being born in Hawaii.
As I have no reason to doubt Barack Obama on this, I have always taken him at his word that he is a U.S.A. citizen.  His mother was an American citizen, to the best of my knowledge, and that makes him a natural American citizen  (it only takes one parent in the USA for the child to be a citizen).  Also being born on American soil (Hawaii is a state and was one when he was born), even if neither parent was American, automatically makes one a natural USA citizen.
Unless there is some addition I have never seen, whether or not Barack Obama is technically entitled to dual or multiple citizenships is not a factor as far as the U.S. Constitution is concerned.
However, he is the first person born in Hawaii to be elected president and the first to be the son of a Kenyan.  And, that, combined with the timing of this election, indicates that Barack Obama may fulfill some biblical and non-biblical prophecies.
Several articles of possibly related interest may include:
Barack Obama, Prophecy, and the Destruction of the United States Some claim that Barack Obama is the prophesied "son of Kenya". Might Bible prophecy be fulfilled since he is to be the USA president?
Kenya Rejoices as Obama Wins This is a follow-up to the Barack Obama, Prophecy, and the Destruction of the United States news item and contains additional information about him, prophecies, and his background.  And when the United States and its Anglo-allies may be destroyed.
Barak Obama in Islamic Prophecy? There is actually a 17th century Shiite prophecy that some believe that Barack Obama will fulfill that will lead to a rising up of Islam.
Anglo – America in Prophecy & the Lost Tribes of Israel Are the Americans, Canadians, British, Scottish, Welsh, Australians, Anglo-Southern Africans, and New Zealanders descendants of Joseph? Where are the lost ten-tribes of Israel? Who are the lost tribes of Israel? Will God punish the U.S.A., Canada, United Kingdom, and other Anglo nations? Why might God allow them to be punished first?
Does God Have a 6,000 Year Plan? What Year Does the 6,000 Years End? Was a 6000 year time allowed for humans to rule followed by a literal thousand year reign of Christ on Earth taught by the early Christians? When does the six thousand years of human rule end?
Can the Great Tribulation Begin in 2009, 2010, or 2011? Can the Great Tribulation begin today? When is the earliest that the Great Tribulation can begin? What is the Day of the Lord?