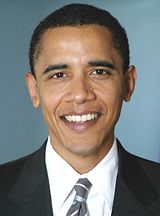 Senator (now President Elect) Barack Obama
The news today announced that the Untied States Supreme Court will not hear an emergency case brought to it related to whether or not Barack Obama is a "natural born" U.S. citizen:
Court won't review Obama's eligibility to serve
Associated Press – Dec 8, 2008
WASHINGTON – The Supreme Court has turned down an emergency appeal from a New Jersey man who says President-elect Barack Obama is ineligible to be president because he was a British subject at birth.
The court did not comment on its order Monday rejecting the call by Leo Donofrio of East Brunswick, N.J., to intervene in the presidential election. Donofrio says that since Obama had dual nationality at birth — his mother was American and his Kenyan father at the time was a British subject — he cannot possibly be a "natural born citizen," one of the requirements the Constitution lists for eligibility to be president.
Donofrio also contends that two other candidates, Republican John McCain and Socialist Workers candidate Roger Calero, also are not natural-born citizens and thus ineligible to be president.
At least one other appeal over Obama's citizenship remains at the court. Philip J. Berg of Lafayette Hill, Pa., argues that Obama was born in Kenya, not Hawaii as Obama says and the Hawaii secretary of state has confirmed. Berg says Obama also may be a citizen of Indonesia, where he lived as a boy. Federal courts in Pennsylvania have dismissed Berg's lawsuit. http://news.yahoo.com/s/ap/20081208/ap_on_go_su_co/scotus_obama
This comes as no surprise to me as I believe that, presuming he survives, Barack Obama will become President of the United States on January 20, 2009 (even though the court might hear yet another challenge on this).
For more on the citizenship challenge, please see the item Barack Obama is Not A Shiite.
Those interested in learning more related to prophecy, may wish to study the following articles:
Prophecies of Barack Obama? Are there biblical and non-biblical prophecies about Barack Obama. Did Nostradamus predict Barack Obama dealing with the Antichrist?  Might Barack Obama set the stage for the kings of the North and South as at least one Shiite prophecy suggests.
Barack Obama, Prophecy, and the Destruction of the United States Some claim that Barack Obama is the prophesied "son of Kenya", based up an early 20th century writing.
Barack Obama in Islamic Prophecy? There is actually a 17th century Shiite prophecy that some believe that Barack Obama will fulfill that will lead to a rising up of Islam.
Barack Obama Carries Hindu Monkey God Although there are some strange and false stories about Barack Obama, this one seems to be true.
End of Mayan Calendar 2012–Might 2012 Mean Something? There is a Mayan calendar prediction for change in 2012. 2012 changes were also centuries ago predicted by the Hopi Native Americans and the Hindu Indians (who were not even on the same continent). Do these Mayan/Hindu/Hopi prophecies have any value? Why might Satan have inspired this date? Does the Dresden codex show destruction of the earth by flood? Can the great tribulation start before 2012?
Anglo – America in Prophecy & the Lost Tribes of Israel Are the Americans, Canadians, British, Scottish, Welsh, Australians, Anglo-Southern Africans, and New Zealanders descendants of Joseph? Where are the lost ten-tribes of Israel? Who are the lost tribes of Israel? Will God punish the U.S.A., Canada, United Kingdom, and other Anglo nations? Why might God allow them to be punished first?
Can the Great Tribulation Begin in 2009, 2010, or 2011? Can the Great Tribulation begin today? When is the earliest that the Great Tribulation can begin? What is the Day of the Lord?
Europa, the Beast, and Revelation Where did Europe get its name? What might Europe have to do with the Book of Revelation? What about "the Beast"?
Who is the King of the North? Is there one? Do biblical and Roman Catholic prophecies point to the same leader? Should he be followed? Who will be the King of the North discussed in Daniel 11? Is a nuclear attack prophesied to happen to the English-speaking peoples of the United States, Great Britain, Canada, Australia, and New Zealand? When do the 1335 days, 1290 days, and 1260 days (the time, times, and half a time) of Daniel 12 begin?