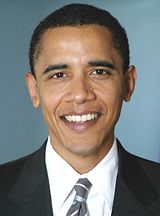 Senator (now also President Elect) Barack Obama
The following was in the news today:
Supreme Court to talk about Obama 3rd time
One of the original legal challenges to President-elect Barack Obama's eligibility for office to reach the U.S. Supreme Court now has been scheduled for a conference, a meeting at which the justices discuss its merits and whether to step into the fray.
Online schedules posted by the court show the case brought by attorney Philip J. Berg is set for a conference Jan. 9.
The case is one among several that already have reached the U.S. Supreme Court and address the issue of Obama's eligibility to occupy the Oval Office under the U.S. Constitution's requirement that presidents be "natural born" citizens. http://www.worldnetdaily.com/index.php?fa=PAGE.view&pageId=83980
While I am not sure if the Supreme Court will actually hear this case, I seriously doubt that they would be willing to deny Barack Obama's election.
Those interested in learning more related to prophecy, may wish to study the following articles:
Prophecies of Barack Obama? Are there biblical and non-biblical prophecies about Barack Obama. Did Nostradamus predict Barack Obama dealing with the Antichrist?  Might Barack Obama set the stage for the kings of the North and South as at least one Shiite prophecy suggests.
Barack Obama, Prophecy, and the Destruction of the United States Some claim that Barack Obama is the prophesied "son of Kenya", based up an early 20th century writing.
Barack Obama in Islamic Prophecy? There is actually a 17th century Shiite prophecy that some believe that Barack Obama will fulfill that will lead to a rising up of Islam.
Barack Obama Carries Hindu Monkey God Although there are some strange and false stories about Barack Obama, this one seems to be true.
End of Mayan Calendar 2012–Might 2012 Mean Something? There is a Mayan calendar prediction for change in 2012. 2012 changes were also centuries ago predicted by the Hopi Native Americans and the Hindu Indians (who were not even on the same continent). Do these Mayan/Hindu/Hopi prophecies have any value? Why might Satan have inspired this date? Does the Dresden codex show destruction of the earth by flood? Can the great tribulation start before 2012?
Anglo – America in Prophecy & the Lost Tribes of Israel Are the Americans, Canadians, British, Scottish, Welsh, Australians, Anglo-Southern Africans, and New Zealanders descendants of Joseph? Where are the lost ten-tribes of Israel? Who are the lost tribes of Israel? Will God punish the U.S.A., Canada, United Kingdom, and other Anglo nations? Why might God allow them to be punished first?
Can the Great Tribulation Begin in 2009, 2010, or 2011? Can the Great Tribulation begin today? When is the earliest that the Great Tribulation can begin? What is the Day of the Lord?