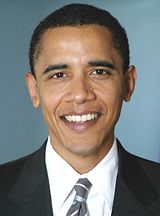 Senator (now also President Elect) Barack Obama
In an astounding development, the Governor of Illinois was arrested today for corruption charges, including trying to sell Barack Obama's soon to be vacant seat in the U.S. Senate:
Illinois Gov. Blagojevich Arrested
CHICAGO (Dec. 9) – Federal authorities arrested Illinois Gov. Rod Blagojevich Tuesday on charges that he brazenly conspired to sell or trade the U.S. Senate seat left vacant by President-elect Barack Obama to the highest bidder.
Blagojevich also was charged with illegally threatening to withhold state assistance to Tribune Co., the owner of the Chicago Tribune, in the sale of Wrigley Field, according to a federal criminal complaint. In return for state assistance, Blagojevich allegedly wanted members of the paper's editorial board who had been critical of him fired.
A 76-page FBI affidavit said the 51-year-old Democratic governor was intercepted on court-authorized wiretaps over the last month conspiring to sell or trade the vacant Senate seat for personal benefits for himself and his wife, Patti.
Otherwise, Blagojevich considered appointing himself. The affidavit said that as late as Nov. 3, he told his deputy governor that if "they're not going to offer me anything of value I might as well take it."
"I'm going to keep this Senate option for me a real possibility, you know, and therefore I can drive a hard bargain," Blagojevich allegedly said later that day, according to the affidavit, which also quoted him as saying in a remark punctuated by profanity that the seat was "a valuable thing — you just don't give it away for nothing."
The affidavit said Blagojevich also discussed getting a substantial salary for himself at a nonprofit foundation or an organization affiliated with labor unions.
It said Blagojevich also talked about getting his wife placed on corporate boards where she might get $150,000 a year in director's fees.
The amount of corruption among American government official is becoming more and more staggering.
Those interested in learning more related to prophecy, may wish to study the following articles:
Prophecies of Barack Obama? Are there biblical and non-biblical prophecies about Barack Obama. Did Nostradamus predict Barack Obama dealing with the Antichrist?  Might Barack Obama set the stage for the kings of the North and South as at least one Shiite prophecy suggests.
Barack Obama, Prophecy, and the Destruction of the United States Some claim that Barack Obama is the prophesied "son of Kenya", based up an early 20th century writing.
Barack Obama in Islamic Prophecy? There is actually a 17th century Shiite prophecy that some believe that Barack Obama will fulfill that will lead to a rising up of Islam.
Barack Obama Carries Hindu Monkey God Although there are some strange and false stories about Barack Obama, this one seems to be true.
End of Mayan Calendar 2012–Might 2012 Mean Something? There is a Mayan calendar prediction for change in 2012. 2012 changes were also centuries ago predicted by the Hopi Native Americans and the Hindu Indians (who were not even on the same continent). Do these Mayan/Hindu/Hopi prophecies have any value? Why might Satan have inspired this date? Does the Dresden codex show destruction of the earth by flood? Can the great tribulation start before 2012?
Anglo – America in Prophecy & the Lost Tribes of Israel Are the Americans, Canadians, British, Scottish, Welsh, Australians, Anglo-Southern Africans, and New Zealanders descendants of Joseph? Where are the lost ten-tribes of Israel? Who are the lost tribes of Israel? Will God punish the U.S.A., Canada, United Kingdom, and other Anglo nations? Why might God allow them to be punished first?
Can the Great Tribulation Begin in 2009, 2010, or 2011? Can the Great Tribulation begin today? When is the earliest that the Great Tribulation can begin? What is the Day of the Lord?