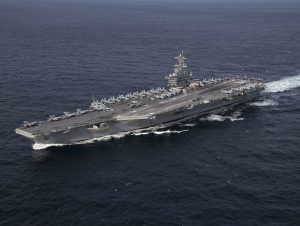 USS Abraham Lincoln (USN)
The USA is trying to send Iran a message:
US sends STRIKE group to Middle East in BOLD threat to Iran – 'Prepared to attack'

Updated 6 May 2019

Washington has confirmed that a "carrier strike group and a bomber task force" to the region in order to send a clear message to the state. US National Security Advisor, John Bolton warned that any threat will be met with "unrelenting force". With relations between the two countries remaining tense Mr Bolton said the decision was "in response to a number of troubling and escalatory indications".
In a statement the top Trump aide said: "The United States is not seeking war with the Iranian regime, but we are fully prepared to respond to any attack, whether by proxy, the Islamic Revolutionary Guard Corps or regular Iranian forces. https://www.express.co.uk/news/world/1123255/world-war-3-US-Iran-news-Washington-latest-Middle-East-Trump-Hassan-Rouhani-Ali-Khamenei
As far as "any proxy" goes, notice the following:
Iran, through Palestinian Islamic Jihad – its proxy in Gaza – is behind the current escalation in the South, former national security adviser Yaakov Amidror said on Sunday. ,,,
Islamic Jihad fired on the soldiers. At first, the organization tried to deny responsibility for the attack.

"Why did the Islamic Jihad do this?" Amidror asked. "The answer is again and again and again – Iran."

Islamic Jihad, unlike Hamas, is a completely owned and operated Iranian subsidiary, Amidror said. "It was established by Iran, financed by Iran, and does what Iran wants it to do."
Iran's interest, Amidror said, is for Israel to embark on another major operation in Gaza, freeing up Tehran to do what it wants unhindered in Syria.

The Iranian idea, he said, is that "Israel will be busy focusing on Gaza and not have enough energy to deal with the building up of an independent war machine in Syria." https://www.jpost.com/Arab-Israeli-Conflict/Amidror-Iran-behind-the-Gaza-escalation-588796
So, some feel that Iran was clearly behind the Gaza attacks.
Iran has long been upset with a cyber-attack that many believe that the USA and Israel were behind years ago (see also Iran claims to have stopped new cyber attack by the USA). With that in mind, consider the following:
May 6, 2019

The Israel Defense Forces (IDF) has launched a physical attack on Hamas in immediate response to an alleged cyber-assault. The IDF hit a building in the Gaza Strip with an airstrike after claiming the site had been used by Hamas cyber operatives to attack Israel's cyber space.

The IDF claimed it stopped the attack online before launching its airstrike on Hamas. It claims it has now wiped out Hamas' cyber operational capabilities.

Israel Defense Forces said via Twitter: "We thwarted an attempted Hamas cyber offensive against Israeli targets. Following our successful cyber defensive operation, we targeted a building where the Hamas cyber operatives work. HamasCyberHQ.exe has been removed."

It could mark a change in modern cyber warfare tactics, given that it is the first time a cyber-attack has been met with immediate physical retaliation. However, as ZDNet points out, the US is still the first country to respond to cyber-attacks with military force. In 2015, the nation launched a drone strike to kill the British national in charge of ISIL's hacker groups Junaid Hussain. Hussain had also dumped personal details of US military forces online. https://www.forbes.com/sites/kateoflahertyuk/2019/05/06/israel-retaliates-to-a-cyber-attack-with-immediate-physical-action-in-a-world-first/#4397db83f895
After that attack, there was a temporary "cease fire" agreed to between Israel and Gaza:
The Islamic Jihad militant group, which Israel accused of instigating the latest violence, confirmed that a "mutual and concurrent" truce had been brokered by Egypt. Hamas spokesman Hazem Qassem said Egyptian mediators, along with officials from Qatar and the U.N., helped reach the deal. He said Hamas could still use "different pressuring tools" to get Israel to ease a crippling blockade of Gaza.

Israeli Prime Minister Benjamin Netanyahu pointedly noted that "the campaign is not over, and it requires patience and judgment."

The intense fighting over the past two days came to a halt early Monday and residents on both sides went back to their daily routines. Schools and roads had been closed, and Israelis had been urged to remain indoors and near bomb shelters as intense rocket fire pounded the area.

Israel and Hamas are bitter enemies and have fought three wars and numerous smaller battles since the Islamic militant group seized Gaza from Western-backed Palestinian forces in 2007.

In the latest fighting, which erupted over the weekend, Palestinian militants fired hundreds of rockets into Israel, while the Israeli military responded with airstrikes on some 350 militant targets inside Gaza, including weapons storage, attack tunnels and rocket launching and production facilities.

It also deployed tanks and infantry forces to the Gaza frontier, and put another brigade on standby. A Hamas commander allegedly involved in transferring Iranian funds to the group was killed in an airstrike, in an apparent return to Israel's policy of targeting militant leaders.

Palestinian medical officials reported 25 deaths, including at least 10 militants as well as three women, two of them pregnant, and two babies. The four Israeli civilians killed were the first Israeli fatalities from rocket attacks since the 50-day war in 2014. https://news.yahoo.com/israel-army-lifts-restrictions-signals-cease-fire-gaza-051420898.html
Will there be "military escalation" in the region?
Yes.
Let us look at some passages from the Bible:
1 The burden against the Valley of Vision.

What ails you now, that you have all gone up to the housetops, 2 You who are full of noise, A tumultuous city, a joyous city? Your slain men are not slain with the sword, Nor dead in battle. 3 All your rulers have fled together; They are captured by the archers. All who are found in you are bound together; They have fled from afar. 4 Therefore I said, "Look away from me, I will weep bitterly; Do not labor to comfort me Because of the plundering of the daughter of my people."

5 For it is a day of trouble and treading down and perplexity By the Lord God of hosts In the Valley of Vision — Breaking down the walls And of crying to the mountain. 6 Elam bore the quiver With chariots of men and horsemen, And Kir uncovered the shield. 7 It shall come to pass that your choicest valleys Shall be full of chariots,And the horsemen shall set themselves in array at the gate.

8 He removed the protection of Judah. You looked in that day to the armor of the House of the Forest; 9 You also saw the damage to the city of David, That it was great; And you gathered together the waters of the lower pool. 10 You numbered the houses of Jerusalem, And the houses you broke down To fortify the wall. 11 You also made a reservoir between the two walls For the water of the old pool. But you did not look to its Maker, Nor did you have respect for Him who fashioned it long ago.

12 And in that day the Lord God of hosts Called for weeping and for mourning, For baldness and for girding with sackcloth. 13 But instead, joy and gladness, Slaying oxen and killing sheep, Eating meat and drinking wine: "Let us eat and drink, for tomorrow we die!"

14 Then it was revealed in my hearing by the Lord of hosts,"Surely for this iniquity there will be no atonement for you, Even to your death," says the Lord God of hosts. (Isaiah 22:1-14 NKJV)
Elam looks to be a reference to at least some in Iran. Kir is of interest as it has several possibilities. One is that the Bible tells that after Tiglath-Pileser king of Assyria took over Damascus, he moved Syrians to Kir. While this does not mean that Kir must (or must only) be a reference to Syria, the fact that Syria is a close ally of Iran is interesting. Some believe Kir is an area in the south of Iran, while others suggest closer to the Black Sea. The Bible tells of a time when Kir will be destroyed (Isaiah 15:1b) and also says that Syria's capital Damascus will be destroyed (Isaiah 17:1).
In Isaiah 22: 8, "Judah" is a reference to those in the land commonly called Israel–God will allow Israel to be attacked! In Isaiah 22:9, consider that "the damage to the city of David" is a reference to at least part of Jerusalem–and notice that the damage will be great.
One day Israel will be hit very hard.
So, yes, there will be military escalation in the region.
Consider also something from my book Donald Trump and America's Apocalypse:
Donald Trump's foreign policy statements have unsettled many—in the U.S.A. as well as foreign nations. He seems like he will more unpredictable than Richard Nixon.

There is also something referred to as the "law of unintended consequences." There are consequences for the U.S.A., Europe, and elsewhere that have and will occur because of Donald Trump's statements and actions. …

Iran and Prophecy

Donald Trump has stated that he wants to eliminate or at least change the "nuclear deal" with Iran (Wilkinson T. Trump's plans to scuttle or amend the Iran nuclear deal remain a work in progress. Los Angeles Times, November 14, 2016).

He also might be more willing than the Obama Administration to trigger enforcement provisions if he feels Iran has violated portions of the agreement.

Iran would not like to see either of those actions and continues to show some of its nuclear ambitions: after Donald Trump's election, Iran declared it would pursue development of nuclear powered ships (Norman L. Europe Hopeful Trump Will Stick With Iran Nuclear Deal. Wall Street Journal, December 13, 2016).

Because Bible prophecy indicates that it will be primarily Arabic nations that support the final King of the South (Daniel 11:40-43; Ezekiel 30:1-8), though with some (probably temporary per Daniel 11:25-26) support from Turkey (and possibly Pakistan), it is not biblically possible that Iran can truly be the leader of the Islamic world as it seems to want to be. Also, because it is basically due east of Jerusalem, Iran should not be considered to be a candidate to be the final 'King of the South' of biblical prophecy.

Despite its posturing and relative military strength, Iran will be somehow effectively neutralized (cf. Ezekiel 32:24). This could perhaps be from an attack involving Israel and/or internal civil unrest — this could also include electromagnetic (EMP) or similar weapons used against Iran (Jeremiah 49:34-39).

It is of prophetic interest to note that the small nation of Israel is prophesied to one day be attacked by some that seem to have connection to Iran (Isaiah 22:1-14).

Iran may decide to strike out against Israel, and possibly Jerusalem (cf. Isaiah 22:7-8) if a Trump Administration and/or Israel takes actions it does not like.

Iran has weapons that can cause damage. Furthermore, the U.S.A. itself (as well as is the State of Israel) is vulnerable to EMP type attacks and/or items such as biological weapons, chemical weapons, terrorism, nuclear weapons, dirty bombs, etc. because of a conflict involving Iran, Syria, and/or others.

But should this occur, this would NOT be the final destruction of the U.S.A. Prophetically, Iran would not end up faring well (cf. Ezekiel 32:24-25). (Thiel B. Donald Trump and America's Apocalypse. Nazarene Books, 2017)
Since the above was published, Donald Trump has pulled the US out of the Iranian nuclear deal and has been working to impose various sanctions.
But, is it far-fetched to consider that Iran could actually attack the USA or its interests?
No.
Even the US government is concerned, and that is one of the reasons that the US Navy is taking steps right now:
US dispatches aircraft carrier over unspecified Iran threats

May 6, 2019

WASHINGTON (AP) — The U.S. is dispatching an aircraft carrier and other military resources to the Middle East following "clear indications" that Iran and its proxy forces were preparing to possibly attack U.S. forces in the region, a defense official told The Associated Press.

At the White House, national security adviser John Bolton said Sunday night that the U.S. is deploying the USS Abraham Lincoln Carrier Strike Group and a bomber task force to the U.S. Central Command region, an area that includes the Middle East. In a statement, he said the move was in response to "a number of troubling and escalatory indications and warnings," but did not provide more details.

U.S. forces at sea and on land were thought to be the potential targets, and the Pentagon approved the deployments in response to those indications, according to the defense official, who spoke on the condition of anonymity because the official wasn't authorized to speak publicly.

The Abraham Lincoln and its strike group of ships and combat aircraft have been operating in the Mediterranean Sea recently. Bolton's reference to the Central Command area would mean the Lincoln is headed east to the Red Sea and perhaps then to the Arabian Sea or the Persian Gulf, which would take several days. The U.S. Navy currently has no aircraft carrier in the Persian Gulf.

Bolton said the U.S. wants to send a message that "unrelenting force" will meet any attack on U.S. interests or those of its allies.

"The United States is not seeking war with the Iranian regime, but we are fully prepared to respond to any attack, whether by proxy, the Islamic Revolutionary Guard Corps, or regular Iranian forces," he said.

Along with the Lincoln, Bolton mentioned "a bomber task force," which suggested the Pentagon is deploying land-based bomber aircraft somewhere in the region, perhaps on the Arabian Peninsula. … Asked if the Iranian action were related to the deadly events in Gaza and Israel — militants fired rockets into Israel on Sunday and Israel responded with airstrikes — Pompeo said, "It is separate from that." https://www.apnews.com/86e17a4f133046d9a054b68e7cd675cf

Iranian threat that prompted deployment of US carrier, bombers to Middle East 'is real', official warns

May 6, 2019

The Iranian threat to American troops that prompted the deployment of an aircraft carrier and a bomber task force to the Middle East "is real," a U.S. official told Fox News on Monday.

The official's underscoring of the danger posed by the Islamic Republic comes amid an Associated Press report in which a source identified "clear indications" that Iranian and Iranian proxy forces were preparing for a possible attack on American troops in the region.

"The threat is real," Fox News was told by the U.S. official, who also confirmed the AP report. https://www.foxnews.com/world/iranian-threat-is-real-official-says
The US Navy's actions may be "separate from Gaza" in some sense, but Gaza had to have been at least a partial consideration. But the reality is that even the US government thinks Iran may attack US interests. Iran may well do that.
That being said, we put together the following Iran-related videos:
Could Iran and Syria combine to attack the state of Israel? The media has placed hopes on Russia to prevent such conflict. Some Protestant and Jewish sources point to Russia as an ally to Iran to invade Israel to fulfill Ezekiel 38. Can explanations based on Ezekiel 38 possibly come to pass before Jesus returns? How does it involve silver and gold? What does Ezekiel 38 really teach about its time period? Are there prophecies in Isaiah 22 that point to the possible destruction of part of Jerusalem by an alliance of Iran and Syria? What about Isaiah 17 and the destruction of Damascus? Could Jeremiah 49 be referring to destruction coming to Iran? Dr. Thiel addresses these issues and more.

Here is a link to that video: Iran & Syria vs Israel? Russia?
Russian Prime Minister Dmitry Medvedev said new US sanctions would be a declaration of economic war. Iran, North Korea, China, Europe, and Turkey are also upset about USA sanctions and tariffs. A Turk asserted "Somebody must find a solution and stop the USA." The BRICS nations see US sanctions and tariffs as helpful to their objectives to trade without the USA. Are "unintended consequences" of USA policies threatening the current Anglo-American world order and leading to a New World Order? What has 'Lord' Jacob Rothschild and Russian President Vladimir Putin stated? Does Bible prophecy show that a confederation of Turks, Arabs, and Europeans pose a real threat to the USA and UK? Is the final time of the Gentiles coming? Will it be worse than people imagine? Dr. Thiel addresses these issues and more.
There will be military escalation in the Middle East.
Iran is believed to have EMP (electro-magnetic pulse) bomb capability–which could damage at least parts of the USA. Iran may also align with other Islamic nations to cause terroristic and other damage to the USA.
Yes, decisions and statements by US President Donald Trump will be a factor in Iran's actions–though not the only one.
There will be many "unintended consequences" of his policies and practices.
But the Iranian matter is NOT WWIII. Yet, it may result in negotiations of the 'peace deal' of Daniel 9:27 which will effectively serve as a countdown to World War III and the end of the USA.
Some items of possibly related interest may include:
Iran in Prophecy Is Iran in Bible prophecy? If so, what does the Bible teach? What names, other than Persia, may be used to describe Iran? There is also a YouTube video titled Iran In Prophecy.
World War III: Steps in Progress Are there surprising actions going on now that are leading to WWIII? Might a nuclear attack be expected? Does the Bible promise protection to all or only some Christians? How can you be part of those that will be protected? A related video would be Is World War III About to Begin? Can You Escape?
Syria and the start of World War 3 On April 14, 2018, Syrians were awoken by the sounds of about 120 missiles/bombs sent against areas of their country. The United States of America, United Kingdom, and France launched this attack related to claims of chemical weapons use earlier that week. Will Syria's capital one day be destroyed as prophesied in Isaiah chapter 17? If so, could this be before the start of the Great Tribulation? Are there prophecies about Syrians and the UK and USA? Is this attack against Syria leading to WWIII between the USA/UK/France and Russia/Syria/Iran? Is there an Arabic power that will rise up and be destroyed before the Great Tribulation as Tim McHyde has written related to Psalm 83? Is Ezekiel 38/39 about to be fulfilled? Who is the biblical King of the North and the biblical King of the South? Will the Beast power destroy the USA and its Anglo-Saxon descended allies (like the UK, Canada, Australia, & New Zealand)? Could this be WWIII and the start of the Great Tribulation? What is the prophetic sequence of events according to Jesus and Daniel the prophet? Dr. Thiel addresses all of these matters and more. This is a video.
Damascus and Syria in Prophecy Will Bashar Assad hold power as he has it? Does the Bible show that Damascus, the capital of Syria, will be destroyed? What will happen to Syria? Will the Syrians support the final King of the South that the Bible tells will rise up? Which scriptures discuss the rise and fall of an Arabic confederation? Does Islamic prophecy predict the destruction of Syria.
Ezekiel 38: For Russia & Iran in Our Day? Is Ezekiel 38 about to be fulfilled? A related video is available titled Ezekiel 38: For Russia, Ukraine, & Iran Now? Another could be Russia, Iran, Syria, & the Bible (Code).
Is the Future King of the South Rising Up? Some no longer believe there needs to be a future King of the South. Might Egypt, Islam, Iran, Arabs, or Ethiopia be involved? Might this King be called the Mahdi or Caliph? What does the Bible say? A YouTube video of related interest may be: The Future King of the South is Rising.
The Muslim Brotherhood and the Rise of the King of the South The Bible tells of the formation of a power of nations that are in the Middle East and North Africa that are part of the final "King of the South" (Daniel 11:40-43) The Muslim Brotherhood wishes to have an Islamic empire with basically the same nations. This YouTube video explains what to expect from such a confederation.
Why Terrorism? Is Terrorism Prophesied? What does the Bible teach? Which nations may be affected? Here is a link to a related sermon: Terrorism, Christianity, and Islam.
The Arab and Islamic World In the Bible, History, and Prophecy The Bible discusses the origins of the Arab world and discusses the Middle East in prophecy. What is ahead for the Middle East and those who follow Islam? What about the Imam Mahdi? What lies ahead for Turkey, Iran, and the other non-Arabic Muslims? An item of possibly related interest in the Spanish language would be: Líderes iraníes condenan la hipocresía de Occidente y declaran que ahora es tiempo para prepararse para el Armagedón, la guerra, y el Imán Mahdi.
The Prophesied 'Islamic' Confederation Where is an Islamic caliphate prophesied? Will one happen? Should you be concerned about it? A related video is Will an Arabic Calphiphate Destroy the West?
The 'Peace Deal' of Daniel 9:27 This prophecy could give up to 3 1/2 years advance notice of the coming Great Tribulation. Will most ignore or misunderstand its fulfillment? Here is a link to a related sermon video Daniel 9:27 and the Start of the Great Tribulation.
How Will Middle East Peace be Brought About? Can humans bring peace to the Middle East? Here is a link to a related video: Middle East Peace? When?
When Will the Great Tribulation Begin? 2019, 2020, or 2021? Can the Great Tribulation begin today? What happens before the Great Tribulation in the "beginning of sorrows"? What happens in the Great Tribulation and the Day of the Lord? Is this the time of the Gentiles? When is the earliest that the Great Tribulation can begin? What is the Day of the Lord? Who are the 144,000? Here is a version of the article in the Spanish language: ¿Puede comenzar la Gran Tribulación en 2018 o 2019? ¿Es el Tiempo de los Gentiles? You can also see the English language sermon videos: The Great Tribulation from the Mount of Olives and Can the Great Tribulation begin before 2020? A shorter and newer video is: Might the Great Tribulation start in 2019?
The Times of the Gentiles Has there been more than one time of the Gentiles? Are we in it now or in the time of Anglo-America? What will the final time of the Gentiles be like? A related sermon is available and is titled: The Times of the Gentiles.
Armageddon Who is involved and when will this gathering happen? Here is also a video from Dr. Thiel, from Tel Megiddo in Israel: Armageddon. Other videos include: Armageddon Will it come on Trump's watch?, Iraq, Armageddon, & Prophecy, Freemasonry, Armageddon, and Rome, Is China paving roads to Armageddon?, and Jordan, Petra, and Armageddon.
Is Russia the King of the North? Some claim it is. But what does the Bible teach? Here is a link to a video, also titled Is Russia the King of the North?
Russia and Ukraine: Their Origins and Prophesied Future Russia in prophecy. Where do the Russians come from? What about those in the Ukraine? What is prophesied for Russia and its allies? What will they do to the Europeans that supported the Beast in the end? There is also a video sermon available: Russia in the Bible and in Prophecy and a video sermonette available: Ukraine in Prophecy?
The Eurasian Union, the Kings of the East, and Bible Prophecy Is there a Eurasian union that will be formed? Is one being formed right now? Are any leaders working on that in the 21st century? Does the Bible teach that there will be a Eurasian union? If some type of Eurasian union is formed, who might it benefit and who will it destroy? A related video would be Is The Eurasian Union Rising?
Anglo – America in Prophecy & the Lost Tribes of Israel Are the Americans, Canadians, English, Scottish, Welsh, Australians, Anglo-Saxon (non-Dutch) Southern Africans, and New Zealanders descendants of Joseph? Where are the lost ten-tribes of Israel? Who are the lost tribes of Israel? What will happen to Jerusalem and the Jews in Israel? Will God punish the U.S.A., Canada, United Kingdom, and other Anglo-Saxon nations? Why might God allow them to be punished first? Here is a link to the Spanish version of this article: Anglo-América & las Tribus Perdidas de Israel. Information is also in the YouTube sermons titled Where are the Ten Lost Tribes? Why does it matter? and British are the Covenant People. A short YouTube of prophetic interest may be: Are Chinese threats against Australia for real?
Will the Anglo-Saxon Nations be Divided and Have People Taken as Slaves? Will the lands of the United States, United Kingdom, Canada, Australia, and New Zealand be divided? What about Jerusalem? What does Bible prophecy teach? Are there non-biblical prophecies that support this idea? Who will divide those lands? Who will end up with the lands and the people? Here is a link to a video titled Will the USA and other Anglo-nations be Divided and Their People Made Slaves? Here is a related item in the Spanish language ¿Serán divididas las naciones anglosajonas?
British are the Covenant People What do 'British' and 'Britain' mean in Hebrew? Are the descendants of the Anglo-Saxons people of the covenant? Does the British royal family connect to the throne of David? What does the Bible teach? What does history show us? Is there any DNA evidence related to British-Israelism? When did Christianity make it to the British Isles? Could Jeremiah have made it to the British Isles? What type of Christians made it to the British Isles? Did the last King of England believe in British Israelism?
Donald Trump in Prophecy Prophecy, Donald Trump? Are there prophecies that Donald Trump may fulfill? Are there any prophecies that he has already helped fulfill? Is a Donald Trump presidency proving to be apocalyptic? Two related videos are available: Donald: 'Trump of God' or Apocalyptic? and Donald Trump's Prophetic Presidency.
Trump Presidency Magic 8 Ball or Bible Prophecy? BBC reported that one might as well use a 'Magic Eight-Ball' to try to predict what will happen in the remaining time of Donald Trump's presidency. What is a 'Magic Eight-Ball'? Dr. Thiel not only explains that, but also briefly goes over 10 biblically-based warnings he wrote would happen if Donald Trump were elected that have already began to come to pass. He also goes over something he wrote back in 2008 that the Trump presidency is also helping lead to fulfillment. Should you trust Bible prophecy or not? Dr. Thiel says that Bible prophecy can be trusted, despite the view of skeptics and others that either overlook or despise the Bible. This is a video.
Donald Trump and America's Apocalypse This 188 page book is for people truly interested in prophecies related to Donald Trump and the United States, including learning about several that have already been fulfilled and those that will be fulfilled in the future. The physical book can be purchased at Amazon for $12.99 from the following link: Donald Trump and America's Apocalypse.
Donald Trump and America's Apocalypse-Kindle Edition This electronic version of the 188 page print edition is available for only US$3.99. And you do not need an actual Kindle device to read it. Why? Amazon will allow you to download it to almost any device: Please click HERE to download one of Amazon s Free Reader Apps. After you go to for your free Kindle reader and then go to Donald Trump and America's Apocalypse-Kindle Edition.
Who is the King of the West? Why is there no Final End-Time King of the West in Bible Prophecy? Is the United States the King of the West? Here is a version in the Spanish language: ¿Quién es el Rey del Occidente? ¿Por qué no hay un Rey del Occidente en la profecía del tiempo del fin? A related sermon is also available: The Bible, the USA, and the King of the West.