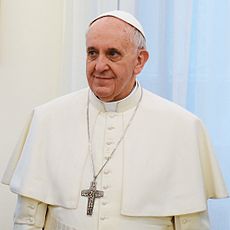 Pope Francis (Source: presidencia.gov.ar)
Pope Francis went to a Marion shrine in Brazil today:
Massive Crowds Greet Pope at Brazil Shrine

July 24, 2013
Pope Francis has arrived in the southeastern Brazilian city of Aparecida, where he is celebrating Mass with tens of thousands of Roman Catholics.

About 2,000 police are on hand to provide security at the shrine of the Virgin of Aparecida, the country's symbol of the Virgin Mary. Officials expect nearly 200,000 people to gather outside the shrine during Francis' visit…
The visit to Brazil, and his return to his home continent of South America, is the former Argentine-born Cardinal Jorge Bergoglio's first foreign trip since he was elected pope in March.  http://www.voanews.com/content/massive-crowds-greet-pope-francis-at-southeastern-brazil-shrine/1708778.html
Technically, visiting the Church of Mary Major in Rome was Frances' first foreign trip, but since Rome and Vatican City are intertwined and passports between the two are normally not checked, that is not really considered to be foreign.
But the reason for bringing that trip up was that it showed from the beginning the focus that Pope Francis has on his version of 'Mary.'
Anyway, here is some of what Pope Francis said:
What joy I feel as I come to the house of the Mother of every Brazilian, the Shrine of our Lady of Aparecida! The day after my election as Bishop of Rome, I visited the Basilica of Saint Mary Major in Rome, in order to entrust my ministry as the Successor of Peter to Our Lady. Today I have come here to ask Mary our Mother for the success of World Youth Day and to place at her feet the life of the people of Latin America…

When the Church looks for Jesus, she always knocks at His Mother's door and asks: "Show us Jesus." It is from Mary That the Church learns true discipleship. That is why the Church always goes out on mission in the footsteps of Mary…

The history of this Shrine is a good example: three fishermen, after a day of catching no fish, found something unexpected in the waters of the Parnaíba River: an image of Our Lady of the Immaculate Conception. Whoever would have thought That the site of a fruitless fishing expedition would become the place where all Brazilians Can Feel That they are children of one Mother?…

Dear friends, we have come to knock at the door of Mary's house.  http://www.aleteia.org/en/religion/news/if-we-come-to-mary-she-will-show-us-her-son-pope-preaches-2737005
No, we are not to knock on the door of Mary's house, but follow Jesus.  Jesus, not Mary or the Pope's version of her, is what people need (cf. Acts 4:12).
Pope Francis seems to have taken more early steps towards Marianism than any recent pontiff. He may be the last pope or at least setting the stage for the last pope as both biblical and Catholic prophecies tell of a "Virgin" involved with sorceries in the time of the end.
Here are some comments from my book The Last Pope:
Apparitions Claiming to Be Mary May Be Involved in the End

Although many of the Catholic prophecies show that their Great Monarch will spread a version of "Catholicism" all over the world and a pope will do miracles, it perhaps should be mentioned that others indicate that some type of Marian image/apparition will be involved in insuring his success over non-Catholics:

R. Gerald Culleton (20th century): During the reign of the Great Monarch and the Angelic Pastor the Catholic Church will spread throughout the world, conversions will be innumerable…The Blessed Virgin will be the chief one in gaining victory over all heresy and schism because of her power over the demons in the last ages of the world will be especially great. This will be recognized by her enthronement as "Mistress and Queen of Men's Hearts."

St. Louis-Marie Grignion De Montfort (18th century): The power of Mary over all the devils will be particularly outstanding in the last period of time. She will extend the Kingdom of Christ over the idolaters and Moslems, and there will come glorious era when Mary is the Ruler and Queen of Hearts.

St. Louis De Montfort (died 1720): The training and education of the great saints, who will appear towards the end of the world, is reserved for the Mother of God…These great saints, full of grace and zeal, will be chosen in order to oppose the enemies of God who will appear everywhere. By their word and example these saints will bring the whole world to a true veneration of Mary.

Notice that this alleged "Mary" also has the power over the demons. As the Bible never indicates that the biblical Mary has this power, this is apparently a reference to a demonic manifestation/apparition claiming to be Mary. And notice that many are working for this apparition to put down those who oppose the extreme veneration of Mary.

Here is some of what the Roman Catholic academic Jean Guitton concluded in 1973 about what some of the apparitions were teaching:

One of the themes of Grignon de Monfort is that devotion to Mary would grow toward the end of time, that the progress of this cult would be a sign of the end times.

Also notice the following from Pope John Paul II:

Christ will be victorious by means of Her, because He wishes that the victories of the Church in the contemporary world and in the future will be united to Her.

The idea that "Mary" will be part of the end times is clearly within Roman Catholic literature.

Here is another Roman Catholic prophecy:

Anna-Katarina Emmerick (July 12, 1820): I had a vision of the holy Emperor Henry. I saw him at night kneeling alone at the foot of the main alter in a great and beautiful church…and I saw the Blessed Virgin coming down all alone…The wine was as red as blood, and there was also some water. The Mass was short. The Gospel of St. John was not read at the end. When the Mass had ended, Mary came up to Henry (the Emperor), and she extended her right hand towards him, saying that it was in recognition of his purity. Then, she urged him not to falter…

Catholic writer Yves Dupont (20th century): Henry is the Great Monarch, chosen by God to restore all things to Christ…The Blessed Virgin urges him not to falter.

Here is what another Roman Catholic wrote related to "Mary":

Blessed Mary of Agreda (17th century): It was revealed to me that through the intercession of the Mother of God all heresies will disappear. The victory over heresies had been reserved by Christ for His Blessed Mother. In the last times, the Lord will in a special manner spread the renown of His Mother: Mary began salvation, and by her intercession it will be completed. Before the second coming of Christ, Mary must, more than ever, shine in mercy, might, and grace in order to bring unbelievers into the Catholic Faith. The power of Mary in the last times over the demons will be very conspicuous. Mary will extend the reign of Christ over the heathen and the Mohammedans…

It is interesting to note that several things attributed to Mary are the same or similar to those of the Great Monarch. Thus, perhaps the Great Monarch, or some of his followers like the last pope, will somehow claim to have seen and/or received help from "Mary." Protestants who are starting to look more towards "Mary," may help fulfill the Agreda prophecy above. There is a very high probability that in the future, one or more "Marian" apparitions will become public and mislead many (cf. Isaiah 47; 2 Thessalonians 2:9-12).

If more public "Marian" appearances come to pass, then these apparitions may be one of the many signs and lying wonders (cf. 2 Thessalonians 2:9; Matthew 24:24; Mark 13:22; Revelation 16:14) and even "sorcery" (Revelation 18:23; 19:20; Isaiah 47:9,12; Nahum 3:4) that will help persuade people to support the future King of the North. The Beast, which certain Catholic prophets seem to call the Great Monarch, will then help persuade the world to accept a more ecumenical form of Catholicism.

Some improperly consider that a non-biblical version of "Mary is our hope. She is…our sign"…Yet, the Bible warns that a certain virgin, lady, city, mother, and harlot, all make the same type of statements as all are condemned (Isaiah 47:1-14; Zephaniah 2:15; Revelation 17:1-18; 18:7-8), despite "miraculous signs" sometimes called sorceries being involved—all should be careful not to fall for them or their Babylonian system.

The Bible specifically warns about a "daughter of the Chaldeans" which considers itself "the Lady of the Kingdoms" that has "children" and long had sorceries and enchantments that mislead others (Isaiah 47:5-12) that will be punished (Revelation 18:7-8). This biblically condemned "Lady of the Kingdoms" makes nearly identical statements to a particular city (Zephaniah 2:15) and a harlot who is associated with the city on seven hills/mountains (Revelation 17:1-18; 18:7)…

The "Great Monarch" and the "miraculous last pope" seem to resemble quite closely the Beast of the Sea and the Beast of the Earth that the Bible warns about. Even if you see "miracles" associated with them or from apparitions that claim to be Mary, the Bible teaches that Christians are not to look mainly to outward signs:

7 For we walk by faith, and not by sight. (2 Corinthians 5:7, DRB)

Those who are aware of these matters prior to the time that they happen perhaps will have enough "love of the truth" that they, unlike others, will not end up being deceived (2 Thessalonians 2:9-12). (Thiel B. The Last Pope. Nazarene Books, 2013, pp. 106-111,112)
.
As far as more biblical references, here are some excerpts from my book
Fatima Shock!
:
The Lady of Kingdoms

The Bible warns of a "virgin" that uses enchantments who is also called the Lady of Kingdoms:

1 Come down, sit in the dust, O virgin daughter of Babylon, sit on the ground: there is no throne for the daughter of the Chaldeans, for thou shalt no more be called delicate and tender…4 Our redeemer, the Lord of hosts is his name, the Holy One of Israel. 5 Sit thou silent, and get thee into darkness, O daughter of the Chaldeans: for thou shalt no more be called the lady of kingdoms. 6 I was angry with my people, I have polluted my inheritance, and have given them into thy bend: thou hast shown no mercy to them: upon the ancient thou hast laid thy yoke exceeding heavy.

7 And thou hast said: I shall be a lady forever: thou hast not laid these things to thy heart, neither hast thou remembered thy latter end.

8 And now hear these things, thou that art delicate, and dwellest confidently, that sayest in thy heart: I am, and there is none else besides me: I shall not sit as a widow, and I shall not know barrenness.

9 These two things shall come upon thee suddenly in one day, barrenness and widowhood. All things are come upon thee, because of the multitude of thy sorceries, and for the great hardness of thy enchanters. 10 And thou best trusted in thy wickedness, and hast said: There is none that seeth me. Thy wisdom, and thy knowledge, this hath deceived thee. And thou best said in thy heart: I am, and besides me there is no other. 11 Evil shall come upon thee, and then shalt not know the rising thereof: and calamity shall fall violently upon thee, which thou canst not keep off: misery shall come upon thee suddenly, which thou shalt not know. 12 Stand now with thy enchanters, and with the multitude of thy sorceries, in which thou hast laboured from thy youth, if so be it may profit thee any thing, or if thou mayst become stronger. 13 Thou hast failed in the multitude or thy counsels: let now the astrologers stand and save thee, they that gazed at the stars, and counted the months, that from them they might tell the things that shall come to thee. (Isaiah 47:1, 4-7, 11-13, DRB)…

The Bible also seems to connect the Lady's haughty comments in verses 7 & 8 with those of the harlot of Revelation 17:1, 18; 18:7-8, 11 and the city in Zephaniah 2:15.

Some may be surprised to see this, but this immoral "Lady" also seems to have the title of "queen" and "harlot":

7 You thought, 'I shall be a queen forever.' 8…'I am the only one who matters. I shall never be widowed, never know bereavement.' 9 Yet both these things will befall you, suddenly, in one day. Bereavement and widowhood will suddenly befall you… (Isaiah 47:7, 8b, 9 NJB)

4 Because of the multitude of harlotries of the seductive harlot, The mistress of sorceries, Who sells nations through her harlotries, And families through her sorceries. (Nahum 3:4, NKJV)

5 Look, I am against you!- declares Yahweh Sabaoth- I shall lift your skirts as high as your face and show your nakedness to the nations, your shame to the kingdoms. (Nahum 3:5, NJB)

3 All the nations have drunk deep of the wine of her prostitution; every king on the earth has prostituted himself with her, and every merchant grown rich through her debauchery. (Revelation 18:3, NJB)

17:1…Come, I will shew thee the condemnation of the great harlot, who sitteth upon many waters…18:7 As much as she hath glorified herself, and lived in delicacies, so much torment and sorrow give ye to her; because she saith in her heart: I sit a queen, and am no widow; and sorrow I shall not see. 8 Therefore shall her plagues come in one day, death, and mourning, and famine,and she shall be burnt with the fire; because God is strong, who shall judge her. (Revelation 17:1b,18:7-8, DRB)

So, what will happen to the queen/Lady of the Kingdoms as well as to Babylon is warned against in Revelation. (Thiel B. Fatima Shock! Nazarene Books. 2012, pp. 152-155)
Biblical and Catholic prophecies point to the involvement of sorceries from a "Virgin/Harlot" of the city of seven hills/mountains. The more Pope Francis promotes "Mary," apparently the closer we are getting to that final time. Although his age seems to be a factor against him being the last pontiff and the final Antichrist, his actions suggest that he still could be, but even if not, his 'Marion devotion' is setting the stage for that leader to rise up.
.
The massive crowds in Brazil are more evidence that Marion devotion is popular, and sadly I am reasonably convinced this improper devotion will become more popular.
Some items of related interest may include:
Could Pope Francis be the Last Pope and Antichrist? According to some interpretations of the prophecies of the popes by the Catholic saint and Bishop Malachy, Pope Francis I is in the position of "Peter the Roman," the pontiff who reigns during tribulations until around the time of the destruction of Rome. Do biblical prophecies warn of someone that sounds like Peter the Roman? Could Francis I be the heretical antipope of Catholic private prophecies and the final Antichrist of Bible prophecy? This is a YouTube video.
The Malachy Prophecies and "Peter the Roman" An Irish bishop allegedly predicted something about 112 popes in the 12th century. Pope Benedict XVI was number 111. Francis would seem to be number 112–if he is that one–and if so, he is to reign until Rome is destroyed. May he be an antipope/final Antichrist?
Will You Be Deceived by Antichrist? 1964 article by David Jon Hill, originally published in the old Good News magazine.
The Last Pope Do Biblical and Catholic Prophecies Point to Pope Francis? Why might Pope Francis be the last pope? What happens if he is? Biblical and other prophecies help explain what to expect.
The Last Pope: Do Biblical and Catholic Prophecies Point to Pope Francis? Amazon Book What does the Bible say about a pope near this time? Is the final pope to be an antipope and antichrist? Does Catholic prophecy point to Pope Francis as being the dreaded "Peter the Roman"? This 186 page book provides information and answers.
The Last Pope: Do Biblical and Catholic Prophecies Point to Pope Francis? Kindle This electronic version of the printed book which is available for only US$2.99. And you do not need an actual Kindle device to read it. Why? Amazon will allow you to download it to almost any device: Please click HERE to download one of Amazon s Free Reader Apps. After you go to for your free Kindle reader and then go to The Last Pope: Do Biblical and Catholic Prophecies Point to Pope Francis? Kindle.
Fatima Shock! What the Vatican Does Not Want You to Know About Fatima, Dogmas of Mary, and Future Apparitions. Whether or not you believe anything happened at Fatima, if you live long enough, you will be affected by its ramifications (cf. Isaiah 47; Revelation 17). Fatima Shock! is a highly documented book by Bob Thiel for those interested in the real truth about Fatima and how future apparitions may affect the future. In addition to the print version, there is a Kindle version of Fatima Shock! which you can acquire in seconds.
Which Is Faithful: The Roman Catholic Church or the Continuing Church of God? Do you know that both groups shared a lot of the earliest teachings? Do you know which church changed? Do you know which group is most faithful to the teachings of the apostolic church? Which group best represents true Christianity? This documented article answers those questions. [Português: Qual é fiel: A igreja católica romana ou a igreja do deus?]
Some Doctrines of Antichrist Are there any doctrines taught outside the Churches of God which can be considered as doctrines of antichrist? This article suggests at least three. It also provides information on 666 and the identity of "the false prophet." Plus it shows that several Catholic writers seem to warn about an ecumenical antipope that will support heresy. You can also watch a video titled What Does the Bible teach about the Antichrist?
Jesus: The Son of God and Saviour Who was Jesus? Why did He come to earth? What message did He bring? Is there evidence outside the Bible that He existed? Here is a YouTube sermon titled Jesus: Son of God and Saviour.
Mexico, Central America, South America, Brazil, and the Caribbean in Prophecy [Español: México, América central, Suramérica, Brasil y el Caribe en la profecía] [Português: México, América Central, Ámérica do Sul, e Brasil na profecia] What will happen to those of Latin America? Will they have prosperity? Will they cooperate with Europe? Will they suffer in the future? What role might the various Caribbean nations/territories play?