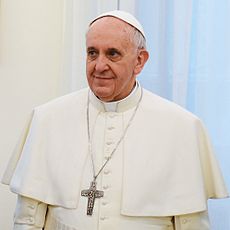 Pope Francis (Source: presidencia.gov.ar)
The #105 edition of the Fatima Crusader put out by The Fatima Center has the following from its leader Priest Nicholas Gruner (bolding in source):
I was encouraged that in the former Archdiocese of our new Pope there exists a sanctuary and two parishes dedicated to Our Lady of Fatima. Devotion to the Immaculate Heart of Mary is especially practised on the first Saturday of every month. So the words and requests of Our Lady of Fatima would not be foreign to him.

The other thing I had in my background was a prophecy from Antonio Ruffini, who has a prophetic gift. He told me in January, 1990 that this Pope – he didn't name him – but he just said "the successor of the successor of John Paul II would be the one to do the consecration." If Ruffini is not mistaken, then it's a good sign. We may finally have a Pope who is going to do the consecration of Russia. Prudently though, we have to wait and see whether or not Ruffini completely understood whatever message he got on that.
What this means is that a Catholic "prophet" told Priest Gruner that it would be Pope 112 on the Malachy prophecy list that would bring devotion to Mary to the world, peace, and prosperity. Here is some of what Priest Gruner believes will happen if that 'consecration' is done:
How do we avert the wars and financial turmoil that are plunging the nations into chaos?
Our Lady of Fatima promised that if the Pope and bishops of the Catholic Church, in unison, consecrate Russia to Her Immaculate Heart, a period of world peace would follow, ushered in by the conversion of Russia. That consecration has yet to be performed, but Pope Francis has asked that his papacy be consecrated to Our Lady of Fatima, so the prospects for the consecration are now favorable.
The Fatima Center believes that Fatima 'Mary' is the answer to humanity, not really Jesus.  Others also seem to share this improper view:
Mary Alone Can Give Us Life?

Pope Francis asked the Virgin Mary to "grant us the health that She alone can give us, to be always signs and instruments of life." His message was given when he officially took possession of the Papal Basilica of St. Mary Major in Rome, which is the oldest Marian Shrine in the West. He said, "Mary is mother, and a mother concerns herself above all with the health of her children, she knows how to care for it with great and tender love…our Lady protects our health."
.
FWIW, my wife and I visited that particular church while in Rome.  Those there were aware of Pope Francis' act there.
.
The Bible warns about a "Lady" in the end times (Isaiah 47) who is also called a "harlot" (Revelation 17/18).  As I have contended for years, it may well be that some of what is related to Fatima will tie into various end time biblical prophecies about signs and lying wonders (2 Thessalonians 2:9)–that most people will sadly believe as they have insufficient love of the truth (2 Thessalonians 2:9-12).
Some items of related interest may include:
The Last Pope Do Biblical and Catholic Prophecies Point to Pope Francis?  Why might Pope Francis be the last pope? What happens if he is? Biblical and other prophecies help explain what to expect.
The Last Pope: Do Biblical and Catholic Prophecies Point to Pope Francis? Amazon Book What does the Bible say about a pope near this time? Is the final pope to be an antipope and antichrist? Does Catholic prophecy point to Pope Francis as being the dreaded "Peter the Roman"? This 186 page book provides information and answers.
The Last Pope: Do Biblical and Catholic Prophecies Point to Pope Francis? Kindle This electronic version of the printed book which is available for only US$2.99. And you do not need an actual Kindle device to read it. Why? Amazon will allow you to download it to almost any device: Please click HERE to download one of Amazon s Free Reader Apps. After you go to for your free Kindle reader and then go to The Last Pope: Do Biblical and Catholic Prophecies Point to Pope Francis? Kindle.
Could Pope Francis be the Last Pope and Antichrist? According to some interpretations of the prophecies of the popes by the Catholic saint and Bishop Malachy, Pope Francis I is in the position of "Peter the Roman," the pontiff who reigns during tribulations until around the time of the destruction of Rome. Do biblical prophecies warn of someone that sounds like Peter the Roman? Could Francis I be the heretical antipope of Catholic private prophecies and the final Antichrist of Bible prophecy? This is a YouTube video.
The Malachy Prophecies and "Peter the Roman" An Irish bishop allegedly predicted something about 112 popes in the 12th century. Pope Benedict XVI was number 111. Francis would seem to be number 112–if he is that one–and if so, he is to reign until Rome is destroyed. May he be an antipope/final Antichrist?
Will You Be Deceived by Antichrist? 1964 article by David Jon Hill, originally published in the old Good News magazine.
False Conversion Have you really been converted? Herbert W. Armstrong wrote this article on this important subject.
Fatima Shock! What the Vatican Does Not Want You to Know About Fatima, Dogmas of Mary, and Future Apparitions. Whether or not you believe anything happened at Fatima, if you live long enough, you will be affected by its ramifications (cf. Isaiah 47; Revelation 17). Fatima Shock! is a highly documented book by Bob Thiel for those interested in the real truth about Fatima and how future apparitions may affect the future. In addition to the print version, there is a Kindle version of Fatima Shock! which you can acquire in seconds.
Marian Apparitions May Fulfill Prophecy May is consider Mary's month by various Catholics. On May 13, 1917, a Lady appeared in Fatima, Portugal. Pope Francis has asked for his pontificate to be consecrated to Mary. Prophecies in Isaiah 47 and Revelation 18 tell of a woman involved with signs and enchantments. Could you be affected by Marian apparitions?
Fatima Shock! YouTube Dr. Thiel highlights a few points of why no one would support Fatima, etc., as discussed in the documented book Fatima Shock!
Did the Lady of Fatima Wear a Short Skirt? Some have falsely challenged the idea that the Lady of Fatima wore a culturally-inappropriate skirt. What are the facts?
Some Doctrines of Antichrist Are there any doctrines taught outside the Churches of God which can be considered as doctrines of antichrist? This article suggests at least three. It also provides information on 666 and the identity of "the false prophet." Plus it shows that several Catholic writers seem to warn about an ecumenical antipope that will support heresy. You can also watch a video titled What Does the Bible teach about the Antichrist?