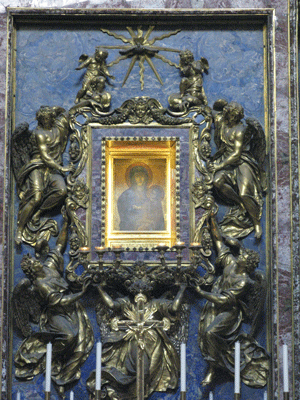 The 'Mary' in the Basilica of Mary Major That Pope Francis Prays Before (Photo by Joyce Thiel, June 2013)
The focus of Pope Francis on his versions of 'Mary' keeps being confirmed.  Notice also the following:
Immediately upon returning to Rome after his first international voyage, Pope Francis stopped at the Roman basilica of St. Mary Major to offer prayers of thanksgiving for the success of World Youth Day. The Pope had made an unannounced trip to St. Mary Major just before his flight to Brazil for the World Youth Day celebration. He returned to the basilica after his return flight landed at Rome's Ciampino airport on July 29.The visit was the Pope's 3rd surprise stop at St. Mary Major. He had stunned observers on the day after his election to the papacy by crossing Rome to pray there for the protection of the Virgin Mary.  SOURCE: 

http://www.catholicculture.org/news/headlines/index.cfm?storyid=18602

.
This repeated emphasis on 'Mary' exceeds that of most other pontiffs.  He continues to make clear that he has a focus on his version of 'Mary.'  This Pope seems more dangerous than many others.
As far as biblical references related to this type of focus, here are some excerpts from my book Fatima Shock!:
The Lady of Kingdoms

The Bible warns of a "virgin" that uses enchantments who is also called the Lady of Kingdoms:

1 Come down, sit in the dust, O virgin daughter of Babylon, sit on the ground: there is no throne for the daughter of the Chaldeans, for thou shalt no more be called delicate and tender…4 Our redeemer, the Lord of hosts is his name, the Holy One of Israel. 5 Sit thou silent, and get thee into darkness, O daughter of the Chaldeans: for thou shalt no more be called the lady of kingdoms. 6 I was angry with my people, I have polluted my inheritance, and have given them into thy bend: thou hast shown no mercy to them: upon the ancient thou hast laid thy yoke exceeding heavy.
7 And thou hast said: I shall be a lady forever: thou hast not laid these things to thy heart, neither hast thou remembered thy latter end.

8 And now hear these things, thou that art delicate, and dwellest confidently, that sayest in thy heart: I am, and there is none else besides me: I shall not sit as a widow, and I shall not know barrenness.

9 These two things shall come upon thee suddenly in one day, barrenness and widowhood. All things are come upon thee, because of the multitude of thy sorceries, and for the great hardness of thy enchanters. 10 And thou best trusted in thy wickedness, and hast said: There is none that seeth me. Thy wisdom, and thy knowledge, this hath deceived thee. And thou best said in thy heart: I am, and besides me there is no other. 11 Evil shall come upon thee, and then shalt not know the rising thereof: and calamity shall fall violently upon thee, which thou canst not keep off: misery shall come upon thee suddenly, which thou shalt not know. 12 Stand now with thy enchanters, and with the multitude of thy sorceries, in which thou hast laboured from thy youth, if so be it may profit thee any thing, or if thou mayst become stronger. 13 Thou hast failed in the multitude or thy counsels: let now the astrologers stand and save thee, they that gazed at the stars, and counted the months, that from them they might tell the things that shall come to thee. (Isaiah 47:1, 4-7, 11-13, DRB)…
The Bible also seems to connect the Lady's haughty comments in verses 7 & 8 with those of the harlot of Revelation 17:1, 18; 18:7-8, 11 and the city in Zephaniah 2:15.
Some may be surprised to see this, but this immoral "Lady" also seems to have the title of "queen" and "harlot":

7 You thought, 'I shall be a queen forever.' 8…'I am the only one who matters. I shall never be widowed, never know bereavement.' 9 Yet both these things will befall you, suddenly, in one day. Bereavement and widowhood will suddenly befall you… (Isaiah 47:7, 8b, 9 NJB)

4 Because of the multitude of harlotries of the seductive harlot, The mistress of sorceries, Who sells nations through her harlotries, And families through her sorceries. (Nahum 3:4, NKJV)

5 Look, I am against you!- declares Yahweh Sabaoth- I shall lift your skirts as high as your face and show your nakedness to the nations, your shame to the kingdoms. (Nahum 3:5, NJB)

3 All the nations have drunk deep of the wine of her prostitution; every king on the earth has prostituted himself with her, and every merchant grown rich through her debauchery. (Revelation 18:3, NJB)

17:1…Come, I will shew thee the condemnation of the great harlot, who sitteth upon many waters…18:7 As much as she hath glorified herself, and lived in delicacies, so much torment and sorrow give ye to her; because she saith in her heart: I sit a queen, and am no widow; and sorrow I shall not see. 8 Therefore shall her plagues come in one day, death, and mourning, and famine,and she shall be burnt with the fire; because God is strong, who shall judge her. (Revelation 17:1b,18:7-8, DRB)

So, what will happen to the queen/Lady of the Kingdoms as well as to Babylon is warned against in Revelation. (Thiel B. Fatima Shock! Nazarene Books. 2012, pp. 152-155)
Biblical and Catholic prophecies point to the involvement of sorceries from a "Virgin/Harlot" of the city of seven hills/mountains.
The more Pope Francis promotes "Mary," apparently the closer we are getting to that final time. Although his age seems to be a factor against him being the last pontiff and the final Antichrist, his actions suggest that he still could be, but even if not, his 'Marion devotion' is setting the stage for that leader to rise up.
Some items of related interest may include:

The Last Pope: Do Biblical and Catholic Prophecies Point to Pope Francis? Kindle This electronic version of a new 186 page book (in the print version). And you do not need an actual Kindle device to read it. Why? Amazon will allow you to download it to almost any device: Please click HERE to download one of Amazon s Free Reader Apps. After you go to for your free Kindle reader and then go to The Last Pope: Do Biblical and Catholic Prophecies Point to Pope Francis? Kindle.
The Last Pope: Do Biblical and Catholic Prophecies Point to Pope Francis? What does the Bible say about a pope near this time? Is the final pope to be an antipope and antichrist? Does Catholic prophecy point to Pope Francis as being the dreaded "Peter the Roma"? This 186 page book provides information and answers. This book is available for USD$9.98 in printed form The Last Pope: Do Biblical and Catholic Prophecies Point to Pope Francis.
Some Doctrines of Antichrist Are there any doctrines taught outside the Churches of God which can be considered as doctrines of antichrist? This article suggests at least three. It also provides information on 666 and the identity of "the false prophet." Plus it shows that several Catholic writers seem to warn about an ecumenical antipope that will support heresy. You can also watch a video titled What Does the Bible teach about the Antichrist?
The Malachy Prophecies and "Peter the Roman" An Irish bishop allegedly predicted something about 112 popes in the 12th century. Pope Benedict XVI was number 111. Francis would seem to be number 112–if he is that one–and if so, he is to reign until Rome is destroyed. May he be an antipope/final Antichrist?
Did The Early Church Teach Millenarianism? Was the millennium (sometimes called chiliasm) taught by early Christians? Who condemned it? Will Jesus literally reign for 1000 years on the earth? Is this time near?
What is the Gospel? True religion should be based upon the true gospel. What are some of the different gospels and where did they come from? Do you believe the true or a false gospel?
The Gospel of the Kingdom of God was the Emphasis of Jesus and the Early Church Did you know that? Do you even know what the gospel of the kingdom is all about? You can also see a YouTube video sermon The Gospel of the Kingdom.
Will You Be Deceived by Antichrist? 1964 article by David Jon Hill, originally published in the old Good News magazine.
Could Pope Francis be the Last Pope and Antichrist? According to some interpretations of the prophecies of the popes by the Catholic saint and Bishop Malachy, Pope Francis I is in the position of "Peter the Roman," the pontiff who reigns during tribulations until around the time of the destruction of Rome. Do biblical prophecies warn of someone that sounds like Peter the Roman? Could Francis I be the heretical antipope of Catholic private prophecies and the final Antichrist of Bible prophecy? This is a YouTube video.
Fatima Shock! What the Vatican Does Not Want You to Know About Fatima, Dogmas of Mary, and Future Apparitions. Whether or not you believe anything happened at Fatima, if you live long enough, you will be affected by its ramifications (cf. Isaiah 47; Revelation 17). Fatima Shock! provides concerned Christians with enough Catholic-documented facts to effectively counter every false Marian argument. In addition to the print version, there is a Kindle version of Fatima Shock! which you can acquire in seconds.