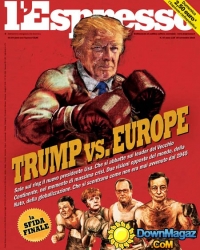 US President Donald Trump's trade plans may spark a major trade war:
June 30, 2017

Trump overrules cabinet, plots global trade war

June 30, 2017

President Donald Trump is reportedly considering a move that would most likely ignite a major international trade conflict with some of the biggest economies in the world.

According to Jonathan Swan and Mike Allen of the news website Axios, Trump and top administration officials discussed imposing tariffs on major exporters of steel and other goods during a meeting Thursday at the White House.

The tax on imported goods could be about 20%, according to Axios, and may be expanded to goods like paper, semiconductors, aluminum, and large household appliances.

While the intent is to penalize China, a goal of Trump's dating back to the campaign, officials informed Trump that the tariff would most likely affect other major allies of the US including Canada, Germany, Japan, Mexico, and the UK.

The plan is backed by what Axios described as the "America First" wing of the White House including chief strategist Steve Bannon, Commerce Secretary Wilbur Ross, trade adviser Peter Navarro, and senior policy adviser Stephen Miller.

During the meeting, according to Axios, Trump was told by "over 75%" of the people in attendance that the tariffs were a bad idea but remained in support of the idea because it would excite his die-hard supporters.

Most economists agree that tariffs of the type Trump is considering would set off a major trade war and have devastating economic consequences. There is also a good chance that the move would result in a US recession. http://www.businessinsider.com/trump-steel-tariff-trade-war-with-china-germany-canada-2017-6

June 30, 2017

The officials said they did not expect Trump to make a formal trade announcement until after the upcoming G-20 summit in Hamburg, Germany, which begins July 7. Trade issues are slated to be a major topic of discussion at the meeting, which Trump will attend.

Still, administration officials said Trump is eager to resolve the issue because trade was such a big part of his campaign messaging, particularly to Midwestern voters in states that were once manufacturing-heavy. Unlike health care and some other policies, Trump has been deeply engaged on trade. …

European Union officials … have warned that they do not believe the United States can plausibly claim a national security exemption from global trade rules to restrict steel imports.

Trump's actions could bring back memories of former President George W. Bush's decision in 2002 to slap hefty "safeguard" tariffs on steel imports to give domestic industry time to restructure. That triggered global outrage and a WTO case, which the U.S. lost. http://www.politico.com/story/2017/06/30/trump-america-first-trade-plan-clash-240123
While there are many issues of "unfair" trade, massive tariffs would affect not only countries that Donald Trump feels are "unfair," but will also raise costs to Americans. It can be debated if the costs are worth the jobs that would be affected. But it is clear that most economists, and even Donald Trump's advisors, see problems with attempting to impose massive tariffs.
China, Mexico and Europe have had trade concerns about the USA because of Donald Trump. If massive tariffs are imposed, this will further drive them closer together. Donald Trump's earlier executive order (see After Trump's executive order, TPP-related nations start to look to China) against the Tran-Pacific Partnership agreement has already seemed to have helped both China and Europe increase their trade influence in Asia and elsewhere. Mexico has also tried to reach out to Europe because of Donald Trump (watch Donald Trump and Mexico's future).
The German press put out the following:
30 June 2017

Wilbur Ross … is U.S. President Donald Trump's commerce secretary …

He demanded that Germany buy raw materials from the United States instead of from Russia, lower tariffs on automobile imports from the U.S. and ensure that America "obtain a larger share" of the European market. Otherwise, he added, the government in Washington, D.C., would have no alternative but to "engage in self-help." …

Less than a week before the G-20 summit is set to start in Hamburg, the risk is growing that the unpredictable U.S. president could turn the prestigious meeting of world leaders into a fiasco. Environment, refugees, trade: On a long list of issues, Trump and his America-first administration are sabotaging the search for joint positions among the world's industrialized and emerging economies. The discrepancies are "obvious," Merkel said during a speech before German parliament on Tuesday, the discussions "will be difficult."

If Merkel is right, the U.S. – after

withdrawing from the Paris climate deal

in early June – is now threatening another global agreement. Almost nine years ago, at the height of the financial crisis, the world's 20 largest economies agreed to launch economic stimulus programs and to reach consensus on joint regulations to prevent bank collapses and tax evasion. It was a far cry from the new global government that some had been dreaming of, but that summit did bring about some modest improvements.

Now, though, the Trump administration is reneging on numerous G-20 agreements because it doesn't see the world as a "global community," …

The U.S. … is demanding that Germany finally take measures to reduce its immense trade surplus. Washington is considering the introduction of a so-called "border adjustment tax," which would make numerous German products drastically more expensive in the United States. The Americans also want to impose new sanctions against Iran, which Europe opposes, and are demanding that Europe import more natural gas from the U.S. instead of from Russia.

Of particular note, the list makes it clear that Europe and America are already threatening each other with retaliatory measures and reprisals on several issues.

Beef is a primary example. Since 1989, the import of hormone-treated meat has been banned in the EU for health reasons. It is a conflict that has appeared before the World Trade Organization several times and the U.S. has recently ignited it anew. Washington is demanding that Europe open its market to hormone-treated beef and has said that if Brussels doesn't acquiesce, punitive tariffs could be slapped on over 70 product groups or raise existing tariffs to more than 100 percent. …

Commerce Secretary Ross has been charged with producing a report to clarify whether the cheap imports pose a threat to U.S. national security and was originally supposed to deliver that evaluation in June. Now, however, the German government is concerned that Ross could advise his boss to impose tariffs on the eve of the Hamburg summit or, worse yet, during the meeting.

The problem is that such tariffs wouldn't just hurt Chinese companies, but primarily countries like Canada, South Korea and Japan in addition to the European Union, above all Germany. Last year, Germany was the eighth largest exporter of steel to the U.S., ahead of even China. If Trump were to impose tariffs, it would have negative consequences both for German exports and for trans-Atlantic relations.

Policymakers in Berlin and Brussels have already begun discussing what countermeasures to take should the Trump administration impose steel tariffs. "The EU will answer appropriately if the U.S. introduces trade restraints against German or European steel companies," says German Economics Minister Zypries, adding that there are many tools at Europe's disposal. European Trade Commissioner Cecilia Malmström echoed Zypries, saying: "If it hits us like it could, we will, of course, retaliate." …

At the same time, the EU is hoping to build new alliances. Negotiations with Japan over a free-trade agreement are making solid progress and Malmström flew to Tokyo on Thursday to clear up some open questions. If her visit is successful, Japanese Prime Minister Shinzo Abe will stop by Brussels next Thursday on his way to Hamburg to sign a political declaration related to the deal. The intention is clear: "We want to send a signal to Washington: We are in favor of open markets," says an EU diplomat who is familiar with the plans. http://www.spiegel.de/international/world/eu-us-trade-conflict-threatens-to-escalate-ahead-of-g-20-a-1155342.html#ref=nl-international
So, Europe is saying that if the USA takes steps, it will take counter steps. Trade war type steps.
This talk of trade wars is something I have warned about on this page for years. Notice something I posted back in 2008:
Negotiations will continue and some type of loose agreements will happen. In the spirit of accommodation and personal interest, many of the "standards" of the European Union will be adopted by the USA, Canada and Mexico, as well as by nearly all of the countries of the world. The Arab nations will most likely agree with many of the standards as they seem to be destined to form a brief end-time alliance with the Europeans (The Arab World In the Bible, History, and Prophecy).

However, over time, it will become increasingly clear that the British will be in more agreement with the Canadians and Americans and that the European Union in more agreement with the Mexicans than the EU will have with the English-speaking nations.

Trade wars and/or serious trade disputes will most likely arise.

The Brits will ultimately decide that they are more supportive of the Americans and Canadians. They will be so much more supportive that they will end up in a trading agreement with them (with the Australians and New Zealanders probably also becoming part of that agreement).

The EU will decide that Mexico and the rest of Latin America are in more agreement with it and thus make some type of serious trading agreement with most (or all) of Latin America. The Vatican will also have influence here as Latin America is highly Roman Catholic.

The Europeans and Americans, however, will continue to have military agreements, though many will be tense about them. (Thiel B. A Combined EU & North American Trade Block Coming? COGwriter.com, March 3, 2008)
The fact of Brexit and the EU's response to it have been pushing the Brits to conclude that they need to move closer to the USA on trade. Germany's Angela Merkel came to South America earlier this month and met with leaders from Mexico and Argentina on trade matters–partially because of concerns related to Donald Trump's trade statements (see Germany's Merkel is in Argentina making deals with Mexico and Argentina).
Trade is a concern. So much so, trade wars were listed as part of the Twelve 'grey swan' events to watch for in 2017. As the press is reporting, they may happen.
A few months back, we also put together a YouTube video recently titled Trade Wars: Are COG warnings coming to pass?
Trade disputes are likely to be a factor that will lead to World War III.  The Bible tells of a powerful trade empire arising in the last days in Europe, called "Babylon the Great" (Revelation 18). It has long been my view that problems with trade and/or trade agreements will be a factor that will further turn Europe against the USA, and be a factor in the start of WWIII (see also WTO Trade Deal and the Rise of the European Beast Power).
As regular readers of this page are aware, the idea that we could be looking at a coming trade war is not a new one. Part of the reason for World War II was essentially a trade war, that turned into an actual war between the USA and Japan (Hogberg G. Prepare for Trade War! Plain Truth, January 1986).
Consider also that back in 1971, the late WCG Pastor General, Herbert W. Armstrong, wrote:
Trade War Looming to Trigger World War III?

Either we start raising high tariff barriers against other countries, starting a TRADE WAR which in time will trigger the nuclear war that will DESTROY US – or, American workers are going to have to MEET the competition of the workers in other countries , by lowering living standards. Obviously American workers are not going to choose to do the latter. And if they don't – well, THE HANDWRITING IS ON OUR NATIONAL WALL. (Armstrong HW. Trade War Looming to Trigger World War III? Plain Truth, 1971)
And while his basic impression of timing was off, it is correct that trade issues will be a factor that will trigger WWIII. A war that will be against the USA, Canada, and UK and led by a power that will reorganize (Revelation 17:12-13) and then rise in Europe. A Europe that is angry at the UK for Brexit and one that is mad at the USA for a host of reasons (including decisions of its former President Obama and statements by its current President Donald Trump).
There is a cost to trade wars and tariffs. Those who think otherwise are fooling themselves.
We are seeing more in the world that want to turn further away from the USA.
Massive shifts in trade are beginning to take place.
A real war, and not just a trade war, between Europe and the USA (with the UK basically on the USA's side) will come as one day Europe will take steps to 'eliminate the competition' so to speak (cf. Daniel 8:25; 11:39; USA in Prophecy: The Strongest Fortresses). Trade issues appear likely to be a factor that will trigger WWIII.
Some items of possibly related interest may include:
Trade Wars: Are COG warnings coming to pass? Trade issues, tariffs, and talk of trade wars are in the news. Can trade wars lead to World War III like they did to World War II? Are the events going on with the USA, UK, Asia, and Europe consistent with warnings published by the true Church of God (COG) over the past several years and decades? Do Germany and China hope to take advantage of trade frictions involving the Trump Administration and the Trans-Pacific Partnership agreement? What about Mexico and South America? Does the Bible teach that Europe will become a major trading power? Will the final European Babylonian trading power be destroyed? Dr. Thiel addresses these issues and more in this video.
Donald Trump and Mexico's future Mexico has increasingly been in the news because of statements and policies of US President Donald Trump. Many in Mexico are not intending to sit back and accept whatever Donald Trump attempts to force them to do. What will happen to Mexico? Will it make trade deals with Europe? Will it ultimately go to was against the USA? Will the Mexican economy drop at times and then improve? Dr. Thiel answers these questions and more in this video.
World War III: Steps in Progress Are there surprising actions going on now that are leading to WWIII? Might a nuclear attack be expected? Does the Bible promise protection to all or only some Christians? How can you be part of those that will be protected? A related video would be Is World War III About to Begin? Can You Escape?
Donald Trump in Prophecy Prophecy, Donald Trump? Are there prophecies that Donald Trump may fulfill?  Are there any prophecies that he has already helped fulfill?  Could a Donald Trump presidency be apocalyptic?  A related video is titled: Donald: 'Trump of God' or Apocalyptic?
Trump Presidency: Magic 8 Ball or Bible Prophecy? BBC reported that one might as well use a 'Magic Eight-Ball' to try to predict what will happen in the remaining time of Donald Trump's presidency. What is a 'Magic Eight-Ball'? Dr. Thiel not only explains that, but also briefly goes over 10 biblically-based warnings he wrote would happen if Donald Trump were elected that have already began to come to pass. He also goes over something he wrote back in 2008 that the Trump presidency is also helping lead to fulfillment. Should you trust Bible prophecy or not? Dr. Thiel says that Bible prophecy can be trusted, despite the view of skeptics and others that either overlook or despise the Bible. This is a video.
Donald Trump and America's Apocalypse This 188 page book is for people truly interested in prophecies related to Donald Trump and the United States, including learning about several that have already been fulfilled and those that will be fulfilled in the future. The physical book can be purchased at Amazon for $12.99 from the following link: Donald Trump and America's Apocalypse.
Donald Trump and America's Apocalypse-Kindle Edition This electronic version of the 188 page print edition is available for only US$3.99. And you do not need an actual Kindle device to read it. Why? Amazon will allow you to download it to almost any device: Please click HERE to download one of Amazon s Free Reader Apps. After you go to for your free Kindle reader and then go to Donald Trump and America's Apocalypse-Kindle Edition.
China, Its Biblical Past and Future, Part 1: Genesis and Chinese Characters Where did the Chinese people come from? This article provides information showing that the Chinese peoples must have known about various accounts in the Book of Genesis up until their dispersion after the Tower of Babel. Here is a link to a version of this article in Spanish: ¿Prueban los caracteres chinos la exactitud de la Biblia?
China, Its Biblical Past and Future, Part 2: The Sabbath and Some of God's Witness in China When did Christianity first come to China? And is there early evidence that they observed the seventh day sabbath?
Asia in Prophecy What is Ahead for Asia? Who are the "Kings of the East"? What will happen to nearly all the Chinese, Russians, Indians, and others of Asia? China in prophecy, where? Who has the 200,000,000 man army related to Armageddon? A YouTube video of interest may be Is China THE Threat to the United States of America?
British are the Covenant People What do 'British' and 'Britain' mean in Hebrew? Are the descendants of the Anglo-Saxons people of the covenant? Does the British royal family connect to the throne of David? What does the Bible teach? What does history show us? Is there any DNA evidence related to British-Israelism? When did Christianity make it to the British Isles? Could Jeremiah have made it to the British Isles? What type of Christians made it to the British Isles? Did the last King of England believe in British Israelism?
Forbes' Brexit Monster is the Beast of Revelation Various ones have been properly convinced that there is a plan for a European superstate. Forbes' writer Tom Worstall wrote that the Brexit vote was about the United Kingdom "not joining the monster of the European Union to come." The Bible tells of a Beast monster that will arise in the end times in Europe. Dr. Thiel cites news reports, as well as the Old and New Testaments, to show that the monster many fear will arise in Europe, despite the vote by the British to exit the European Union.
Post Brexit Prophecy On June 23, 2016, the voters of the United Kingdom of Great Britain and Northern Ireland (UK) chose to leave the European Union. Now with this BRitish EXIT (Brexit) vote, what is prophesied to happen to the UK? Will the UK do well or be taken over and made slaves? Dr. Thiel explains from biblical prophecies what is ahead for the UK, Europe, and even the USA, Canada, Australia, and New Zealand. This is a video.
Germany's Assyrian Roots Throughout History Are the Germanic peoples descended from Asshur of the Bible? Have there been real Christians in Germanic history? What about the "Holy Roman Empire"? There is also a You-Tube video sermon on this titled Germany's Biblical Origins.
Germany in Biblical Prophecy Does Assyria in the Bible equate to an end time power inhabiting the area of the old Roman Empire? What does prophecy say Germany will do and what does it say will happen to most of the German people? Here are links to two sermon videos Germany in Bible Prophecy and The Rise of the Germanic Beast Power of Prophecy.
Who is the King of the North? Is there one? Do biblical and Roman Catholic prophecies for the Great Monarch point to the same leader? Should he be followed? Who will be the King of the North discussed in Daniel 11? Is a nuclear attack prophesied to happen to the English-speaking peoples of the United States, Great Britain, Canada, Australia, and New Zealand? When do the 1335 days, 1290 days, and 1260 days (the time, times, and half a time) of Daniel 12 begin? When does the Bible show that economic collapse will affect the United States? In the Spanish language check out ¿Quién es el Rey del Norte? Here is a link to a video titled: The Future King of the North.
When Will the Great Tribulation Begin? 2017, 2018, or 2019? Can the Great Tribulation begin today? What happens before the Great Tribulation in the "beginning of sorrows"? What happens in the Great Tribulation and the Day of the Lord? Is this the time of the Gentiles? When is the earliest that the Great Tribulation can begin? What is the Day of the Lord? Who are the 144,000? Here is a version of the article in the Spanish language: ¿Puede comenzar la Gran Tribulación en 2016 o 2017? ¿Es el Tiempo de los Gentiles? You can also see the English language sermon videos: The Great Tribulation from the Mount of Olives and Can the Great Tribulation begin before 2020? A shorter video is: Will the Great Tribulation Start in 2017?
Does God Have a 6,000 Year Plan? What Year Does the 6,000 Years End? Was a 6000 year time allowed for humans to rule followed by a literal thousand year reign of Christ on Earth taught by the early Christians? Does God have 7,000 year plan? What year may the six thousand years of human rule end? When will Jesus return? 2026 or 20xx? There is also a video titled The 6000 Year Plan: Is the end of humanity's reign almost up? Here is a link to the article in Spanish: ¿Tiene Dios un plan de 6,000 años?The Gospel of the Kingdom of God was the Emphasis of Jesus and the Early Church Did you know that? Do you even know what the gospel of the kingdom is all about? You can also see a YouTube video sermons Why Teach the Kingdom of God, The Gospel of the Kingdom, and The Kingdom of God is the Solution.
Europa, the Beast, and Revelation Where did Europe get its name? What might Europe have to do with the Book of Revelation? What about "the Beast"? Is an emerging European power "the daughter of Babylon"? What is ahead for Europe? Here is a link to a video titled: Can You Prove that the Beast to Come is European?
European Technology and the Beast of Revelation Will the coming European Beast power would use and develop technology that will result in the taking over of the USA and its Anglo-Saxon allies? Is this possible? What does the Bible teach? Here is a related YouTube video: Military Technology and the Beast of Revelation.
Must the Ten Kings of Revelation 17:12 Rule over Ten Currently Existing Nations? Some claim that these passages refer to a gathering of 10 currently existing nations together, while one group teaches that this is referring to 11 nations getting together. Is that what Revelation 17:12-13 refers to? The ramifications of misunderstanding this are enormous. A related sermon is titled Ten Kings of Revelation and the Great Tribulation.
WTO/TTIP and the Babylonian Beast Will international trade agreements like WTO/TTIP/CETA lead to the fulfillment of end time prophecies concerning the Babylonian Beast power that the Book of Revelation warns against? What does the Bible teach? A related video would be WTO Trade Deal and the Rise of the European Beast Power.
Anglo – America in Prophecy & the Lost Tribes of Israel Are the Americans, Canadians, English, Scottish, Welsh, Australians, Anglo-Saxon (non-Dutch) Southern Africans, and New Zealanders descendants of Joseph? Where are the lost ten-tribes of Israel? Who are the lost tribes of Israel? What will happen to Jerusalem and the Jews in Israel? Will God punish the U.S.A., Canada, United Kingdom, and other Anglo-Saxon nations? Why might God allow them to be punished first? Here is a link to the Spanish version of this article: Anglo-América & las Tribus Perdidas de Israel. Information is also in the YouTube sermons titled Where are the Ten Lost Tribes? Why does it matter? and British are the Covenant People. A short YouTube of prophetic interest may be Barack Obama and the State of the Apocalypse.
Will the Anglo-Saxon Nations be Divided and Have People Taken as Slaves? Will the lands of the United States, United Kingdom, Canada, Australia, and New Zealand be divided? What about Jerusalem? What does Bible prophecy teach? Are there non-biblical prophecies that support this idea? Who will divide those lands? Who will end up with the lands and the people? Here is a link to a video titled Will the USA and other Anglo-nations be Divided and Their People Made Slaves? Here is a related item in the Spanish language ¿Serán divididas las naciones anglosajonas?
Is the USA now an Evil Empire? Dr. Thiel gives many reasons to consider. A related video is also available: Is the USA an Evil Empire?
USA in Prophecy: The Strongest Fortresses Can you point to scriptures, like Daniel 11:39, that point to the USA in the 21st century? This article does. A related sermon is titled: Do these 7 prophesies point to the end of the USA?