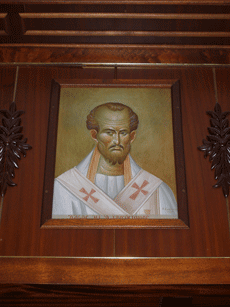 John Chrysostom (Istanbul, Turkey. May 2008)
The 4th century bishop John Chrysostom is a 'saint and doctor' of the the Roman Catholic and Eastern Orthodox churches. Certain Protestants also consider him to be of great importance. He is considered to be so important, he is one of four persons depicted in holding up a large black chair in St. Peter's Cathedral in Vatican City.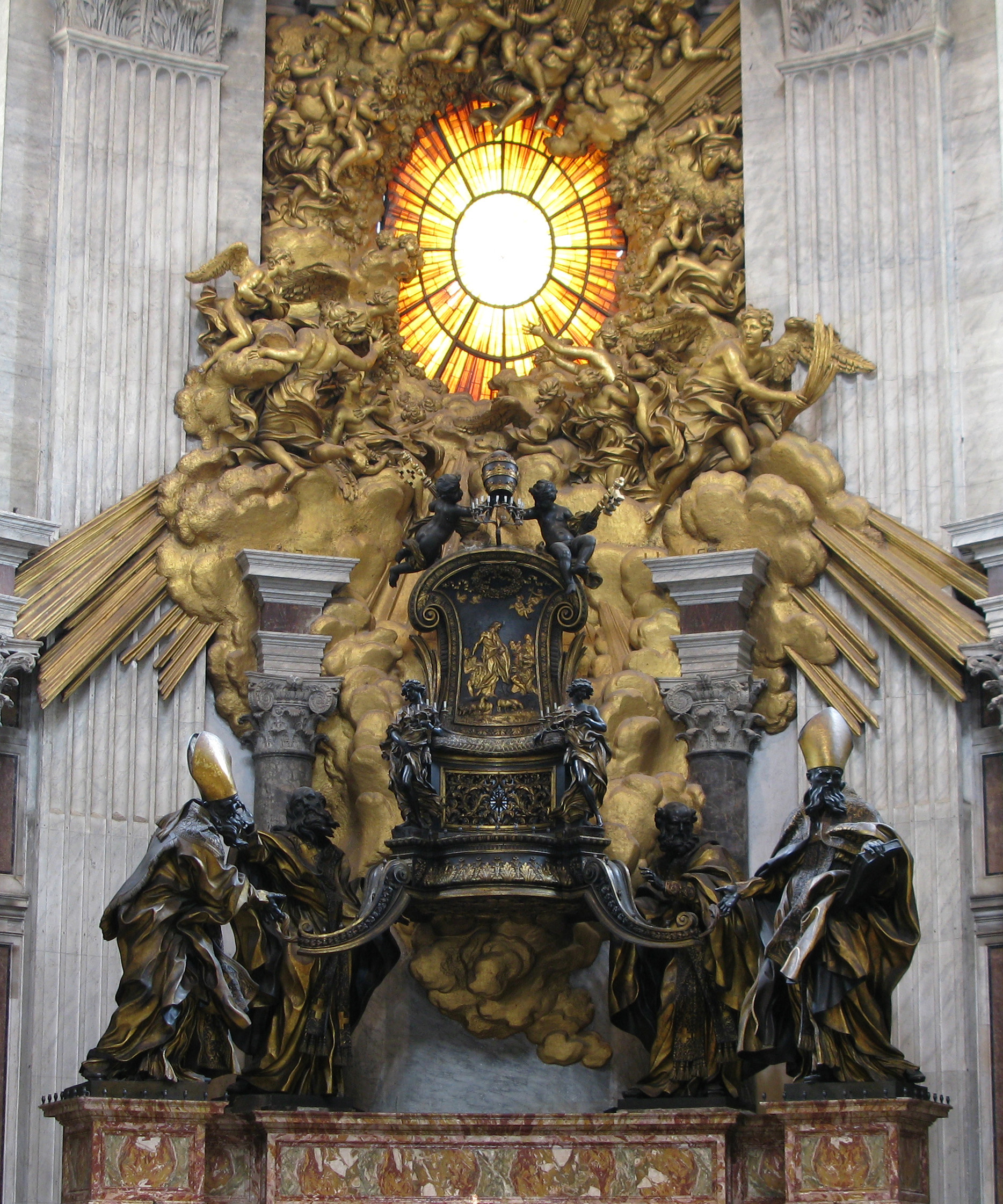 'Cathedra Petri' 'Satan's Throne' (Photo by Joyce Thiel)
(Some have called the above, Satan's throne–see Might Satan's throne be the 'Cathedra Petri'?)
The Protestant publication Christianity Today went so far as to claim John Chrysostom was the "Early church's greatest preacher."
In the late fourth century he made various comments about paganism, Christmas, lies, and biblical Holy Days. Since many of them were in the Fall and Winter of the year, this seemed to be an appropriate time to report about some of them.
John Chrysostom wrote the following in the fourth century:
And what, pray you, is that Minerva of theirs, and Apollo, and Juno? They are different kinds of demons among them. (Chrysostom J. The homilies of S. John Chrysostom, Archbishop of Constantinople: on the Acts of the Apostles, Volume 1, Homily IV. John Henry Parker, 1851. Original from Harvard University. Digitized, Apr 12, 2008, p. 66)
So, on the surface it appears that John Chrysostom condemned pagan gods, yet he ended up endorsing a holiday originally for the sun god Mithra.
How?
It was John Chrysostom who got the Orthodox in Constantinople to observe Christmas on December 25:
We may take it as certain that the feast of Christ's Nativity was kept in Rome on 25 December … It was introduced by St. John Chrysostum into Constantinople and definitively adopted in 395 (Thurston. H. Transcribed by Rick McCarty. Christian Calendar. The Catholic Encyclopedia, Volume III. Published 1908. New York: Robert Appleton Company. Nihil Obstat, November 1, 1908. Remy Lafort, S.T.D., Censor. Imprimatur. +John Cardinal Farley, Archbishop of New York).
John Chrysostom admitted Christmas was not part of his church's tradition in a sermon:
St. Chrysostom in a Christmas sermon, delivered at Antioch in the year 386, says, " it is not ten years since this day [Christmas Day on December 25] was clearly known to us, but it has been familiar from the beginning to those who dwell in the West." "The Romans who have celebrated it for a long time, and from ancient tradition, and have transmitted the knowledge of it to us." (Addis WE, Arnold T. A Catholic Dictionary: Containing Some Account of the Doctrine, Discipline, Rites, Ceremonies, Councils, and Religious Orders of the Catholic Church. Benziger Brothers, 1893. Original from Columbia University, Digitized Sep 15, 2009, p. 178)
His claim that Rome or the West knew it from the beginning is blatantly false. The knowledge of December 25th does not come from any ancient actual Christian tradition.
As pretty much everyone who has looked into the history of Christmas knows, December 25th was selected because it was the birthday of the sun-god Mithras–it was not an original practice of true Christians in Rome or any part of the West. John Chrysostom should have known that and taught against it.
Why?
Notice also that the The Catholic Encyclopedia freely admits that Christmas on December 25 was not celebrated by the early church and that it was Mithra whose birthday was observed anciently on Devember 25th:
Mithraism A pagan religion consisting mainly of the cult of the ancient Indo-Iranian Sun-god Mithra…Sunday was kept holy in honour of Mithra, and the sixteenth of each month was sacred to him as mediator. The 25 December was observed as his birthday, the natalis invicti, the rebirth of the winter-sun, unconquered by the rigours of the season (Arendzen. J.P. Transcribed by John Looby. Mithraism. The Catholic Encyclopedia, Volume X. Published 1911. New York: Robert Appleton Company. Nihil Obstat, October 1, 1911. Remy Lafort, S.T.D., Censor. Imprimatur. +John Cardinal Farley, Archbishop of New York).

Christmas was not among the earliest festivals of the Church (Martindale C. Transcribed by Susanti A. Suastika. Christmas. The Catholic Encyclopedia, Volume III. Copyright © 1908 by Robert Appleton Company. Online Edition Copyright © 2003 by K. Knight. Nihil Obstat, November 1, 1908. Remy Lafort, S.T.D., Censor. Imprimatur. +John Cardinal Farley, Archbishop of New York).
(For more information on this, please see the article What Does the Catholic Church Teach About Christmas and the Holy Days?)
Anyway, mainstream Christianity will continue to try to overlook the fact that it adopted pagan practices, condemned biblical ones, and still prefers traditions of men over the Bible.
Another Roman Catholic supporter wrote this about the Council of Nicea a few decades later:
Three hundred Fathers or even more gathered together in the land of Bithynia and ordained this by law; yet you disdain their decrees. You must choose one of two courses: either you charge them with ignorance for their want of exact knowledge on this matter, or you charge them with cowardice because they were not ignorant, but played the hypocrite and betrayed the truth. When you do not abide by what they decreed, this is exactly the choice you must make. But all the events of the Council make it clear that they showed great wisdom and courage at that time. The article of faith they set forth at the Council show how wise they were…At that time the whole synodal gathering, welded together from these champions, along with their definition of what Christians must believe, also passed a decree that they celebrate the paschal feast in harmony together. They refused to betray their faith in those most difficult times [of persecution]; would they sink to pretense and deceit on the question of the Easter observance? (5) Look what you do when you condemn Fathers so great, so courageous, so wise (John Chrysostom. Homily III Against the Jews, III:3,4-5. Preached at Antioch, Syria in September, 386 AD).
So, it is an article of faith that Roman Catholic bishops had the authority to change the scriptural date of Passover and make it an Easter celebration, even though Constantine said part of why he wanted it changed is to have nothing in common with those he called the detestable Jewish crowd?
But this was simply not the faith of the true second-century Christians in Asia Minor as Polycrates testified. The last words of his response to Roman bishop Victor about changing the date of Passover to Easter Sunday was:
I, therefore, brethren, who have lived sixty-five years in the Lord, and have met with the brethren throughout the world, and have gone through every Holy Scripture, am not affrighted by terrifying words. For those greater than I have said ' We ought to obey God rather than man.' (Polycrates. Letter to Victor. As quoted by Eusebius. Church History. Book V, Chapter 24) .
So, those who held to the original faith and traditions from the Bible would not accept the change of Passover, but John Chrysostom did.
Notice also the following:
ALL SAINTS. As early as the fourth century, the Greeks kept on the first Sunday after Pentecost the feast of all martyrs and saints, and we still possess a sermon of St. Chrysostom de-livered on that day. In the West, the feast was introduced by Pope Boniface the Fourth after he had dedicated, as the Church of the Blessed Virgin and the Martyrs, the Pantheon, which had been made over to him by the Emperor Phocas. The feast of the dedication was kept on the thirteenth of May. About 731 Gregory III. consecrated a chapel in St. Peter's Church in honour of all the saints, from which time All Saints' Day has been kept in Rome, as now, on the first of November. From about the middle of the ninth century, the feast came into general observance throughout the West. (Addis W, Arnold T. Catholic Dictionary, 6th ed. The Catholic Publication Society Co, 1887. Nihil Obstat. EDUARDUS S. KEOGH, CONG. ORAT., Censor Deputatu Imprimatur. HENRICUS EDUARDUS, CARD. ARCHIEP. WESTMONAST. Die 18 Dec., 1883. Imprimatur. John Card. McCloskey, Archbishop of New York. Feb. 14, 1884. Copyright, Lawrence Kehoe, 1884/1887. p20).

All Saints' Day

In the fourth century, neighbouring dioceses began to interchange feasts, to transfer relics, to divide them, and to join in a common feast; as is shown by the invitation of St. Basil of Caesarea (397) to the bishops of the province of Pontus. Frequently groups of martyrs suffered on the same day, which naturally led to a joint commemoration. In the persecution of Diocletian the number of martyrs became so great that a separate day could not be assigned to each. But the Church, feeling that every martyr should be venerated, appointed a common day for all. The first trace of this we find in Antioch on the Sunday after Pentecost. We also find mention of a common day in a sermon of St. Ephrem the Syrian (373), and in the 74th homily of St. John Chrysostom (407). (Mershman, Francis. "All Saints' Day." The Catholic Encyclopedia. Vol. 1. Nihil Obstat. March 1, 1907. Remy Lafort, S.T.D., Censor. Imprimatur. +John Cardinal Farley, Archbishop of New York. New York: Robert Appleton Company, 1907. 11 Aug. 2013 <http://www.newadvent.org/cathen/01315a.htm>)
So, John Chrysostom is credited for observing another holiday that did not come from the Bible (see also All Saints' Day, the Day of the Dead, and All Souls' Day).
A few decades after Christmas was adopted by Rome, the Roman Catholic saint John Chrysostom preached the following in 387 A.D.:
The festivals of the pitiful and miserable Jews are soon to march upon us one after the other and in quick succession: the feast of Trumpets, the feast of Tabernacles, the fasts. There are many in our ranks who say they think as we do. Yet some of these are going to watch the festivals and others will join the Jews in keeping their feasts and observing their fasts. I wish to drive this perverse custom from the Church right now…If the Jewish ceremonies are venerable and great, ours are lies…Does God hate their festivals and do you share in them? He did not say this or that festival, but all of them together. (John Chrysostom. Homily I Against the Jews I:5;VI:5;VII:2. Preached at Antioch, Syria in the Fall of 387 AD. Medieval Sourcebook: Saint John Chrysostom (c.347-407) : Eight Homilies Against the Jews. Fordham University. http://www.fordham.edu/halsall/source/chrysostom-jews6.html 12/10/05).

The wicked and unclean fast of the Jews is now at our doors. Thought it is a fast, do not wonder that I have called it unclean…But now that the devil summons your wives to the feast of the Trumpets and they turn a ready ear to this call, you do not restrain them. You let them entangle themselves in accusations of ungodliness, you let them be dragged off into licentious ways. (John Chrysostom. Homily II Against the Jews I:1; III:4. Preached at Antioch, Syria on Sunday, September 5, 387 A.D.).

So also the Law fixed the feast of Tabernacles (John Chrysostom. Homily IV Against the Jews IV:3. Catholic Christians of Antioch Turning to Sabbath and The New Moon Day and Other Holy Days. 387 A.D.).
John Chrysostom preached against the Fall holy days, because some who professed Christ were observing them.
Yet, John Chrysostom wrote in favor about another "festival of the Jews":
When, it says, the day of Pentecost was fully come: that is, when at the Pentecost, while about it, in short. For it was essential that the present events likewise should take place during the feast, that those who had witnessed the crucifixion of Christ, might also behold these…And, it says, there were dwelling at Jerusalem Jews, devout men. The fact of their dwelling there was a sign of piety: that being of so many nations they should have left country, and home, and relations, and be abiding there…for it was Pentecost. (Chrysostom J. The homilies of S. John Chrysostom, Archbishop of Constantinople: on the Acts of the Apostles, Volume 1, Homily IV. John Henry Parker, 1851. Original from Harvard University. Digitized, Apr 12, 2008, pp. 53, 55, 56).
So, he admitted that after the resurrection, the faithful needed to be present at what was then considered to be a "Jewish feast." If God was opposed to all of them, why would the apostles have kept it? The obvious reason is that they were following Jesus' example and had no reason to believe that they were somehow done away. (For more on Pentecost and what John Chrysostom and others wrote about it, please see the article Pentecost: Is it more than Acts 2?)
Furthermore, notice that the New Testament calls one of the so-called "Jewish" holy days "great." Notice the following from both a Protestant and a Catholic translation:
On the last day, that great day of the feast, Jesus stood and cried out (John 7:37, NKJV)

And in the last, the great day of the festivity JESUS stood, and cried (John 7:37, Rheims New Testament).
So who is right?
Those who follow Jesus' practices or those who condemn them?
Recall that John Chrysostom, in this case, somewhat correctly stated,
"If the Jewish ceremonies are venerable and great, ours are lies."
So which days should be observed? Which have a "great day" according to the Bible? Which days are lies?
John Chrysostom supported days with pagan ties such as Christmas and Easter. His logic for Christmas on December 25th is clearly wrong and based upon lies and misinformation that he spread. So, it should be obvious that God's days are not lies, but his (and those of churches who adopted those days that he promoted) were clearly lies.
Sadly, John Chrysostom was not the last one to put forth 'fake news' about holidays (watch Fake News, Jesus, and His Birth).
John Chrysostom was not faithful to the scriptures and no one should follow his false traditions above the word of God.
What about you? Should You Observe God's Holy Days or Demonic Holidays?
Several items of possibly related interest may include:
John Chrysostom, Bishop of Constantinople and Antisemite This late fourth/early fifth century Bishop of Constantinople is considered to be a 'saint' and 'doctor' by the Church of Rome, Church of England, and the Eastern Orthodox, but he did not teach Christ's love. Here is a link to a related sermon: John Chrysostom, Holy Days, and Holidays.
Should You Observe God's Holy Days or Demonic Holidays? This is a free pdf booklet explaining what the Bible and history shows about God's Holy Days and popular holidays.
Beliefs of the Original Catholic Church. Did the original "catholic church" have doctrines held by the Continuing Church of God? Did Church of God leaders uses the term "catholic church" to ever describe the church they were part of? Here are links to related sermons: Original Catholic Church of God? , Original Catholic Doctrine: Creed, Liturgy, Baptism, Passover, and What Type of Catholic was Polycarp of Smyrna?, Tradition, Holy Days, Salvation, Dress, & Celibacy, and Early Heresies and Heretics, and Doctrines: 3 Days, Abortion, Ecumenism, Meats, Tithes, Crosses, Destiny, and more, and Saturday or Sunday?, The Godhead, Apostolic Laying on of Hands Succession, and Church in the Wilderness Apostolic Succession List.
Some Similarities and Differences Between the Eastern Orthodox Church and the Continuing Church of God Both groups claim to be the original church, but both groups have differing ways to claim it. Both groups have some amazing similarities and some major differences. Do you know what they are? Here is a link to a related sermon: Eastern Orthodox 40+ Similar Beliefs to the CCOG.
Hope of Salvation: How the Continuing Church of God Differs from Protestantism The CCOG is NOT Protestant. This free online book explains how the real Church of God differs from mainstream/traditional Protestants. Several sermons related to the free book are also available: Protestant, Baptist, and CCOG History; The First Protestant, God's Command, Grace, & Character; The New Testament, Martin Luther, and the Canon; Eucharist, Passover, and Easter; Views of Jews, Lost Tribes, Warfare, & Baptism; Scripture vs. Tradition, Sabbath vs. Sunday; Church Services, Sunday, Heaven, and God's Plan; Seventh Day Baptists/Adventists/Messianics: Protestant or COG?; Millennial Kingdom of God and God's Plan of Salvation; Crosses, Trees, Tithes, and Unclean Meats; The Godhead and the Trinity; Fleeing or Rapture?; and Ecumenism, Rome, and CCOG Differences.
Tradition and Scripture: From the Bible and Church Writings Are traditions on equal par with scripture? Many believe that is what Peter, John, and Paul taught. But did they? Two related sermons are available Scripture and Traditions and Tradition and Scripture.
Was Jesus Born in the Grotto of the Nativity? Was Jesus born in a below ground cave? Was Jesus born below the "Church of the Nativity"? Were the wise men there?
How did December 25th become Christmas? Was Jesus born then? If not, why December 25? Here is the article translated into Mandarin Chinese 12月25日最后是怎么被许多基督的信仰者采纳的.
Is Keeping Christmas a Sin? Is keeping Christmas acceptable for true Christians? What are some scriptures to consider?
What Does the Catholic Church Teach About Christmas and the Holy Days? Do you know what the Catholic Church says were the original Christian holy days? Was Christmas among them? Is December 25th Jesus' birthday or that of the sun god?
Did Early Christians Celebrate Birthdays? Did biblical era Jews celebrate birthdays? Who originally celebrated birthdays? When did many that profess Christ begin birthday celebrations? A related sermon video is available and is titled: Birthdays, Christians, and December 25th.
Did Early Christians Observe the Fall Holy Days? The 'Fall' Holy Days come every year in September and/or October on the Roman calendar. Some call them Jewish holidays, but they were kept by Jesus, the apostles, and their early faithful followers. Should you keep them? What does the Bible teach? What do records of church history teach? What does the Bible teach about the Feasts of Trumpets, Atonement, Tabernacles, and the Last Great Day? Here is a link to a related sermon: Should you keep the Fall Holy Days?
Holy Day Calendar This is a listing of the biblical holy days through 2033, with their Roman calendar dates. They are really hard to observe if you do not know when they occur 🙂 In the Spanish/Español/Castellano language: Calendario de los Días Santos. In Mandarin Chinese: 何日是神的圣日? 这里是一份神的圣日日历从2013年至2024年。.
The History of Early Christianity Are you aware that what most people believe is not what truly happened to the true Christian church? Do you know where the early church was based? Do you know what were the doctrines of the early church? Is your faith really based upon the truth or compromise?
Where is the True Christian Church Today? This free online pdf booklet answers that question and includes 18 proofs, clues, and signs to identify the true vs. false Christian church. Plus 7 proofs, clues, and signs to help identify Laodicean churches. A related sermon is also available: Where is the True Christian Church? Here is a link to the booklet in the Spanish language: ¿Dónde está la verdadera Iglesia cristiana de hoy? Here is a link in the German language: WO IST DIE WAHRE CHRISTLICHE KIRCHE HEUTE? Here is a link in the French language: Où est la vraie Église Chrétienne aujourd'hui?
Continuing History of the Church of God This pdf booklet is a historical overview of the true Church of God and some of its main opponents from Acts 2 to the 21st century. Related sermon links include Continuing History of the Church of God: c. 31 to c. 300 A.D. and Continuing History of the Church of God: 4th-16th Centuries and Continuing History of the Church of God: 17th-20th Centuries. The booklet is available in Spanish: Continuación de la Historia de la Iglesia de Dios, German: Kontinuierliche Geschichte der Kirche Gottes, French: L'Histoire Continue de l'Église de Dieu and Ekegusii Omogano Bw'ekanisa Ya Nyasae Egendererete.