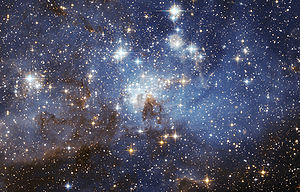 Many Protestants have historically believed that the USA is a "Christian" nation. And while many do claim to believe that Jesus is the Son of God, notice a report that even more seem to believe in aliens:
According to a National Geographic survey, 77 percent of all Americans "believe there are signs that aliens have visited Earth", and according to a recent Harris poll only 68 percent of all Americans believe that Jesus is God or the Son of God.

That means that the number of Americans that believe that UFOs have visited us is now greater than the number of Americans that believe what the Bible has to say about Jesus Christ. With each passing year, the frequency of UFO sightings seems to keep increasing, as does the number of movies, television shows and video games featuring aliens and extraterrestrial life. It is almost as if the population of the planet is being primed for something.

http://www.altheadlines.com/more-americans-believe-aliens-have-visited-earth-than-believe-that-jes-13253491/
Of course, most Americans do not truly know the Jesus of the Bible, they know of/about Him.
Now, if aliens mean spirit-beings like demons, then I too believe that they exist because the Bible teaches that (e.g. James 2:19). But I do not believe that was the intent of the question in the survey by National Geographic.
Although the New Testament is clear that Jesus was the Son of God (e.g. Mark 1:1), many no longer profess to believe the New Testament.
Secular Writers Taught That Jesus Existed
Yet, there is proof outside of scripture that Jesus existed.
Here is a quote from Suetonius. He discusses that around 49 A.D., the Roman Emperor Claudius banished all Jews from the city of Rome (this seems to be an incident also mentioned in Acts 18:2):
"He expelled the Jews from Rome, on account of the riots in which they were constantly indulging, at the instigation of Chrestus" (The Lives of the Caesars, Bk. V, 25).
Chrestus is believed to be a slang and derogatory reference to Christ. Suetonius was not a Christian and referred to them as holding to "a novel and mischevious superstition" (Life of Nero, 16.2), as cited in Bock DL. Studying the Historical Jesus: A Guide to Sources and Methods. Baker Academic, 2002, p. 48.
Here are two quotes from the Jewish historian Josephus (first century):
Antiquities 18.3.3 Now there was about this time Jesus, a wise man, if it be lawful to call him a man, for he was a doer of wonderful works, a teacher of such men as receive the truth with pleasure. He drew over to him both many of the Jews, and many of the Gentiles. He was the Christ, and when Pilate, at the suggestion of the principal men among us, had condemned him to the cross, those that loved him at the first did not forsake him; for he appeared to them alive again the third day; as the divine prophets had foretold these and ten thousand other wonderful things concerning him. And the tribe of Christians so named from him are not extinct at this day.

Antiquities 20.9.1 But the younger Ananus who, as we said, received the high priesthood, was of a bold disposition and exceptionally daring; he followed the party of the Sadducees, who are severe in judgment above all the Jews, as we have already shown. As therefore Ananus was of such a disposition, he thought he had now a good opportunity, as Festus was now dead, and Albinus was still on the road; so he assembled a council of judges, and brought before it the brother of Jesus the so-called Christ, whose name was James, together with some others, and having accused them as law-breakers, he delivered them over to be stoned.
Notice a translation of a Latin quote from the first, and early second century Roman historian Cornelius Tacitus:
Annal. 15, 44…Christians…Christus, the founder of the name, was put to death by Pontius Pilate, procurator of Judea in the reign of Tiberius. But the pernicious superstition, repressed for a time, broke out again, not only through Judea where the mischief originated..(Annals of Tacitus. As cited in Giles JA. Heathen records to the Jewish scripture history:containing all the extracts from the Greek and Latin writers, in which the Jews and Christians. James Cornish, 1856. Original from Harvard University, Digitized, Oct 17, 2008, p. 105)
So, secular sources from those that did not claim to believe in Jesus reported about Him.
Let me also add that the James' Ossuary is archaeological evidence that Jesus existed.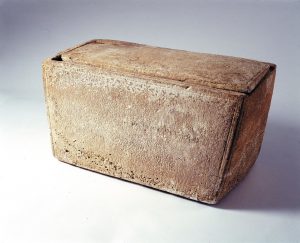 James Ossuary (English Wikipedia)
The first century inscription, translated into English, states "James, son of Joseph, brother of Jesus." For additional information, here is a link to the sermon: James' Ossuary, Fake News, and Jesus' Birth.
The Second Century Writers Taught That Jesus is God
Jesus was the Christ, the Son of God, and also God according to various Christian and professing Christian writers of the second century. And they also taught that He always had existed.
In "the oldest complete Christian sermon that has survived" (Holmes M.W. The Apostolic Fathers: Greek Texts and English Translations, 2nd ed. Baker Books, Grand Rapids, 2004, p. 102)–outside those in the Bible–sometimes erroneously referred to as Second Letter of Clement, there seems to be support for binitarianism. It was given perhaps within a year or so of John's death (thus may be towards the end of the time of Ephesus), and begins with the following:
Brothers, we ought so to think of Jesus Christ, as of God, as "Judge of the living and the dead" (An Ancient Christian Sermon (2 Clement), 1:1. In Holmes M.W. The Apostolic Fathers: Greek Texts and English Translations, 2nd ed. Baker Books, Grand Rapids, 2004, p. 107)
Ignatius, who was known by Polycarp (and praised in this same Polycarp epistle, which is known as Polycarp's Letter to the Philippians), wrote around 108-120 A.D.:
For our God, Jesus Christ, was conceived by Mary in accord with God's plan: of the seed of David, it is true, but also of the Holy Spirit. He was born and baptized so that by His submission He might purify the water (Ignatius of Antioch, Letters to the Ephesians 18,2–note this is translated the same by at least three separate translations as done by Dr. Lightfoot, J.H. Srawley, and Roberts & Donaldson).
Polycarp of Smyrna, in the mid-second century, wrote:
But may the God and Father of our Lord Jesus Christ, and Jesus Christ Himself, who is the Son of God, and our everlasting High Priest, build you up in faith and truth, and in all meekness, gentleness, patience, long-suffering, forbearance, and purity; and may He bestow on you a lot and portion among His saints, and on us with you, and on all that are under heaven, who shall believe in our Lord and God Jesus Christ, and in His Father, who "raised Him from the dead (Polycarp. Letter to the Philippians. From Ante-Nicene Fathers, Volume 1as edited by Alexander Roberts & James Donaldson. American Edition, 1885. Chapter 12 modified by R. Thiel to correct omission in translation).

For whosoever does not confess that Jesus Christ has come in the flesh, is antichrist (Polycarp, Chapter VII. Letter to the Philippians. From Ante-Nicene Fathers, Volume 1as edited by Alexander Roberts & James Donaldson. American Edition, 1885).

Him who died for us, and for our sakes was raised again by God from the dead (Polycarp, Chapter IX. Letter to the Philippians. From Ante-Nicene Fathers, Volume 1as edited by Alexander Roberts & James Donaldson. American Edition, 1885).
Melito of Sardis wrote:
For the deeds done by Christ after His baptism, and especially His miracles, gave indication and assurance to the world of the Deity hidden in His flesh. For, being at once both God and perfect man likewise…He concealed the signs of His Deity, although He was the true God existing before all ages (Melito. On the Nature of Christ. From Roberts and Donaldson).
These are the apparent positions of all groups that I am aware of that profess any form of Christianity, except those that are unitarian or affiliated with the Jehovah's Witnesses. Thus, early Christians believed and taught that Jesus is God. Regarding Melito's statement about the Deity hidden in Christ's flesh after baptism, recall that Jesus taught that it was the Father in Him that did the works, and hence it was not Jesus' deity that did them (John 14:10).
Even heretics in the second century, like Irenaeus, realized that Jesus was God. Notice excerpts from two of Irenaeus' writings:
…there is none other called God by the Scriptures except the Father of all, and the Son, and those who possess the adoption (Irenaeus. Adversus haereses, Book IV, Preface, Verse 4. Excerpted from Ante-Nicene Fathers, Volume 1. Edited by Alexander Roberts & James Donaldson. American Edition, 1885. Online Edition Copyright © 2004 by K. Knight).

Thus then the Word of God in all things hath the pre-eminence; for that He is true man and Wonderful Counselor and Mighty God. Jesus the Anointed of God, showing Himself to be the One who was proclaimed beforehand by the prophets (Irenaeus, St., Bishop of Lyon. Translated from the Armenian by Armitage Robinson. The Demonstration of the Apostolic Preaching. Wells, Somerset, Oct. 1879. As published in SOCIETY FOR PROMOTING CHRISTIAN KNOWLEDGE. NEW YORK: THE MACMILLAN CO, 1920).
The fact is that many in the second century taught that Jesus was God.
It is unfortunate that less and less Americans in the 21st century also believe that. Of course, that could partially explain the great moral decline in the USA.
Despite the fact that many do not wish to believe God (or truly believe in Him), God has a plan to involve humanity(Universal Offer of Salvation: There Are Hundreds of Verses in the Bible Supporting the Doctrine of True Apocatastasis)–a humanity that has been deceived by Satan and his supporters (Revelation 12:9).
Some items of possibly related interest may include:
Jesus: The Son of God and Saviour Who was Jesus? Why did He come to earth? What message did He bring? Is there evidence outside the Bible that He existed? Here is a YouTube sermon titled Jesus: Son of God and Saviour.
Jesus is God, But Became Flesh Was Jesus fully human and fully God or what? Here is information in the Spanish language¿Es Jesucristo Dios?
Where Did God Come From? Any ideas? And how has God been able to exist? Who is God?
Why Were You Born? Why did God make you? Herbert W. Armstrong wrote this as a booklet on this important subject. You may also wish to read the article What is Your Destiny? or watch the video, also titled What is Your Destiny?
What is the Meaning of Life? Who does God say is happy? What is your ultimate destiny? Do you really know? Does God actually have a plan for YOU personally? There is also a video titled What is the meaning of your life?
British and American Moral Decay Public nudity is becoming more prevalent in the Anglo-Saxon lands. What are some of the consequences?
Is God's Existence Logical? Some say it is not logical to believe in God. Is that true? Here is a link to a YouTube sermon titled Is it logical to believe in God?
Is Evolution Probable or Impossible or Is God's Existence Logical? Part II This short article clearly answers what 'pseudo-scientists' refuse to acknowledge. Here is a link to a YouTube video titled Quickly Disprove Evolution as the Origin of Life.
How Old is the Earth and How Long Were the Days of Creation? Does the Bible allow for the creation of the universe and earth billions of years ago? Why do some believe they are no older than 6,000 years old? What is the gap theory? Where the days of creation in Genesis 1:3 through 2:3 24 hours long? Here is a link to the article in Spanish: ¿Cuán vieja es la Tierra? ¿Cuán largos fueron los Días de la Creación? ¿Teoría de la brecha?
Does God Have a 6,000 Year Plan? What Year Does the 6,000 Years End? Was a 6000 year time allowed for humans to rule followed by a literal thousand year reign of Christ on Earth taught by the early Christians? Does God have 7,000 year plan? What year may the six thousand years of human rule end? When will Jesus return? 2023 or 20xx? There is also a video titled The 6000 Year Plan: Is the end of humanity's reign almost up?
When Will the Great Tribulation Begin? 2017, 2018, or 2019? Can the Great Tribulation begin today? What happens before the Great Tribulation in the "beginning of sorrows"? What happens in the Great Tribulation and the Day of the Lord? Is this the time of the Gentiles? When is the earliest that the Great Tribulation can begin? What is the Day of the Lord? Who are the 144,000? Here is a version of the article in the Spanish language: ¿Puede comenzar la Gran Tribulación en 2016 o 2017? ¿Es el Tiempo de los Gentiles? You can also see the English language sermon videos: The Great Tribulation from the Mount of Olives and Can the Great Tribulation begin before 2020? A shorter video is: Will the Great Tribulation Start in 2017?
Universal Offer of Salvation: There Are Hundreds of Verses in the Bible Supporting the Doctrine of True Apocatastasis Do you believe what the Bible actually teaches on this? Will all good things be restored? Will God call everyone? Will everyone have an opportunity for salvation? Does God's plan of salvation take rebellion and spiritual blindness into account? Related sermon videos include Universal Offer of Salvation I: God is love and Universal Offer of Salvation II: The Age to Come and the 'Little Flock' and Universal Offer of Salvation III: All Are to Know Jesus, But When? and Universal Offer of Salvation IV: Will the Guilty be Pardoned? and Universal Offer of Salvation V: All Israel Will be Saved?
Where is the True Christian Church Today? This free online pdf booklet answers that question and includes 18 proofs, clues, and signs to identify the true vs. false Christian church. Plus 7 proofs, clues, and signs to help identify Laodicean churches. A related sermon is also available: Where is the True Christian Church? Here is a link to the booklet in the Spanish language: ¿Dónde está la verdadera Iglesia cristiana de hoy?