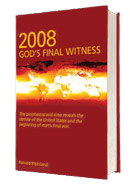 In a radio interview on April 7, 2008, Ronald Weinland of CGPFK made the following statements:
I've made many comments on different interviews here that we may be able to scrounge together having elections in November but there will not be a new president take office in January…I wrote the book. And God gave an outline for various things he was very you know there were things very specific there about 2008 uh dates and so forth when things beginning the process (Ronald Weinland Interview on The Mike McConnell Show Radio on April 7, 2008).
Well, Barack Obama took office a few minutes ago, hence this is another false prophecy from Ronald Weinland.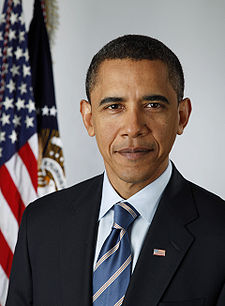 Official Photograph of Barack Obama, 44th President of the United States
The basic premise of Ronald Weinland's book about the end coming in 2008 has, of course, been proven wrong.
And while Barack Obama will likely help fulfill various prophecies (see Prophecies of Barack Obama?), it appears that he just disproved one from Ronald Weinland.
Ronald Weinland is a false prophet.
Remember that the Bible itself teaches:
21 "And if you say in your heart, 'How shall we know the word which the LORD has not spoken?'– 22 when a prophet speaks in the name of the LORD, if the thing does not happen or come to pass, that is the thing which the LORD has not spoken; the prophet has spoken it presumptuously; you shall not be afraid of him. (Deuteronomy 18:21-22)
Ronald Weinland is NOT one of God's two witnesses as he claims to be.
Some articles of related interest may include:
Who Are The Two Witnesses? What is their job? What does the Bible reveal? What has the Church of God taught on this subject? Might even Roman Catholic prophecies give some clues here?
Concerns About Ronald Weinland's Church of God-Preparing for the Kingdom of God Ronald Weinland falsely claims to be one of the two witnesses God is raising up and that the end will come in 2008. Is he a false prophet? He has at least one other view that suggests that he is not part of the COG.
Can the Great Tribulation Begin in 2009, 2010, or 2011? Can the Great Tribulation begin today? When is the earliest that the Great Tribulation can begin? What is the Day of the Lord?
Who is the King of the North? Is there one? Do biblical and Roman Catholic prophecies point to the same leader? Should he be followed? Who will be the King of the North discussed in Daniel 11? Is a nuclear attack prophesied to happen to the English-speaking peoples ofthe United States, Great Britain, Canada, Australia, and New Zealand? When do the 1335 days, 1290 days, and 1260 days (the time, times, and half a time) of Daniel 12 begin?
There is a Place of Safety for the Philadelphians. Why it May Be Petra This article discusses a biblical 'place of safety' and includes quotes from the Bible and Herbert W. Armstrong on this subject–thus, there is a biblically supported alternative to the rapture theory.
End of Mayan Calendar 2012–Might 2012 Mean Something? There is a Mayan calendar prediction for change in 2012. 2012 changes were also centuries ago predicted by the Hopi Native Americans and the Hindu Indians (who were not even on the same continent). Do these Mayan/Hindu/Hopi prophecies have any value? Why might Satan have inspired this date? Can the great tribulation start before 2012?