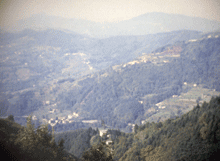 Barnabas Ministries, essentially an independent website not directly affiliated with a particular COG, announced:
On November 4th God blessed BibleStudy.org with its
two millionth visitor of the year! 
God willing, the site will exceed 2006's popularity in
less than two weeks.
2007 will mark BibleStudy.org's  twelfth consecutive
year of increased popularity and ability to reach
the world with God's truth.
Comments By COGwriter
Barnabas Ministries is ran by Alan Ruth who, personally, spent relatively little time in WCG.  Essentially the site is a collaborative effort of a dozen individuals who tend to oppose church governance.
It also has a lot of non-COG writings at the site (it latest announcement was of another non-COG book that would be available there).  Its internet presence is high by COG standards, though its effectiveness in terms of baptisms, for example, is limited. 
FWIW, this is the 11th year for the COGwriter website and it has grown each year.  Visitors are up almost 50% this calendar year.
The websites of various COG groups can be found at the COGlinks page.