This morning, the anti-COG AW site's webmaster posted:
I was a foundation member of the Church of God, International in New Zealand. Hey, it was a long time ago.
CGI was founded in the late 1970s by those who apparently felt that Garner Ted Armstrong should not have been disciplined to the point of being put out of the old Worldwide Church of God by his father (Herbert W. Armstrong) who basically put GTA out for adultery and rebellion.
The AW webmaster now has views that support atheism, disbelieving parts of the Bible, suggesting that the deuterocanonical books are just as valid as the rest of it, and other non-COG views.
CGI itself finally put GTA out that church for other acts not becoming a married man (let alone a minister).  GTA then founded the Intercontinental Church of God, which his son Mark has ran since GTA's death.  Other CGI related groups also formed.
Anyway, the news item is that CGI's website is currently unavailable as it is apparently undergoing an upgrade for it states:
We are undergoing website improvements.  We apologise for the inconvenience.
I rarely report much about CGI as it is perhaps the largest of the small groups that rarely updates its website.  Historically, it seems to come up with ideas to keep it current, but follow through seems to have been lacking.
CGI really has limited reach as far as I can tell, except in Jamaica.  There, its minister Ian Boyne, seems to have a fairly effective outreach and utilizes techniques that CGI itself does not seem to do (or at least do as effectively) in the USA.
Speaking of Jamaica, my family went there once for the Feast of Tabernacles.  Below we are on a "banana boat" in Jamaica: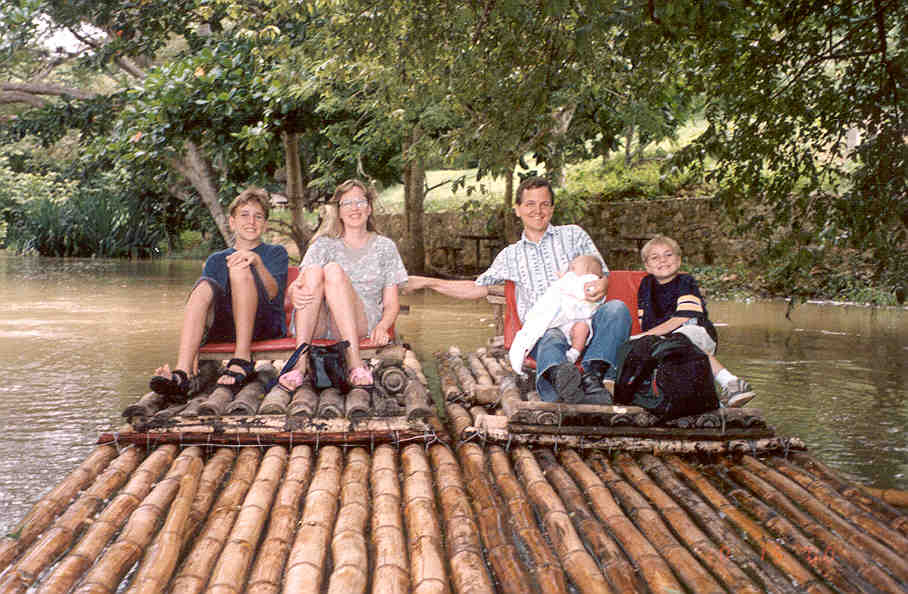 Five articles related to groups that had affiliation with CGI include (note, Oasis Ministries is another group, but I have not written a lengthy article on it yet–though I have posted about it):
Intercontinental Church of God Garner Ted Armstrong's last group; now led by Mark Armstrong.
Teachings of the Church of God, International This article focuses on where CGI differs from the old WCG.
Church of God, Southern California This article discusses some of how David Antion's group differs from the old WCG.
Church of God Outreach Ministries This was a CGI spin-off who says it is not a church.
Teachings of Christian Educational Ministries Ron Dart's confederation (not a church).