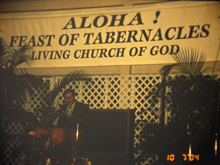 Though the 2007 Feast of Tabernacles is long past, the October 2007 letter from Legacy Institute arrived two nights ago (it always takes a while).  I had intended to post something about the situation in Myan Mar (formerly Burma) before, so thought this would be a good time to post something now.  In his letter, Leon Sexton wrote:
The Feast of Tabernacles 2007 was over way too soon! I commented in my sermon on the Last Great Day that we wish we could extend it an extra week! In Chiang Mai we had over 50 attendees from Burma, Laos, Thailand, Canada, Australia, USA, and even two of our former volunteer Legacy teachers.
Just before the Feast started, the Burmese military government, without any warning, raised the price of oil and gas to over 4 times what it was. The people in the main cities were unable to use the buses to get to work because the bus companies couldn't afford the fuel to operate! This draconian move by the ruling junta created an unacceptable strain on people who were already under incredible financial stress. The people were forced over the boiling point and they hit the streets in massive protests…
the military government became very concerned. They reacted by sending in the army and police who began beating and shooting Buddhist clergy and lay persons alike!
Even a famous Japanese journalist was shot dead point blank!
How many died or were arrested and hauled away – there can be no clear tally. The international community is talking a lot but will do very little to punish the actions of this rogue government.
As far as we can know, our COG brethren are safe. Communications via email and telephone were cut off for a few days during the height of the street protests. Now communication is back to normal. Most of our COG brethren live in the countryside away from the large cities, so they were not as affected by the protests and the subsequent government crackdown as much as those who live in Rangoon. However, all ARE affected by the fuel price hikes. Prices for food and other commodities have doubled.
Travel costs have doubled and even tripled! This will only create added financial burden on people who are already struggling just for daily bread.
Related to Myan Mar, LCG earlier reported:
The Feast in Myanmar 
We are happy to report that brethren in the Living Church of God in Myanmar were able to keep the Feast without disruption, despite the violence occurring there during the Feast this year.  As our minister from Myanmar, Thomas Tial Hoe, wrote, the 75 brethren "rejoiced before God keeping His Feast for eight joyous days, dwelt together, ate together in unity and love and experienced a foretaste of Tomorrow's World.  It was an inspiring, encouraging spiritual Feast as well as fine physical food and powerful sermons from Headquarters leaders.  Our heartfelt thanks to you all who help us to enjoy the Feast successfully.  We need your prayers…" 
Comments by COGwriter
Myan Mar is one of the more difficult countries to live in in Asia (Cambodia and Laos are as well).  COG members there do need our prayers.  I believe that all 75 at the LCG Feast of Tabernacles site were Burmese.
LCG also has members in Haiti, which is probably the most difficult country in the Western hemisphere to live in (they just had a deadly storm there, see this week's update from D. Winnail).
 They also need our prayers.