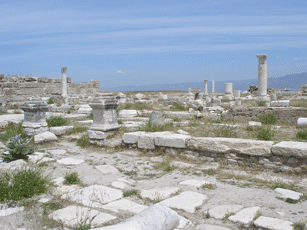 Laodicea has many ineffective structures

The AC site has an updated report from COGaWA where it basically states that it did not decide to form until after UCG essentially rejected a 12/4/10 letter and that various discussions did not happen until the week of December 13, 2010. It also says that it was not until 12/20/10 that it was proposed that COGaWA be formed, and that this was somewhat based on a 12/17/10 letter from Dennis Luker, where he indicated to certain ministers that they resign and have a "peaceful separation".
Apparently, some at COGaWA are concerned how UCG is portraying this.  UCG, on the other hand, keeps indicating that it has information that suggests that those who left it were part of some long running conspiracy.
What is the truth?
Probably a little of both.  There probably are some in COGaWA who had long hoped to break-away from UCG, while many there probably only recently made a decision to do so.  And UCG probably has some information on the former.
The AC site, for those who want to know, stands for Abigail Cartwright.  Apparently an assumed name for certain ones who wanted to leave (or who first did leave) UCG.  The lack of being forthright and using an assumed name was a bit bizarre.  The reason that I have often cited it, however, is that its information about who left UCG has been fairly accurate.
But in my view, much of the issue about the formation of COGaWA is irrelevant (yes, if ministers on either side are bearing false witness, that is relevant) as there is little indication that the officially divided UCG house will be able to accomplish much in this situation.  Neither UCG nor those now in COGaWA have shown that they are serious about focusing on doing the work of Matthew 24:14.  And so it appears that a relatively ineffective structure will be divided from a relatively ineffective structure.
Some who were part of UCG have criticized me for pointing this lack of gospel proclamation, etc. out.  Yet, that should be an important issue for Christians who are committed to what Christ would have His church do.  I do not mourn in the fact that UCG has governance issues as I have pointed that out for over 15 years.  I do not rejoice in the fact that those in or once part of UCG are having a trial, but pray that this trial will open up the eyes of those who have not seen the truth about UCG, its form of governance, and its relatively little fruits.
If you are or were part of UCG and are confused about what to do, please pray, fast, and study the Bible about this. Decide if you wish to follow the lukewarm or those that Jesus Christ has truly been using to do the work–those who have had the same basic governing principles for over 40 years.
It is my view that those affected by this crisis who wish to support a more effective gospel-proclaiming organization will consider checking out LCG, as it has stood for proper church governance and the work since its foundation (which preceded its formation). It's decision time for those who have been affiliated with UCG.
Some articles of possibly related interest may include:
Polycarp, Herbert W. Armstrong, and Roderick C. Meredith on Church Government What form of governance did the early church have? Was it hierarchical? Which form of governance would one expect to have in the Philadelphia remnant? The people decide and/or committee forms, odd dictatorships, or the same type that the Philadelphia era itself had?
Unity: Which COG for You? Why so many groups? Why is there lack of unity in the Churches of God? Has it always been this way? What can/should be done about it?
Differences between the Living Church of God and United Church of God This article provides quotes information from the two largest groups which had their origins in WCG as well as commentary.
There are Many COGs: Why Support the Living Church of God? This is an article for those who wish to more easily sort out the different COGs. It really should be a MUST READ for current and former WCG/GCI members or any interested in supporting the faithful church. It also explains a lot of what the COGs are all about.
Should the Church Still Try to Place its Top Priority on Proclaiming the Gospel or Did Herbert W. Armstrong Change that Priority for the Work? Some say the Church should mainly feed the flock now as that is what Herbert W. Armstrong reportedly said. Is that what he said? Is that what the Bible says? What did Paul and Herbert W. Armstrong expect from evangelists?
The Laodicean Church Era has been predominant circa 1986 A.D. to present. These are non-Philadelphians who mainly descended from the old WCG.