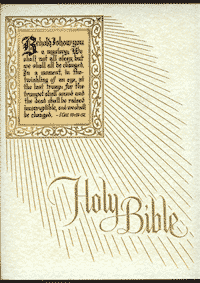 Got an email this morning telling me to look at some comments at James Malm's website.  His latest post states:
In the 2006 – 2007 time period visits were exchanged between UCG leaders headed by Clyde Kilough and leaders of Rod Meredith's living Church of God.  These men toured each other's facilities and discussed various issues of mutual concern.  At that time it was declared by the two groups that there was no possibility of any merger.  This due to governance and various doctrinal points.

Now that the HWA loyalists have left UCG to form COGWA, that new organization is much closer to LCG than UCG ever was.  While closer on the issues of governance and doctrine, they are still divided by certain personality clashes, such as the Rod Meredith – Larry Salyer feelings over the difficult GCG split.

At this time Rod is elderly and in ill health; while a merger is probably not coming any time soon; events in the next few months could allow for the possibility of a close working relationship between the two groups.
Now James is right that UCG and LCG stated that they would not merge and I spoke to the LCG leadership about it then (see LCG to Meet With UCG: There Will Be No Merger and UCG, Living University, & "Merger" Clarification).  I have also spoken to LCG's leadership since, and LCG has no intention of merging with COGWA.  But unlike James Malm, I would not necessarily characterize those in COGWA more as HWA loyalists than those that stayed with UCG (leaders in both groups have taken stands against Herbert W. Armstrong's teachings on governance and neither group has put the same priority on proclaiming Christ's gospel of the kingdom to the world as a witness like HWA did, and the Living Church of God now does).
COGWA has different priorities and thus far as not been willing to accept the type of governance structure that we in LCG have.  Of course, they (COGWA) could change, but I do not expect it.
For those unfamiliar with these groups some background may be helpful.  The United Church of God (UCG) had a major split in 2010–much of it personality related in my view.  Though I have tended to not be involved in the details surrounding the claimed causes for the split from UCG, it resulted in most of its paid North and Latin American ministry ending up, along with two of its former presidents, forming a new group which called itself Church of God a Worldwide Association (COGWA).
This split really rattled UCG.  COGWA itself seems to be struggling in several ways, but both groups seem to be surviving the split.  And while some individual members may decide to support LCG (and some in UCG may go to COGWA and some in COGWA may go back to UCG), I expect no merger with either group into LCG–though perhaps some UCG or COGWA leaders may change to support LCG and encourage their supporters to as well in the future.
Some articles of possibly related interest may include:
Attending the Church of Choice This article discusses whose choice is important to worship God; should you attend the church of your choice or the church of God's choice?
Polycarp, Herbert W. Armstrong, and Roderick C. Meredith on Church Government What form of governance did the early church have? Was it hierarchical? Which form of governance would one expect to have in the Philadelphia remnant? The people decide and/or committee forms, odd dictatorships, or the same type that the Philadelphia era itself had?
Unity: Which COG for You? Why so many groups? Why is there lack of unity in the Churches of God? Has it always been this way? What can/should be done about it?
Differences between the Living Church of God and United Church of God This article provides quotes information from the two largest groups which had their origins in WCG as well as commentary.
There are Many COGs: Why Support the Living Church of God? This is an article for those who wish to more easily sort out the different COGs. It really should be a MUST READ for current and former WCG/GCI members or any interested in supporting the faithful church. It also explains a lot of what the COGs are all about.
Concerns about Church of God, a Worldwide Association This seems to be the largest group that came out of the United Church of God. Here is some history and concerns about it.
Should the Church Still Try to Place its Top Priority on Proclaiming the Gospel or Did Herbert W. Armstrong Change that Priority for the Work? Some say the Church should mainly feed the flock now as that is what Herbert W. Armstrong reportedly said. Is that what he said? Is that what the Bible says? What did Paul and Herbert W. Armstrong expect from evangelists?
The Laodicean Church Era has been predominant circa 1986 A.D. to present. These are non-Philadelphians who mainly descended from the old WCG.