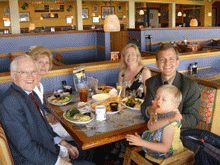 My wife, youngest son, and I having a private lunch with Dr. and Mrs. Meredith during the Feast of Tabernacles in 2005. Dr. Meredith is the Presiding Evangelist of the Living Church of God.
In his latest update, LCG's Dr. D. Winnail wrote:
Next Wednesday, Mr. Ames, Mr. Apartian and I will be visiting the UCG office in Cincinnati. About a year ago, when two representatives from UCG visited our office in Charlotte, they invited us to make a return visit. We found the visit last year was helpful to maintain lines of communication when issues arise of mutual concern. 
The anti-COG AW site already posted the following about it:
Well, well. Which issue of "mutual concern" do you think might have arisen? Nothing about this on the COGwriter blog… puzzling because Bob has heaps to say when the Catholic and Eastern Orthodox churches hold a pow-wow (which, unlike this, is hardly "news of the Churches of God"). Could Bob's reluctance be because he's just made his annual unflattering comparison between LCG/UCG financial statements?
No, there is no reluctance to post about this at the COGwriter site. 
I normally do not post the update until the day after the Sabbath in accordance with LCG policy.  Hence, there was no reason to comment prior to now.
And my comment?
The same as I emailed someone else earlier this morning who asked me about it:
There is absolutely no merger in the works. 
UCG visited LCG a year ago and invited LCG to visit their HQ.  There are from time to time mutual issues (like warning about unstable individuals, people losing jobs for Holy Days/Sabbaths, not serving in the military, etc.) that cooperation can be helpful for.
And those who think otherwise are mistaken.  While both groups have sometimes lost members to each other, and this will undoubtedly continue to occur to some degree, there will be be no merger between the two groups.  Not now, nor in the future.
The two groups differ too much in priorities and doctrine.
Two articles of related interest may include:
Differences between the Living Church of God and United Church of God This article provides quotes information from the two largest groups which had their origins in WCG as well as commentary.
There are Many COGs: Why Support the Living Church of God? This is an article for those who wish to easily sort out the different COGs. It really should be a MUST READ for current and former WCG members or any interested in supporting the faithful church.