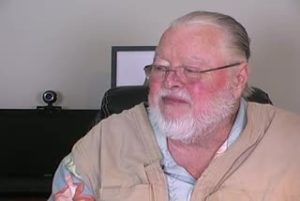 Ken Westby from Godward.org
Received a report today from Dixon Cartwright, editor of The Journal: News of the Church of God, that Ken Westby died:
Our good friend Ken Westby died this morning, Thursday, Dec. 8, 2016, at 3:50 Pacific time. He had been under hospice care at home for about a week. He passed peacefully with JoAn and their two daughters there with him.

There will be a private committal service for the family within a few days. Then JoAn is planning a celebration-of-life service for sometime in March.

–Dixon
Ken Westby was a staunch unitarian that often advertised in The Journal: News of the Church of God.
(Over the years, I have challenged Ken Westby's positions related to unitarianism; see Was Unitarianism the Teaching of the Bible or Early Church?).
Anyway, I am sad for his family's loss.
His family is in my prayers.