Even though it is now February 2009, latest issue (September-December 2008) of The Journal just came out.  And while The Journal is supposed to come out monthly, this edition is to cover 4 months, presumably so that it can get its edition dates closer to the actual publishing date.
The primary stories covered are the death of SDA scholar Dr. Samuele Bacchiocchi (which was covered here a while back, see SDA Samuele Bacchiocchi Died), CG7 history from its former president, Robert Coulter, a review of a James Tabor book by Ken Westby, news of PCG's auditorium (see also Philadelphia Church of God Announces "Armstrong Auditorium"), a PCG project, some FOT items, and the usual type of odd advertisements and articles.
As I have covered Dr. Bacchiocchi's death twice recently (SDA Samuele Bacchiocchi Died and SDA Perspectives Gone?), the only comment to add is that Dr. Bacchiocchi did try to stand for the truth about the Sabbath, although he and I did not agree on all of his details.
Of more personal interest was the story with former CG7 president, Robert Coulter. I spoke with Robert Coulter related to COG and CG7 history a couple of times last fall.  And while he and I do not agree on some of the details, he is more open to certain details than the story in The Journal might suggest to some  (I hope to cover more of this later).
Here are some comments in The Journal from Ken Westby related to a book by James Tabor:
Dr. Tabor is calling for a "restoration" to the true faith of Scripture, a faith largely lost in traditional Christianity. This is a radical idea and a bold critique of mainstream Protestant and Catholic Christianity for which he will be roundly attacked.
We in the Living Church of God have repeatedly and publicly often called for the restoring of Apostolic Christianity.  I am glad that Dr. Tabor feels that is also needed, and that he also recognizes that mainstream Protestants and Catholics do not like to hear that call.
As PCG tends to be a bit less open than some groups, perhaps providing a few details of what The Journal reported might be interesting to some.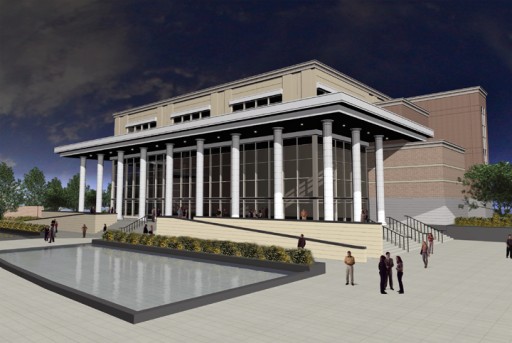 Rendering of Armstrong Auditorium (Rees Associates)

Here is some of what The Journal reported about "Armstrong Auditorium":
The $15 million 800-seat concert hall, Armstrong Auditorium, modeled after the Ambassador Auditorium in Pasadena, Calif., will eventually, perhaps by late 2009, serve as the location for Sabbath services for the PCG's headquarters congregation and provide a venue for the church's performing-arts series.
Here is a report related to some PCG projects (note: HWAC stands for Herbert W. Armstrong College):
HWAC and the PCG made international news recently when six students from the four-year college helped out for a few months on an archaeological dig in Jerusalem that located a tunnel that dates from the time of King David…
As reported on the Web site of The Daily Oklahoman (newsok.com), President Stephen Flurry of HWAC said he hopes the find at the dig leads to the discovery of King David's palace.  That would "verify the accuracy of the Scriptures," he was quoted as saying. "Certainly the historical significance is what we are most interested in."
Of course, the Bible is true irrespective of what archaeologists dig up, but support from archeology is appreciated from any source that is actually interested in the truth.
While The Journal is available only by paid subscription, you can view the pdf. of its front and back page is available at:  www.thejournal.org/issues/issue132/jf123108.pdf