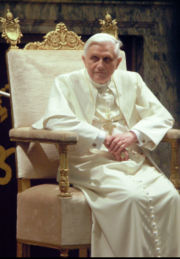 Pope Benedictus XVI
The Pope has been asked to resign:
Call for pope to step down over Holocaust denier
AFP – Feb 2, 2009
Attacks on Pope Benedict XVI's decision to lift the excommunication of a Holocaust denier escalated Monday, with one theologian calling on him to step down as the head of the Roman Catholic Church.
Criticism following the pope's January 24 announcement has been particularly cutting in Germany, where denying the Holocaust is a crime punishable with a jail sentence.
"If the pope wants to do some good for the Church, he should leave his job," eminent liberal Catholic theologian Hermann Haering told the German daily Tageszeitung.
"That would not be a scandal, a bishop has to relinquish his position at 75 years, a cardinal loses his rights at 80 years," he said. Pope Benedict is 81.
Meanwhile, a senior Vatican official acknowledged the Vatican administration may have made "management errors" with the decision to lift excommunication against four bishops, including Richard Williamson, whose comments sparked the controversy…
Back in Germany, high-ranking Catholic officials said the pope risked losing vital support.
"There is obviously a loss of confidence" in the pope and "rehabilitating a denier is always a bad idea," the bishop of Hamburg, Werner Thissen, told the daily Hamburger Abendblatt on Monday.
The bishop of Rottenburg-Stuttgart, Gebhard Furst, meanwhile spoke of his "uncertainty, incomprehension and deception" in the national Bild.
For the pope, the "blunder is extraordinary, especially given that his willingness for a dialogue with Judaism is indisputable," said French daily Liberation. http://www.breitbart.com/article.php?id=CNG.8f87fb2a7e55fa1a4415bdfd6c915b3e.521&show_article=1
In a related story, Zenit.org (a pro-Vatican news agency) reported:
Paris Cardinal Notes "Horror" at Holocaust-Denier
Reiterates That Church Unity Is Pope's Mission
PARIS, FEB. 2, 2009 (Zenit.org).- The archbishop of Paris says the denial of the Holocaust by a Lefebvrist bishop is a cause of horror, but that the issue at hand is not his successive apology but the facts of the Shoah.
Cardinal André Vingt-Trois affirmed this to the French daily "Le Parisien" on Sunday, referring to the media flurry caused by Society of St. Pius X Bishop Richard Williamson…
The lifting of his excommunication — which happened shortly after the interview was aired — was called an affront to Jewish-Catholic relations, though the Holy Father made clear that his motive in removing the excommunication was the advancement of Church unity.
In papal commentaries and in statements from the Vatican spokesman, it has been reiterated that the Church does not share the bishop's views.
I do not expect the Pope to resign over this.
To the contrary, I expect him to keep working to bring the Orthodox and others claiming to be distanced Catholics into unity with Rome–which is something that the Orthodox should not do (see Orthodox Must Reject Unity with the Roman Catholics).
Perhaps it should be mentioned that if certain Catholic prophecies apply to this pontiff (see One More Pope?), he would not actually resign but ultimately may leave Rome.
But even if those prophecies do not apply, I do not believe that Pope Benedict XVI will resign over the current matter.
Four articles of possibly related interest may include:
Which Is Faithful: The Roman Catholic Church or the Living Church of God? Do you know that both groups shared a lot of the earliest teachings? Do you know which church changed? Do you know which group is most faithful to the teachings of the apostolic church? Which group best represents true Christianity? This documented article answers those questions. Português: Qual é fiel: A igreja católica romana ou a igreja viva do deus? Tambien Español: Cuál es fiel: ¿La iglesia católica romana o La Iglesia del Dios Viviente? Auch: Deutsch: Welches zuverlässig ist: Die Römisch-katholische Kirche oder die lebende Kirche von Gott?
Apostolic Succession What really happened? Did structure and beliefs change? Are many of the widely-held current understandings of this even possible? Did you know that Catholic scholars really do not believe that several of the claimed "apostolic sees" of the Orthodox have apostolic succession–despite the fact that the current pontiff himself seems to wish to ignore this view?  Is there actually a true church that has ties to any of the apostles that is not part of the Catholic or Orthodox churches?  Read this article if you truly are interested in the truth on this matter!
What Do Roman Catholic Scholars Actually Teach About Early Church History? Although most believe that the Roman Catholic Church history teaches an unbroken line of succession of bishops beginning with Peter, with stories about most of them, Roman Catholic scholars know the truth of this matter. This eye-opening article is a must-read for any who really wants to know what Roman Catholic history actually admits about the early church.
Location of the Early Church: Another Look at Ephesus, Smyrna, and Rome What actually happened to the primitive Church? And did the Bible tell about this in advance?