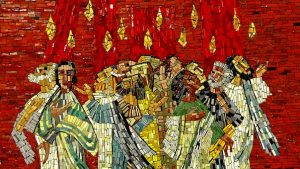 Artist Depiction of Pentecost (Pixabay)

Pentecost is May 28th in 2023. Unlike other biblical holy days, some version of the Day of Pentecost is observed by a lot of mainstream churches, both Roman Catholic and Protestant. And of course, since Pentecost is a biblical holy day, it is observed by Church of God groups like the Continuing Church of God. Pentecost is the day that the Holy Spirit descended upon the apostles in the shape of fire (Acts 2:3-4).
Most groups that profess Christ consider that Pentecost marked the formal beginning of the New Testament church.
The term Pentecost is a Greek term meaning 50th. That term is derived from the following Hebrew description of calculating the date:
And you shall count for yourselves from the day after the Sabbath, from the day that you brought the sheaf of the wave offering: seven Sabbaths shall be completed. Count fifty days to the day after the seventh Sabbath (Leviticus 23:15-16).
Early Christians believed that they were supposed to observe Pentecost. And they probably understood this from the Bible and the practices of the early apostles.
For example, the Apostle Paul continued to keep Pentecost decades after the Pentecost mentioned in the second chapter of the Book of Acts. Notice what he wrote, about 56 A.D.:
For I do not wish to see you now on the way; but I hope to stay a while with you, if the Lord permits. But I will tarry in Ephesus until Pentecost (1 Corinthians 16:8).
This shows that Paul knew when Pentecost was, that he felt that the Corinthians must know when Pentecost was, and that the Ephesians would have known when Pentecost was. Thus, it apparently was being observed by Paul and the Gentiles in Ephesus and Corinth.
In another year, the Apostle Paul also wished to be in Jerusalem for Pentecost, around 60 A.D.:
For Paul had decided to sail past Ephesus, so that he would not have to spend time in Asia; for he was hurrying to be at Jerusalem, if possible, on the Day of Pentecost (Acts 20:16).
Thus, Christians in Jerusalem were still observing Pentecost and Paul was observing it too. Otherwise, there would be no obvious reason why Paul wanted to be in Jerusalem on the day of Pentecost.
This was clearly understood by second century writers such as Irenaeus who wrote (circa 180):
Paul taught with simplicity what he knew, not only to those who were [employed] with him, but to those that heard him, he does himself make manifest. For when the bishops and presbyters who came from Ephesus and the other cities adjoining had assembled in Miletus, since he was himself hastening to Jerusalem to observe Pentecost (Irenaeus. Adversus haereses, Book III, Chapter 14, Verse 2). Excerpted from Ante-Nicene Fathers, Volume 1. Edited by Alexander Roberts & James Donaldson. American Edition, 1885. Online Edition Copyright © 2004 by K. Knight).
An old document that was probably altered in the 4th century, titled The Life of Polycarp, specifically mentions the Passover, the Days of Unleavened Bread, and Pentecost. And it records that the Apostle Paul said that they should be kept:
In the days of unleavened bread Paul, coming down from Galatia, arrived in Asia, considering the repose among the faithful in Smyrna to be a great refreshment in Christ Jesus after his severe toil, and intending afterwards to depart to Jerusalem. So in Smyrna he went to visit Strataeas, who had been his hearer in Pamphylia, being a son of Eunice the daughter of Lois. These are they of whom he makes mention when writing to Timothy, saying; Of the unfeigned faith that is in thee, which dwelt first in thy grandmother Lois and in thy mother Eunice; whence we find that Strataeas was a brother of Timothy. Paul then, entering his house and gathering together the faithful there, speaks to them concerning the Passover and the Pentecost, reminding them of the New Covenant of the offering of bread and the cup; how that they ought most assuredly to celebrate it during the days of unleavened bread, but to hold fast the new mystery of the Passion and Resurrection. For here the Apostle plainly teaches that we ought neither to keep it outside the season of unleavened bread, as the heretics do, especially the Phrygians…but named the days of unleavened bread, the Passover, and the Pentecost, thus ratifying the Gospel (Pionius. Life of Polycarp, Chapter 2. Translated by J. B. Lightfoot, The Apostolic Fathers, vol. 3.2, 1889, pp.488-506).
Notice that Paul is shown to have taught Gentiles to keep the biblical Holy Days, including Pentecost. Polycarp, himself, was a faithful early Christian leader who was apparently ordained by the Apostle John and was believed to be a Gentile.
Since the Apostle Paul and other faithful Christians kept Pentecost, shouldn't you?
Here is a sermon related to the Day of Pentecost: God's Pentecost Plan and Your Part in It.
Some items of possibly related interest may include:
Pentecost: Is it more than Acts 2? Many "Christians" somewhat observe Pentecost. Do they know what it means? It is also called the Feast of Harvest, the Feast of Weeks, and the day of firstfruits. What about "speaking in tongues" and led by the Holy Spirit? (Here is a related link in Spanish/español: Pentecostés: ¿Es más que Hechos 2? plus one by Herbert Armstrong HWA sobre Pentecostés). Here is a YouTube sermon titled Pentecost: Feast of Firstfruits.
Does the CCOG have the confirmed signs of Acts 2:17-18? Does any church have the confirmed dream and prophetic signs of Acts 2:17-18? Should one? Here is a link in the Spanish language: ¿Tiene la CCOG confirmadas las señales de Hechos 2: 17-18? Here is a link in the French language: Est-ce que l'Église Continue de Dieu confirme les signes d'Actes 2:17-18?
Universal OFFER of Salvation, Apokatastasis: Can God save the lost in an age to come? Hundreds of scriptures reveal God's plan of salvation Will all get a fair chance at salvation? This free book is packed with scriptures showing that God does intend to offer salvation to all who ever lived–the elect in this age, and the rest in the age to come. Here is a link to a related sermon series: Universal Offer of Salvation 1: Apocatastasis, Universal Offer of Salvation 2: Jesus Desires All to be Saved, Mysteries of the Great White Throne Judgment (Universal Offer of Salvation part 3), Is God Fair, Will God Pardon the Ignorant?, Can God Save Your Relatives?, Babies, Limbo, Purgatory and God's Plan, and 'By the Mouth of All His Holy Prophets'.
Hope of Salvation: How the Continuing Church of God Differs from Protestantism The CCOG is NOT Protestant. This free online book explains how the real Church of God differs from mainstream/traditional Protestants. Several sermons related to the free book are also available: Protestant, Baptist, and CCOG History; The First Protestant, God's Command, Grace, & Character; The New Testament, Martin Luther, and the Canon; Eucharist, Passover, and Easter; Views of Jews, Lost Tribes, Warfare, & Baptism; Scripture vs. Tradition, Sabbath vs. Sunday; Church Services, Sunday, Heaven, and God's Plan; Seventh Day Baptists/Adventists/Messianics: Protestant or COG?; Millennial Kingdom of God and God's Plan of Salvation; Crosses, Trees, Tithes, and Unclean Meats; The Godhead and the Trinity; Fleeing or Rapture?; and Ecumenism, Rome, and CCOG Differences.
Pentecost Quiz This is a Pentecost quiz based upon the Old and New Testaments in the Bible.
Should You Observe God's Holy Days or Demonic Holidays? This is a free pdf booklet explaining what the Bible and history shows about God's Holy Days and popular holidays.
Is There "An Annual Worship Calendar" In the Bible? This paper provides a biblical and historical critique of several articles, including one by WCG which states that this should be a local decision. What do the Holy Days mean? Also you can click here for the calendar of Holy Days.
Holy Day Calendar This is a listing of the biblical holy days through 2033, with their Roman calendar dates. They are really hard to observe if you do not know when they occur 🙂 In the Spanish/Español/Castellano language: Calendario de los Días Santos. In Mandarin Chinese: 何日是神的圣日? 这里是一份神的圣日日历从2013年至2024年。. Where is the True Christian Church Today? This free online pdf booklet answers that question and includes 18 proofs, clues, and signs to identify the true vs. false Christian church. Plus 7 proofs, clues, and signs to help identify Laodicean churches. A related sermon is also available: Where is the True Christian Church? Here is a link to the booklet in the Spanish language: ¿Dónde está la verdadera Iglesia cristiana de hoy?
Continuing History of the Church of God This pdf booklet is a historical overview of the true Church of God and some of its main opponents from Acts 2 to the 21st century. Related sermon links include Continuing History of the Church of God: c. 31 to c. 300 A.D. and Continuing History of the Church of God: 4th-16th Centuries and Continuing History of the Church of God: 17th-20th Centuries. The booklet is available in Spanish: Continuación de la Historia de la Iglesia de Dios, German: Kontinuierliche Geschichte der Kirche Gottes, French: L Histoire Continue de l Église de Dieu and Ekegusii Omogano Bw'ekanisa Ya Nyasae Egendererete.
The History of Early Christianity Are you aware that what most people believe is not what truly happened to the true Christian church? Do you know where the early church was based? Do you know what were the doctrines of the early church? Is your faith really based upon the truth or compromise?