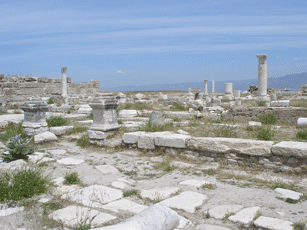 Ancient Laodicea

Last night, John Carmack, a UCG supporter, posted the following:
According to a post both on Facebook and the UCG Current Crisis blog, Lauro Roybal has filed an appeal and also charges the UCG COE with unethical behavior.

Most of the post, ironically, is actually from the UCG "Policy For Suspension and Expulsion From the General Conference of Elders", with certain portions bolded.I will reiterate what I've said before that the COE has acted unwisely and has made a bad situation worse.  It remains to be seen if the rift can be healed or if even the COE can undo any of the damage.
Here is how the posted appeal begins:
I, Lauro A. Roybal, with the present am filing charges of unethical behavior against the president and Council members for what they have done to me, Larry Roybal, to Mr. Leon Walker and to Saúl Langarica.

I am also formally appealing all actions taken against me in suspending me from my job and also expelling me from the GCE as well as taking away my ministerial credentials.

I believe that it is unconscionable, unethical and unlawful for you to remove us without ever speaking to any of us about it and for no apparent or justifiable cause.

What you have done is clearly contrary to the policy of the United Church of God, an International Organization.

In the policy of "filing charges of unethical behavior" you will find that you have clearly violated your own policies. Also as we (Saul Langarica and I) are employees in foreign countries, you should have also abode by the law of those countries when you fired us without cause from our employment.
Now, I have refrained from posting all the gory details of UCG's problems in the past several months (there are actually several websites that seem to be somewhat dedicated to all the details).  I have chose mainly to post a few items, to hopefully drive home what I have been stating since UCG formed.
Which is?
Its form of governance is not biblical and its priorities have never truly aligned with what I believe that Jesus established for the New Testament church (Matthew 28:19-20; 24:14).  It is not that I feel that UCG is not a COG, it is simply that, overall, it has never had a work that could be considered as anything "hot".
As I have been writing for nearly 15 years, UCG has never really been totally "united".  Why people remain loyal to a group without biblically proper structure or biblically proper emphasis on gospel-proclaiming has always been disappointing to me.  Of course, Jesus was less than thrilled with the Laodiceans as He declared:
15 I know your works, that you are neither cold nor hot. I could wish you were cold or hot.  16 So then, because you are lukewarm, and neither cold nor hot, I will vomit you out of My mouth.  17 Because you say, 'I am rich, have become wealthy, and have need of nothing' — and do not know that you are wretched, miserable, poor, blind, and naked —   18 I counsel you to buy from Me gold refined in the fire, that you may be rich; and white garments, that you may be clothed, that the shame of your nakedness may not be revealed; and anoint your eyes with eye salve, that you may see.  19 As many as I love, I rebuke and chasten. Therefore be zealous and repent.  20 Behold, I stand at the door and knock. If anyone hears My voice and opens the door, I will come in to him and dine with him, and he with Me.  (Revelation 3:15-20)
Jesus indicated that the Laodiceans would be satisfied with a lukewarm work and not think that they had to listen and change.  Are you in that category?  If so, what will you do about it?
The Bible does not endorse "group think", but instead insists upon individual responsibility for one's spiritual life (Matthew 10:34-37, Philippians 2:12).  Yet, most that I have spoke with in UCG have basically told me that they were in UCG because their friends, family, etc. were part of it (cf. Matthew 10:34-37), its location/activities were more conducive (cf. Matthew 13:45-46), they liked a certain minister (cf. 1 Corinthians 3:5-6), etc. .  But those are criteria that the Bible specifically indicates are not appropriate.  Laodicea is made up of two Greek words that basically mean "people decide"–the implication is that they decide that their own criteria are more important than those in the Bible.  Will you follow the criteria of the Bible or your own?
Some articles of possibly related interest may include:
Polycarp, Herbert W. Armstrong, and Roderick C. Meredith on Church Government What form of governance did the early church have? Was it hierarchical? Which form of governance would one expect to have in the Philadelphia remnant? The people decide and/or committee forms, odd dictatorships, or the same type that the Philadelphia era itself had?
Unity: Which COG for You? Why so many groups? Why is there lack of unity in the Churches of God? Has it always been this way? What can/should be done about it?
Differences between the Living Church of God and United Church of God This article provides quotes information from the two largest groups which had their origins in WCG as well as commentary.
There are Many COGs: Why Support the Living Church of God? This is an article for those who wish to more easily sort out the different COGs. It really should be a MUST READ for current and former WCG/GCI members or any interested in supporting the faithful church. It also explains a lot of what the COGs are all about.
Should the Church Still Try to Place its Top Priority on Proclaiming the Gospel or Did Herbert W. Armstrong Change that Priority for the Work? Some say the Church should mainly feed the flock now as that is what Herbert W. Armstrong reportedly said. Is that what he said? Is that what the Bible says? What did Paul and Herbert W. Armstrong expect from evangelists?
The Laodicean Church Era has been predominant circa 1986 A.D. to present. These are non-Philadelphians who mainly descended from the old WCG.