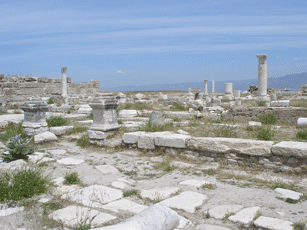 Ancient Laodicea

Last night, UCG announced the following:
September 10, 2010

President Luker and Chairman Rhodes have posted two new documents on the member's Web site in the "Letters from the Chairman and President" section. These are additional explanations concerning the "Resolution to Rescind" that appeared on the May 2008 General Conference of Elders annual meeting ballot.
Essentially the Rescind White Paper explains that although UCG prays and sometimes fasts for God's will to be done at its conferences, that it has had to change and rescind many of the decisions, and therefore the decision related to moving/not moving to Texas is consistent with its past changes, thus it should not matter (for a report on what happened back then, see UCG Keeps Aaron Dean on Council and Votes to Rescind Texas Move).
On other UCG governance matters, I noticed that it pulled the ministerial credentials of another in Latin America (Arnold Mendez, Sr.) as he was more supportive of Leon Walker's position on the church in that area.  This suggests that UCG and Leon Walker probably will not reconcile before the Feast of Tabernacles as UCG once indicated may happen.
Those who understand proper church governance better understand how God has worked through the Church throughout the ages and how He plans to work through it in the future.
Some articles of possibly related interest may include:
Polycarp, Herbert W. Armstrong, and Roderick C. Meredith on Church Government What form of governance did the early church have? Was it hierarchical? Which form of governance would one expect to have in the Philadelphia remnant? The people decide and/or committee forms, odd dictatorships, or the same type that the Philadelphia era itself had?
Unity: Which COG for You? Why so many groups? Why is there lack of unity in the Churches of God? Has it always been this way? What can/should be done about it?
Differences between the Living Church of God and United Church of God This article provides quotes information from the two largest groups which had their origins in WCG as well as commentary.
There are Many COGs: Why Support the Living Church of God? This is an article for those who wish to more easily sort out the different COGs. It really should be a MUST READ for current and former WCG/GCI members or any interested in supporting the faithful church. It also explains a lot of what the COGs are all about.