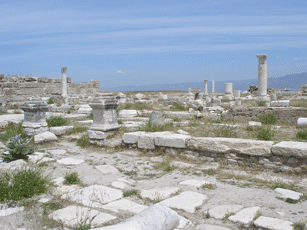 Ruins of Ancient Laodicea
The January 2009 edition of UCG's United News arrived last night.  It contained some information on the size of the United Church of God:
Total worldwide Feast of Tabernacles attendance (including shut-ins who received tapes):
2005: 19,765
2006: 20,436
2007: 20,476
2008: 20,349
The following are the attendance figures from the Church Information System—the number listed as attending fluctuates from month to month.
U.S. Church attendance according to file Jan. 31, 2008: 15,498.
U.S. Church attendance according to file Nov. 26, 2008: 15,345.
U.S. baptisms 2007 through December: 178.
U.S. baptisms 2008 through November: 134.
(Ministerial Services Reports Church Statistics.  United News, January 2009, p. 2)
These reductions are relatively small.  And they seem similar to those that David Hulme (former UCG president) reported about his COGaIC (see COGaIC's Size).
UCG also reported that in the entire life of its Beyond Today telecast it received 29,461 responses:
Through November, we have had 29,461 telephone and online responses to the programming. Beyond Today currently airs on 177 cable-access television channels, which air programs 267 times weekly. It is also broadcast on 10 radio stations in the United States and two nationwide cable networks in Canada. (Eddington, Peter.  100th Beyond Today Episode Recorded.  United News, January 2009, p. 1)
To show its relative impact, UCG's total is about what LCG's Tomorrow's World telecast received every nine weeks in 2009 and is also about the same as the small ICG receives each year.  Hence, while improving its public proclamation of the gospel was a goal for UCG in 2008, it does not seem to have accomplished that to any significant degree.
Some articles of possibly related interest may include:
Differences between the Living Church of God and United Church of God This article provides quotes information from the two largest groups which had their origins in WCG as well as commentary.
Intercontinental Church of God ICG was Garner Ted Armstrong's last group; it is now led by Mark Armstrong.
The Laodicean Church Era was predominant circa 1986 A.D. to present. Non-Philadelphians who mainly descended from the old WCG.
Attending the Church of Choice This article discusses whose choice is important to worship God; should you attend the church of your choice or the church of God's choice?
Unity: Which COG for You? Why so many groups? Why is there lack of unity in the Churches of God? Has it always been this way? What can/should be done about it?
18 Truths Restored to the Churches of God Herbert W. Armstrong wrote that he felt he had restored at least 18 lost truths to the Church, here is Herbert W. Armstrong's list given 12/17/83. This articles also has links to show that these truths were believed by professors of Christ in earlier times, hence they were not some invention of Herbert Armstrong.
Do You Believe God Used Herbert W. Armstrong to Raise Up the Philadelphia Era of the Church of God? Nearly everyone while in WCG used to believe this, most do not seem to anymore.
In Their Own Words: Doctrinal Differences Between the old United Church of God and the old Global Church of God Older quotes from the leadership and some of the membership of these two organizations are included without added commentary (until the end and the 7/31/98 update) which highlighted some of the differences between them.
There are Many COGs: Why Support the Living Church of God? This is an article for those who wish to more easily sort out the different COGs. It really should be a MUST READ for current and former WCG members or any interested in supporting the faithful church. It also explains a lot of what the COGs are all about.