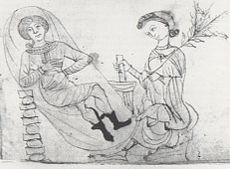 Medieval Abortion Drug Being Given

Several hours ago, there was a positive development in Arkansas:
6 March 2013

In the sharpest challenge yet to Roe v. Wade, Arkansas adopted Wednesday what is by far the country's most restrictive ban on abortion, at 12 weeks of pregnancy, around the time that a fetal heartbeat can be detected by abdominal ultrasound.

The law was passed by the newly Republican-controlled legislature over the veto of Gov. Mike Beebe, a Democrat, who called it "blatantly unconstitutional." On Tuesday the state Senate voted to override his veto by a vote of 20 to 14; on Wednesday the House enacted the bill into law by a vote of 55 to 33, with several Democrats joining the Republican majority.

The law contradicts the limit established by Supreme Court decisions, which give women a right to an abortion until the fetus is viable outside the womb, usually around 24 weeks into pregnancy, and abortion rights groups promised a quick lawsuit to block it.  http://www.nytimes.com/2013/03/07/us/arkansas-adopts-restrictive-abortion-law.html?pagewanted=all&_r=0

6 March 2013

"When there is a heartbeat there, you have a living human being," the bill's sponsor, State Sen. Jason Rapert (R), told the Associated Press to justify his support for the policy.  http://thinkprogress.org/health/2013/03/06/1680471/arkansas-abortion-ban-strictest/?mobile=nc

6 March 2013

The legislature today overturned the governor's veto of a bill that would ban abortions in the first 12 weeks if a "fetal heartbeat" were detected. Planned Parenthood has called the ban "the most intrusive" anti-abortion law in the country. It's clear that regardless of the constitutionality of the bill, its violation of Roe v. Wade, or its dangerous and discriminatory politics, Arkansas will be setting a terrible precedent for all state legislatures looking to infringe upon reproductive choice.  http://www.policymic.com/articles/28787/arkansas-fetal-heartbeat-law-is-dangerous-discriminatory-and-sets-a-terrible-precedent
The move in Arkansas has incensed pro-abortion forces and they expect to win in court.  Until then, or a court injunction, there is good news for babies who will not be murdered and not lose whatever constitutional rights they may get.
The abortionists do not seem to care that the Bible condemns those that shed innocent blood:
So you shall put away the guilt of innocent blood from among you when you do what is right in the sight of the LORD (Deuteronomy 21:9).

These six things the LORD hates, Yes, seven are an abomination to Him: A proud look, A lying tongue, Hands that shed innocent blood, A heart that devises wicked plans, Feet that are swift in running to evil, A false witness who speaks lies, And one who sows discord among brethren (Proverbs 6:16-19).

Their feet run to evil, And they make haste to shed innocent blood; Their thoughts are thoughts of iniquity; Wasting and destruction are in their paths. The way of peace they have not known, And there is no justice in their ways; They have made themselves crooked paths; Whoever takes that way shall not know peace (Isaiah 59:7-8).

Thus says the LORD: "Execute judgment and righteousness, and deliver the plundered out of the hand of the oppressor. Do no wrong and do no violence to the stranger, the fatherless, or the widow, nor shed innocent blood in this place (Jeremiah 22:3).

"Yet your eyes and your heart are for nothing but your covetousness, For shedding innocent blood, And practicing oppression and violence" (Jeremiah 22:17).
Babies are innocent. Killing them is the shedding of innocent blood.
Notice the following:
172 My tongue shall speak of Your word, For all Your commandments are righteousness (Psalm 119:172).

34 Righteousness exalts a nation, But sin is a reproach to any people (Proverbs 14:34).
Killing babies through abortion is not righteous. It is a reproach to nations that allow and encourage it.  It was nice that some in Arkansas stood up for the rights of the unborn.
Abortion is wrong.
There are terrible consequences for sin, and abortion increases the tendency towards sin. This does not bode well for the United States.
Some articles of possibly related interest may include:
Abortion, the Bible, and a Woman's Right to Choose Do you know what the Bible teaches on this? What do the Continuing Church of God and the Church of Rome teach?
The Ten Commandments Reflect Love, Breaking them is Evil Some feel that the ten commandments are a burden. Is that what Jesus, Paul, Peter, James, and John taught?
Barack Obama, Prophecy, and the Destruction of the United States-Second Edition for Second Obama Term This is a 160 page book for people truly interested in prophecies related to Barack Obama and the United States, including learning about many that have already been fulfilled (which the book documents in detail) and those that will be fulfilled in the future. It also has a chapter about a Republican choice. This book is available to order at www.barackobamaprophecy.com. The physical book can also be purchased at Amazon from the following link: Barack Obama, Prophecy, and the Destruction of the United States: Is Barack Obama Fulfilling Biblical, Islamic Catholic, Kenyan, and other America-Related Prophecies? What About Republican Leaders? Second Edition for Second Obama Term.
Barack Obama, Prophecy, and the Destruction of the United States-Second Term-Amazon Kindle edition. This electronic version is available for only US$2.99. And you do not need an actual Kindle device to read it. Why? Amazon will allow you to download it to almost any device: Please click HERE to download one of Amazon s Free Reader Apps. After you go to for your free Kindle reader and then go to Barack Obama, Prophecy, and the Destruction of the United States-Second Term-Amazon Kindle edition.