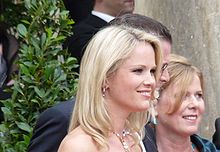 Stephanie zu Guttenberg, fron (Tafkas, 2009)
This morning, AOL (America Online) had another "news item" about another female celebrity dressed inappropriately.  This particular singer reportedly wore a see-through dress.  This seems to be something like the 4th report of four different female celebrities it has featured in the news for some type of celebrity pornography (who, the headlines indicated, showed too much of various parts of their bodies) in the past week or two.
Now, to AOL's slight credit, the featured photographs of the "entertainers" did not appear pornographic.  It seems that it is AOL's intent to get one to click on the article so that one can see how inappropriately the celebrity appeared.  And no, I have not clicked on any of them.  But the fact that AOL has considered that so many of these female celebrities are newsworthy recently for such inappropriate publicity stunts shows how low they are going.   AOL, of course, is not the only organization to utilize what is probably now considered to be "soft pornography" (now considered nudity or near nudity, as opposed to "hard-core" which apparently has more to do with nudity combined with various sexual acts/positions) to get people's attention–a particularly "conservative" news program that I try to avoid uses sex and semi-pornography as well, as do other organizations.
From what I have been able to determine, because of the inappropriate actions, combined with media success of people such as "Lady Gaga" (who was not one of the four recent AOL celebrities), many female celebrities seem to think that they need to resort to taking actions somewhat closer to her level in order to get media coverage.  Instead of this turning the media off, the media often publicizes and promotes such poor immoral behavior.
Nearly a year ago, Stephanie Gräfin von Bismarck Schönhausen zu Guttenberg made the news for blasting pop singers inappropriately-attired female celebrities like Lady Gaga:
Stephanie zu Guttenberg, the wife of German Defence Minister Karl-Theodor zu Guttenberg, on Tuesday attacked the sexed-up, porn-influenced style of pop stars such as Lady Gaga and Rihanna and their potentially harmful influence on children.

"When I see nine-year-old girls are already watching Top Model-style shows on television or excitedly discussing the new video clip from Lady Gaga – with black leather corset, suspenders and naked bottom cheeks – then I am really worried about the female role models these children are growing up with,"…wrote…the 33-year-old the great-great-granddaughter of Germany's Chancellor Otto von Bismarck…

"Cultural experts call the look of the noughties 'porno chic' – and artists like Madonna, Christina Aguilera, Rihanna or Britney Spears actually do sometimes appear in their videos or performances as characters in such films," she wrote. (The Local, 14 September 2010. http://www.thelocal.de/society/20100914-29803.html)
And Stephanie Gräfin von Bismarck Schönhausen zu Guttenberg is totally correct. Singers like Lady Gaga intentionally wear sexually provocative outfits and often promote an anti-biblical morality message (Matthew 5:27-28). And Lady Gaga and others like her should not do that (cf. Luke 17:1-2).
Of course, pornography itself is a big business and causes a variety of problems, such as the fact that it hurts families as well as society in general.  It also hurts those who watch and who provide it.  AOL should not promote it.
Some articles of related interest may include:
Pornography: A scourge on society Is pornography harmless fun? Does the Bible teach anything about it? What are the views of some involved with it?
Might German Baron Karl-Theodor zu Guttenberg become the King of the North? Is the German Defense Minister one to watch? What do Catholic, Byzantine, and biblical prophecies suggest?
The Ten Commandments Reflect Love, Breaking them is Evil Some feel that the ten commandments are a burden. Is that what Jesus, Paul, Peter, James, and John taught?
Was the Commandment to Love the Only Command? Some have stated that John's writings teach this, but is that what the Bible really says?
The Ten Commandments and the Early Church Did Jesus and the Early Church keep the ten commandments? What order were they in? Here are quotes from the Bible and early writings.