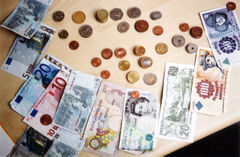 World Currencies
Out of the UK, COGM's affiliated James McBride sent me the following (excerpts shown are from two different articles):

What is economics?
Many words can be combined to make another new word. The Greeks did this by joining oikous, which means house, with nomous, meaning manager. This compound word, oikonomos, literally means 'manager of the house' and is where we get our word "economics," it even sounds similar.
Now a "manager of the house" certainly manages finances as in Luke 16:1 (steward) and Romans 16:23 (chamberlain). But, more importantly, the abilities and qualities of a manager of the house (economist) include faithfulness and wisdom (Luke12:42). Additional qualities of a bishop, as the steward, are listed in Titus 1:7-8. They include being blameless, not arrogant, self controlled, no drunkard, not pugnacious, not greedy. And, on the positive side, he must be ,verse 8, a lover of hospitality, a lover of good men, sober, just, holy, temperate.
Finally, he must have right motivation – doing the right thing for the right reason (1Corinthians 9:17). The word, oikonomous, in this verse, is strangely translated "dispensation." Nevertheless, the point is, many people do the right thing for the wrong reason or the wrong thing for the right reason. Their logic may be classified as either 'the end justifies the means' or 'the means justify the end'.
Bear in mind this wisdom is given to and for the "manager of the house" and that house may be the White House, God's house or your own house.
Drivers and how they drive
Money or finances just represents the value of things both tangible and intangible. Money managers can only shift assets from one account to another in hopes of gaining a profit or, in today's fiasco, to avoid loss. Shifting money from one investment to another may be advantageous – or may not be. Regardless, shifting dollars does not create wealth; it redistributes it. Money is only a medium of exchange. It represents the value we place on work or produce or products.
What drives the financial economic numbers up or down. We are required to work honestly and responsibly with the things entrusted to us. Luke 16:11 reports: "If therefore ye have not been faithful (trustworthy) in the unrighteous mammon, who will commit to your trust the true riches? " This alludes to a connection between faithfulness and mammon (trusting and riches). Being trustworthy is showing loyalty to the master or boss and to the laws and ethical standards as he puts forth. If the servant deals wisely and fairly the household will prosper.
Certainly industriousness increases wealth but bear in mind that all the materials we have, the precious metals, water, land, fuels, were there from the beginning of creation. We can only make those things useful by discovering, mining, forging, combining and otherwise adding value to them. These are good "drivers" for our economy.
But there are "bad drivers" in our economy also. How do they affect our prosperity?
Divorce, unwed mothers, welfare, greed, crime, war and many other things have a negative impact on the monetary system . For example: divorce sets the stage for maintenance of two households and usually two jobs to maintain the households. This exerts pressure on the unemployment line, especially in high unemployment areas. It is also very obvious that wars are an extreme expense in armament's, casualties, and destruction…
1Timothy 5:8:
"But if any provide not for his own, and especially for those of his own house, he has denied the faith, and is worse than an infidel." Let me paraphrase that: If a man does not provide for his own family, he has become less trustworthy than an unbeliever."
It is a dereliction of financial and moral/ethical duties to neglect ones own economic responsibilities and, repeating Luke 16:11 (paraphrased)… If you can't be trustworthy in today's unrighteous economic times, how can God trust you with the true riches tomorrow? Monetary health is merely a reflection of the qualities of those things that drive the economic engine; production, honesty, self-control, sobriety, etc. You may have to adjust your spending and saving habits to fit the changing economic climate . You, men and women, may even have to change your economy, the way you manage your house, business, or your children to adjust to God's economy. If your managerial skills are in order, the financial foundations are secure. So let's strive to get our economic house in order; the financial blessings will follow. Ώ
Is money the root of every evil?
Money – we need it. The accumulation of wealth can be a positive benefit – we all need to save for 'a rainy day'. The Bible encourages it. Earth's bounty is a divine gift to provide resources for increasing mankind's prosperity. Human skill and ingenuity can turn 'earth' – it all comes from there – into an object of beauty, a practical device, comfort. Fair work deserves fair reward.
Yet 'the economy' preoccupies the minds of humble treasurers, business people, mortgage holders, shareholders, you and me – and Chancellors of the Exchequer. An army of accountants swarm in every nation, probing every tax loophole, every tax haven. In every nation there flows, like sewage, a stream of scavenging men and women intent on gain by any foul means.
Whole nations, Big Business, industry giants, banks, stock dealers – charities even – thrive in a culture of fraud and sly dealing…
Fundamental Cause
Despite all this financial complexity the cause is neatly summed up in four words: 'You should not covet'. It could also be summed up in the words of one writer concerning the area in which he now lives: 'People are, in a material sense, poor. In terms of their life-style, however, they are among the world's super-rich'. Or, hear the apostle Paul: 'But godliness with contentment is great gain. For we have brought nothing into the world, and it is plain that neither can we carry anything out. But having food and clothing, we will be satisfied with these' (1 Timothy 6:6-8, Ecclesiastes 5:13-15). Translated into cold northern climes it means we should be content to have food in our bellies and a roof over our heads.
Money of itself, of course, isn't a problem. It is prudent – legally – to increase our wealth, to diligently and wisely exploit our talents and hone our skills for profit. Wealth lawfully gained by our efforts is a gift from God – and to be enjoyed in a godly way – for family, for charitable purposes, for service to God. (see Deuteronomy 8:18, Ecclesiastes 5:19, Proverbs 13:11, 22, Job 20:10.)
Neither article by CGOM specifically mentioned tithing, but that is part of how God wants His people to manage their own finances.
As far as the physical economy goes, working and producing goods and services that benefit others is what makes an economy properly function.  Money is supposed to be based upon production, but in modern times it has often been debased by governmental greed, incompetence, corruption, and misunderstandings.
But money is not the most important thing.  Notice also some of the priorities and other statements in the Bible:
10 For even when we were with you, we commanded you this: If anyone will not work, neither shall he eat. 11 For we hear that there are some who walk among you in a disorderly manner, not working at all, but are busybodies. 12 Now those who are such we command and exhort through our Lord Jesus Christ that they work in quietness and eat their own bread.

13 But as for you, brethren, do not grow weary in doing good.  (2 Thessalonians 3:10-13)

19 "Do not lay up for yourselves treasures on earth, where moth and rust destroy and where thieves break in and steal;  20 but lay up for yourselves treasures in heaven, where neither moth nor rust destroys and where thieves do not break in and steal.  21 For where your treasure is, there your heart will be also.  (Matthew 6:19-21)

24 "No one can serve two masters; for either he will hate the one and love the other, or else he will be loyal to the one and despise the other. You cannot serve God and mammon.

25 "Therefore I say to you, do not worry about your life, what you will eat or what you will drink; nor about your body, what you will put on. Is not life more than food and the body more than clothing?  26 Look at the birds of the air, for they neither sow nor reap nor gather into barns; yet your heavenly Father feeds them. Are you not of more value than they?  27 Which of you by worrying can add one cubit to his stature?

28 "So why do you worry about clothing? Consider the lilies of the field, how they grow: they neither toil nor spin;  29 and yet I say to you that even Solomon in all his glory was not arrayed like one of these.  30 Now if God so clothes the grass of the field, which today is, and tomorrow is thrown into the oven, will He not much more clothe you, O you of little faith?

31 "Therefore do not worry, saying, 'What shall we eat?' or 'What shall we drink?' or 'What shall we wear?'  32 For after all these things the Gentiles seek. For your heavenly Father knows that you need all these things.  33 But seek first the kingdom of God and His righteousness, and all these things shall be added to you.  (Matthew 6:24-33)

15 And He said to them, "Take heed and beware of covetousness, for one's life does not consist in the abundance of the things he possesses."

16 Then He spoke a parable to them, saying: "The ground of a certain rich man yielded plentifully.  17 And he thought within himself, saying, 'What shall I do, since I have no room to store my crops?'  18 So he said, 'I will do this: I will pull down my barns and build greater, and there I will store all my crops and my goods.  19 And I will say to my soul, "Soul, you have many goods laid up for many years; take your ease; eat, drink, and be merry."'  20 But God said to him, 'Fool! This night your soul will be required of you; then whose will those things be which you have provided?'

21 "So is he who lays up treasure for himself, and is not rich toward God." (Luke 12:15-21)

1 Come now, you rich, weep and howl for your miseries that are coming upon you!  2 Your riches are corrupted, and your garments are moth-eaten. 3 Your gold and silver are corroded, and their corrosion will be a witness against you and will eat your flesh like fire. You have heaped up treasure in the last days. 4 Indeed the wages of the laborers who mowed your fields, which you kept back by fraud, cry out; and the cries of the reapers have reached the ears of the Lord of Sabaoth.  (James 5:1-4)

6 In this you greatly rejoice, though now for a little while, if need be, you have been grieved by various trials, 7 that the genuineness of your faith, being much more precious than gold that perishes, though it is tested by fire, may be found to praise, honor, and glory at the revelation of Jesus Christ, 8 whom having not seen you love.  (1 Peter 1:6-8)
Economic problems in the world are mainly due to sin and trying to live the way of get as opposed to the way of give.  But as far as Christian priorities go, Christians are to "seek the kingdom of God" (Luke 12:31) and trust and obey God and that will deal with their personal economic needs (cf. Luke 12:22-34; Matthew 6:24-34).
Some items of possibly related interest may include:
Tithing Questions and Some Answers Addresses some non-biblical arguments against tithing. Should people tithe?
Ending Your FINANCIAL WORRIES How can people help themselves and others financially? Herbert W. Armstrong wrote this as a booklet on this important subject.
Is Second Tithe and Third Tithe Still Valid Today? Should you save and use second tithe? Some in the COGs no longer teach payment of third tithe, is this biblically correct?
The Gospel of the Kingdom of God was the Emphasis of Jesus and the Early Church Did you know that? Do you even know what the gospel of the kingdom is all about? You can also see a YouTube video sermon The Gospel of the Kingdom.
Just What Do You Mean the Kingdom of God? A booklet that was written by Herbert Armstrong answers questions about the Kingdom.
Getting the Gospel Out is More than a Local Job Discusses Biblical rationale for doing an international, and not just a local, work.
How Much Did You Cost? Some have complained that the total costs spent to proclaim the gospel as a witness is too high since it does not (in their opinion) result in enough conversions. Is that how God sees it?