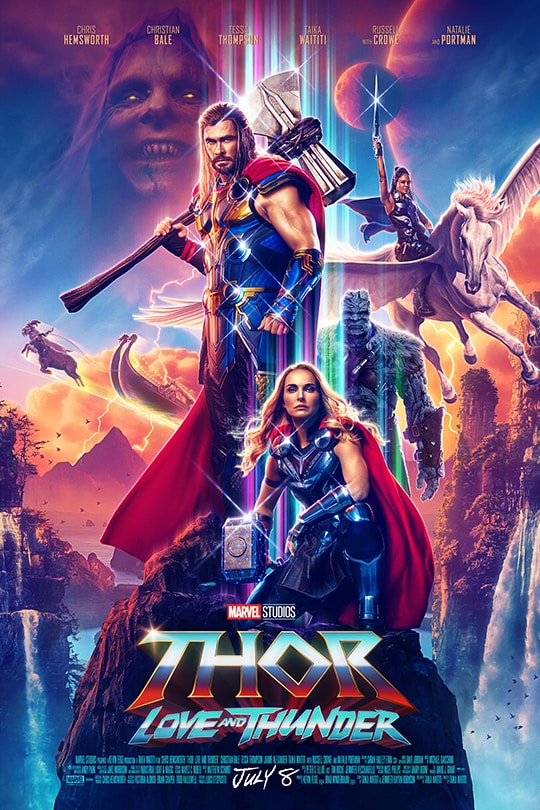 Official movie poster
Disney is continuing its pushing the LGBTQ+ agenda. The Gateway Pundit reported the following about its Thor movie:
AVOID AT ALL COSTS: "Thor Love and Thunder" – Unless You Like Woke Movies Where Even the Rock People are Gay and Having Babies and The Queen is a "King"

July 10, 2022

AVOID AT ALL COSTS: "Thor Love and Thunder" – Unless You Like Woke Movies Where Even the Rock People are Gay and Having Babies and The Queen is a "King"

Last night we spent good cash at the movie theater just to see how woke the movie is.

It was a waste of time. …

The entire movie was woke. Off the charts woke.

Viewers called it "the gayest Marvel movie ever." https://www.thegatewaypundit.com/2022/07/avoid-costs-thor-love-thunder-unless-like-woke-movies-even-rock-people-gay-babies-queen-king/
No spoilers but the Thor movies went from being the most heterosexual MCU movies to being the gayest MCU movies, and that my friends, is the Taikafication of Thor movies

— Lorenz (@LorenzEG1d0) July 8, 2022
Here is something from a Protestant website:
"Oh how the mighty have fallen," says Thor at one point in the movie. You took the words right out my mouth, Thor. Marvel (and Disney by association) has fallen hard.

In my opinion, and perhaps this is harsh, the words "wholesome entertainment" and Marvel no longer go hand in hand. When you compare films like "Captain America" and "Iron Man" from over a decade ago to the Marvel films that we have now, I can't help but pray and hope that Disney and Marvel make a complete 180 degree turn around before it's too late. https://christiananswers.net/spotlight/movies/2022/thor2022.html accessed 07/11/22
This past Spring, NewsPunch reported the following:
Disney President Admits 'Not-So-Secret Gay Agenda', Vows HALF of Disney Characters Will Be LGBT

March 30, 2022

General entertainment president Karey Burke vowed to up the ante on gender politics during an all-hands meeting, promising that at least half of the characters in future Disney productions will be LGBTQIA+ or from racial minorities by the end of the year.

During a company-wide Zoom call, Burke said that Disney must do more to be more inclusive, as she vowed that 50 per cent of characters and content would be from queer or ethnic minority groups.

Meanwhile, Disney's diversity and inclusion chief Vivain said that they no longer address theme park visitors as 'ladies and gentleman, boys and girls' because that is highly offensive to liberals. Instead, Disney will address visitors as 'dreamers' and 'friends'. …

During the same all-hands meeting, television animation executive producer Latoya Raveneau gushed about Disney's inclusivity and boasted about 'adding queerness' to shows and productions.

'Our leadership over there has been so welcoming to my not-so-secret gay agenda,' she said. 'Wherever I could I was adding queerness. No one would stop me and no one was trying to stop me.' …

The Mickey Mouse company has been roiled by protests, counter-protests and walkouts after Florida Gov. Ronald DeSantis signed the so-called 'Don't Say Gay' bill into law.

The legislature bans teaching kids lessons on sexuality, gender identity and sexual orientation 'in a manner that is not age appropriate.'

Disney employees walked out of the company headquarters last week to protest the slow response to the Florida law.

Parents hit the company from the other side for what they said was pandering to liberal politics.

Meanwhile, the animation and live-action movie company announced that it would increase the number of gay characters in its films. https://newspunch.com/disney-president-admits-not-so-secret-gay-agenda-vows-half-of-disney-characters-will-be-lgbt/
Disney has been pushing perversion as "normal," and apparently the latest Thor movie is doing the same.
Hence this post denouncing it.
The Bible says to:
1 Cry aloud, spare not;
Lift up your voice like a trumpet;
Tell My people their transgression,
And the house of Jacob their sins. (Isaiah 58:1, NKJV throughout, unless otherwise noted)
Disney is more and more open about its promotion of abominations.
Notice something from last year:
Disney Plus Aims To Be The #1 Corrupter Of Children With A 'Reimagining' Of Popular Disney Songs To Promote The LGBTQ+ Movement Agenda

June 19, 2021

Disney+'s This Is Me: Pride Celebration Spectacular, which is set to stream on YouTube and Facebook on June 27, … will include gender-fluid singer Alex Newell and gender non-binary performer Jesse James Keitel. The event is intended to raise awareness of GLSEN, a LGBTQ youth advocacy group founded by Kevin Jennings …
From their inception, the Walt Disney Company geared itself to families and children, but when inspected closer, there was always a dark undertone to their product offerings with hidden messaging in animated movies and overly-adult themes in dialogue in children's movies. Modern day Disney is pro-abortion, pro-occult, …. Now Disney Plus wants to indoctrinate your kids with LGBTQ+ ideology set to some of their most-loved music.

"And have no fellowship with the unfruitful works of darkness, but rather reprove them. For it is a shame even to speak of those things which are done of them in secret. But all things that are reproved are made manifest by the light: for whatsoever doth make manifest is light." Ephesians 5:11-13 (KJB)

It used to be that children were protected, that they were intentionally kept from themes and ideas that they were not emotionally ready to explore, but safeguards like that have no place in our society as the spirit of Antichrist continues to rise. Now children are 'fair game' and seen as recruitment tools, mere fodder for the LGBTQ+ machine that is preparing to devour them. …

Disney+ is recognizing Pride Month by spotlighting LGBTQ-themed programming. The streaming service recently debuted the short film The Little Prince(ss) about a gender non-conforming kid. As Breitbart News reported, the new comedy series Big Shots, starring John Stamos, featured a lesbian kiss between to high school characters. https://www.nowtheendbegins.com/disney-plus-streaming-reimagining-popular-songs-with-lgbtq-ideology-for-children/

June 17, 2021

"At Disney+, we believe in the power of inclusive storytelling to bring us together and inspire us to live authentically," Disney+ global head of marketing and content curation Joe Earley said. "We are committed to amplifying the voices of our LGBTQ creators and talent, and platforming content that reminds people to love loud – and sing louder – in this special event." https://www.breitbart.com/news/disney-to-host-pride-concert-featuring-nina-west-hayley-kiyoko/
Well, obviously at Disney+ they do not believe in promoting biblical values.
This is not the first time. Breaking Israel News reported the following a couple of years ago: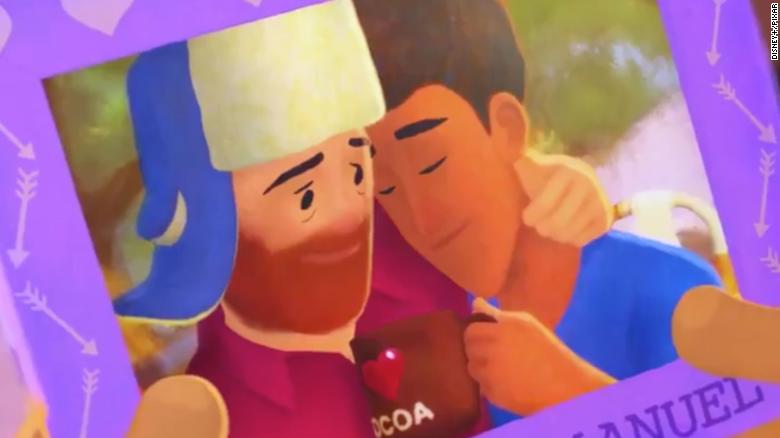 Pixar 'Out" scene shot
For First Time: Disney Introduces Openly Gay Main Character

May 26, 2020
Pixar, which is owned by Disney has released its first-ever film with an openly gay main character. The short, entitled "Out", was introduced through Disney Plus's SparkShorts series on Friday. The film's protagonist, Greg, is depicted as a conflicted gay mans who is afraid of coming out of the closet to his parents. But then, two of fairy god-pets descend down to earth from a rainbow and kidnap both Greg and his dog. …
Disney seems to be progressing towards making homosexuality mainstream among children. Back in March, Pixar's Onward was the first feature film to include a gay character playing Lena Waithe's cyclops cop Officer Spector.

And although this is the first time Disney has made a gay person the main character, it appears as though the iconic production company boasts a history of subtlety introducing gay characters from it's inception … https://www.breakingisraelnews.com/150944/first-time-disney-features-openly-gay-main-character/
In its major hit Frozen 2, Disney also gave hints about a homosexual character. Then, it decided to completely and openly promote a bad and non-biblical sexual lifestyle. And now it's directly promoting LGBTQ abominations.
Disney and Marvel should be ashamed. The following applies to many promoters of sin:
9 The look on their countenance witnesses against them, And they declare their sin as Sodom; They do not hide it. Woe to their soul! For they have brought evil upon themselves. (Isaiah 3:9)
But it is terribly wrong.
In Genesis 19:24-25, we read that Sodom and Gomorrah were destroyed by God.
And why did it happen?
7 as Sodom and Gomorrah, and the cities around them in a similar manner to these, having given themselves over to sexual immorality and gone after strange flesh, are set forth as an example, suffering the vengeance of eternal fire. (Jude 7)
Homosexuality is a form of sexual immorality that involves going after "strange flesh."
Why mention this in the 21st century?
Because God turned:
6…the cities of Sodom and Gomorrah into ashes, condemned them to destruction, making them an example to those who afterward would live ungodly. (2 Peter 2:6)
Thus, the destruction of Sodom and Gomorrah were to serve as an example to those who would live as they did.
The prophet Ezekiel twice associates "pride" with Sodom (Ezekiel 16:49,56)–which is also something we see with the LGBTQ+ movement today.
Disney's LGBTQ promotion is consistent with the following prophecy:
1 Now the Spirit expressly says that in latter times some will depart from the faith, giving heed to deceiving spirits and doctrines of demons, 2 speaking lies in hypocrisy, having their own conscience seared with a hot iron, (1 Timothy 4:1-3)
Now, let's look at a few scriptures from the Old Testament:
5 A woman shall not wear anything that pertains to a man, nor shall a man put on a woman's garment, for all who do so are an abomination to the Lord your God. (Deuteronomy 22:5)

22 You shall not lie with a male as with a woman. It is an abomination. (Leviticus 18:22)

13 If a man lies with a male as he lies with a woman, both of them have committed an abomination. (Leviticus 20:13)
Let me also point out that the New Testament says that those who approve of such behaviors, even if they do not do them themselves, are worthy of death (Romans 1:18-32).
The truth is that no one, child or adult, should be trying to promote abominations.
Related to this, we made a video last year. However, YouTube removed and censored it without asking.
That, however, is one reason we use other channels, like BitChute, which still has the censored video up:
Is Disney promoting abominations? According to the Bible it most certainly is. In addition to "Out" which is focused about a homosexual male and "Onward" which also condoned homosexuality, it is a big promoter of "Pride Month." So, much so that on June 27, 2021, Disney+ intends to stream "This is Me: Pride Celebration Spectacular" hosted by "Nina West" that stage name of Andrew Levitt, who was born male but now dresses and performs as a female–contrary to scriptures like Deuteronomy 22:5. Is Disney inviting the wrath of God? Were pride, sexual immorality, and going after "strange flesh" reasons that Sodom and Gomorrah were destroyed? What should parents and children do? What does the Bible teach? Dr. Thiel discusses and addresses these issues with scriptures and other information.

THIS VIDEO WAS REMOVED BY YOUTUBE AS IT DOES NOT WANT PEOPLE TO KNOW WHAT THE BIBLE TEACHES ABOUT IMMORALITY AND THE CONSEQUENCES OF SIN.
Here is a link to the YouTube removed video: Disney's abominable promotions!
Disney wants more and more to push LGBTQ+.
Disney wants the abominable to appear normal.
That is an agenda that will end in death and destruction according to the Bible.
This does not bode well for the USA.
Some links to items of possibly related interest:
Cross-dressing and other assaults against your children. What should you do? Is there an agenda to turn your children and/or grandchildren away from biblical morality and towards practices promoted by homosexuals? What does the Bible teach about cross-dressing? What should parents do? If there is an agenda, what has been going on? There are also two YouTube videos related to this, titled Transgender 'Woe to those who call evil good' and Cross dressing and Other Assaults Against Your Children.
The Bible Condemns Homosexuality "Same-sex marriage" for "gays" and lesbians is becoming more acceptable to many. What does the Bible teach about homosexuality? Can homosexuals change? A related video sermon is titled: What Does the Bible Really Teach about Homosexuality?
USA pushing gender confusion On May 13, 2016, the Obama Administration sent notices to school districts around the USA on how it wants them to deal with toilets, lockers, sports, and other issues of interest to the LGBT crowd. The Obama Administration has redefined the word 'sex' as written in the 1964 Civil Rights Act as expanded in 1972. Does the Bible teach transgenderism? Are accommodations for those considering themselves transgendered helpful or evil? What does the Bible teach about cross-dressing and other transgender issues? Does the Bible warn of terrible consequences for those who merely approve the LBGT agenda? This is a video.
Might the U.S.A. Be Gone by 2028? Are there prophetic reasons to believe that the USA will not last two complete presidential terms? Yes. There is a tradition attributed to the Hebrew prophet Elijah that humanity had 6,000 years to live before being replaced by God's Kingdom. There are scriptures, writings in the Talmud, early Christian teachings that support this. Also, even certain Hindu writings support it. Here is a link to a related video: Is the USA prophesied to be destroyed by 2028?
The Great Tribulation: What Happens First? What events have happened? What are some events that are now happening? And what events need to happen for the Great Tribulation to start? Here is a link to a related sermon video: Counting Down to the Great Tribulation. Here is a video in the Spanish language: Contando los eventos y el inicio de la Gran Tribulación.
When Will the Great Tribulation Begin? 2022, 2023, or 2024? Can the Great Tribulation begin today? What happens before the Great Tribulation in the "beginning of sorrows"? What happens in the Great Tribulation and the Day of the Lord? Is this the time of the Gentiles? When is the earliest that the Great Tribulation can begin? What is the Day of the Lord? Who are the 144,000? Here is a version of the article in the Spanish language: ¿Puede la Gran Tribulación comenzar en el 2020 o 2021? ¿Es el Tiempo de los Gentiles? A related video is: Great Tribulation: 2026 or 2027? A shorter video is: Can the Great Tribulation start in 2022 or 2023? Here is a video in the Spanish language: Es El 2021 el año de La Gran Tribulación o el Grande Reseteo Financiero.
Anglo – America in Prophecy & the Lost Tribes of Israel Are the Americans, Canadians, English, Scottish, Welsh, Australians, Anglo-Saxon (non-Dutch) Southern Africans, and New Zealanders descendants of Joseph? Where are the lost ten-tribes of Israel? Who are the lost tribes of Israel? What will happen to Jerusalem and the Jews in Israel? Will God punish the U.S.A., Canada, United Kingdom, and other Anglo-Saxon nations? Why might God allow them to be punished first? Here is a link to the Spanish version of this article: Anglo-América & las Tribus Perdidas de Israel. Information is also in the YouTube sermons titled Where are the Ten Lost Tribes? Why does it matter? and British are the Covenant People. A short YouTube of prophetic interest may be: Are Chinese threats against Australia for real?
Will the Anglo-Saxon-Celtic Nations be Divided and Have People Taken as Slaves? Will the lands of the United States, United Kingdom, Canada, Australia, and New Zealand be divided? What about Jerusalem? What does Bible prophecy teach? Are there non-biblical prophecies that support this idea? Who will divide those lands? Who will end up with the lands and the people? Here is a link to a video titled Will the USA and other Anglo-nations be Divided and Their People Made Slaves? Here is a related item in the Spanish language ¿Serán divididas las naciones anglosajonas?
British are the Covenant People What do 'British' and 'Britain' mean in Hebrew? Are the descendants of the Anglo-Saxons people of the covenant? Does the British royal family connect to the throne of David? What does the Bible teach? What does history show us? Is there any DNA evidence related to British-Israelism? When did Christianity make it to the British Isles? Could Jeremiah have made it to the British Isles? What type of Christians made it to the British Isles? Did the last King of England believe in British Israelism?
Canada in Prophecy: What Does Bible Prophecy, Catholic Prophecy, and other Predictions Suggest About the Future of Canada? There are prophecies that suggest involvement with Canada. And many are not positive about its future. A sermon of related interest is also available: Canada in Prophecy.
Australia and New Zealand in Prophecy Do biblical prophecies help explain the wealth blessings for Australia and New Zealand? Might cursings from disobedience come in the 21st century? Here is a link to a related sermon: Australia and New Zealand: Origins and Prophecy.
Is the USA prophesied to be destroyed by 2028? Are there prophetic reasons to believe that the USA will not last two complete presidential terms? Yes. There is a tradition attributed to the Hebrew prophet Elijah that humanity had 6,000 years to live before being replaced by God's Kingdom. There are scriptures, writings in the Talmud, early Christian teachings that support this. Also, even certain Hindu writings support it. This is a video.
Biden-Harris: Prophecies and Destruction Can the USA survive two full presidential terms? In what ways are Joe Biden and Kamala Harris apocalyptic? This book has hundreds of prophecies and scriptures to provide details. A Kindle version is also available and you do not need an actual Kindle device to read it. Why? Amazon will allow you to download it to almost any device: Please click HERE to download one of Amazon s Free Reader Apps. After you go to your free Kindle reader app (or if you already have one or a Kindle), you can go to: Biden-Harris: Prophecies and Destruction (Kindle) to get the book in seconds.
USA in Prophecy: The Strongest Fortresses Can you point to scriptures, like Daniel 11:39, that point to the USA in the 21st century? This article does. Two related sermon are available: Identifying the USA and its Destruction in Prophecy and Do these 7 prophesies point to the end of the USA?
Who is the King of the West? Why is there no Final End-Time King of the West in Bible Prophecy? Is the United States the King of the West? Here is a version in the Spanish language: ¿Quién es el Rey del Occidente? ¿Por qué no hay un Rey del Occidente en la profecía del tiempo del fin? A related sermon is also available: The Bible, the USA, and the King of the West.
Preparing for the 'Short Work' and The Famine of the Word What is the 'short work' of Romans 9:28? Who is preparing for it? Here is a link to a related video sermon titled: The Short Work.