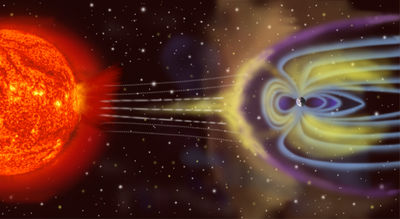 Depiction of solar particles interacting with Earth's magnetosphere
New Scientist admitted some time ago that some things about the universe are just right for life on planet Earth, kind of like God intended it:
IT HAS been called the Goldilocks paradox. If the strong nuclear force which glues atomic nuclei together were only a few per cent stronger than it is, stars like the sun would exhaust their hydrogen fuel in less than a second. Our sun would have exploded long ago and there would be no life on Earth. If the weak nuclear force were a few per cent weaker, the heavy elements that make up most of our world wouldn't be here, and neither would you.

If gravity were a little weaker than it is, it would never have been able to crush the core of the sun sufficiently to ignite the nuclear reactions that create sunlight; a little stronger and, again, the sun would have burned all of its fuel billions of years ago. Once again, we could never have arisen.

Such instances of the fine-tuning of the laws of physics seem to abound. Many of the essential parameters of nature – the strengths of fundamental forces and the masses of fundamental particles – seem fixed at values that are "just right" for life to emerge. A whisker either way and we would not be here. It is as if the universe was made for us.

What are we to make of this? One possibility is that the universe was fine-tuned by a supreme being – God. Although many people like this explanation, scientists see no evidence that a supernatural entity is orchestrating the cosmos. http://www.newscientist.com/article/mg21128221.500-existence-why-is-the-universe-just-right-for-us.html
A few scriptures come to mind about the scientists who ignore evidence of a Creator:
7 always learning and never able to come to the knowledge of the truth. (2 Timothy 3:7)

20 For since the creation of the world His invisible attributes are clearly seen, being understood by the things that are made, even His eternal power and Godhead, so that they are without excuse, 21 because, although they knew God, they did not glorify Him as God, nor were thankful, but became futile in their thoughts, and their foolish hearts were darkened. 22 Professing to be wise, they became fools (Romans 1:20-22)

1 The fool has said in his heart, "There is no God." They are corrupt, and have done abominable iniquity (Psalm 53:1)
There is a Creator God. Real scientists understand that.
Some items of related interest may include:
Is God's Existence Logical? Some say it is not logical to believe in God. Is that true? Here is a link to a YouTube sermon titled Is it logical to believe in God?
Is Evolution Probable or Impossible or Is God's Existence Logical? Part II This short article clearly answers what 'pseudo-scientists' refuse to acknowledge. Here is a link to a YouTube video titled Is There Another View of Evolution? and another titled Quickly Disprove Evolution as the Origin of Life.
How Old is the Earth and How Long Were the Days of Creation? Does the Bible allow for the creation of the universe and earth billions of years ago? Why do some believe they are no older than 6,000 years old? What is the gap theory? Where the days of creation in Genesis 1:3 through 2:3 24 hours long? Here is a link to a sermon: Genesis, 'Prehistoric man,' and the Gap theory. Here is a link to a related article in Spanish: ¿Cuán vieja es la Tierra? ¿Cuán largos fueron los Días de la Creación? ¿Teoría de la brecha?
Questions and Answers from Genesis Many wonder about certain early events that this article discusses.
Where Did God Come From? Any ideas? And how has God been able to exist? Who is God?
Read the Bible Christians should read and study the Bible. This article gives some rationale for regular bible reading. Here is a link in Mandarin Chinese: 读圣经 Here is a link in the Spanish language: Lea la Biblia.