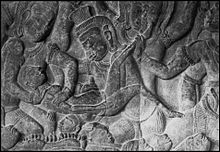 Bas-relief at Angkor Wat depicting a demon performing an ancient abortion.
The director of a Planned Parenthood clinic resigned her position after she actually saw an abortion from the inside:
Planned Parenthood Director Quits After Watching Abortion on Ultrasound

November 1, 2009

The former director of a Planned Parenthood clinic in southeast Texas says she had a "change of heart" after watching an abortion last month — and she quit her job and joined a pro-life group in praying outside the facility…

Johnson said she became disillusioned with her job after her bosses pressured her for months to increase profits by performing more and more abortions, which cost patients between $505 and $695.

"Every meeting that we had was, 'We don't have enough money, we don't have enough money — we've got to keep these abortions coming,'" Johnson told FoxNews.com. "It's a very lucrative business and that's why they want to increase numbers."  http://www.foxnews.com/story/0,2933,571215,00.html?test=latestnews
Unlike in many countries, abortion is truly a lucrative business in the USA.  Yet, abortion is wrong.
Many politicians, medical professionals, and others, have, in my opinion, sold out on this subject.
Abortion is one of the many national sins of America that helps tell the world that it is not truly a "Christian nation".
An article of possibly related interest may include:
Abortion, the Bible, and a Woman's Right to Choose Do you know what the Bible teaches on this?